In an exclusive interview with the visionary architect, we delve into the transformation of the Anantara Koh Yao Yai Resort & Villas from a coconut plantation into a luxurious paradise on the pristine Koh Yao Yai island.
In August 2023, the architectural prowess of Proud Design, nestled in Chiang Mai, Thailand, came to life with the unveiling of the Anantara Koh Yao Yai Resort & Villas. Today, we delve into an exclusive interview with the visionary architect behind this remarkable resort project, as we explore its journey from conception to creation.
In a world where the urban hustle and technological advancements dominate the narrative, the Anantara Koh Yao Yai Resort & Villas stand as a tranquil escape, epitomizing the untouched paradise's essence. Located on the pristine Koh Yao Yai island, this luxurious retreat invites couples and families to rejuvenate, reconnect, and indulge in the unspoiled beauty of its beaches, lush jungles, mesmerizing sunsets, and the extraordinary marine life that surrounds it.
Once a coconut plantation, the 27-acre canvas of Anantara Koh Yao Yai is now an exquisite tapestry nestled between a wooded hill and a turquoise bay, adorned with limestone islets draped in lush jungles and teeming with birdlife. Stretching over a kilometer of golden beach, this new luxury haven embodies tranquility, space, and opulence, conveniently situated just 45 minutes by boat from Phuket and 20 minutes from Krabi. As guests arrive at the resort's private pier, they are instantly immersed in an atmosphere of exclusivity and luxury. Vast green lawns, mature trees, a serene pool, and the golden beach create a sanctuary of security and intimacy, perfect for swimming and snorkeling.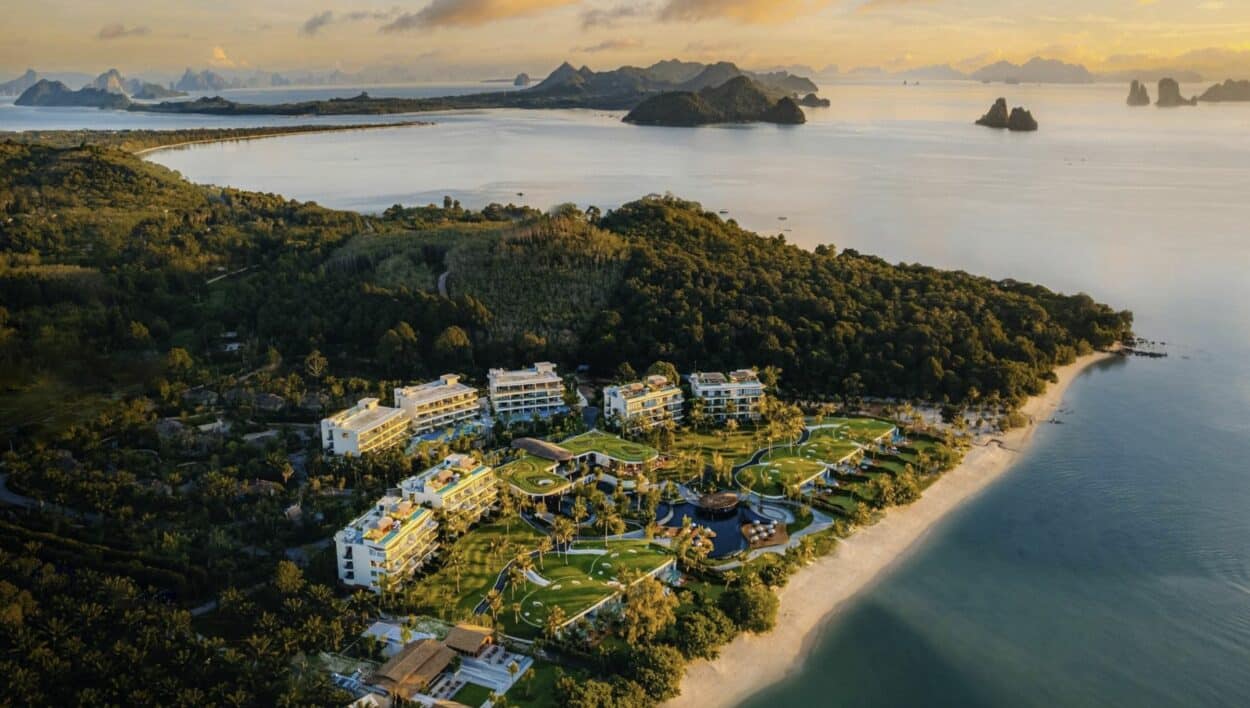 ArchiExpo e-Magazine: What's the story behind transforming this coconut plantation into a resort?
Mr. Pooritat Kunurat MD at Proud design co., ltd.: The land on this island was originally an oil palm and coconut plantation by the sea that has been passed down for many decades. The next generation of heirs of the land have experience doing hotel and travel business; therefore, they wanted to develop this land into a 5-star hotel. As it can be connected to Phuket and Krabi, the island is starting to become a famous destination and has very stunning views. However, there were significant challenges in the design and construction of this project because everything had to be transported from the mainland to the construction site. It had to be designed with the budget and construction process in mind. This is the main reason for focusing on landscape architectural design for this project.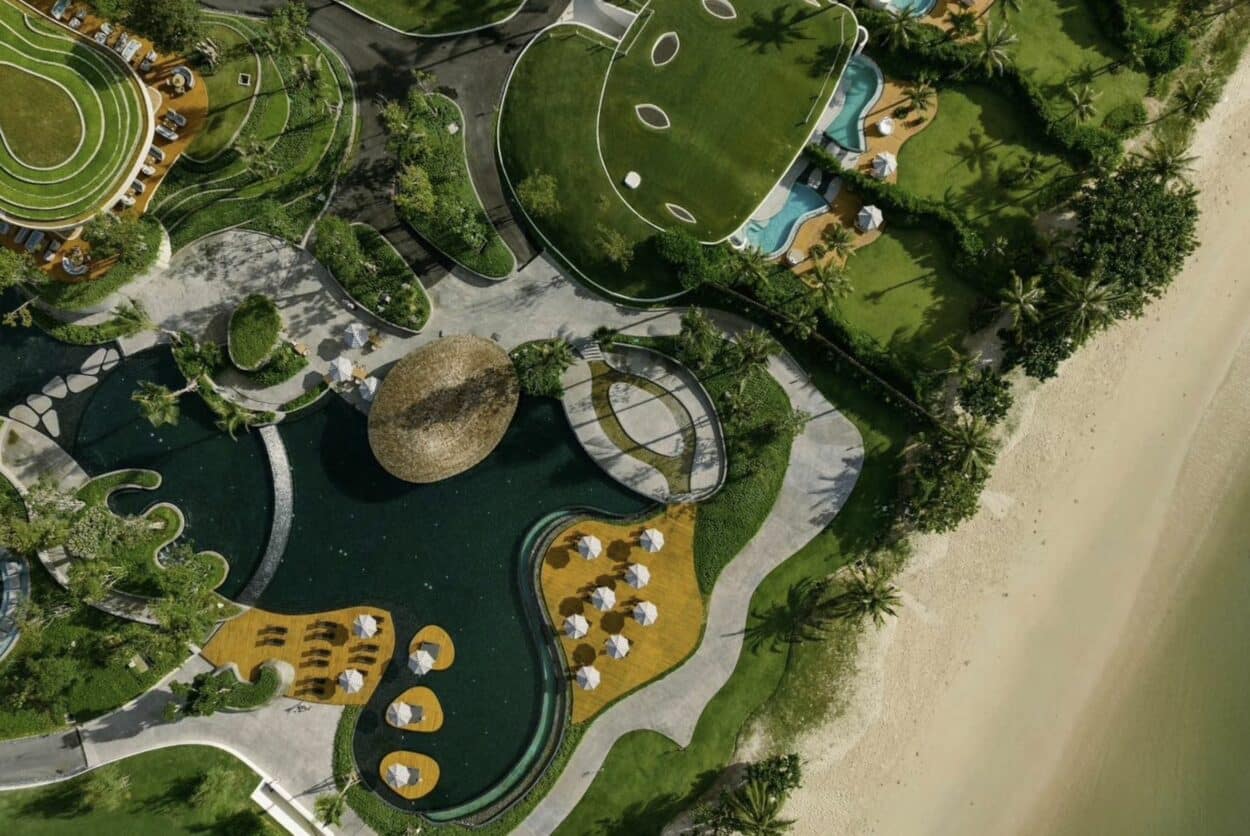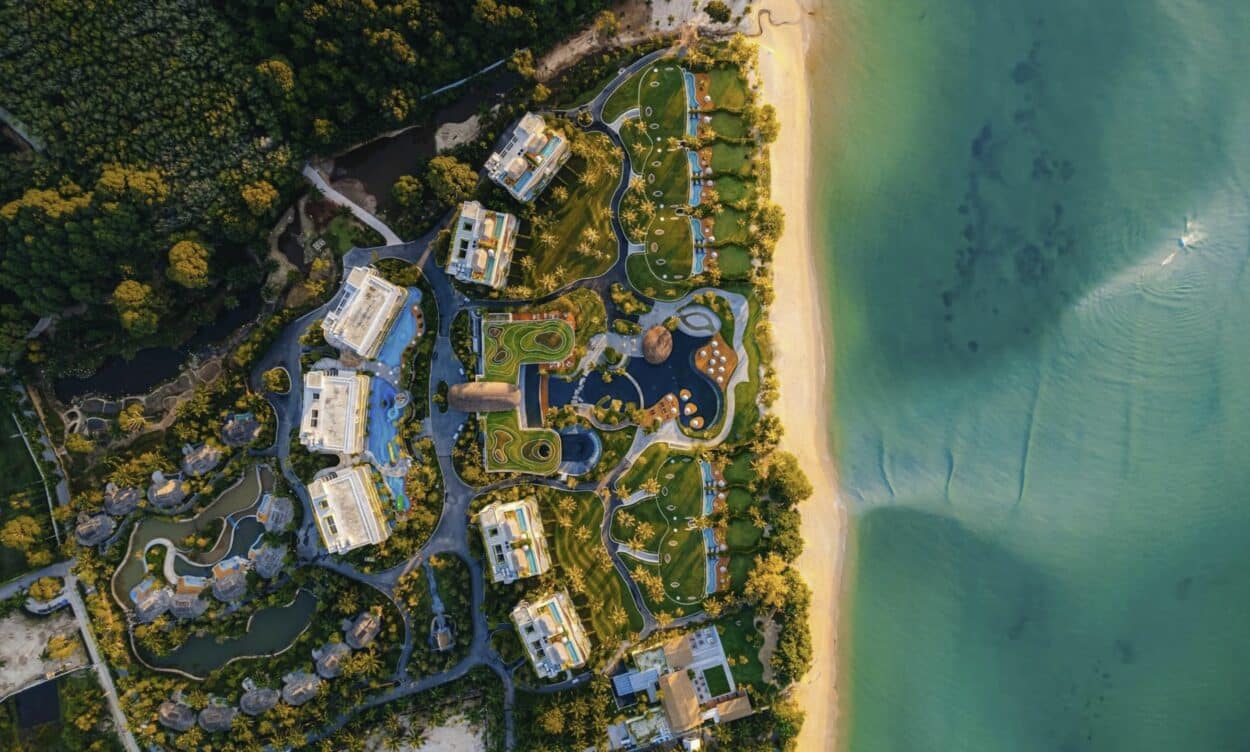 ArchiExpo e-Magazine: What materials were used to construct the villas and why did you choose these materials? What architectural aspects are the most innovative would you say?
Mr. Pooritat Kunurat MD: Most of the materials are simple because of limitations of transportation and workmanship on the island. Concrete is common for construction in Thailand and is easily formed and shaped. Many beachfront villa roofs in Thailand usually use shingles roof, terracotta, cedar, or artificial thatch – even slap roofs with artificial lawns. The owners encouraged me to make real grass on the roof villa. The drainage system is made the same as a regular roof garden, but with our carefully curved design, it blends in with the landscape and keeps the view open as much as possible.
ArchiExpo e-Magazine: What materials were necessary to implement in order to carry out this plan?
Mr. Pooritat Kunurat MD: The landscape design concept is from organic shapes inspired by waves, the ocean, and creatures from the location. The various levels of landscape make many areas open visually to the ocean. Some design projects contain architecture, interiors, or landscape architecture professionals who don't blend their work. Sometimes, we focus only on the scope of our individual work. We hope this project shows how good collaboration with interior architects and landscape architects is key to success.