Santambrogio demonstrates how glass, 100% recyclable, can be one of the best materials for construction. The company designs structures built entirely of glass. Here's our interview with Lead Architect Carlo Santambrogio.
On September 10, La Terrazza, a glass terrace by Santambrogio, opened its doors to the public as an event hub throughout the duration of Milan Glass Week (September 10 – 18), which takes place every two years. As an official partner of the event, the Terrazza Santambrogio is hosting themed events in line with the festival, originally called the Vision Milan Glass Week until uniting with The Venice Glass Week to become what it is today: The Italian Glass Weeks, Italy's first festival dedicated to industrial and artistic glass. This festival was created specifically for the UN International Year of Glass 2022.
In Milan, Palazzo Giureconsulti is the focal point of the festival, while Castello Sforzesco is hosting workshops, guided tours and a photographic exhibition entitled La Milano di Vetro. In regards to the Terrazza, it's all about glass: from partitions to furniture. La Terrazza made its debut in 2016 during Salone del Mobile, and has since been constructed in various locations around Italy and the world including France, Switzerland, and Israel.
The mission of Santambrogio is to design structures built entirely of glass. Carlo Santambrogio and Ennio Arosio are quite known for their work on glass houses, completing their first full-glass house in 2010. Prior to the glass house, in 2004, they made their mark with the first all-glass kitchen designed by Ennio Arosio. ArchiExpo e-Magazine interviewed Carlo Santambrogio, lead architect of the eponymous design and architecture firm to talk about the original La Terrazza's public opening, and glass as an eco-friendly construction material.
READ: How glass is integral to long-term sustainability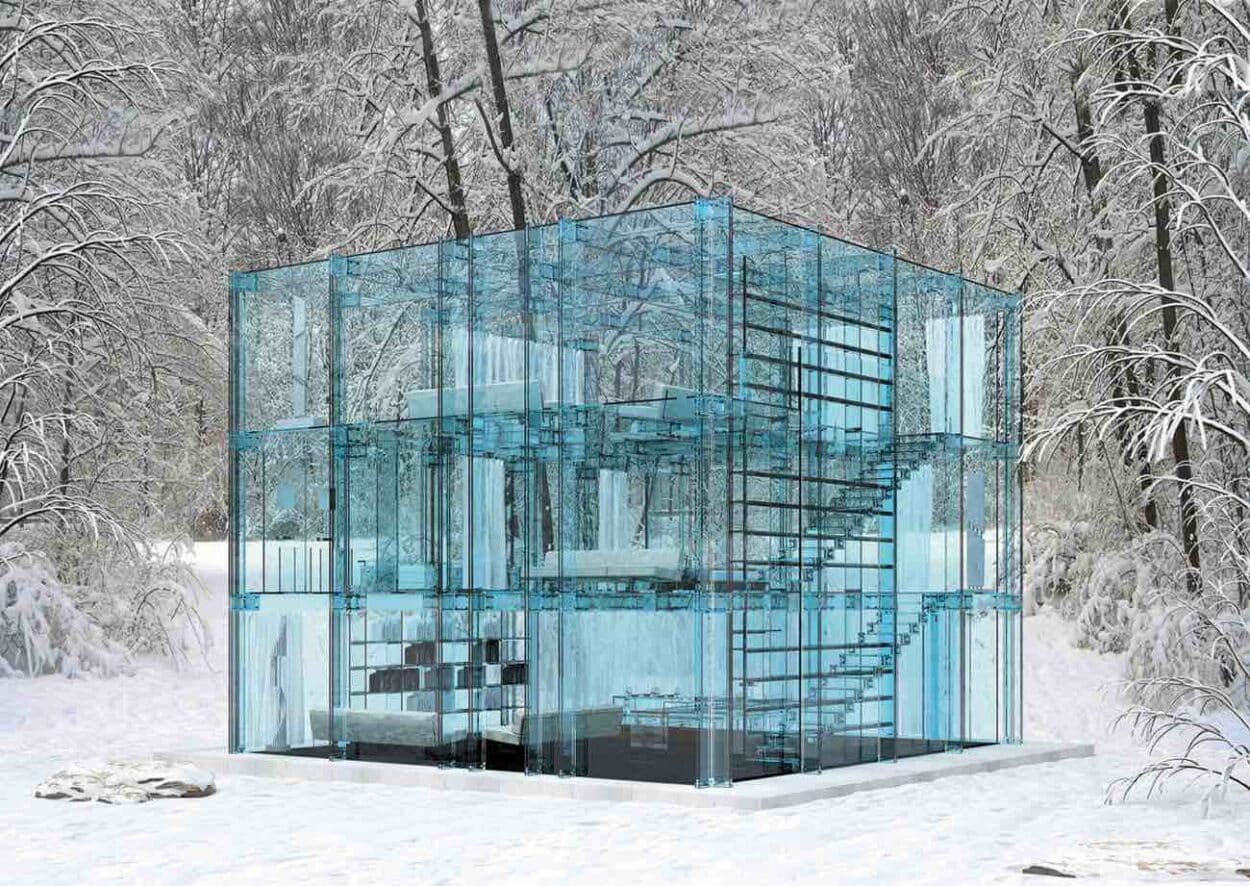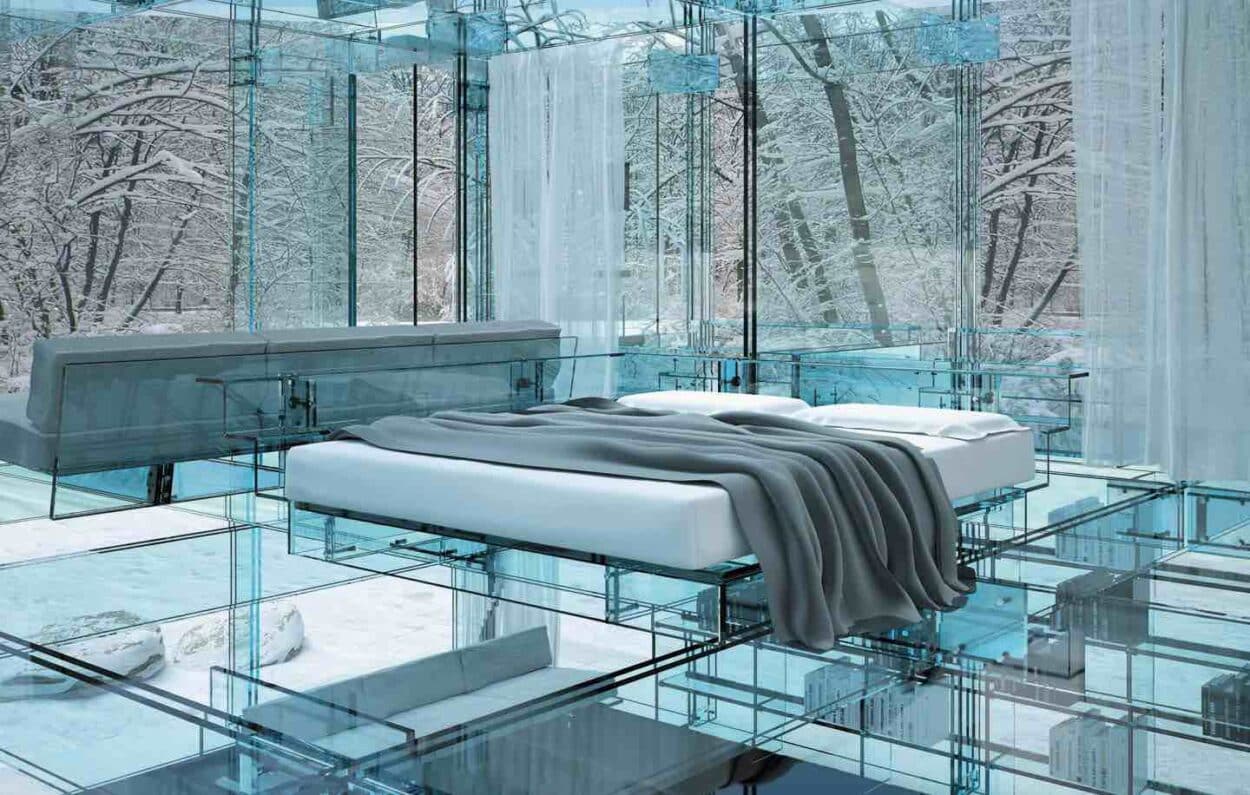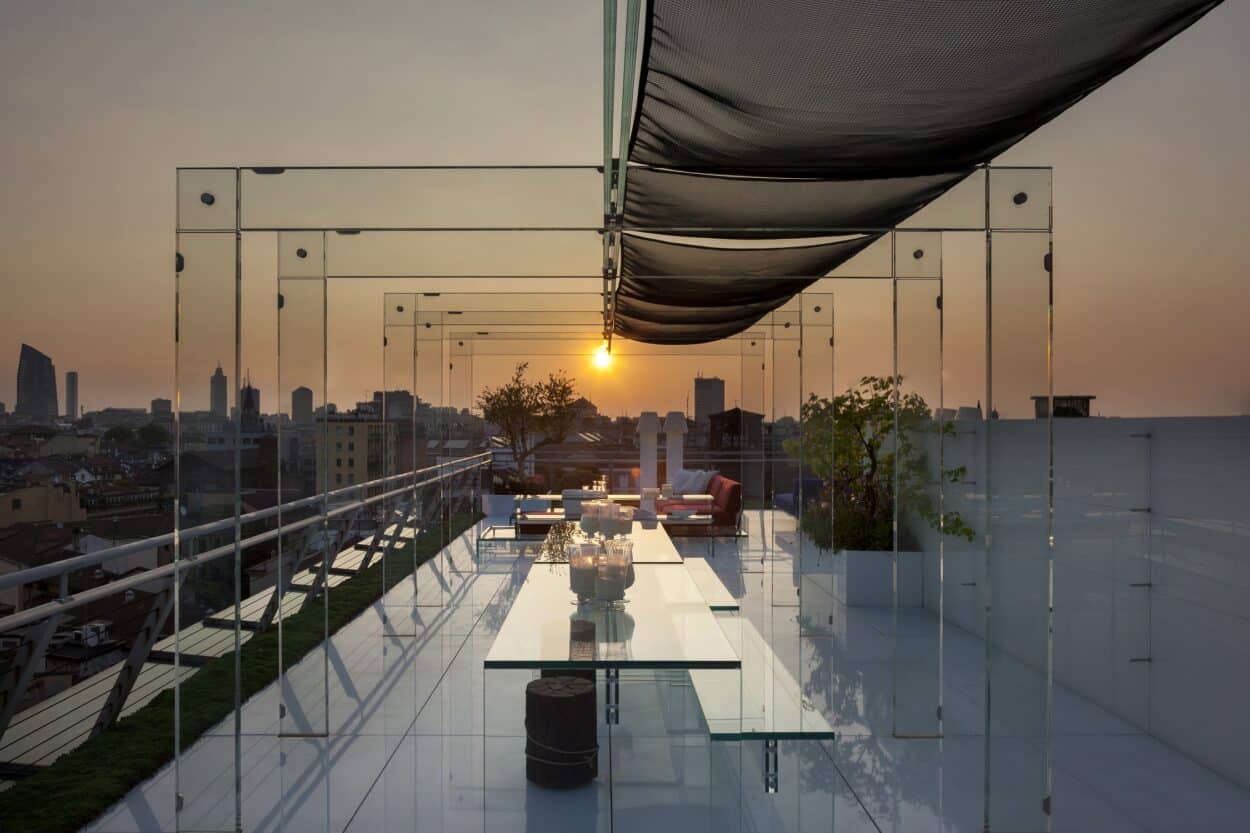 ArchiExpo e-Magazine: Can you describe La Terrazza in Milan?
Santambrogio: While usually glass only makes up a part of buildings, for all our architecture, everything is in glass, from the floor to the wall to the furniture. The whole 200-square-meter La Terrazza, located in the Brera District in the center of Milan, was realized in glass, not only as a decorative element but also in a structural role. In the center of the terrace stands an 8-meter-long pergola. This element consists of pillars and beams made of transparent glass. Close to the pergola, we installed the kitchen and the sofa area. It's like an open-air house. Here, the floor is not transparent because there is an apartment underneath. We've since built floors in transparent glass over water, and we've also built transparent glass floors above ground level to see the space below as we've done in our office. In our original project design, we created a closed space with a ceiling and four walls that can be used year-round. But the Milan city council didn't accept the project because it didn't follow codes as an extra volume inside of a building, so we put in three walls and an open ceiling. So this first model of La Terrazza remains open and we can use it only in spring and summer.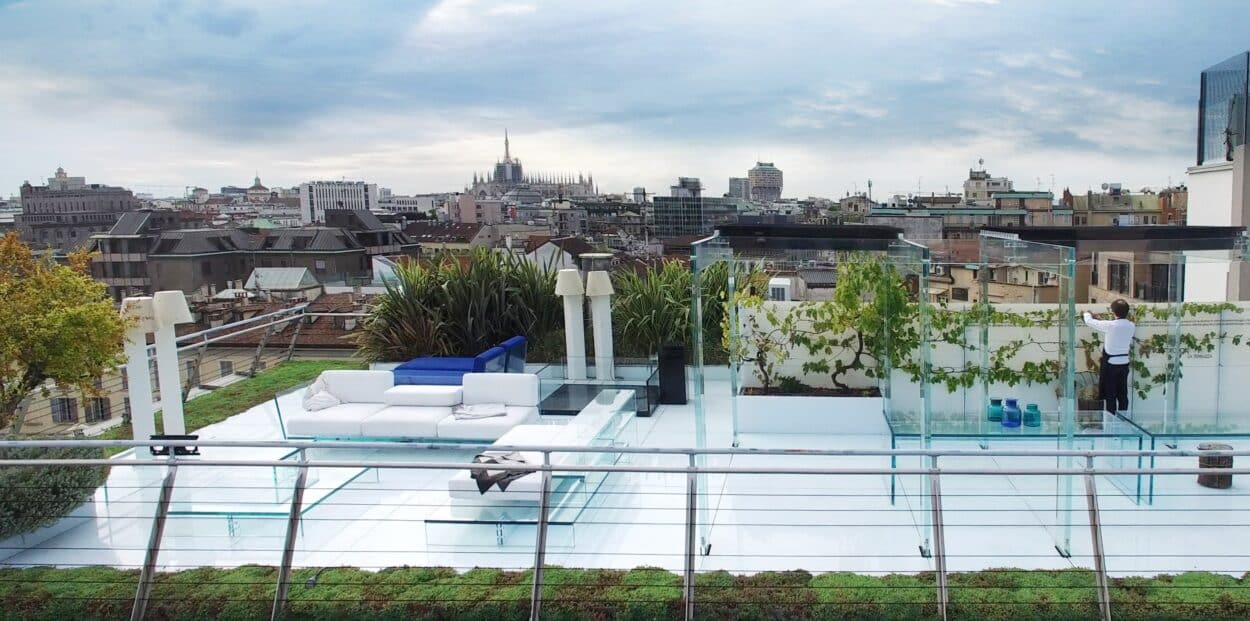 ArchiExpo e-Magazine: How do you protect La Terrazza from the sun?
Santambrogio: In the first year of opening at Salone del Mobile, we used a curtain that we anchored to the pillar and the beam of the structure to create shade. In the following years, we removed the curtains and changed the top cover to a custom-made system of gray glass slats. It's possible to incline the slats according to the position of the sun.
ArchiExpo e-Magazine: Who are your glass providers?
Santambrogio: The glass used for the terrace was provided by Novavetro Srl, an Italian Company we have been collaborating with for several years. They are a perfect partner for us because they are skillful in working with glass sheets of very large dimensions, up to 10 meters long.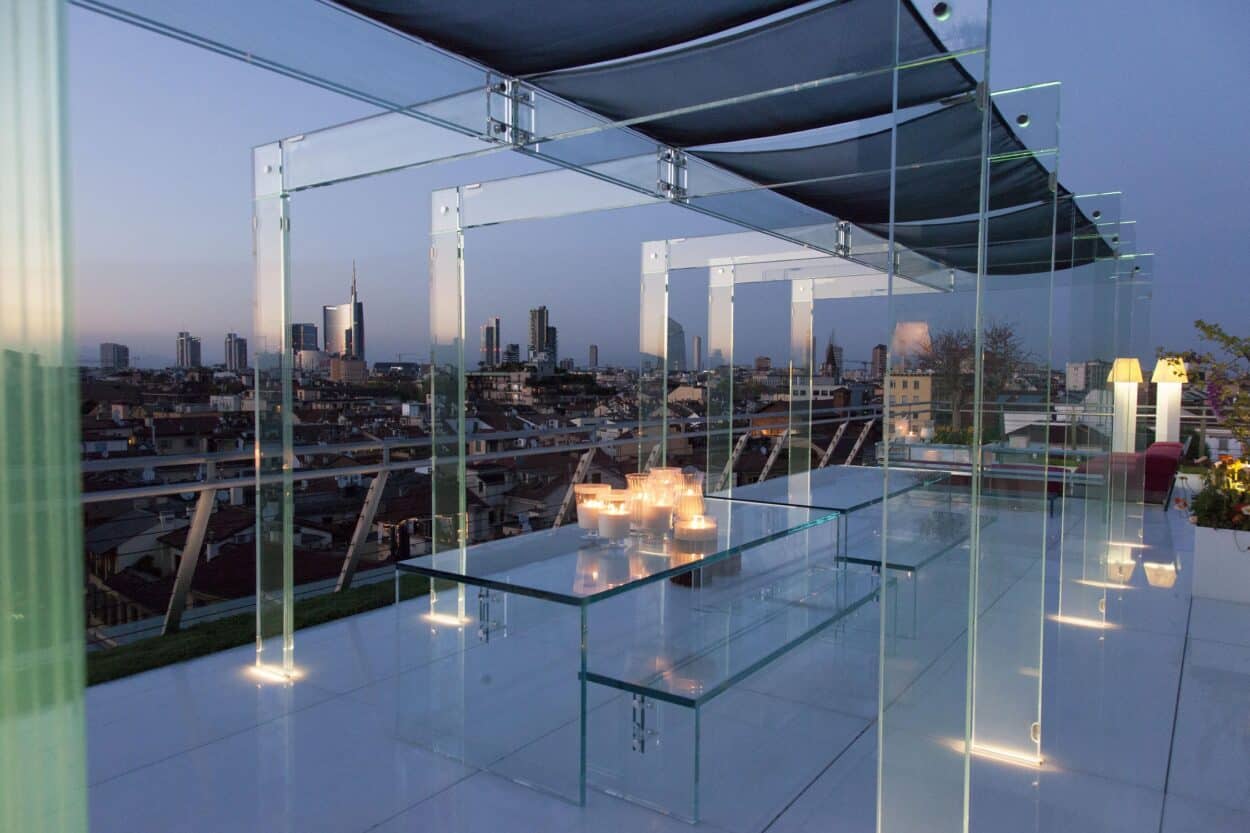 ArchiExpo e-Magazine: What recent innovations in glass do you use in your designs?
Santambrogio: In the last few years, glass in architecture has become increasingly important, especially thanks to the new technologies applied to this material such as high thermal / acoustic insulation glass, photochromic glass which turns from transparent to dark to protect from the sun, self-cleaning glass and other kinds of glass we use in the realization of our projects.
We use different glass according to the location of the construction site. For example, if we're constructing close to the sea like in Southern Italy, we need to protect more from high temperatures and the sun so we would use solar control glass. In the North, we need to protect more from the colder temperatures so we would use glass with thermal insolation. In Milan, we used extra clear transparent glass called Optiwhite for the aesthetic effect.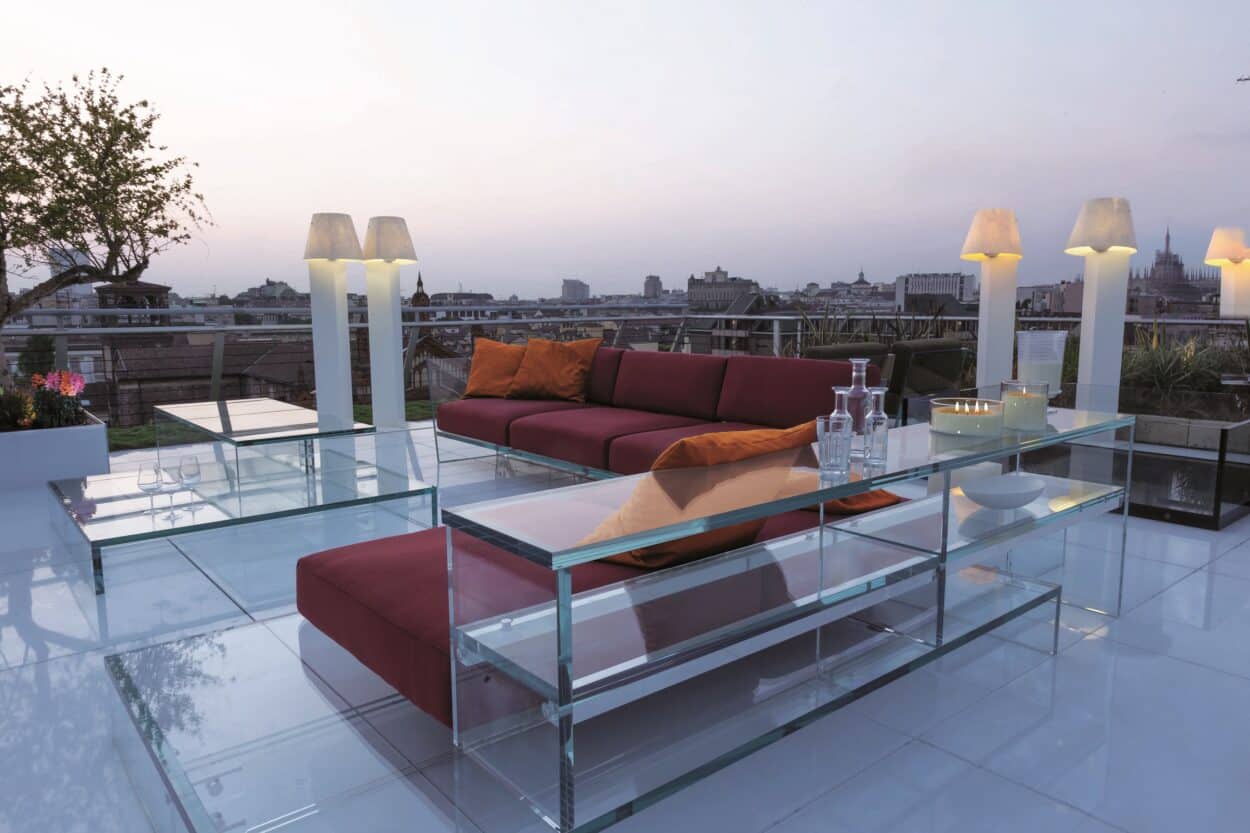 ArchiExpo e-Magazine: Is an all-glass building a danger to birds?
Santambrogio: At the moment, the only solution is to put a sticker on the glass to prevent birds from flying into it, but it's a material in continuous technological evolution. Today, our construction is usually not in the middle of nothing. The problem for birds is often twenty to thirty-floor buildings. Our construction is usually just one or two floors in the middle of nature, so the birds are not a very big problem because surrounding the structure, there are elements that disturb a bird's high-velocity flight.
ArchiExpo e-Magazine: What advantages does glass offer over other materials in architecture?
Santambrogio: Certainly the use of glass both as a structural material and as a furnishing accessory fluidifies the visual connection between inside and outside. Also, glass architecture creates spaces that can be very bright and extremely comfortable for people living or working inside them especially when La Terrazza is in the middle of a natural environment.
ArchiExpo e-Magazine: How does the glass terrace educate people about glass and sustainability?
Santambrogio: The terrace is a demonstration of how a space can be created entirely with sustainable material. Glass is the best material for construction because it's one-hundred percent recyclable. In addition, glass construction is like leggo construction in that it's built piece by piece, using just silicon to connect the corners.