Considered to be the smart city blueprint for the US, Peachtree Corners has implemented the country's first IoT control room, teleoperated e-scooters, traffic signal preemption by AV vehicles over 5G, solar roadway on a public street and more.
In Georgia, there's a city that owes its very existence to the technology industry. In the mid-1900s, in an area 20 miles outside Atlanta, visionaries worked to develop what has since become a campus of low-rise buildings for high-tech industries and a hub for engineer graduates from Georgia Tech. In 2012, the campus was incorporated as a city: Peachtree Corners. In 2019, the city transformed the historic Atlanta technology park into the Silicon Orchard and launched Curiosity Lab, a facility designed to help industries test new technology. Three years later, the city received the 2022 IEEE Jury Award, putting it in the lead as the smart city blueprint for the US. Recently, they've accelerated in the field of smart cities by implementing the country's first of many high-tech solutions:
First city in the United States to have implemented a full C-V2X solution across public infrastructure, via Qualcomm/Jacobs.
First IoT control room of its kind to be implemented in a US city includes intelligent traffic cameras and traffic signals, along with smart streetlights and data sensors, push video, and invaluable data here where city managers can monitor, analyze and manage the data to make quick decisions
First traffic signal preemption by AV vehicles over 5G
First public deployment of teleoperated e-scooters
First installation of a solar roadway on a public street
First deployment of autonomous vehicles from multiple OEMs (original equipment managers/vehicle manufacturers) on a public roadway connected over 5G wireless
READ: How London Became Europe's No 1 Smart City
These six key differentiators separate it from any other smart city in the world, serving as the 'walk' in 'crawl, walk, run' of developing fully deployed technologies. In addition, the city has achieved numerous world firsts with autonomous vehicles, 5G, teleoperated scooters and more. It's why many cities are collaborating with and learning from Peachtree Corners on the deployment of smart technologies. Numerous countries have sent official delegations to explore the smart city ecosystem at Peachtree Corners for near-future collaboration, from Japan and Switzerland to Saudi Arabia. Recent examples include the French-American Chamber of Commerce and La French Tech and numerous Israeli tech companies such as Brodmann17, IPgallery and Cyber 2.0.
In this interview, we discuss the layers of Peachtree Corners with Brandon Branham, the Executive Director at Curiosity Lab, with a special focus on the solar roadway and the recently deployed smart furniture by Urban Canopee.
READ: Solar Panel Roadways Still Have a Ways to Go
ArchiExpo e-Magazine: Tell us about the city-owned connected infrastructure and 5G. How did citizens feel about this?
Brandon Branham: Curiosity Lab is a city initiative where we've taken use of public infrastructure for companies to come and use in order to test, deploy and demonstrate emerging technologies. We set the boundaries of Curiosity Lab and what's called Technology Park Atlanta—500 acres, purpose-built, commercial-residential district that was built in the late 60s, developed deliberately to recruit technology-focused companies. The first personal computer modem was invented in Peachtree Corners: the Hayes modem [1977, marking the emergence of the online and Internet era]. The color printer was invented here, and Scientific Atlanta was founded here. We have a rich history of innovation. When the city was incorporated in 2012, the tech park was part of the city and its history. We looked at this as an opportunity to create Curiosity Lab [opened in 2019]. We've got fiber infrastructure along the roadway that allows for smart city technology testing and a full-scale connected vehicle environment with the necessary infrastructure to support that. We partnered with T-Mobile to bring the 5G spectrum into the lab. 
What happened with Sidewalk Labs in Canada was unfortunate. It was privately owned and created concerns around data, data sharing and privacy. We want to see the industry and technology better support our communities so it's unfortunate it didn't happen but Toronto's turning it around I think. For Curiosity Lab, the fact it's operated and maintained by the city brought a level of trust because citizens know that in the US, the policy we're putting behind data privacy will be quite strict. We're NIST 171 compliant, the highest level of data security you can achieve for unclassified data; and we don't deal with any unclassified data.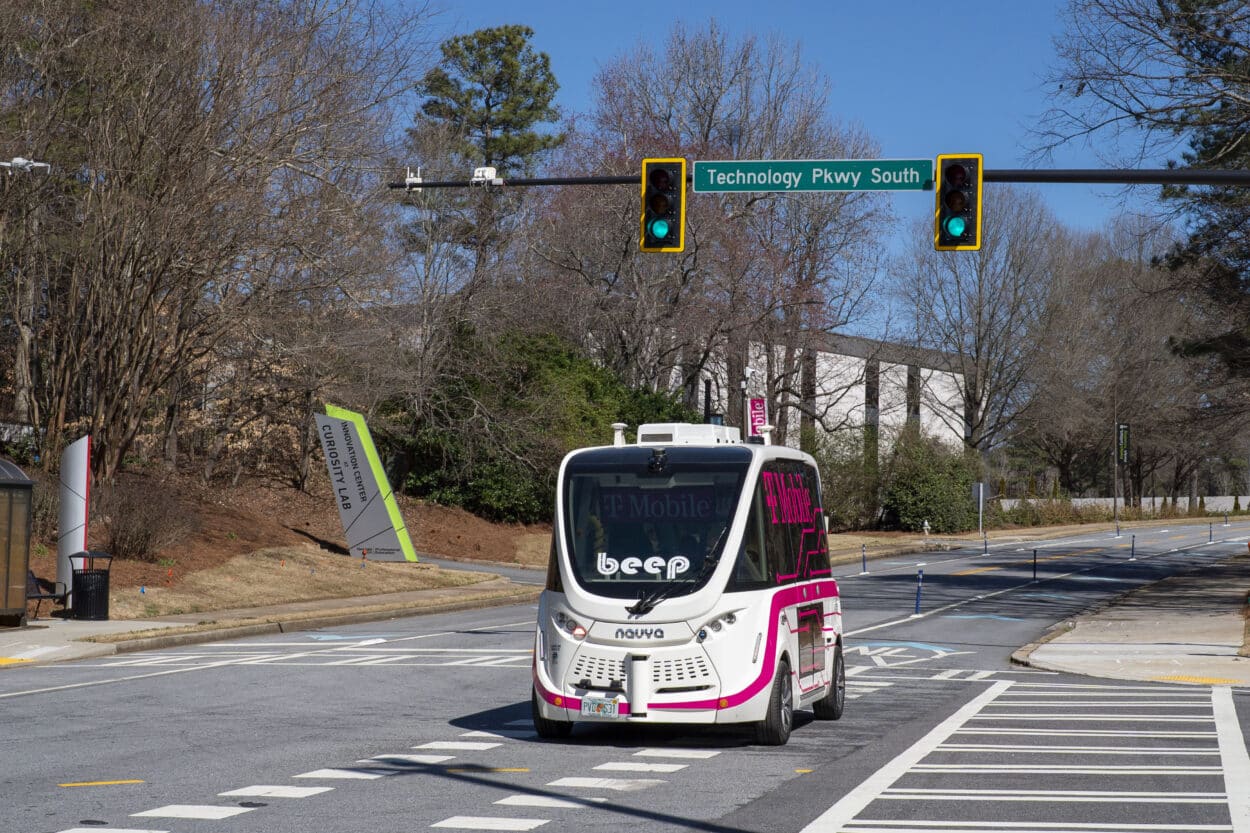 ArchiExpo e-Magazine: What's going on with the three-mile autonomous vehicle test and demo lane since its completed construction in 2019?
Brandon Branham: We worked with Atkins, [design, engineering and project management consultancies firm], to help us as we looked at the design and create what could be the future of the street when you bring in these inner-mobile operations, autonomous shuttles, creating micro-mobility lanes, cycling lanes, multi-use trail system; all on a single roadway. That was probably the longest part of our entire journey. We moved quickly, completing construction in 2019 but the idea only began the year prior. The original idea was a bi-directional lane down the middle of the roadway but as we worked with the architecture and transportation departments, receiving input, we made adjustments: You go down the [roadway], one on each side, human drivers in the middle and the multi-use trail system on the shoulder.
The current focus is less on ridership and more on implementation and building the connected vehicle environment for the shuttles. There are currently two autonomous purpose-built shuttles operating in the facility now. Over the last nine months, we've had over 1500 riders because they're open to the public—people like to ride them because they're fun but we'll be expanding our dedicated lane to connect to downtown. We should really start to see the integration of ridership, and we'll build out the network from there.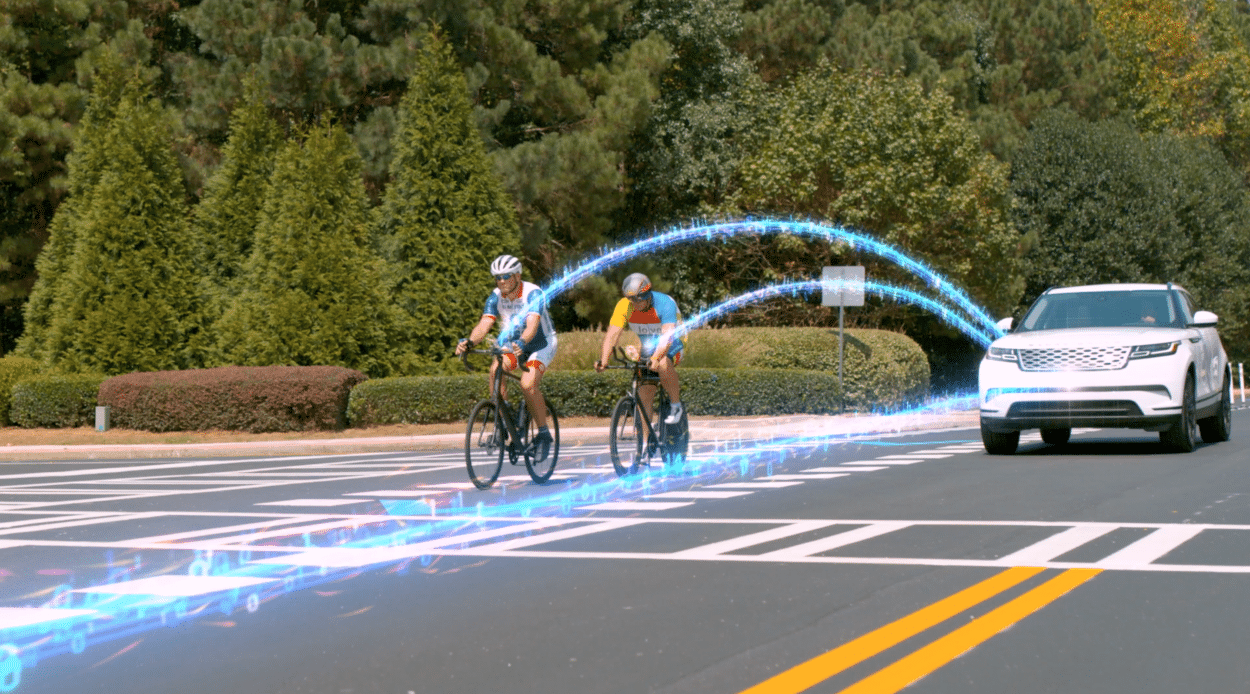 ArchiExpo e-Magazine: What can you say about the safety features of the city for cyclists and runners?
Brandon Branham: It involves wearable technology because you still need a receiving device. A lot of the technology for the roadway is being developed around that but we're also collaborating with companies on solutions in order to connect to non-wearable devices. We worked with BOSCH; they do a video as a sensor camera so we can detect a pedestrian or a cyclist, then we can process a hedge compute device that can convert that to a connected vehicle message and broadcast that out for awareness. Right now it focuses on the crosswalks, so I get a signal at the intersection if there's a pedestrian crossing. We can broadcast the message to a connected vehicle to let them know there's a pedestrian coming. We know how many cyclists and pedestrians go through the intersections that have a camera system. In terms of wearable technology, we met with Spoke. They're building a connected device for the motorcycle and bicycle. Once we see these systems get put into the bikes, then we'll start to see more data on users along the road. It's still early.
ArchiExpo e-Magazine: How do the solar roadways function and who supplied the panels?
Brandon Branham: Through one of our partnerships, another entity here in Georgia, The Ray. They have a relationship with GDot, our department of transportation, to operate 18 miles of highway systems for sustainability initiatives connected to connected vehicle initiatives. They have a company from France, Wattway, that supplied and deployed the solar panels in the rest station of that section of the highway—a stretch of Interstate 85 in southwestern Georgia, renamed the Ray C. Anderson Memorial Highway—because the state government refused to allow solar panels integrated into the highway, stating we need more data to figure out if this is a feasible option. In our city, we own, operate and regulate the roadway so we could say yes to integrating solar panels. Wattway provided the solar panels and the insulation for them to go on our street, then we hooked them into a battery storage device that connects to a level-two charging station. You still need to plug in at the station to charge the car.
READ: What Are Solar Roads?
ArchiExpo e-Magazine: How do the planters from the French brand Urban Canopee fit into the smart city concept at Peachtree?
Brandon Branham: This might be the lowest-tech product you'll get here but from an architectural and design-thinking standpoint, it's probably one of the best. They have a self-containing watering system with a canister that knows exactly when to water and how much to water so that you get optimal growth. As you think about the urbanization of cities, there aren't a lot of trees. Bringing in the shade reduces the impact of asphalt and sidewalk heat. You can put these canopies together to create green life and they're self-sustaining: no soil.