During ICFF + WantedDesign Manhattan, the Rhode Island School of Design (RISD) presented its Rewilded Domesticity exhibition.
The Rhode Island School of Design (RISD) is proud to present "Rewilded Domesticity" at ICFF + WantedDesign Manhattan, as part of the NYCxDESIGN 2023 event. This unique exhibition showcases a collection of objects that embody a collective yearning for connection through their bold, organic materiality, honest structure, and the wisdom inherited from found artifacts. In a world marked by displacement, migration, disharmony, and inhospitable conditions, these objects boldly reclaim the power to create a "home" in any situation and with any chosen collective.
Far from being mere products, these objects serve as tools for in-person interaction, embodiments of care and attention, and vessels of profound meaning. They speak volumes about what is missing in our age of keyboard strokes, mouse clicks and digital socializing. By highlighting the physical, emotional, and creative labor required to establish and nurture genuine bonds, these objects ground us in processes that are more earthly than virtual. 
The work includes Chair 03V08 Lite, Vessel 01 by Samuel Aguirre MFA 24 FD, Day Mantle (Heart of the Home) by Bill Carroll MFA 23 FD, Sinew Table by Louis Cohen MFA 23 FD, Untitled by Jonathan Samuel Dinetz BFA 24 FD, Chained Basket by Callum Houck BFA 23 FD, Eternal Recurrence – Landing by Michelle Jiaxin Huang BFA 23 FD, Twig Chair by Yuxuan Huang MFA 24 FD, Fraser Bench by Aydan Huseynli BFA 24 FD, New Land by Han-Ray Jahn BFA 23 FD, Sauna Stove by Cam Lasson BFA 2024 FD, Yellow Study by Theju Nimmagadda BFA 23 FD, Bowline Chair by Jan Rybczynski BFA 23 FD, Reflection Plane by Lisa Sacco MFA 23 FD, Plane Chair by Jake Stockman BFA 23 FD and Oak Chest by Kira Wilson BFA 24 FD.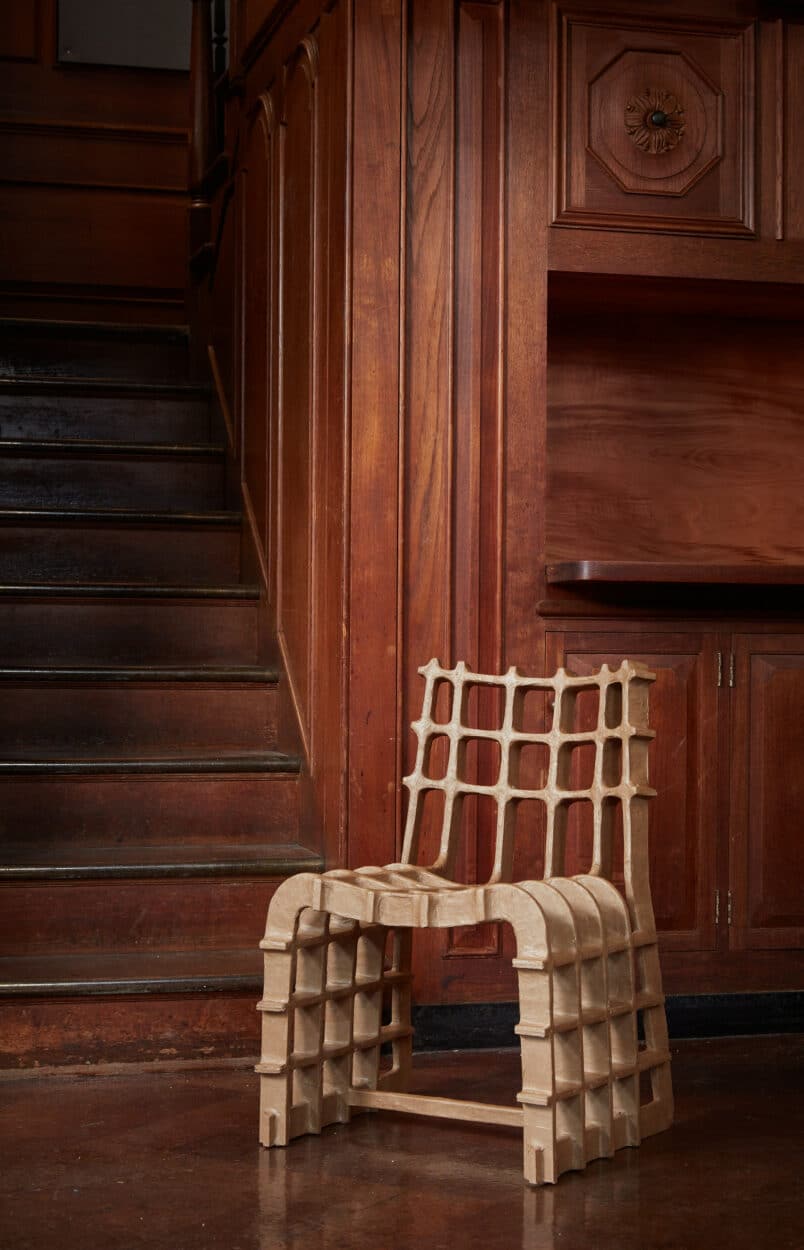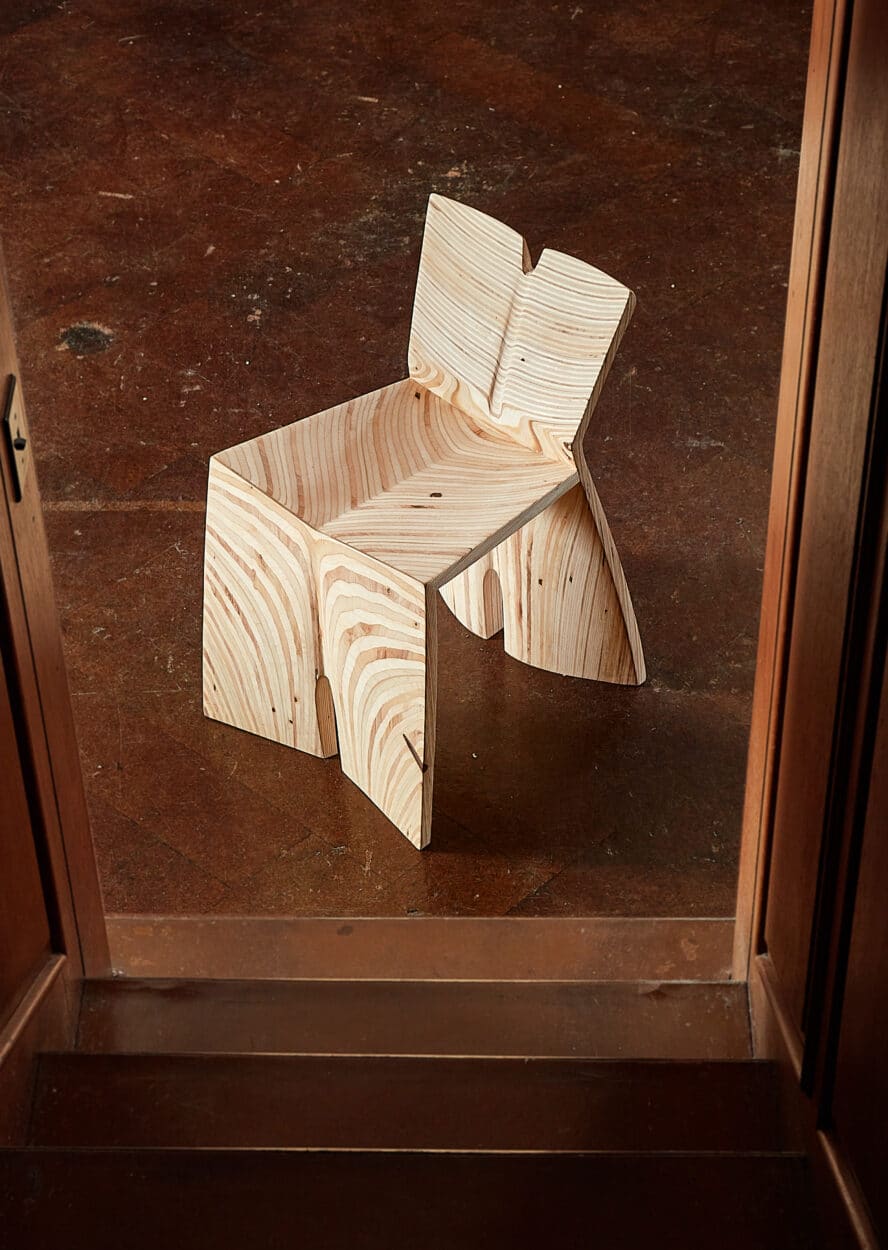 Exploring the Essence of Design: Objects That Transcend Time and Question Materiality
In the realm of design, there are objects that go beyond their functional purpose and delve into the realms of philosophy, sustainability, and the exploration of materiality. Rhode Island School of Design (RISD) presents a captivating collection of such objects, each with its own unique story and purpose. From Michelle Jiaxin Huang's thought-provoking "Eternal Recurrence – Landing" to Samuel Aguirre's environmentally conscious "Chair 03V08 Lite" and Kira Wilson's satirical "Oak Chest," these creations challenge our perceptions and invite us to question the world around us.
As the second half of a speculative project that delves into the concept of cyclic life, "Eternal Recurrence – Landing" (BFA 2023 FD, mild steel) captures the essence of a philosophical escape from linear time. Through its ambiguous form, this artwork seeks to contextualize cyclic life by evoking ideas of birth, transport, and communication. Michelle Jiaxin Huang's creation offers a thought-provoking perspective on the cyclical nature of existence.
Samuel Aguirre's "Chair 03V08 Lite" stands as a testament to sustainable design and responsible material usage. Crafted from plant-based and compostable materials such as post-consumer paper pulp, corn starch, and woven cotton, this chair embodies the principles of environmental consciousness. It serves as a proof of concept, challenging the notion that our limitations lie in resource scarcity while highlighting the significance of design ingenuity and industriousness in creating a more sustainable future.
In a world filled with subtle and unnoticed absurdities, Kira Wilson's "Oak Chest" embraces the notion of exposing hidden narratives. Drawing inspiration from the plastic laminate found on school desks, this artwork employs a hand-drawn oak woodgrain pattern, etched into the surface to reveal the underlying steel. Through its playful critique of our attachment to certain materials and disguises, "Oak Chest" sparks contemplation on the values we assign to everyday objects.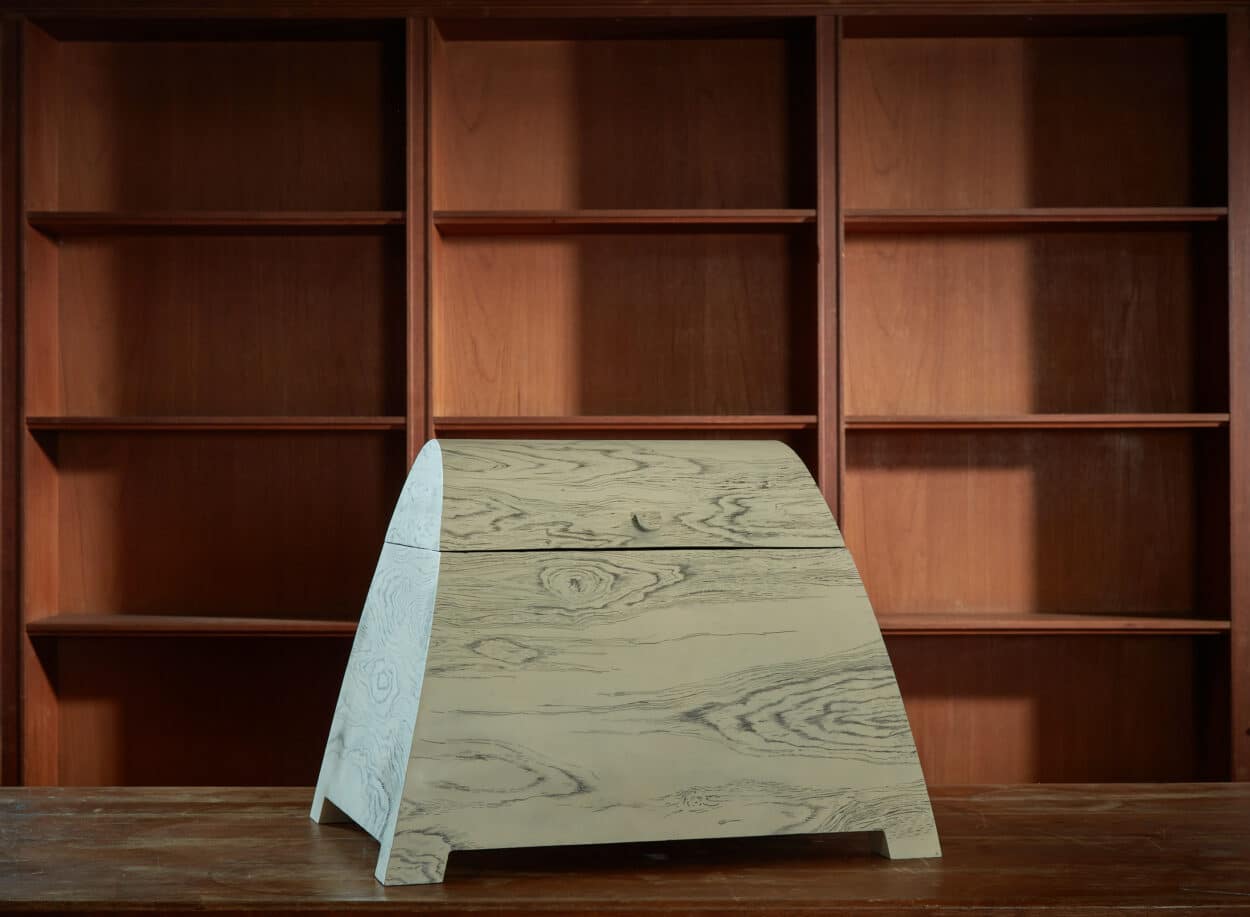 Yuxuan Huang's "Twig Chair" is a harmonious blend of nature, humanity, and industrialization. Constructed entirely from Baltic birch plywood, this minimalist sculpture showcases the hidden beauty within the mundane. With its meticulously crafted contour lines and patterns resembling the growth rings of trees, the chair serves as a metaphorical dialogue between humans and their surroundings. By utilizing recycled and wasted commercial plywood, "Twig Chair" envisions a sustainable, economical, and aesthetically compelling future.
In this captivating exhibition, RISD's designers push boundaries, challenge conventions, and invite viewers to reflect upon the profound concepts encapsulated within each object. Through their imaginative creations, they redefine the role of design in our lives, encouraging us to explore the intricate relationship between form, function, and meaning.