To celebrate 50 years of the Mah Jong sofa designed by Hans Hopfer in 1971, Roche Bobois programmed a number of events this year and released new collections.
Roche Bobois marks the milestone anniversary of the Mah Jong sofa by redressing it with new designer fabrics by Kenzo Takada (who sadly passed away at the end of last year from COVID), Missoni Home and Jean-Paul Gaultier, set on elegant platforms meant to enhance the silhouette and comfort of the sofa. The iconic piece is ultra modular and, today makes up many collections and can be positioned into different compositions when three elements are juxtaposed or superimposed.
Mah Jong is a sectional sofa comprised of elements upholstered in fabrics; it's a modular system made of seat cushions (95 x 95 x H.19 cm), straight and corner backrests (H. 53 cm) and lounge chair elements (159 x 95 x H .19 cm). All the elements are padded, quilted and made by hand. Optional adjustable backrest mechanism and small cushions.
Each cushion is entirely made and sewn by hand, in a dedicated workshop in Italy. Dressed in exclusive fabrics, the Mah Jong has long been a benchmark of creativity and modularity. The cushions are designed like a mattress, and each one is unique, with handmade seams and carefully checked finishes. The artisanal work highlights the fabrics of the creators who dress the Mah Jong.
Roche Bobois has always called on talented designers to dress the Mah Jong sofa. This year, the Mah Jong cushions are dressed in new fabrics designed by Kenzo Takada, Missoni Home or Jean Paul Gaultier.
Upcoming Event in the US, Oct 16-24—Once-a-year offers* on all new collections, from leather and fabric sofas, sideboards to dining tables, and accessories. The 8 Exceptional Days are the perfect opportunity to discover the variety and creativity of the Roche Bobois collections. *Offer valid from October 16-24,2021, in US only, not to be used in conjunction with any other offer.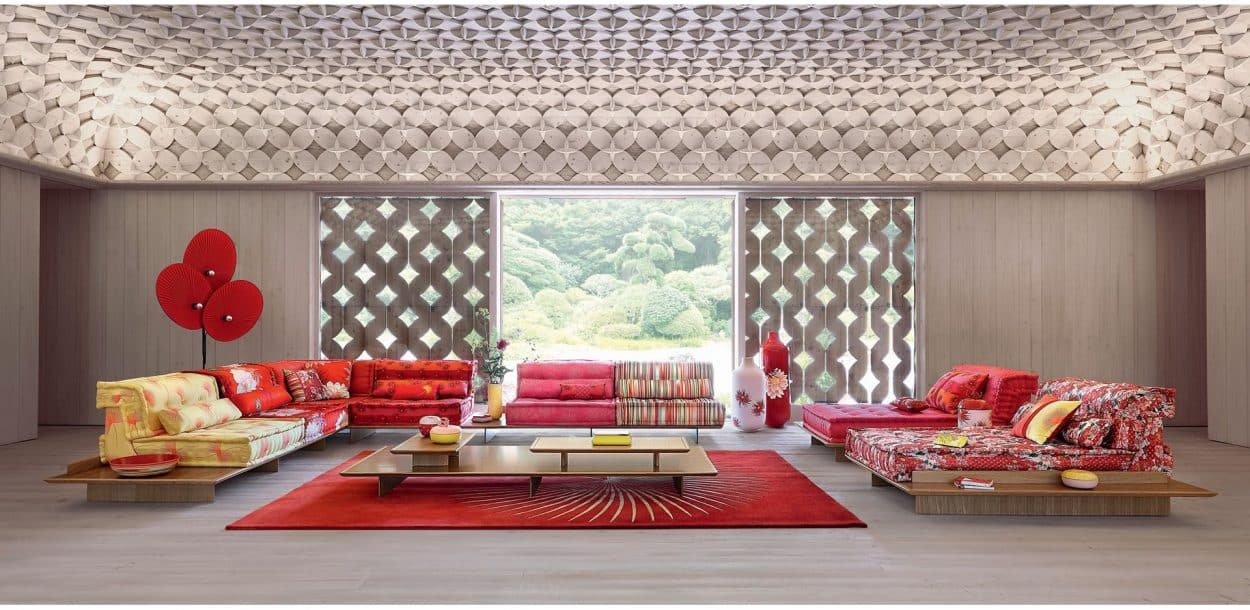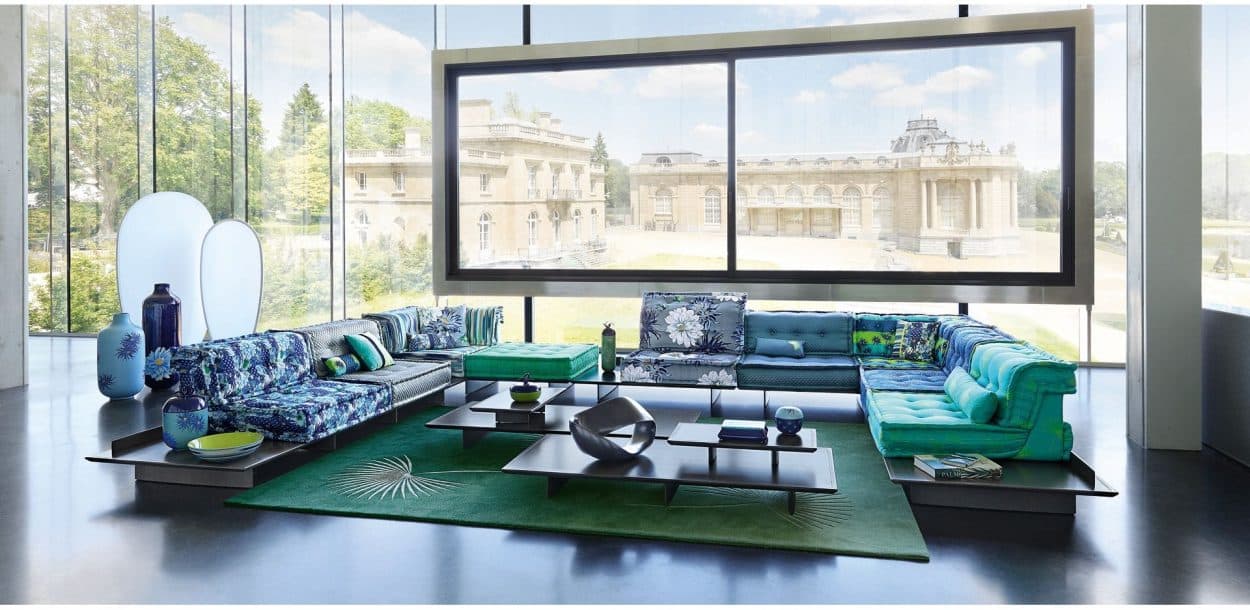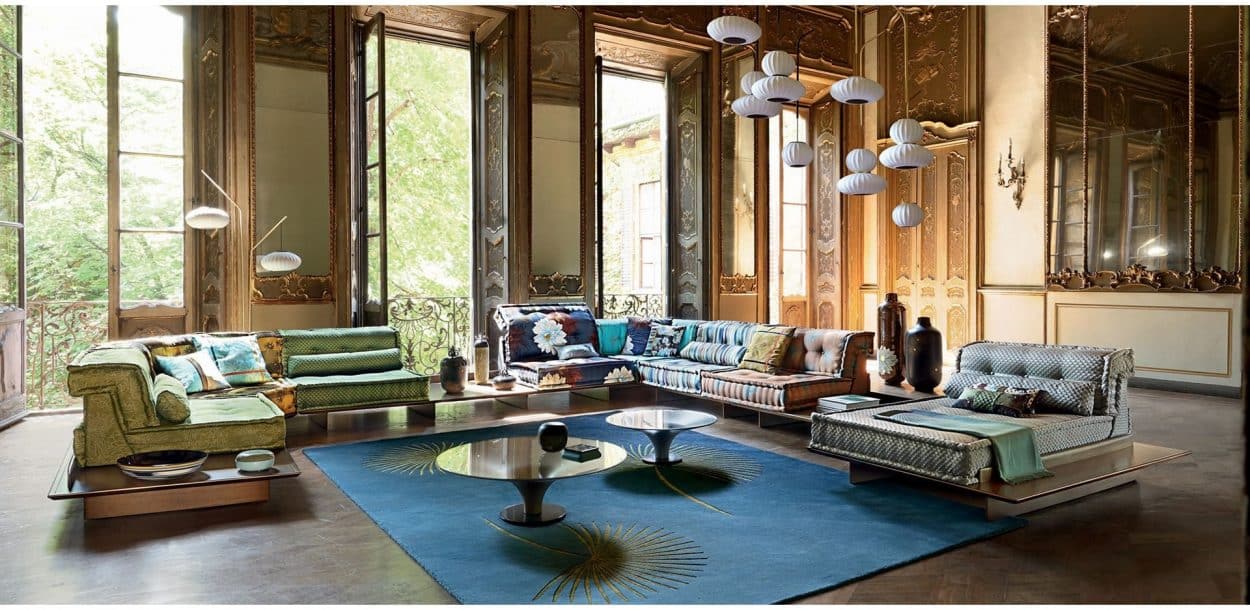 Kenzo Takada, the Most Parisian of Japanese Designers
Free and daring designer Kenzo Takada, "the most Parisian of Japanese designers", according to Roche Bobois, designed exceptional collections of fabrics to dress the Mah Jong. The graphic and cultural codes that characterize him can be found in his creations: mastery of colors, the subtlety of patterns, for original and elegant harmonies. Kenzo Takada has completed three new collections for Roche Bobois: Umi, Natsu and Irune.
A common thread between the three collections is a floral pattern. While Irune is very classy and sober, Natsu is like a splash of color using pinks, purples and reds. Umi, on the other hand, uses soft blues and greens and a deep blue in contrast.
Kenzo Takada was a fashion legend, as written in Elle. Founder of the house of clothing, accessories and perfumes Kenzo, Japanese designer Kenzo Takada died on October 4 from the aftermath of Covid-19 in Neuilly-sur-Seine. He was 81 years old. Find a respectful obituary in Vogue.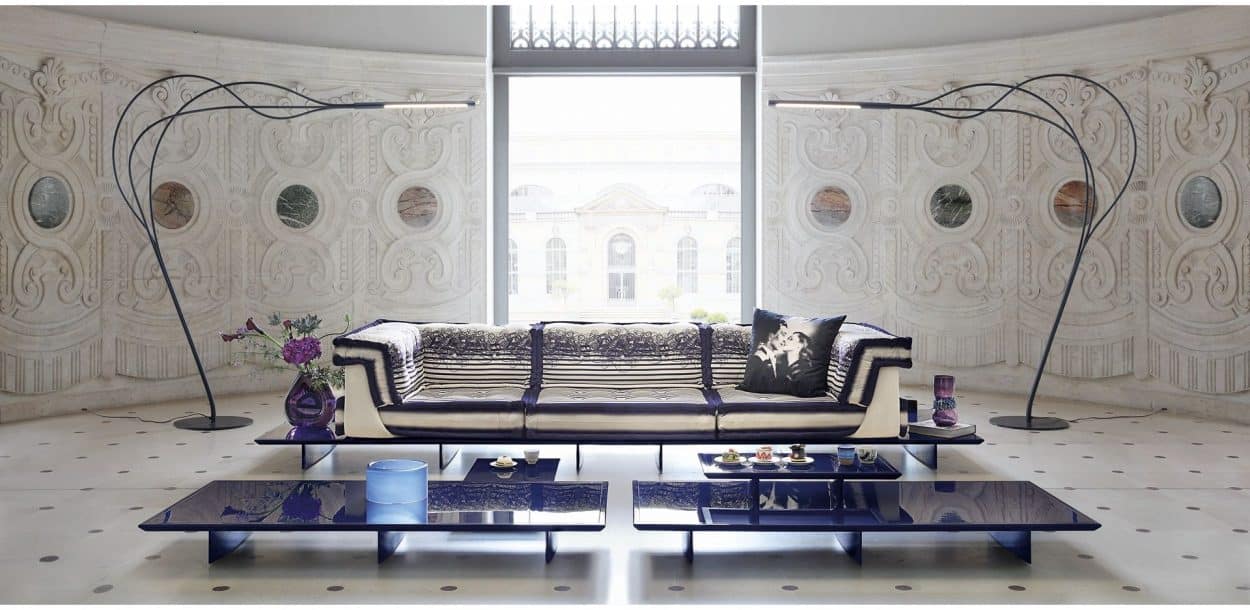 Jean-Paul Gaultier, Pulling on Original Inspiration
Jean-Paul Gaultier is an iconic designer in fashion and fragrance. Originally known for his passion for dark colors, he began to appreciate a lighter palette. In this collection of Mah Jong for Roche Bobois, a combination can be seen. His thematic inspiration runs from astrology, religious symbols, Celtic designs, calligraphy, tattoos and regional apparel from around the world. It's no surprise that his design here is pointed in that direction.
Missoni Home, a Vogue-made Celebrity
Founded in 1953 by Ottavio Missoni and his wife Rosita, Missoni is known for its knitwear produced in Lombardy, Italy. In fact, in the early sixties, the company became celebrated for its zigzag pattern used in the collection they presented for the first time at Milan Fashion Week in 1966. Following this event, Vogue magazine discovered Missoni and helped the label achieve an international breakthrough. They introduced Missoni Home in 1983 and it has flourished. This new collection of the Mah Jong sofa for Roche Bobois is not the first and, as usual, the company has created a masterpiece. See featured image.