In the market for some glass? Saint-Gobain Group provides six glass solutions to fit any architectural project. Learn more here.
Saint-Gobain has been producing glass solutions on an industrial scale since 1665 and has become one of the most important international businesses that designs, manufactures and distributes construction materials. In 1681, Saint-Gobain manufactured the famous Hall of Mirrors in King Louis XIV's Palace of Versailles. Over the past three-and-a-half centuries, Saint-Gobain has expanded to include materials for all kinds of construction from buildings to transportation to infrastructure but also continued to evolve in glass production. Today, the Saint-Gobain Group houses six different glass and glass system brands, each with its own specificity. 
Thermal Insulation Glazing and Energy Efficiency
Saint-Gobain Glass, the eponymous brand in the Saint-Gobain Group, supplies glass applications for facades, windows, interior design and protection for work and living spaces. Keeping up with ecological innovation, Saint-Gobain Glass is exploring ways for glass to be a better thermal insulator with products like low-emissivity (low-E) glass glazing. The glass's transparent metallic coating reflects heat from radiators and fireplaces back into the room. 
The company is putting the product to the test inside a research facility, Energy House 2.0,  at the University of Salford. In collaboration with Barratt Developments and Bellway Homes, Saint-Gobain has built two three-bedroom detached houses inside a climate-controlled chamber.
"With the energy efficiency of the external façades becoming ever more important, as we move towards the 2025 Future Homes Standard (UK), windows will play a critical role in meeting the regulations and delivering comfortable environments," according to Oliver Novakovic, Technical & Innovation Director at Barratt Developments in an article on the Saint-Gobain website. 
Spacer Bars For Better Insulated Spaces
Energy-efficient windows rely on more than just the glass itself, but also on glass installation systems. Swisspacer is the Saint-Gobain Group brand that specializes in warm-edge spacer bars for window installation. A spacer bar is what creates physical contact between the panes of an insulating glass unit and therefore plays an important role in a window's thermal performance. Swisspacer's warm-edge spacer bars are made from a highly insulating plastic composite material that minimizes the loss of heat as compared to aluminum. For this reason, Swisspacer bars are the choice for passive buildings like the Europassive® House in Alsace, France or the Passive House Bruck in Changxing, China.
In addition to providing energy efficiency through effective insulation once installed, manufacturing Swisspacer spacer bars produces only 0.88 kg of CO2 for a 4-meter length frame, whereas manufacturing a similar-sized frame in aluminum produces 1.5 kg of CO2 according to the Swisspacer website.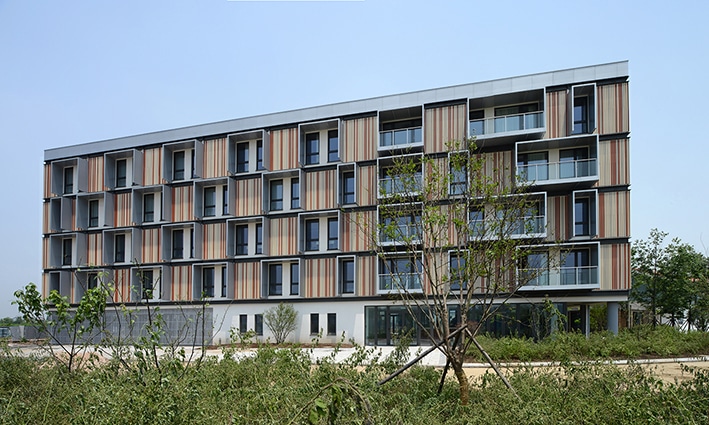 Smart Windows That Adapt To Daylight
The SageGlass brand is an expert in smart glass that adapts to the changes in sunlight throughout the day and seasons, eliminating the need for blinds. By tinting throughout the day, SageGlass windows allow for views and daylight while reducing glare and energy use. When untinted, they look like regular low-E glass windows, but when tinted, SageGlass's proprietary SR2 glass coating creates a uniform reflective appearance from the building's exterior.
READ: SageGlass: Automatic Glass Tinting Based on the Sun
In 2020, Clemson University in South Carolina, USA, inaugurated the Wilbur O. and Ann Powers College of Business building. The business college features a five-story atrium with SageGlass Smart Windows throughout. The windows tint throughout the day so the atrium stays cool and comfortable while maintaining the view of the building's surroundings. In addition to temperature regulation and integration with the HVAC system, the Smart Glass provides natural light for surrounding faculty offices, reducing energy consumed in electric lighting. 
SageGlass was recognized as a Solar Impulse Efficient Solution in 2021. Solar Impulse commended SageGlass on its capacity to reduce a building's overall energy load by an average of 20%, and its peak load by up to 26%.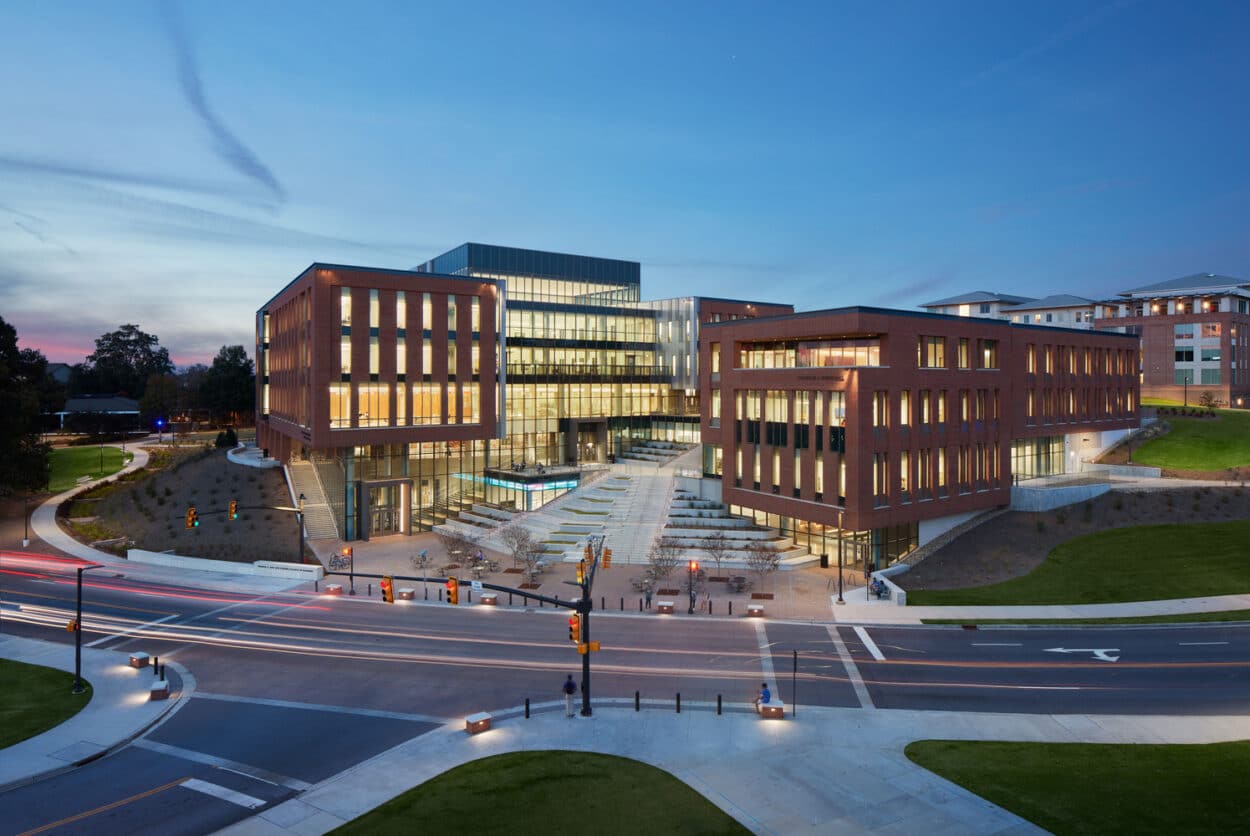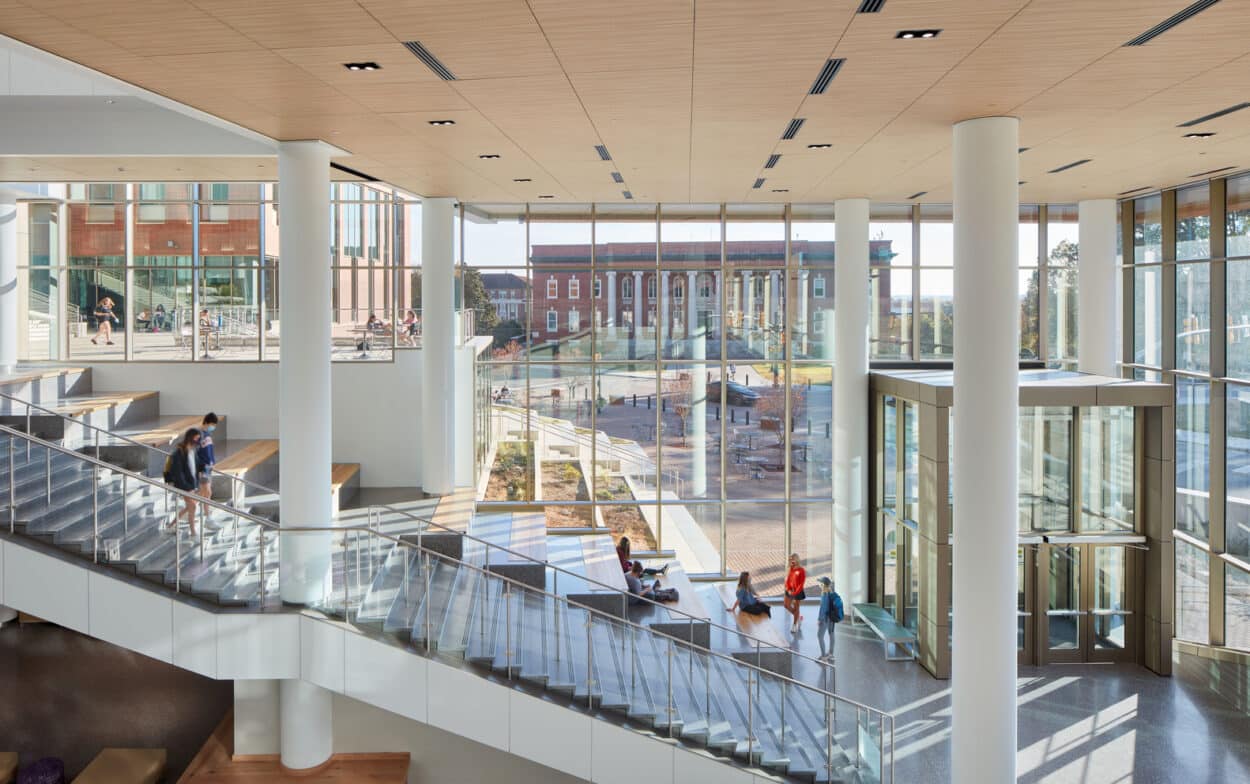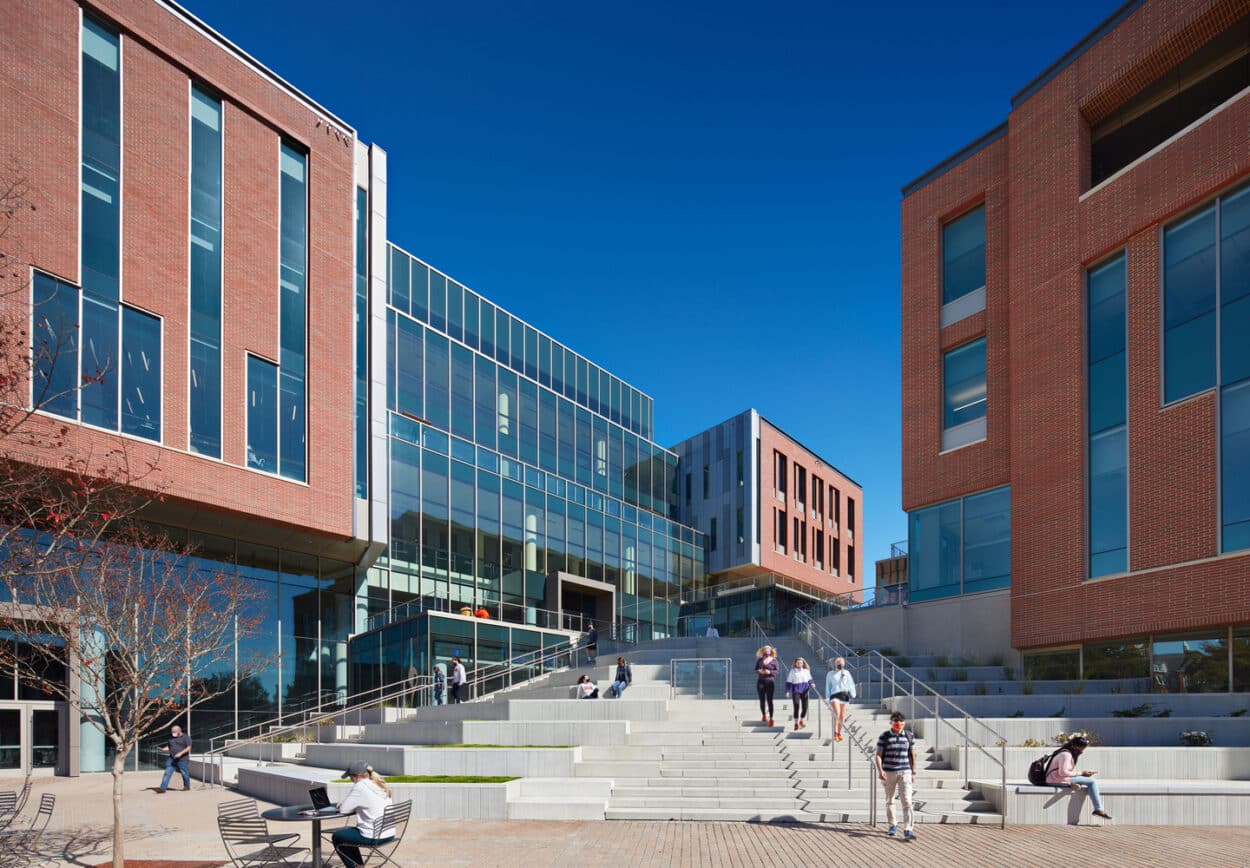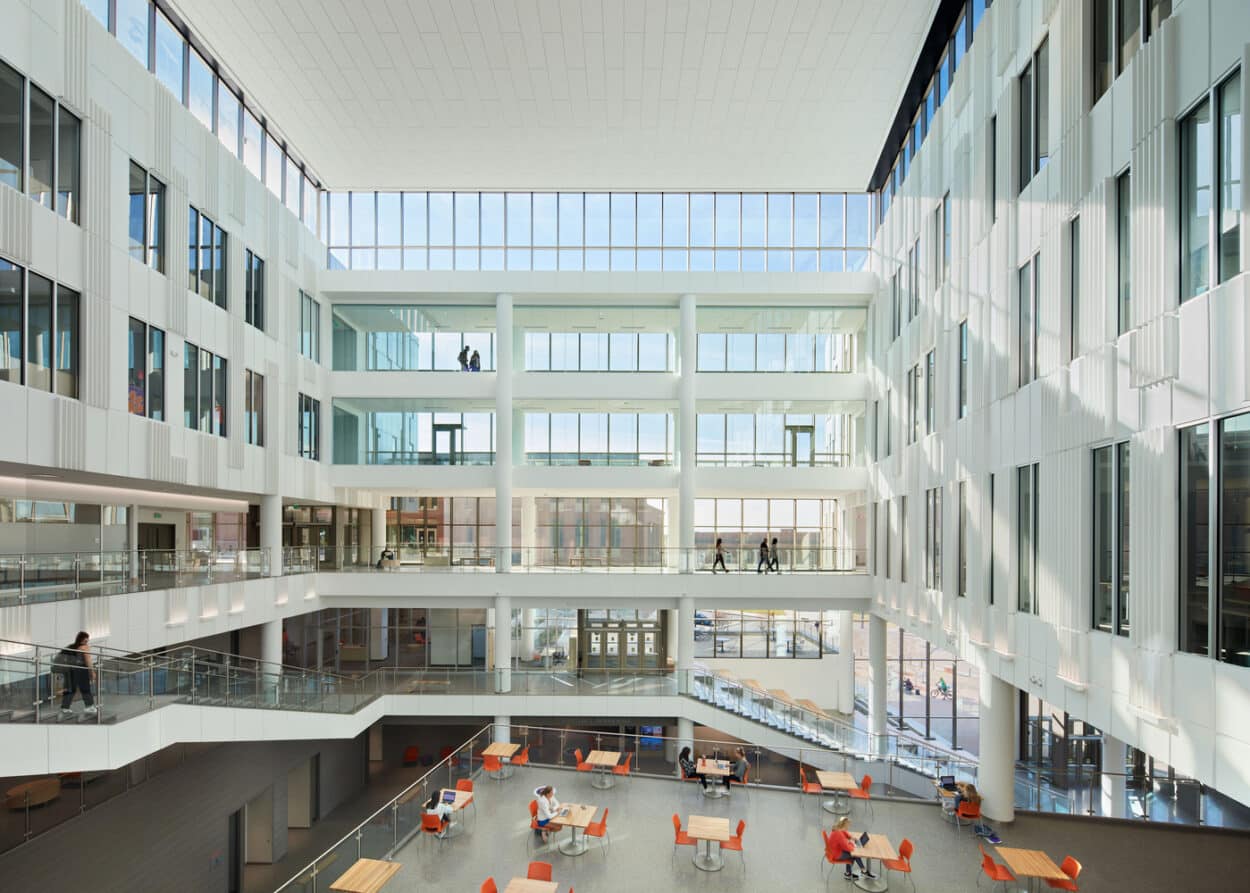 Glass and Safety Facing Extreme Circumstances
When it comes to protection in extreme circumstances, Vetrotech provides fire-rated, bullet, blast and impact-resistant glass without disregarding the need for daylight and architectural design. The company emphasizes the essential nature of both safety and access to natural light, with applications of fire-resistant safety glass in a variety of building contexts that include healthcare, hospitality, education, public transport and marine.
Vetrotech was founded in Switzerland in 1980 to develop the first clear fire-resistant safety glass, called Pyroswiss. The same year, the German glass division of Saint-Gobain entered the fire-resistant glass market with the invention of a new "hydrogel" technology with heat insulation properties. The UV-stable alkaline silicate-based chemical mixture, which reacts in the event of a fire, is injected between layers of fire-resistant glass, to comprise the product Contraflam. In 1995, Saint-Gobain acquired Vetrotech and the companies combined their expertise. 
Vetrotech Saint-Gobain operates its own accredited test lab, International Fire Testing + Services (IFTS) on the Saint-Gobain Germany site. IFTS is an accredited fire resistance testing laboratory that meets ISO 17025 requirements.
An Italian Touch with Logli Massimo
Logli Massimo, an Italian brand that became part of Saint-Gobain in 2018, manufactures outdoor steel solutions for fixing many types of glass installations including self-supporting glass facades, insulating glazing panels, shelving, balustrades and canopies.
Logli Massimo's products are studied by a specialized engineering team at L.I.S.V.E.T – Laboratory of Engineering Glass Structures, a laboratory that the brand established in 2010 in collaboration with the University of Florence's Faculty of Engineering.
With more than 7,000 items for installing and fixing glass, and the recent introduction of a customization service to meet the needs of customers that include glasswork, installers, designers and interior decorators, Logli Massimo is literally the nuts and bolts of glass design.
Sustainability In Glass Distribution Methods
Energy efficiency in glass lies in more than just the products themselves, as demonstrated by Glassolutions, also under the Saint-Gobain Group. Glassolutions provides distribution of a large selection of glass products that include Insulating glass units (IGUs), processed, toughened and fire glass from a network of local branches throughout the United Kingdom. 
The introduction of two vehicles fuelled by Hydrotreated Vegetable Oil (HVO) to its distribution fleet earned Glassolutions a finalist spot in the 2022 G22 Sustainability Initiative Award. The new vehicles saved more than 42 tonnes of CO2 in the first six months of 2022, which according to the Glassolutions website, is equivalent to 110 economy flights from Amsterdam to Rome. The company aims to convert all of its distribution vehicles to HVO by the end of 2024 to reduce its carbon footprint and reliance on diesel. 
"We are constantly striving to enhance our sustainability credentials and as far as we are aware we are the only glass distributor in the UK to be using HVO vehicles," Lisa Dunn, Sector Director at Glassolutions said.