As deforestation concerns increase, Brazil's furniture industry declares 98% of its export companies own a sustainability certification.
April 18 – 23, 2023—The Salone del Mobile.Milano had sustainability at the center, in line with having received the ISO 20121 certification, which recognizes the adoption of sustainable strategies in event planning. Salone del Mobile also became a signatory of the Sustainability Guide of the United Nations Global Compact, a corporate pledge. The organizers have been updating the voluntary sustainability guidelines for participant companies over the last few years. In this article, we highlight the efforts and advancements made by Brazil.
Around 98% of Brazilian export companies in the furniture sector have a type of certification proving the sustainability of their production methods. Cleaner production processes, a focus on circular economy, the increase of product lifespan and the reduction of environmental impact at all stages of both production and consumption are some of the issues that have been guiding the actions of the furniture industry in the country.
In Brazil, it goes beyond a trend and becomes a matter of survival with the ever-increasing level of international concern over deforestation, especially in the Amazon region. As shown by satellite imagery from Brazil's National Space Research Institute (INPE), from August 1, 2021, to July 31, 2022, the county lost 11,568 km² (or 4,466 square miles) of forests, an area equivalent to the size of Qatar. The seriousness of the problem, which worsened during former president Jair Bolsonaro's government (2019-2022), can be further demonstrated by a study led by scientists Carlos Nobre and Thomas Lovejoy which showed that about 40% of Brazil's current carbon emissions result from forest destruction, often through deliberate fires.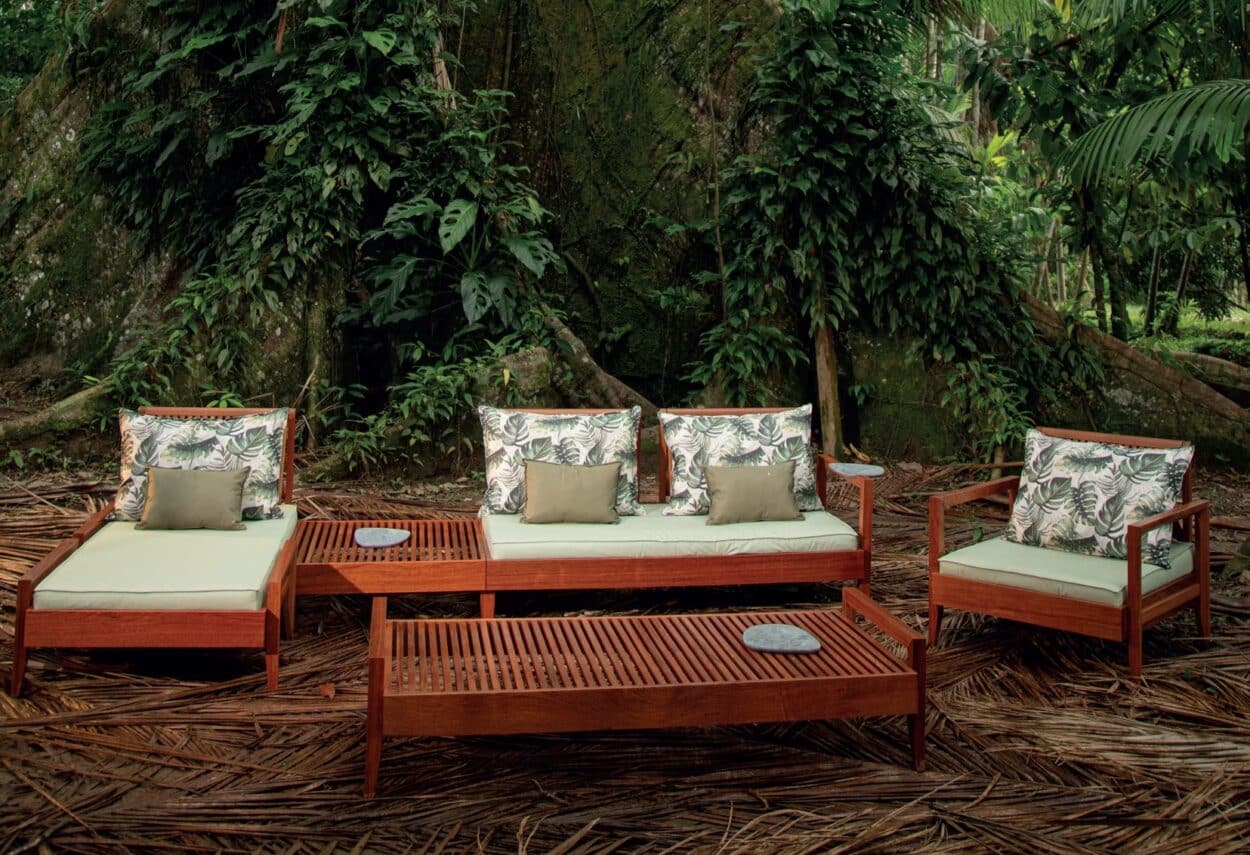 Such environmental concerns constitute a major criterion used in the selection of the furniture items displayed by the Brazilian Furniture Project, an initiative led by Abimóvel (Brazilian Furniture Manufacturers Association) and ApexBrasil (Brazilian Trade and Investment Promotion Agency). During the fair, the Brazilian Furniture Project exhibited dozens of furniture items developed by 30 designers and 21 manufacturers.
While at the Salone, Abimóvel stated that the competitiveness of Brazilian furniture lies in the creativity of its designers, the technology and techniques employed by its companies, the craftsmanship of its furniture makers and the country's cultural identity. With more than 20,000 species of native wood, it is only natural that wood plays a major part in Brazil's furniture industry. Hence the importance of being truly sustainable in its sourcing and use. Additionally, it is important to mention that the sector also employs reforestation of wood, such as pine and eucalyptus – and cultivates areas that add up to 9.55 million hectares.
We selected four Brazilian brands that exhibited their products at the fair this year and that focus on sustainability practices.
Modalle
Teak wood from reforestation is among the eco-friendly raw materials used by furniture maker Modalle. Also, the wood shavings and paint waste from their production processes are collected by a certified third-party company specializing in handling industrial waste. The aluminum used in the items is 100% recyclable, and the synthetic fiber waste is shredded and transformed into plastic material – while excess fabrics are donated to charitable entities that use them to produce quilts and rugs. Among the products the brand exhibited at the fair, the Tatuíra couch by architect Ibanez Razzera.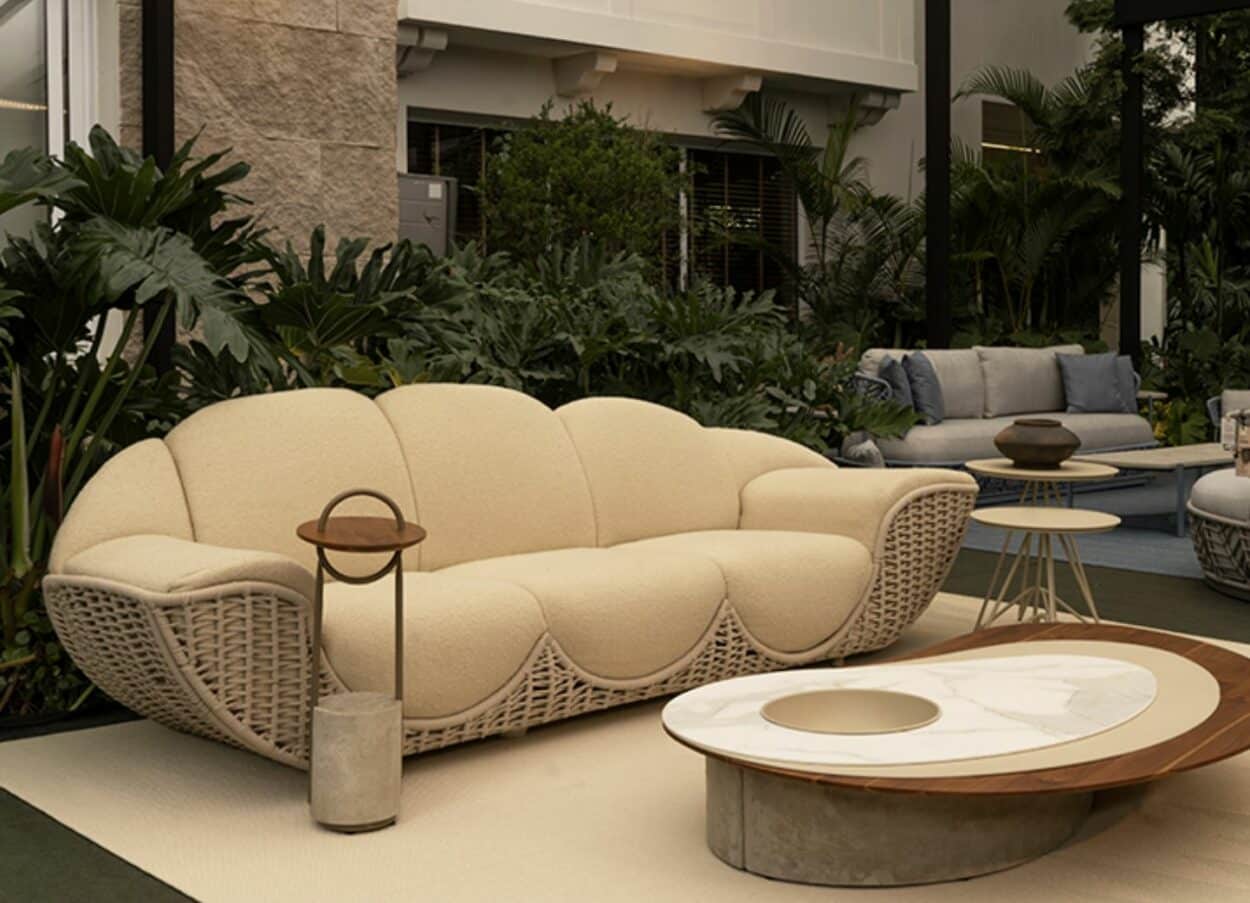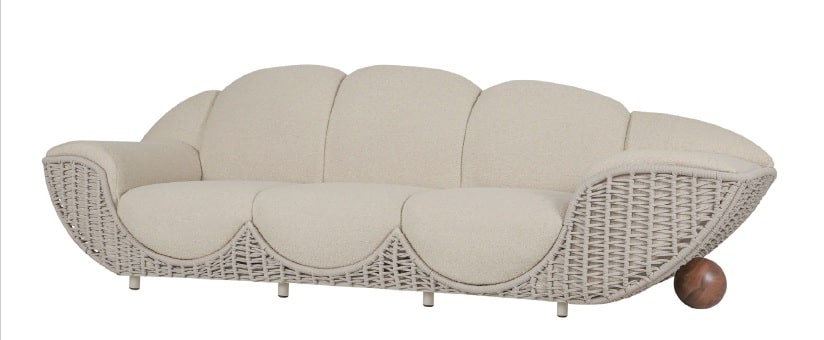 Green House
Furniture maker Green House concentrates all its activities within its 36,000 square meter headquarters located in Indaiatuba, in São Paulo's state. This way, the entire operation (from development to production) is carried out in the same space. Not only does this help guarantee the quality of the products but it also drastically optimizes the efficiency of the production and delivery processes.
The brand's portfolio currently has more than 450 items, almost all of them made of aluminum – as shown by the collection designed by Roberta Baqueri, launched in 2023 and exhibited at Salone del Mobile shows. These items have many finishing options, such as synthetic fiber, nautical rope, synthetic wood, natural wood and special fabrics for outdoor areas.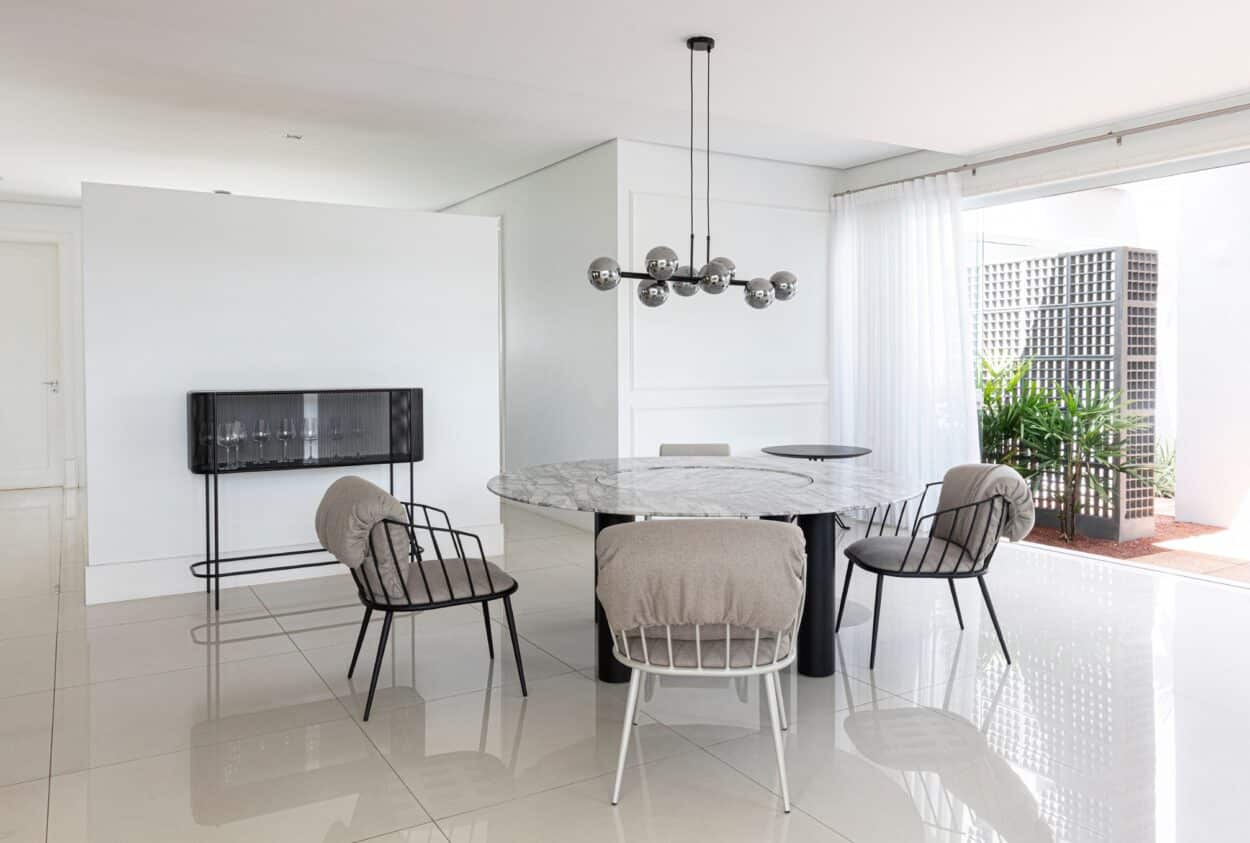 Tramontina
Founded in the South of Brazil in 1911 by Valentin Tramontina, the son of two Italian immigrants, Tramontina started as a small workshop. There, Valentin would repair and manufacture knives and horseshoes. Today, the company is an international empire with a presence in over 120 countries and employing over 10,000 people. It produces kitchen utensils and equipment; porcelain tableware; electrical appliances; tools for agriculture, gardening, industrial and automotive maintenance; electrical materials; plastic and wooden furniture and even a range of drivable equipment.
More recently, the firm decided to invest in special furniture collections like MOOD, designed by Bruno Faucz in 2022 and Tramontina's major highlight during the Salone del Mobile 2023. The range of items includes armchairs, sofas, chaises, tables and benches, all made of certified Jatobá wood. These products can be assembled in ten different set combinations. Also, there are eight color options for seats, backrests and cushions: beige, navy blue, coral, olive, matte and printed variations, all of them made of waterproof fabrics. Another very interesting feature of the MOOD collection is the use of soapstone as an organic element that provides both design and functionality – serving as support for objects such as cups, glasses, cell phones and others.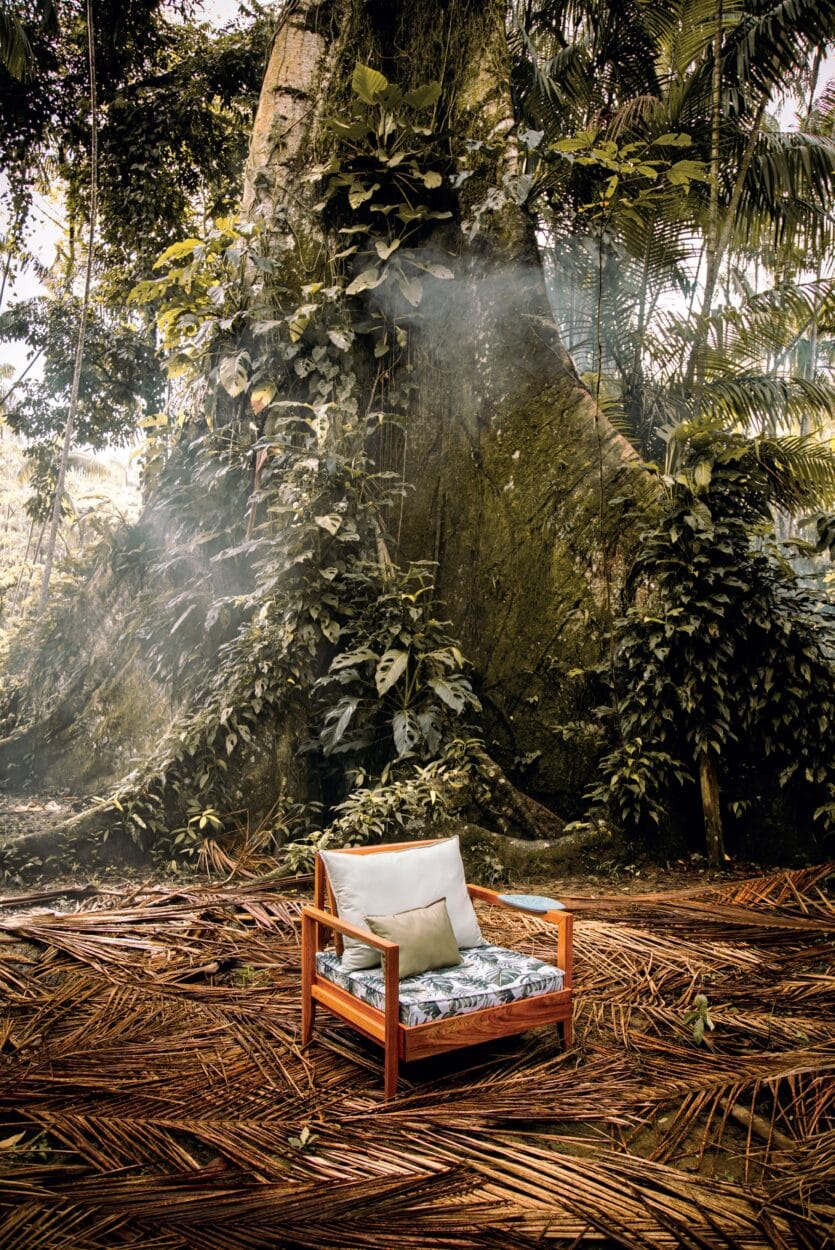 Ornare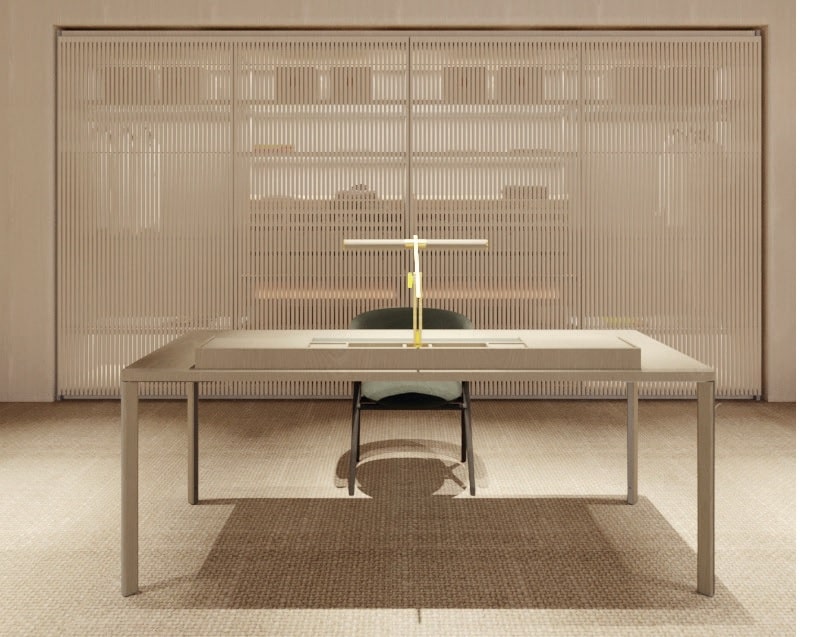 Founded in 1986, Ornare produces top-quality, high-end cabinets for kitchens, bathrooms and closets, and is among the very few Brazilian companies which have their exclusive stand at the Salone del Mobile.
During the 2023 edition, they launched the Timeless collection, a range of closets and cabinets that emphasizes the use of solid wood and combines it with cutting-edge technology in furniture production. Ornare only uses certified wood sources and employs a series of measures that reduce waste and the environmental impact of its factories – for example, recycling leather and textiles.
"A company does not get a certification like the Forest Stewardship Council (FSC), like we did, having their products at their showroom checked. All production processes are carefully audited. The work and the awareness around this theme need to happen at all levels. If Ornare didn't have people aligned with our sustainability principles from the beginning to the end of the production process, we would have nothing. Sustainability is a core principle at Ornare, and those who join the company know that", as co-founder Ester Schattan told ArchiExpo e-Magazine in 2022 in an interview for an article about the firm.