Turf Design communicates on its patent-pending acoustic technology, Scanlines which merges art, architecture and technology. It is a system based on the company's in-house engineering team and proprietary algorithms that allows an image to be translated into an acoustic art form.
Chicago-based Turf Design filed a patent for the design and development of a new, one-of-a-kind acoustics technology that will change the way architects and designers use it. Scanline is a genuine market innovation that combines art, architecture and technology.
Scanline uses Turf's in-house engineering capabilities and proprietary algorithms to translate images into acoustic art forms. Scanline processes a provided image through an algorithm, which translates the intensity of that image's color shades—from black to white—into depth. Carefully considering contrast, shading and scale, these interpretations are used to cut Turf's acoustic PET felt at the appropriate depths to render the image into a multi-dimensional masterpiece with depth-defying sound absorption. Reducing echo and reverberation, Scanlines improves space with style.
"We know that architects and designers experience different issues when developing spaces—whether it's a spatial, visual, or acoustics problem. Turf Design works to build systems that solve all of these simultaneously—in a literal sense, Scanlines reveals the art of acoustics and our drive to create unparalleled solutions. The panels offer amazing visuals while absorbing unwanted noise and increasing the overall perceived space of the room," stated Rob Perri, TURF CEO, in a press release.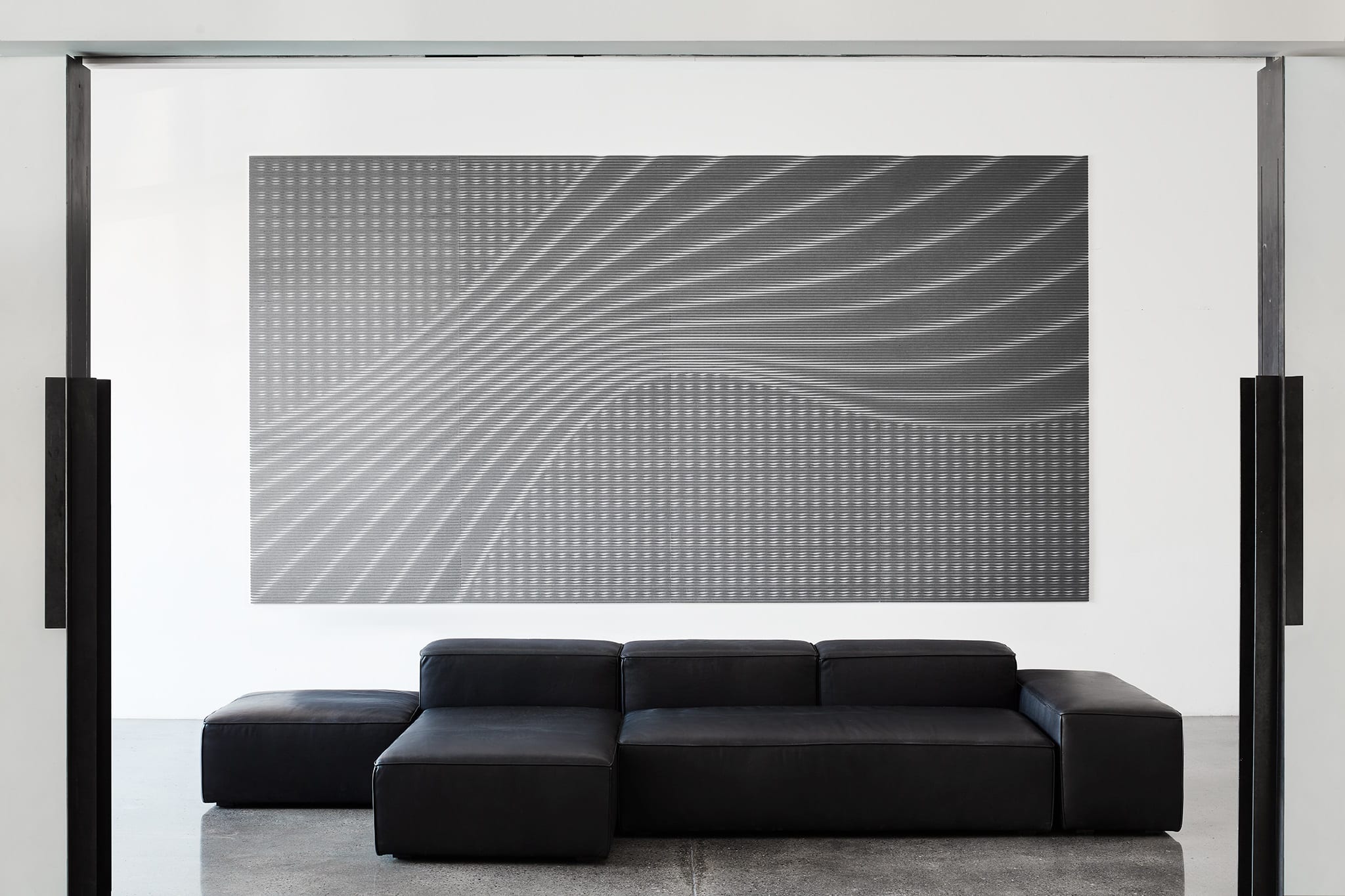 Scanline demonstrates the innovative power of the unexpected and demonstrates Turf's commitment to bringing visions of architects and designers to life. To make their vision a reality, the planners chose a combination of 9mm and 3mm materials. Turf has the ability to integrate 3mm PET fabric product laminates, allowing the use of up to 12 unique colors. It is crucial to consider how colors work together, and Turf supports specifiers in this process with a range of pre-fabricated color combinations from which designers can choose. With 9mm PET felt panels, manufacturers can customize their wall panels with a choice of 30 stunning colors from neutral to bold.
Turf Design exists to combat the tyrannical disturbance of open space. By combining excellent acoustic characteristics with a design that pleases the eyeball, Turf creates a system that people appreciate. Turf System is designed to minimize waste. Turf produces on-demand in order to keep inventory and associated waste low. Its systems consist of 60% pre-consumer polyester plastic, and its products are shipped from Turf's hometown of Chicago, significantly reducing emissions by avoiding additional parties in the delivery phase.
"TURF is big on two things: creating systems that conform to the need of specifiers, and being able to articulate that need with flexibility," stated Dustin Headley, TURF Director of Product Development. "We pursued the concept of Scanlines because it allows a two-dimensional image to merge with sound-absorbing technology and solve a problem that makes designers' lives, and projects, more successful. Anytime we can make a specifier's work easier or inspire us to think in a new way, we know we've done our job."