The Switzerland-based manufacturer of swinging glass doors, sliding doors and windows combines spaces inside and outside the home with their Sky-Frame Arc, Sky-Frame Slope, and Sky-Frame Pivot, easily used with their Sky-Frame Drive.
Sky-Frame, one of the world's leading manufacturers of sliding doors combines precision Swiss engineering and modern minimalist design in creating their insulated sliding glass doors called Sky-Frame Arc, Sky-Frame Slope and Sky-Frame Pivot.
The Sky-Frame Arc invites the outside world to come through inside the interiors of any structure with a seamless and uninterrupted view. The company collaborates with various architects and designers every year, the most recent of which was a collaborative project with Architect Dara Huang, founder of Design Haus Liberty, who designed the Villa Mosca Bianca in Italy using the Sky-Frame Arc.
The Sky-Frame Slope is best used for complex structures and has appeared in many unique homes situated in sloping locations while the Sky-Frame Pivot, a glass swing door preferred in many offices and buildings ensures usability and comfort and allows for large-pane movement in a single and comfortable push.
Both the Sky-Frame Slope and Sky-Frame Pivot are installed with the Sky-Frame Drive, a technology that easily opens the sliding doors with a simple and effortless push of a button called the Sky-Frame Touch Control Button.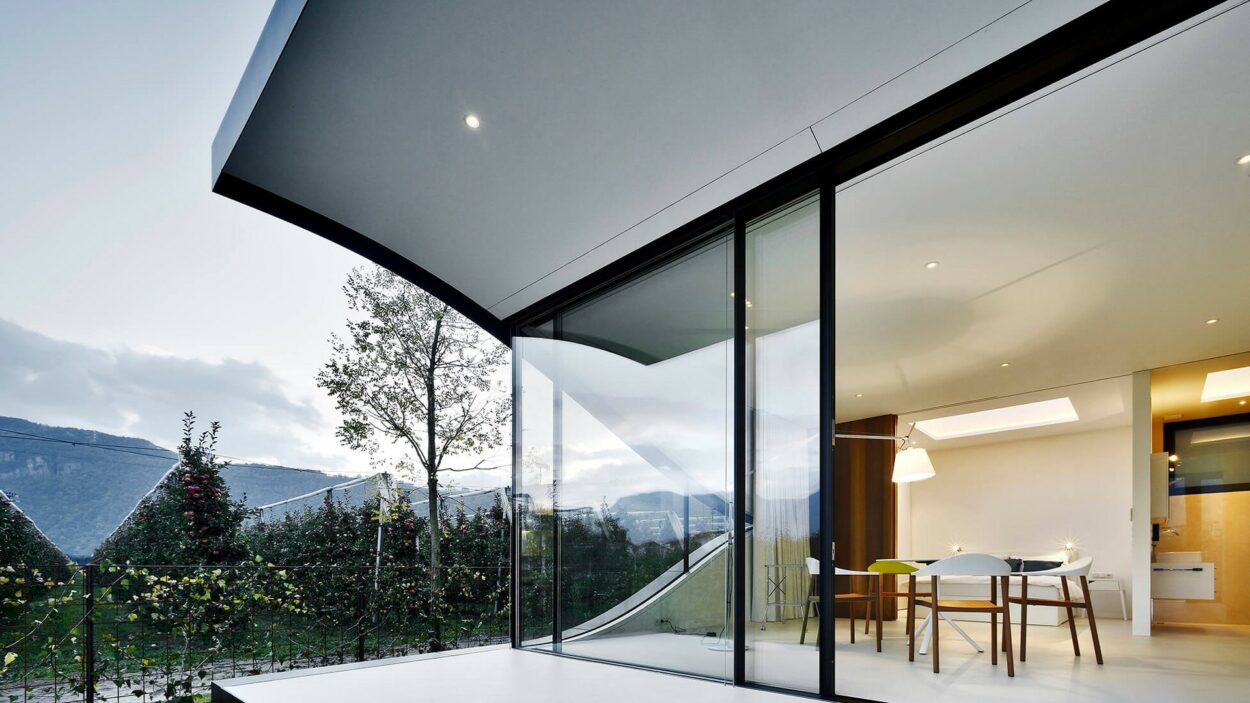 Combining Spaces Inside and Outside with the Sky-Frame Arc
The Sky-Frame Arc is one of the most sought-after products from the company that has been extensively used in various modern house design projects and architectural collaborations, in which Sky-Frame fully invests in every year.
In 2021, Sky-Frame featured Architect Dara Huang in a series of interviews with architects called "My Point of View" and presented how Sky-Frame was able to help Huang in achieving her goal of attaining a seamless intersection of outdoor and indoor space for Villa Mosca Bianca. The modern home was completed in 2019 and has an area of 10,000 ft² encapsulated by the Sky-Frame Arc which are insulated sliding doors that are curved and fabricated using custom radii sizing in 2-track and 3-track.
In an excerpt from the interview, Architect Dara Huang shared that:
"The concept of the house was how to live with nature. So it was really important that when you walked in, you were really still inside and the reflections carry within and through the house. It's almost as if the outside is literally coming in, and they really become one. It's really nice that this house embodies the sky, you know, you framed it and owned it and that's your living space."
Sky-Frame Arc was able to frame the heart of the house that circled around the existing bamboo and vegetation that was existing before the house was built. Space was well utilized all throughout the house as the Sky-Frame Arc insulated sliding doors circled around the center of the house that received a lot of natural light, which in turn provided natural illumination that passed through the glazed transparent Sky-Frame Arc curved doors, lighting up the connected spaces within.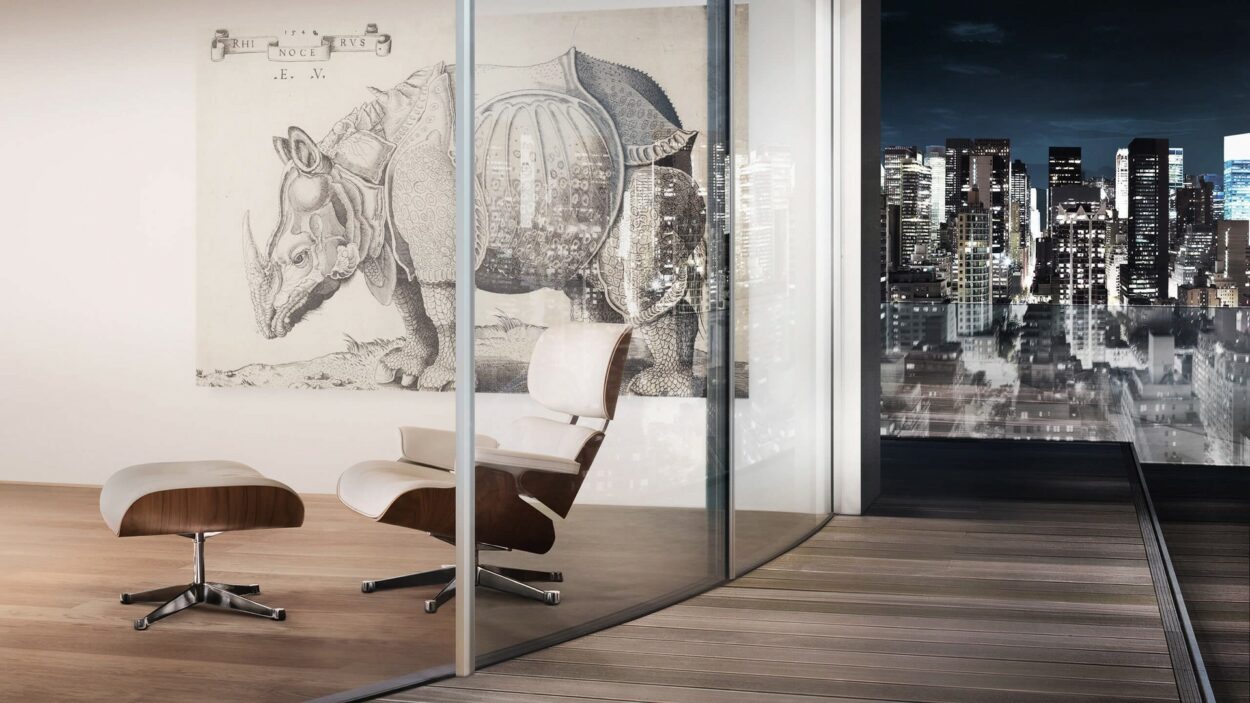 Complex Structures Made Simple with the Sky-Frame Slope
When it comes to homes and buildings with complex structures or located in a sloping location, Sky-Frame Slope pushes the architectural boundaries and can be a good option to use in framing homes and structures, apart from the usual concrete or steel structural frames.
Sky-Frame Slope's system is capable of dealing with both vertical and horizontal forces since it eliminates the constraint of installing a wide panel that fits into bold architectural geometries both technically and aesthetically. It also enables various sloped installations combined with sophisticated framing which allows for excellent running and drainage characteristics that meet all driving rain resistive requirements.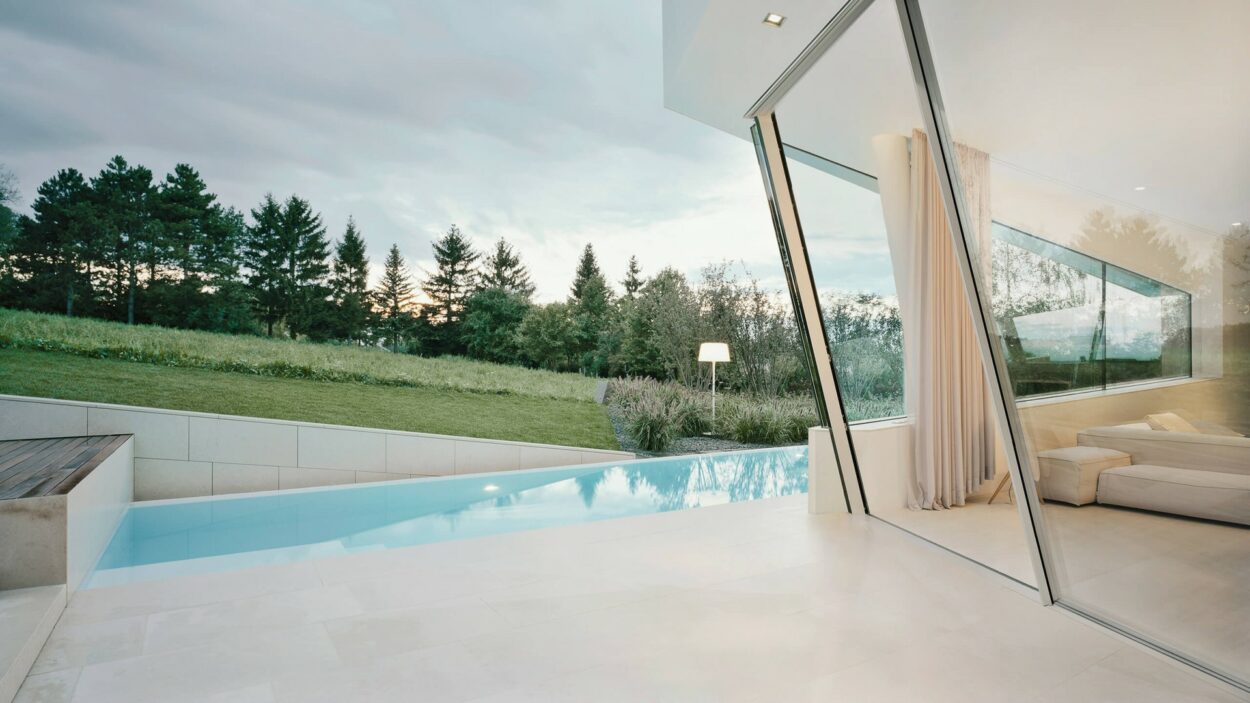 Subtlety in Design with the Sky-Frame Pivot Glass Swing Door
The Sky-Frame Pivot glass swing door system brings an extra level of subtlety to architectural designs. Swinging open on an axis, which is not in line with the horizontal, the Sky-Frame Pivot is generally eye-catching. Sky-Frame's' fine-tuning of its glass swing door mass and size ratios to work in an asymmetrical manner creates a subtle bow toward anyone revolutionizing conventional architectural canon. Today, the Sky-Frame Pivot is allied with all those who are pushing architectural and design boundaries, elevating the act of opening, closing, and navigating rooms from a routine event into a remarkable spatial experience.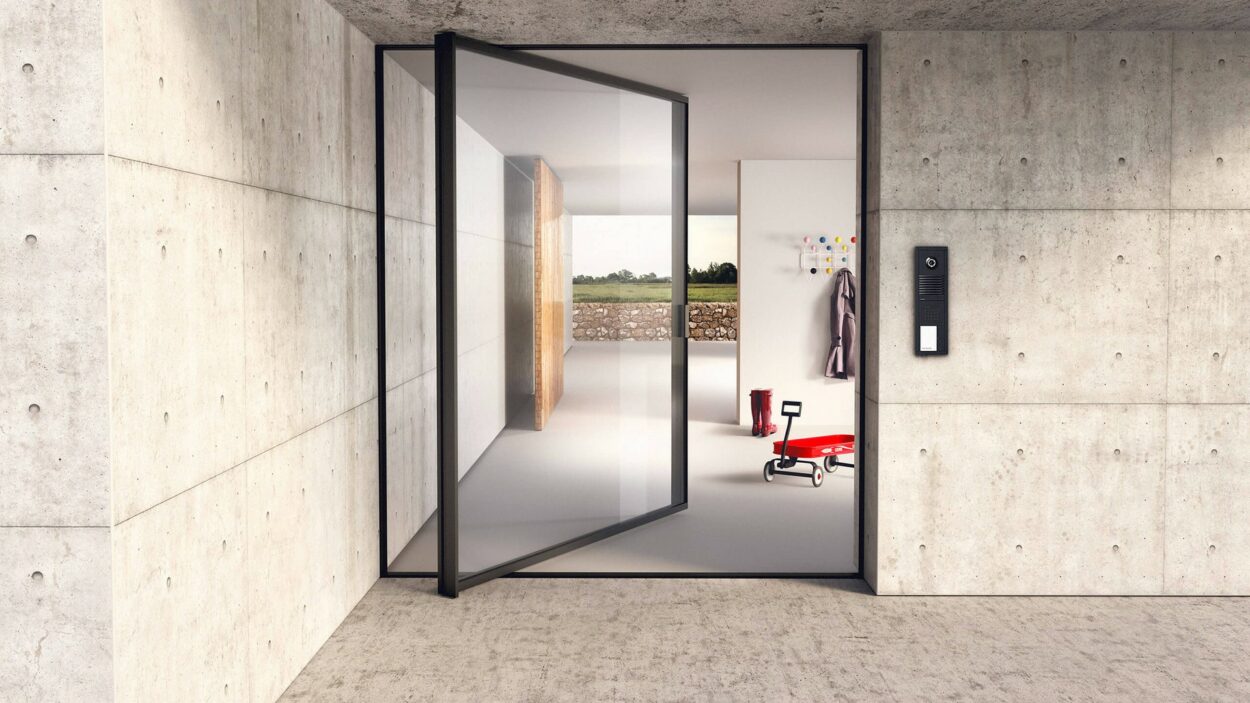 Facilitating Door and Window Openings with Sky-Frame Drive
Sky-Frame Drive is a self-closing sliding door mechanism that allows for easy, practically noiseless operation with up to 6 (3+3) sliding panels with just one push button. The drive is hidden within the ceiling panel, allowing window panels to be moved automatically.
The Sky-Frame Drive is one of the latest self-closing sliding door systems of the firm and comes with the Sky-Frame Touch Control Button which is a sliding glass door closer used to easily open and close sliding doors using an SI-1000 electrical actuator. The whole system can be gracefully opened, closed, or stopped in place, anywhere, directly on the window, with a light touch of a push-button that is seamlessly integrated in the locking knob.