During the Smart City World Congress, we gathered information on a few of our selected products exhibited to inspire future urban projects from materials to software to water-saving solutions.
November 16-18, 2021—The Smart City Expo World Congress held its 10th anniversary in Barcelona, Spain, where companies like Smart Sense, Monolitic's bnergy.on and Honeywell showed their latest, smartest products. We selected the products and technologies that stood out as game changers for upcoming urban projects.
GraphCat, a Novel High-performance Graphene Project
Following its presence at the Graphene 2021 Conference in Grenoble on October 26-29, Catalonia company GraphCAT took part in the SCWC and Puzzle X which was co-located with SCWC. The company was highlighted by the events as an exhibitor devoted to new materials such as graphene and beyond. The stand showed some of the graphene-related technologies as well as some of the spin-offs emerging from the ICN2, such as FutureChromes.
GraphCAT is a federally funded project led by the Catalan Institute of Nanotechnology (ICN2), together with ICFO and the Barcelona Institute of Science Technology (BIST), to bring graphene closer to its industrial applications in Catalonia. The GraphCAT booth was shared with BIST, which is a joint effort where 7 research institutions from Barcelona and its surroundings (ICN2 is among them) join their efforts towards excellence.
Graphene is much stronger and lighter than carbon fiber and is expected to be incorporated into a wide variety of composite materials for use in the construction sector. Those at GraphCAT have developed a new electrochemical reactor and procedure to fabricate high-quality graphene based on electrochemical exfoliation of graphite that can allow the fine-tuning of graphene oxidation.
This process transforms the overall production process making it highly performing and providing high yields with almost zero waste. The advantages of these new processes are the high quality of the resulting graphene sheets in comparison to the current productions methods, the possibility to control the oxidation of the final graphene, a higher production efficiency, easy scalability and modularity and the low energy consumption as well as the low cost of the starting materials and the recyclability of side products in the reactor without treatment.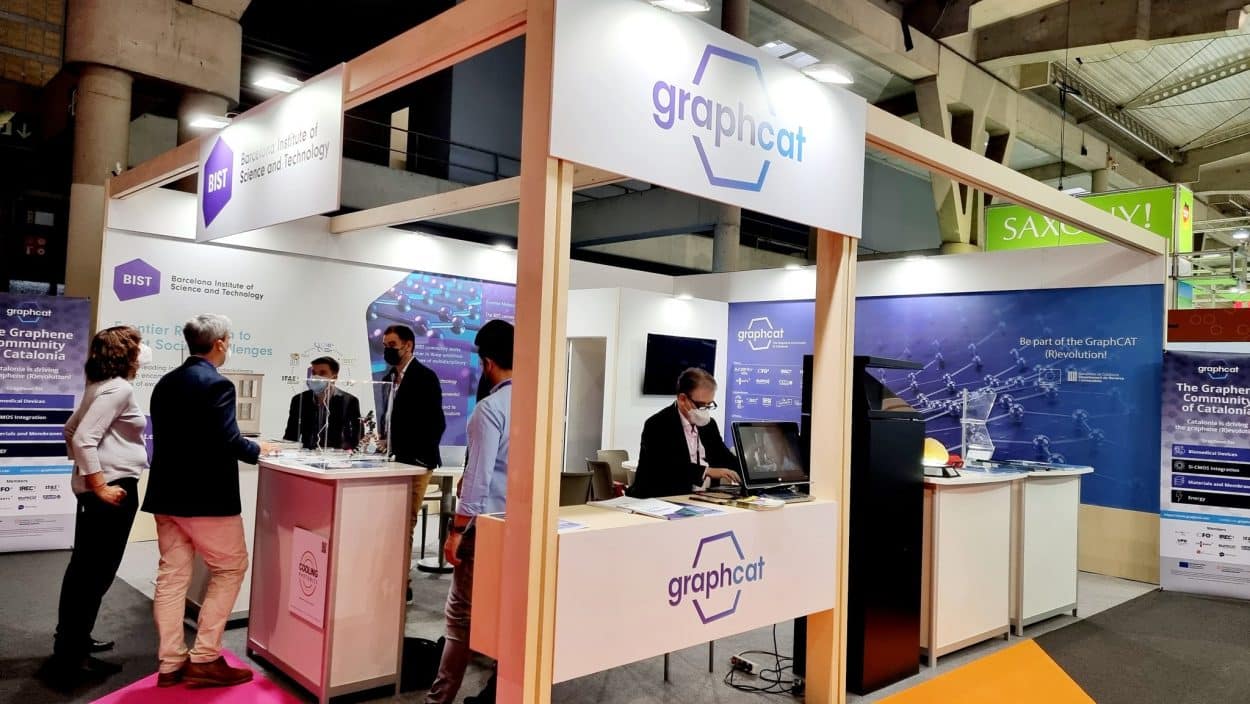 FIWARE, the Open Source Platform for a Smart Digital Future
The transition to becoming a smart city is described by FIWARE as adopting more efficient management of services and turning cities into enablers of innovation, economic growth and well-being. Since 2015, FIWARE has been improving its curated framework of open-source software platform components that can be assembled and, together with third-party components, used to build entire platforms that support a faster, easier and cheaper development of smart solutions.
It offers a solution to the diversity in IoT protocol and languages and translates the information gathered from the sensors to a common language. One example of third-party solutions gathered into this community is the FIWARE-based solutions to fight Climate Change, with 30 off-the-shelf solutions ready for implementation.
Divided into sectors, the SMART WORLD BY FIWARE (made entirely with LEGO® bricks) showcases how FIWARE is powering up Smart Cities with connected mobility, highlighting various domains and their interactions. The SMART WORLD BY FIWARE was introduced, for the very first time, in June 2019 at Aarhus's IoT Week, in Denmark. Ever since, it has been present at major smart mobility events across the globe, featuring FIWARE's solutions and achievements represented in this model.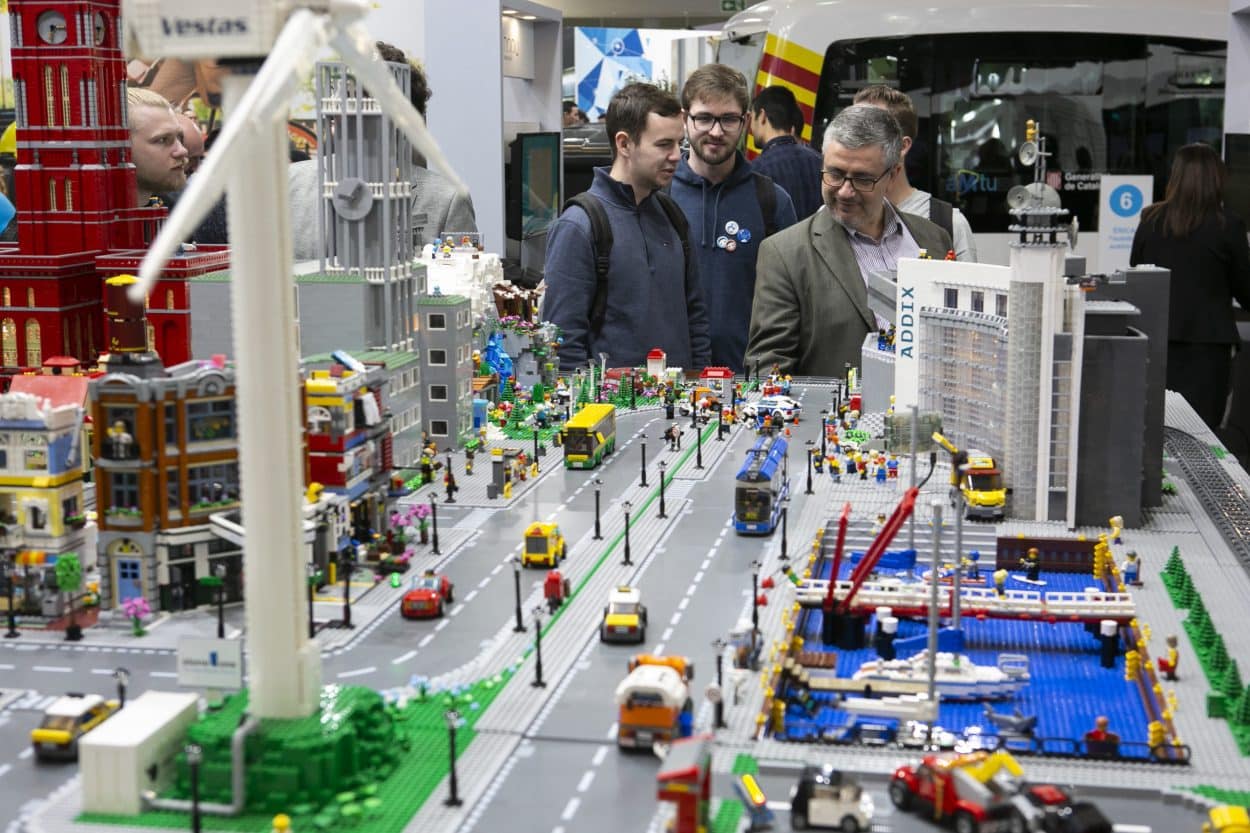 It is recognized globally as a unifying open data and open source community that boosts the creation and adoption of Smart Data Models worldwide, a useful step for Digital Twins.
The FIWARE Reference Architecture for Smart City vertical solutions is based on open standards and thus allows the creation of adaptable, flexible and interoperable applications at a minimal cost. Different sources of data consumed or produced by these solutions (e.g. waste management, mobility, air quality and noise) can be integrated with existing systems and provide real-time information and metrics in a unified, integrated and understandable way.
Learn more here.
WATCH: FIWARE Smart Cities DAY – Edition 2: Towards a Sustainable Single Market of Smart City Solutions (2020)
Revolutionary Leak Detection Solution: LeakRedux®
Almost 3 million liters of water are leaked every day, which leads to a waste of natural resources, not only of water but also energy, as the pressure in a leaky pipe decreases and more energy is used to restore the pressure in the system with the leak and ultimately leaky pipes can also allow contaminants into our drinking water.
If we add damages and losses, we are not short of reasons why users or companies would like to avoid or rapidly spot water leaks. HydroScan LeakRedux® is a smart, real-time data-driven system that: detects invisible leaks, predicts the most economical time for repairing them and narrows down the leak search zone.
LeakRedux is one of the solutions offered by the smart water management HydroScan system that uses sensors, real-time data and advanced modeling for a better, sustainable and cost-effective service. Their technology also offers a flood prediction tool for urban flooding that is powered by the same principles.
In 2018, this Belgian company was selected as 1 of the 13 participants in the European Scaling Circular Business, a platform that promotes a more circular world, in which the value of products, parts and materials is retained through reuse, sharing, refurbishment and recycling.