October 17-19, Berlin—At the Smart Workspace Design Summit 2023, architecture and design professionals gathered to discuss best-practice models for redesigning the modern workspace. The forum addressed the global trends of sustainability, notably in relation to circular workplace design and acoustics in the hybrid office. 
Guest speakers concluded that smart office design plays a role in the productivity, innovation, and well-being of employees. Patrick Levie, Associate Partner and architect at Fokkema & Partners, stated such office spaces should create community during a talk on reducing the environmental footprint of real estate. Architects should find the common element that people share, designing not only the physical space but also the mental space. Intensely productive people in a high-performance office, he explained, are individuals who develop a sense of belonging and identify as part of the community.
Smart Workspaces Create a Sense of Belonging
Sustainable design practices need to look beyond environmental impact and target employee well-being and satisfaction. This can begin with diverse work habits, as some people need more collaboration while others require quiet spaces. On a larger scale, employees need to feel connected with the societal and environmental objectives of the company.
Fokkema & Partners designed the addition of an event space, four co-working spaces, and office spaces for Dutch financial services provider Nationale Nederlande (NN), completed in 2021 and 2022. During the conference, Patrick Levie highlighted the 37,000m² circular and zero-waste renovation of the offices in The Hague and Rotterdam project for Nationale Nederlanden which has received a 100% circular renovation, with Zero Waste and WELL platinum. In addition to a zero-waste design, the office project demonstrates how the company wishes to integrate its employees into this part of the brand narrative.
"People should feel at home and connected to the bigger story of the organization," Patrick Levie said during the conference with Dionne Ewen, Sustainability Manager & ESG at Royal Ahrend, one of the top office furniture producers in Europe.
While the corporate slogan "You Matter" is represented in a marble run that adds lightness to the workplace, the new spaces are meant to make employees "feel at home" by uniting them with their colleagues and business contacts for special events and meetings. Colleagues from other cities can use the touchdown desks, and teams can reserve a project space to collaborate for a more extended period.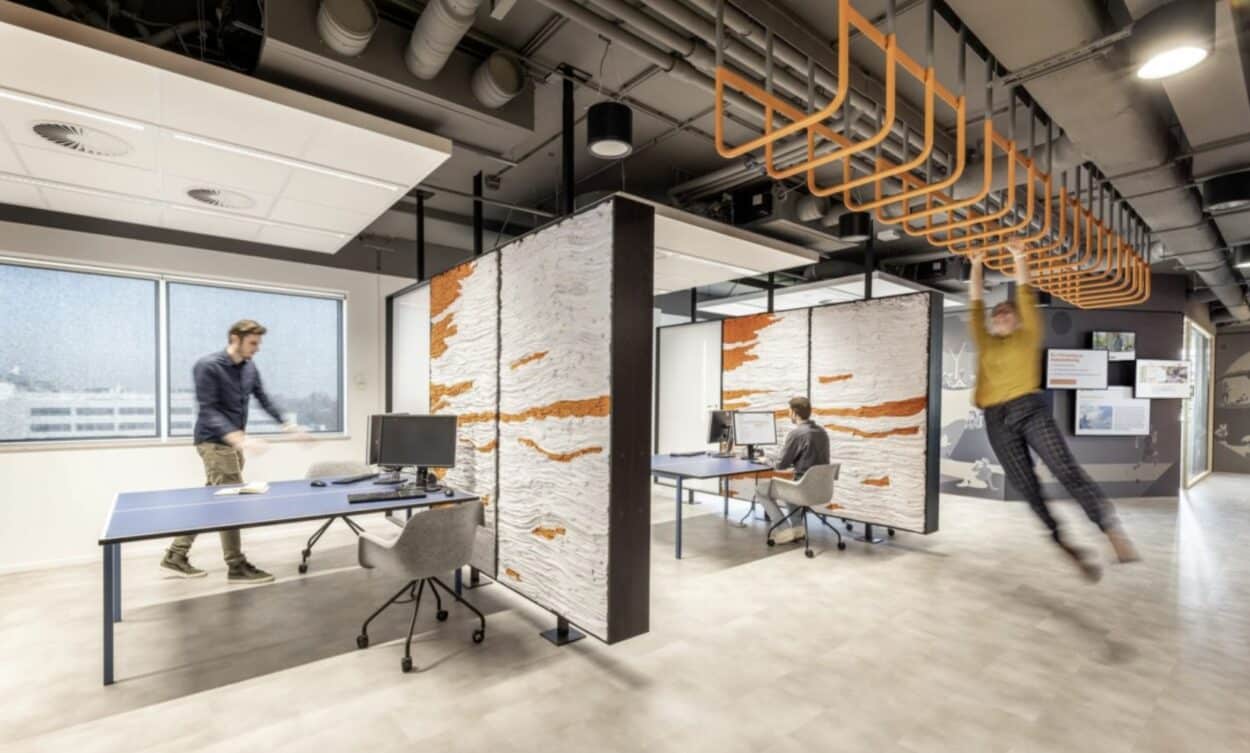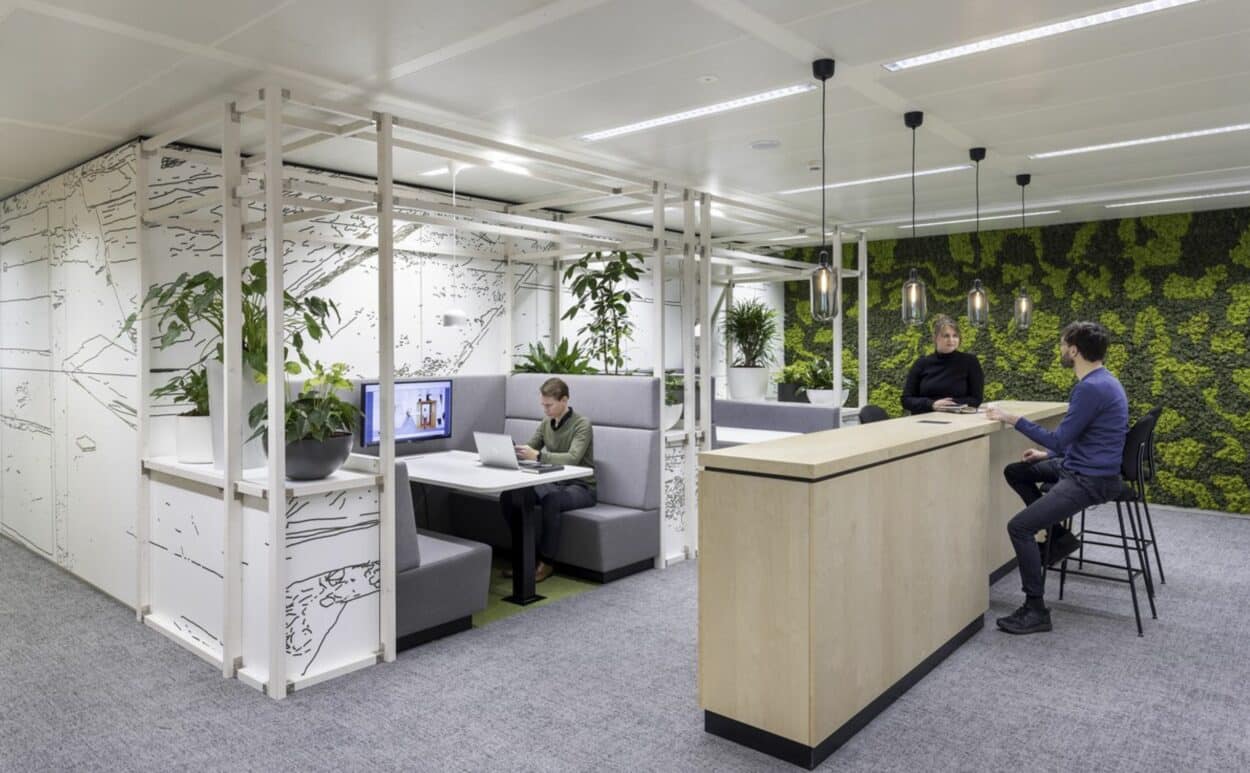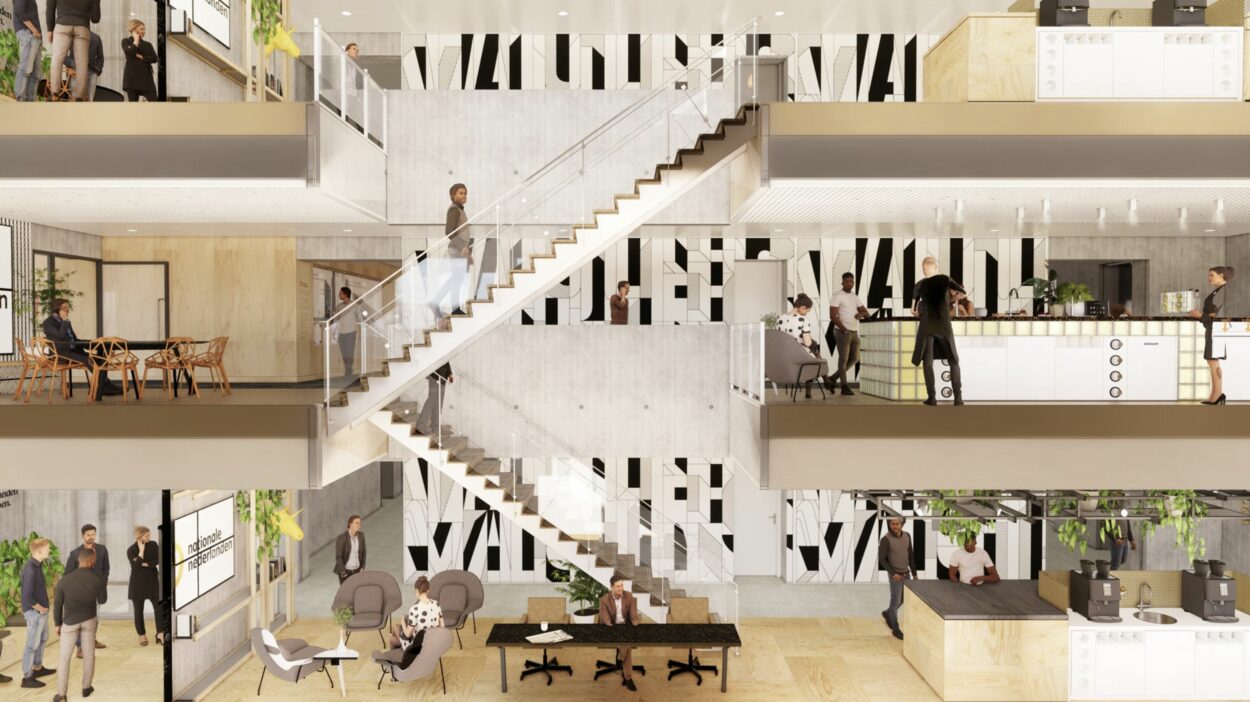 The Bigger Picture: Partaking in a Zero-waste Philosophy
In regards to "the bigger picture", for the NN project, the client insisted on the inclusion of upcycled materials: Harvested steel was reused for the construction of stairs, and waste for tiles. Furthermore, 5500 kg of concrete from the void and harvested bollards from the port of Rotterdam for the workspace. If certain aspects of the project required new materials, such as untreated pine slats, the architects selected reusable and demountable resources.
"To realize zero waste during construction, even much of the cuttings and sawdust was captured and re-used elsewhere as raw material, for example, in flooring where filing is combined with a bio-resin, or to create unique mosaic objects," as stated on the architecture firm's website.

"The workspace is WELL V2 Platinum Certified to enhance people's health and wellness by providing a healthy and stimulating environment. For example, existing installations are adapted and complemented with motion detection and CO2 sensors for healthy and efficient exploitation. In terms of design, this means a focus on biophilia, using non-toxic materials, excellent acoustics, lighting, and ergonomics, building a sense of community and promoting healthy lifestyles."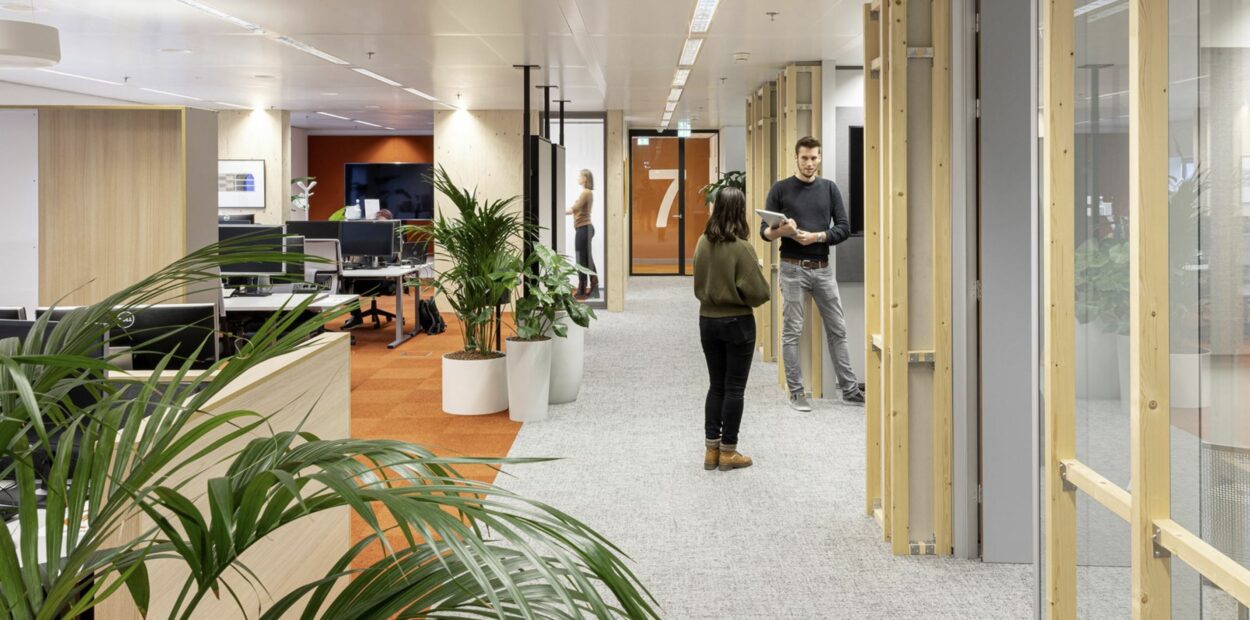 In line with these sustainable practices in the NN project, the speakers pointed to figures from the World Green Building Council and the Global Status Report 2021. As 50% of the resources used pertain to the building and construction sector, circular design becomes ever more crucial. Furthermore, 45% of all carbon emissions derive from the production of materials.
Sustainable practices include the refurbishing, repurposing, and recycling of existing equipment and furniture. By adopting these strategies, companies can significantly reduce their environmental footprint and empower employees. Notably, almost 90% of greenhouse gas emissions can be mitigated by simply using refurbished furniture.
Similarly, the keynote speakers referenced Unilever, one of the world's leading suppliers of Personal Care products—and more. Completed in 2019, Fokkema & Partners in collaboration with Royal Ahrend also worked on the high-tech innovations powerhouse for Unilever with a completely circular interior after Unilever decided to centralize its Foods R&D facilities in the Netherlands. The company's office interior consists of 95% upcycled materials by reusing materials and waste elements from its own sites and turning them into something new such as lamps, wall decor, or bar tiles.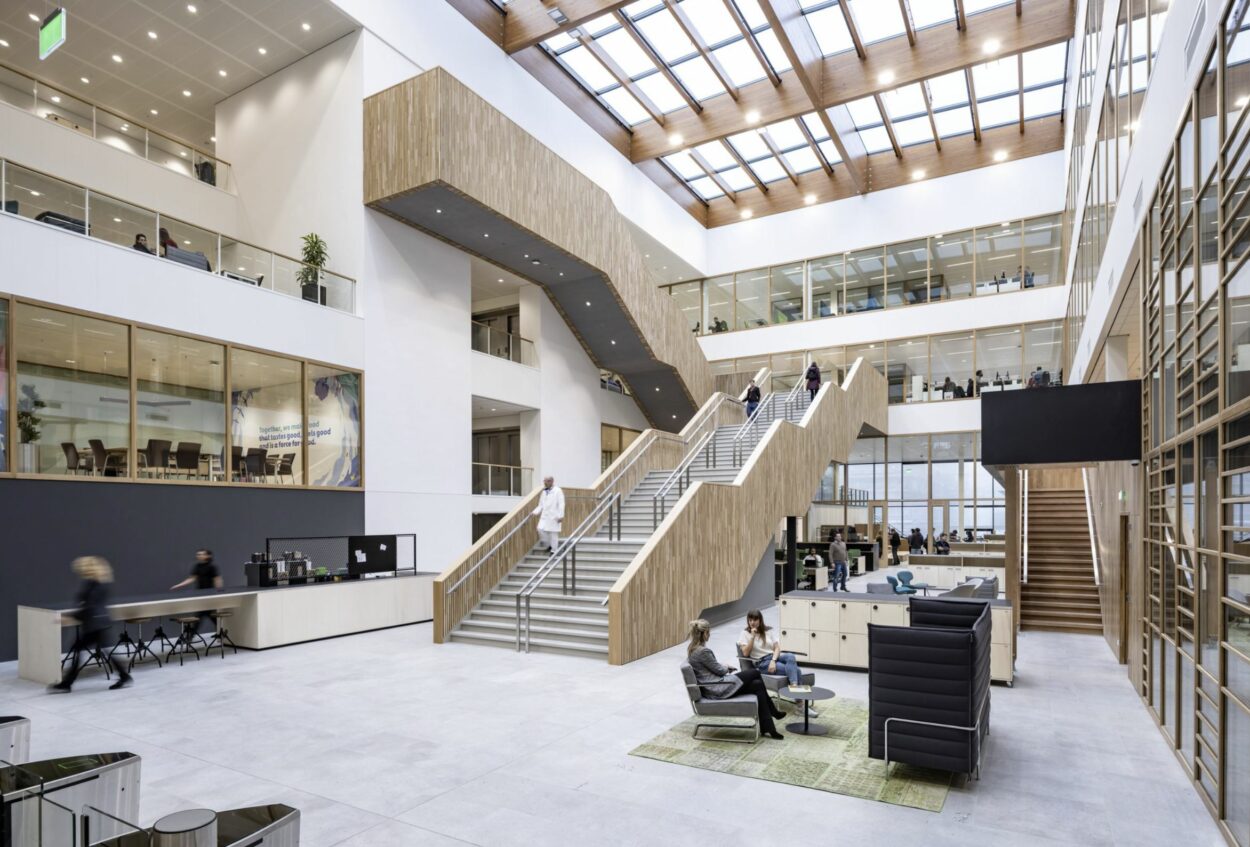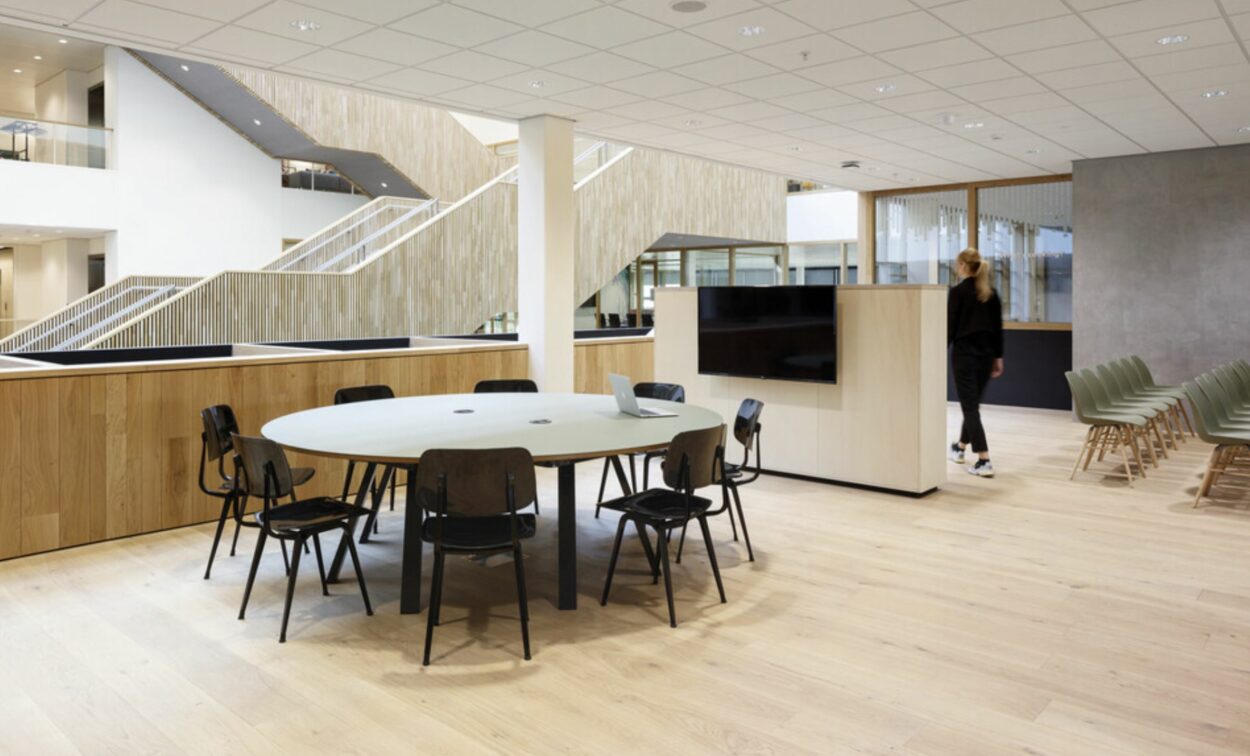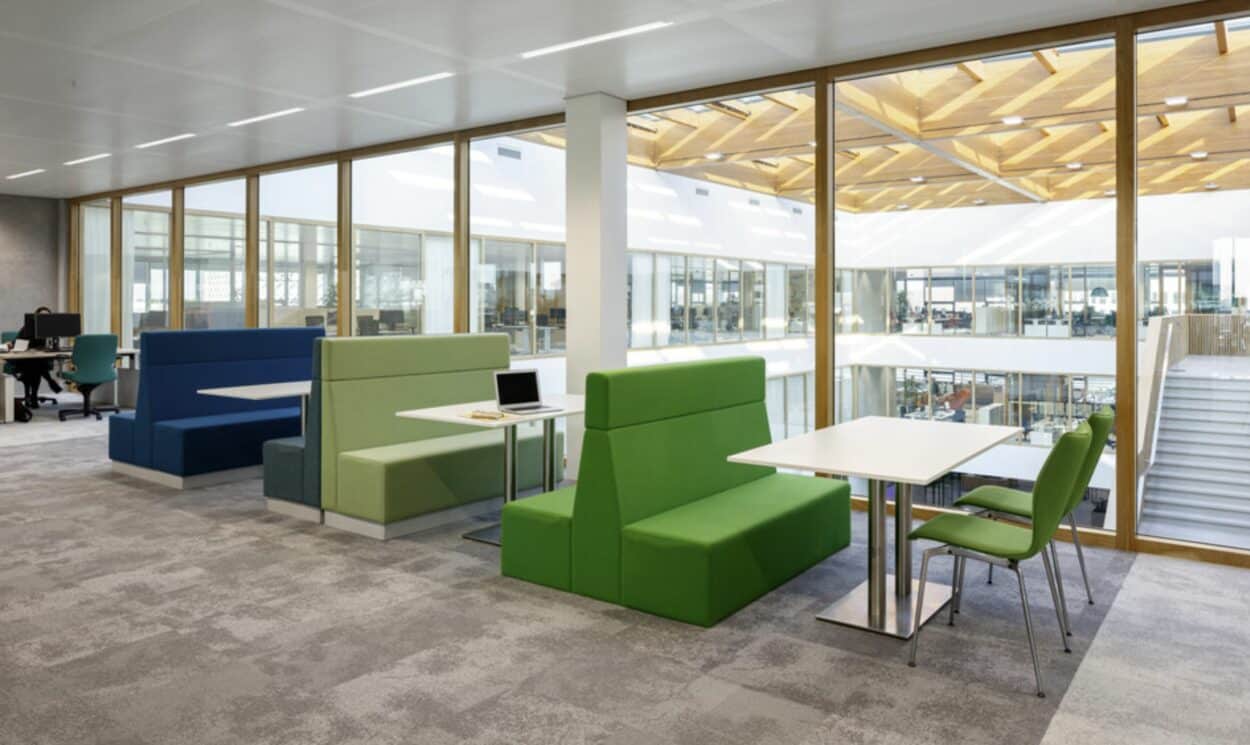 Redesigning Workspaces: Acoustic Comfort is Key
Equally, the acoustics of an environment play a role in how the workspace is experienced. It can also impact work performance, notably with the increase of common open-plan spaces rather than private rooms. In the conference Acoustics of the Hybrid Workplace, we learned about the effects of acoustics and psychoacoustics in well-designed workspaces.
"This requires an interdisciplinary approach with expertise from audiologists, psychologists, and interior designers," said Magda Szubert, Global Concept Developer for Offices at Saint-Gobain Ecophon, a leading provider of room acoustics solutions.
Research shows that with noise, employees are less effective. Their job satisfaction and productivity decreases, especially in complex tasks. Large, noisy offices with too little privacy and a lack of quiet zones present the biggest obstacle to happiness at work. In order to tackle these challenges, the speakers suggested strategies beyond the traditional glass wall, such as absorption of noise by materials; activity-dependent acoustic design, based on sensor data; and computer simulations for noise clustering and visualization.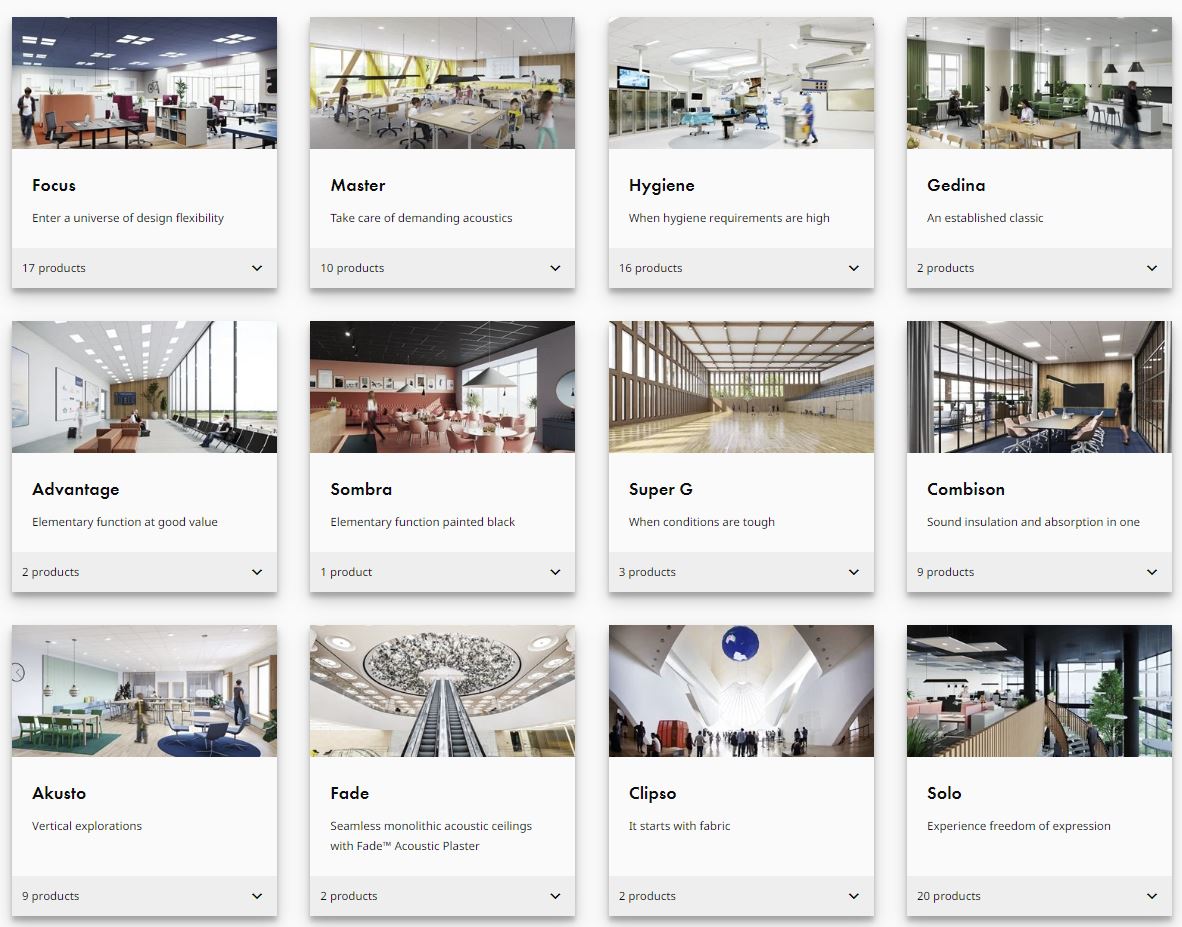 Companies such as Ecophon and the German brand SoundProof have been developing acoustic calculators that can be used in the office. SoundProof's calculator is based on simulation programs to make and investigate activity-based acoustic designs, using an in-house principle derived from ISO22955 to translate acoustic parameters into geometric mechanics. The different scenarios and equipment variants are evaluated in 3D models.
Beyond acoustics, other factors such as light design, privacy, air quality, and temperature affect environmental satisfaction in the workspace and should be considered.