TwistFlush is a revolutionary toilet flushing system that ensures optimum flushing and is highly water-efficient into the bargain. It exploits the physical power of swirling water for hygienic flushing and clean results. Flushing technology for a sustainable future from Villeroy & Boch.
Using resources in a responsible manner is part and parcel of a sustainable lifestyle. A TwistFlush toilet that saves precious water every time it is used makes an important contribution here. The secret lies in its special design: A controlled flow of swirling water and the conically shaped bowl generates a powerful vortex that effectively removes soiling. In this way, TwistFlush makes much more efficient use of the flushing water and saves precious water every time the flush button is activated – up to 19,700* liters a year. A single flush is generally sufficient.
The Brushless Future Starts Here
The innovative flushing solution also sets new standards in hygiene. With the new technology, there is generally no need to use a brush to remove stubborn soiling. TwistFlush thoroughly flushes the entire bowl and the intelligent bowl design with its steep and ultra-smooth walls additionally reduces soiling.
Cleaning is also a swift and simple matter. The proven rimless Villeroy & Boch design, the dirt-repellent CeramicPlus surface finish and AntiBac to reduce bacterial growth by 99 % make TwistFlush toilets a straightforward hygiene solution in the bathroom.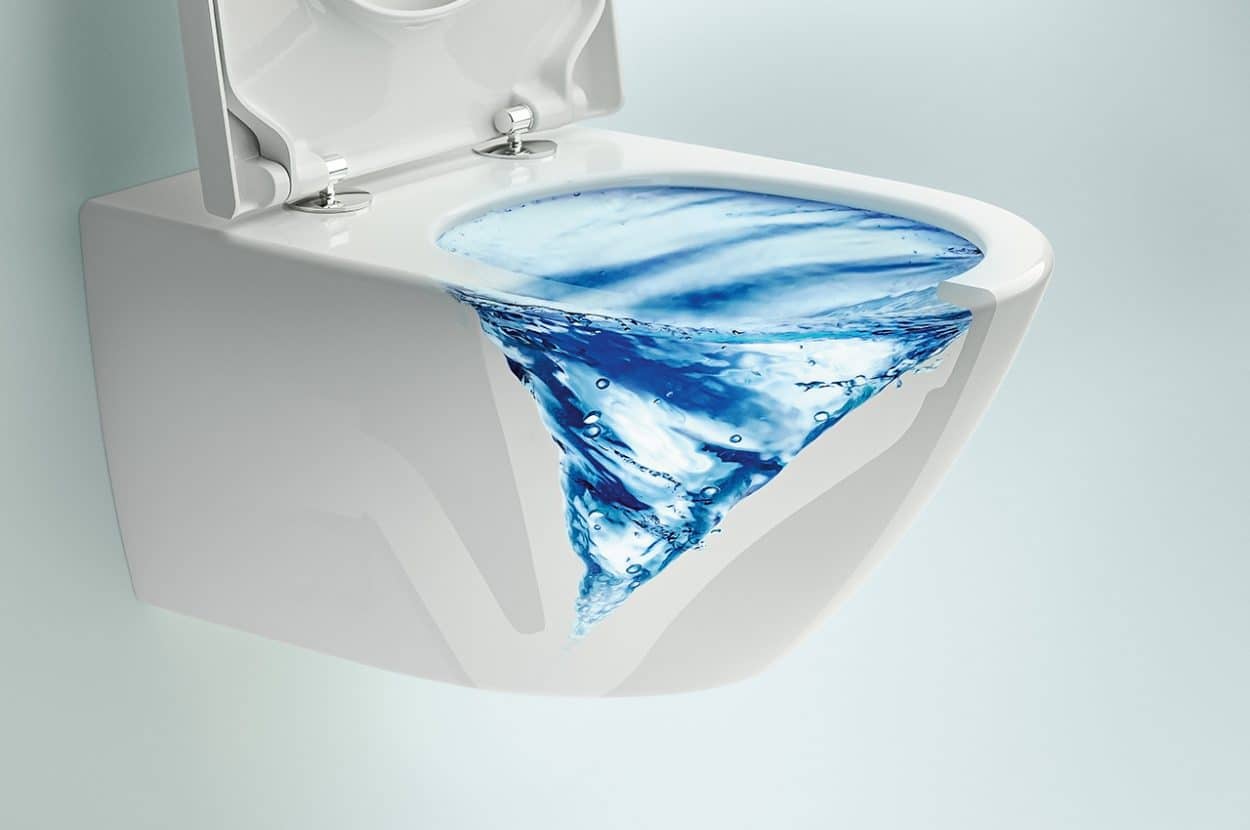 Less Splashing and Reduced Aerosols
A clean toilet is ultimately the key to a clean bathroom. This is demonstrated here in a particularly impressive manner: The controlled flow of swirling water is directed exactly where it's needed. This avoids splashing over the rim and also markedly reduces the formation of aerosols in the air. And last but not least, TwistFlush is also substantially quieter than other toilets. The perfect choice for enhanced safety and well-being in the bathroom.
The Subway 3.0 Toilet with TwistFlush
The advantages of the TwistFlush technology can now be experienced for the first time in the toilet of the Subway 3.0 bathroom collection. This pioneering toilet solution from Villeroy & Boch meets rising expectations in the areas of cleanliness and hygiene while at the same time delivering enhanced sustainability in the customer's own four walls.
*4-person household, compared to a standard 6-liter flush. Average use: 5 x per day/per person, based on data from the Umweltbundesamt Deutschland (German Environment Agency).