Here are some of our favorite young designers from the Stockholm Furniture Fair along with highlights of special exhibitions. The installations reveal a small-scale pilot of what could be a new approach to exhibiting and how different materials affect our impact on the climate.
February 7-11, 2023—Stockholm Furniture Fair commences its design-rich, environment-centered event with top exhibitors, avant-garde materials and young names to remember. For the first time, the fair selected a Swedish Guest of Honor. Stockholm-based studio Front combined high tech with traditional techniques like weaving and embroidering for their installation at the fair. The installation highlights the studio's enduring fascination with nature.
In addition to the main fair and installations, the organizers launched Älvsjö gård, a new platform for experimental, research-driven and collectible design, set in one of the oldest still existing manors in Stockholm. In this article, however, we'll focus on a few of our favorite independent designers and special features of the fair.
NOW: The event runs in sync with Stockholm Design Week: February 6-12, 2023.
Greenhouse of Young Designers: Let Them Grow
In the Greenhouse, a platform for up-and-coming young designers, visitors can discover a collection of 32 designers and 30 design schools from 18 different countries, selected by a jury. The Greenhouse acts as a stepping stone for the design stars of tomorrow, as described by the organizers of SFF, and, in fact, Front exhibited there in 2004. Today, a number of noteworthy young designers display their products.
The Wakka sideboards illustrate the Finnish culture and carpentry experience of Helsinki-based designer Riku Taneli Toivonen, whose background includes making theater sets and cabinet making. Inspired by Nordic heritage, the wooden Wakka sideboards feature ornamental grooves and rounded edges reminiscent of old cheese molds and traditional Finnish bushels—a subtle nod to the designer's goal "to meet everyday challenges with a pinch of humor to make life happier". Vakka in Finnish means a traditional wooden container and, in the case of the designer's inspiration, recalls the traditional way of crafting cheese molds and bushels by agricultural workers in rural communities. He combined age-old aesthetics with modern woodworking techniques to create fishbone grooves that form wavy loops.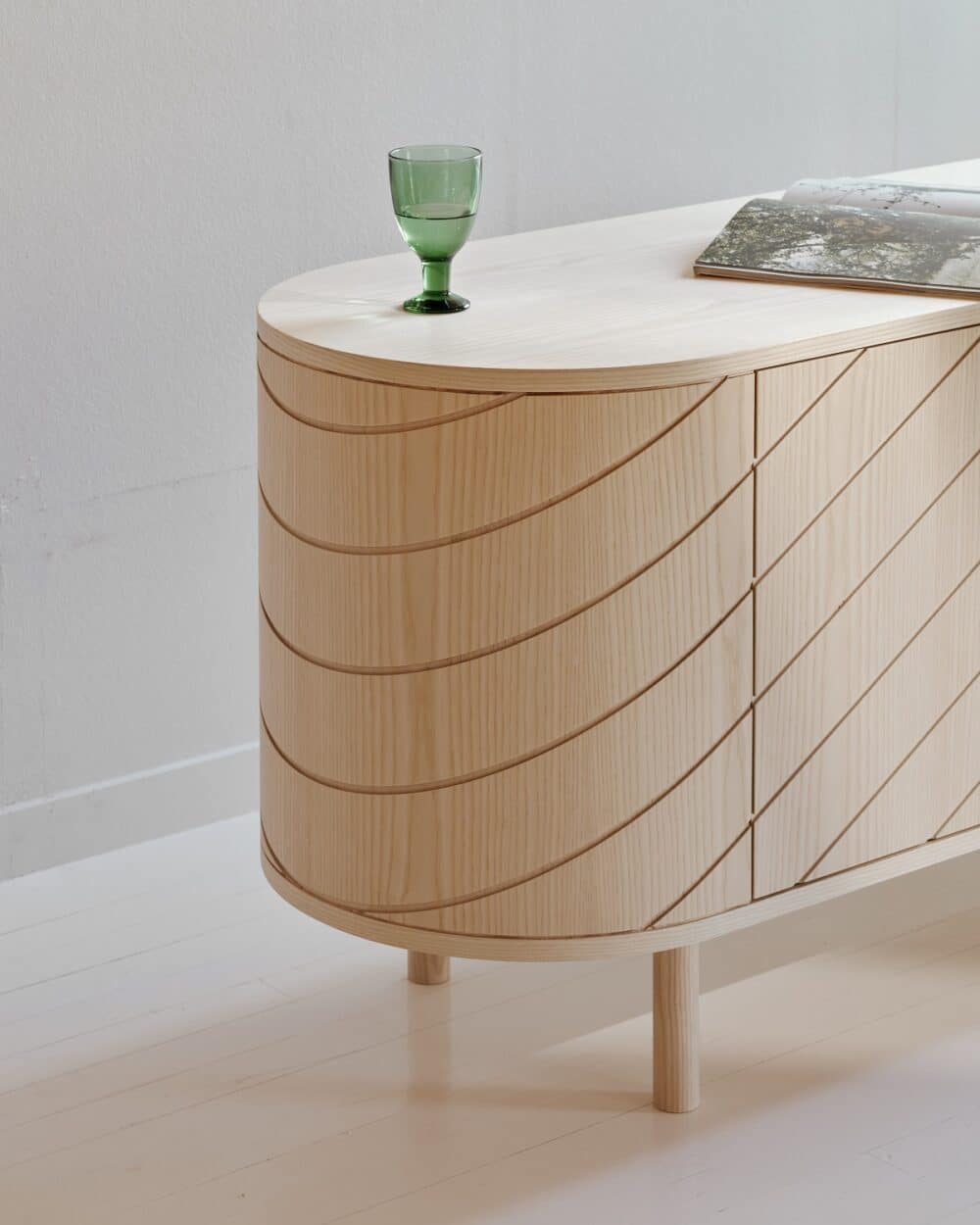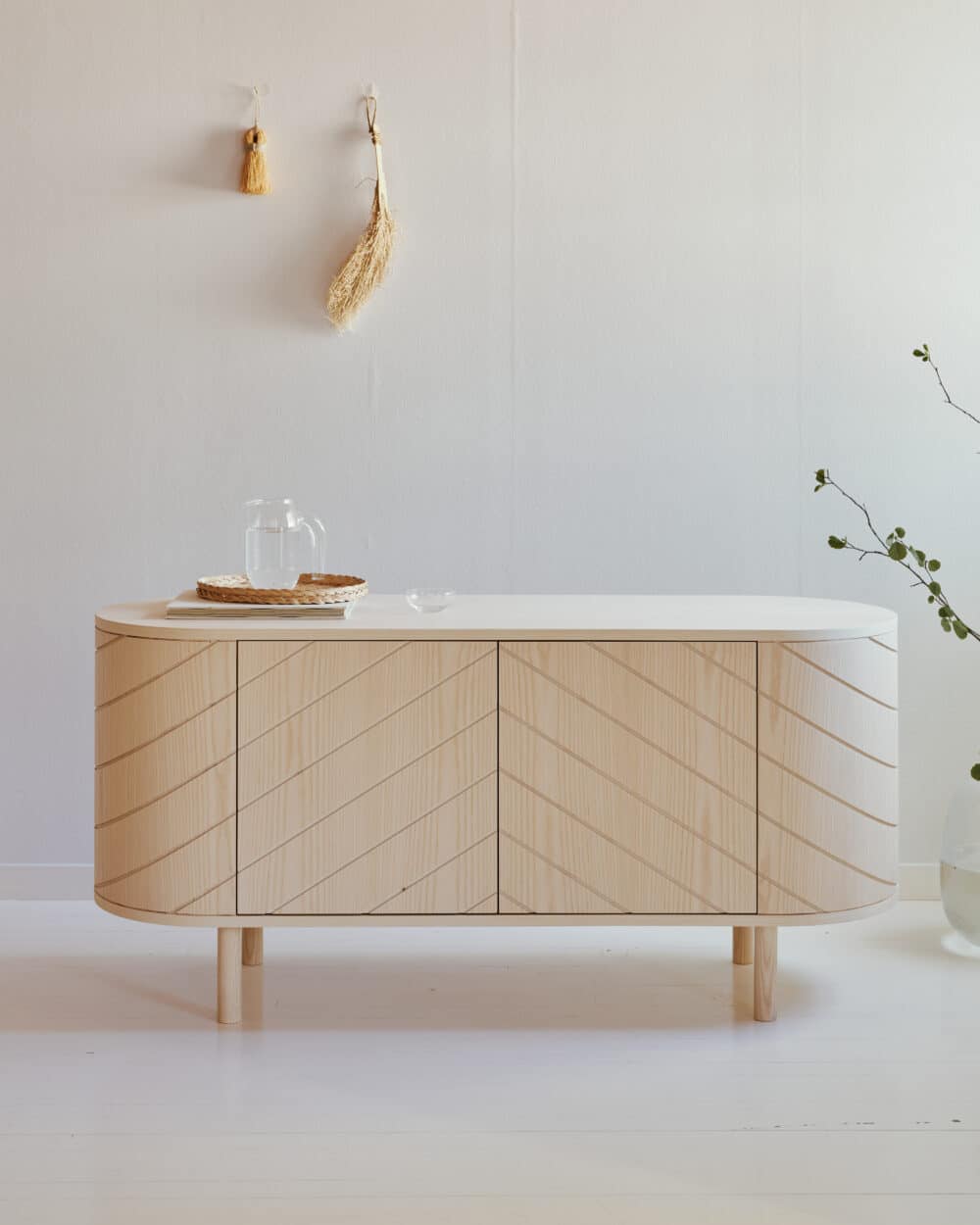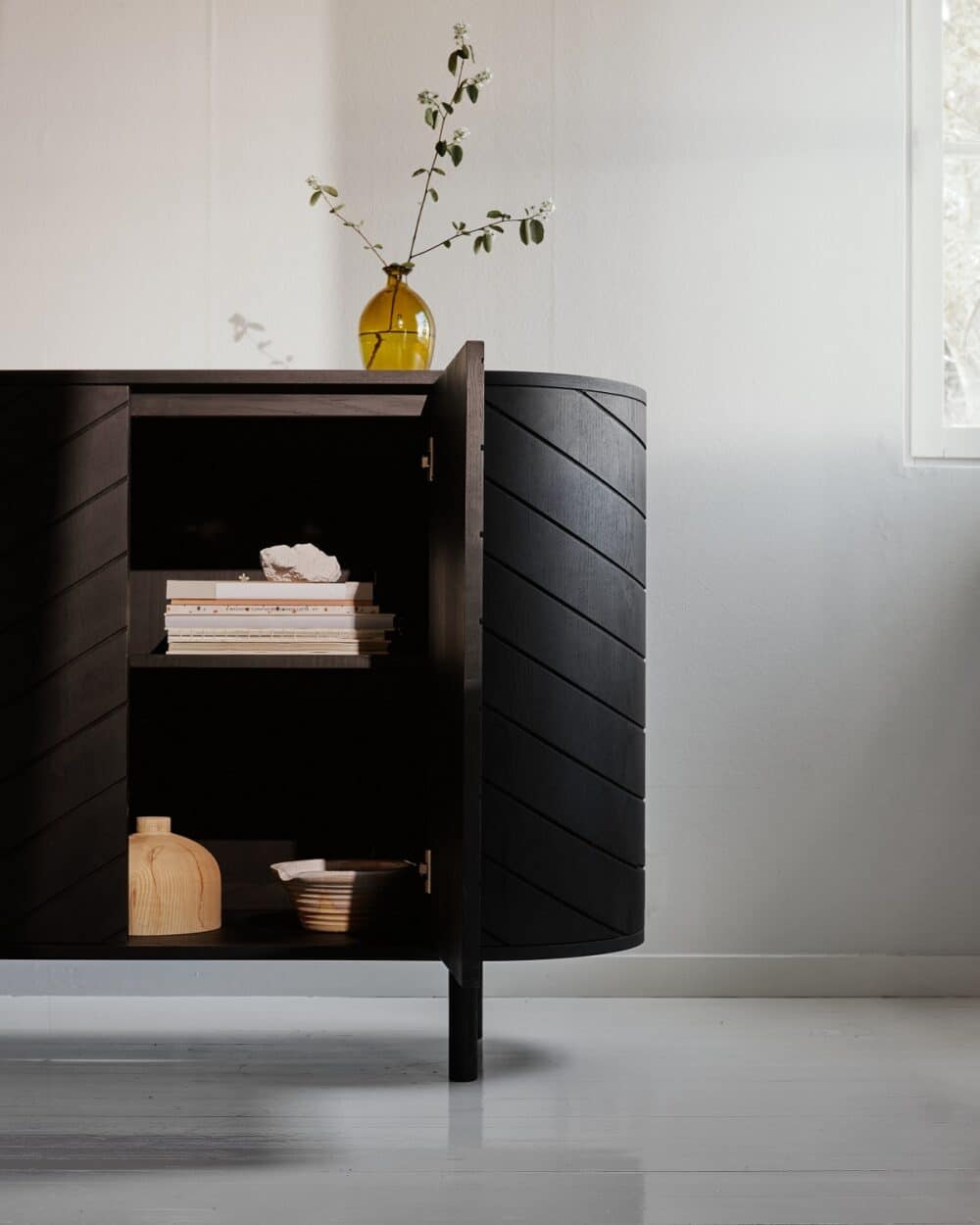 Lola Buades and Eléa Nouraud founded their brand OnMateria in 2019 with the shared goal to develop planet and human-friendly design. Not long after they came together, they conceived the Green Box, an amenity kit in which the pieces are made of bio-sourced, bio-based and compostable materials for the hospitality sector. The pieces are made out of recycled polylactic acid (PLA), leftover wheat fibers and non-toxic plant-based pigments, so the items can be industrially composted in a controlled environment. In fact, a disposable bin accompanies the kit of accessories for each hotel room. Once the guests have used the items, they will sort the items between compostable or non-compostable materials, creating awareness for new kinds of waste streams. After 10 weeks of industrial composting (methanization process), the waste becomes soil and biogas. This kit could power a standard LED light bulb for more than a day. The organic matter left could be used as a soil fertilizer to regrow wheat.
Finnish designer Mari Koppanen displayed Ferna (2022), a 100% biodegradable handbag made from bacterial cellulose. The handbag isn't made to last forever; instead, it will decompose. During the symbiotic fermentation process of lactic acid bacteria and various types of yeast, the material used to produce Ferna develops. The process can be restarted, and the bag can be replicated, by placing Ferna into a mixture of sugar, tea and vinegar. The rich brown pigment comes from lichen.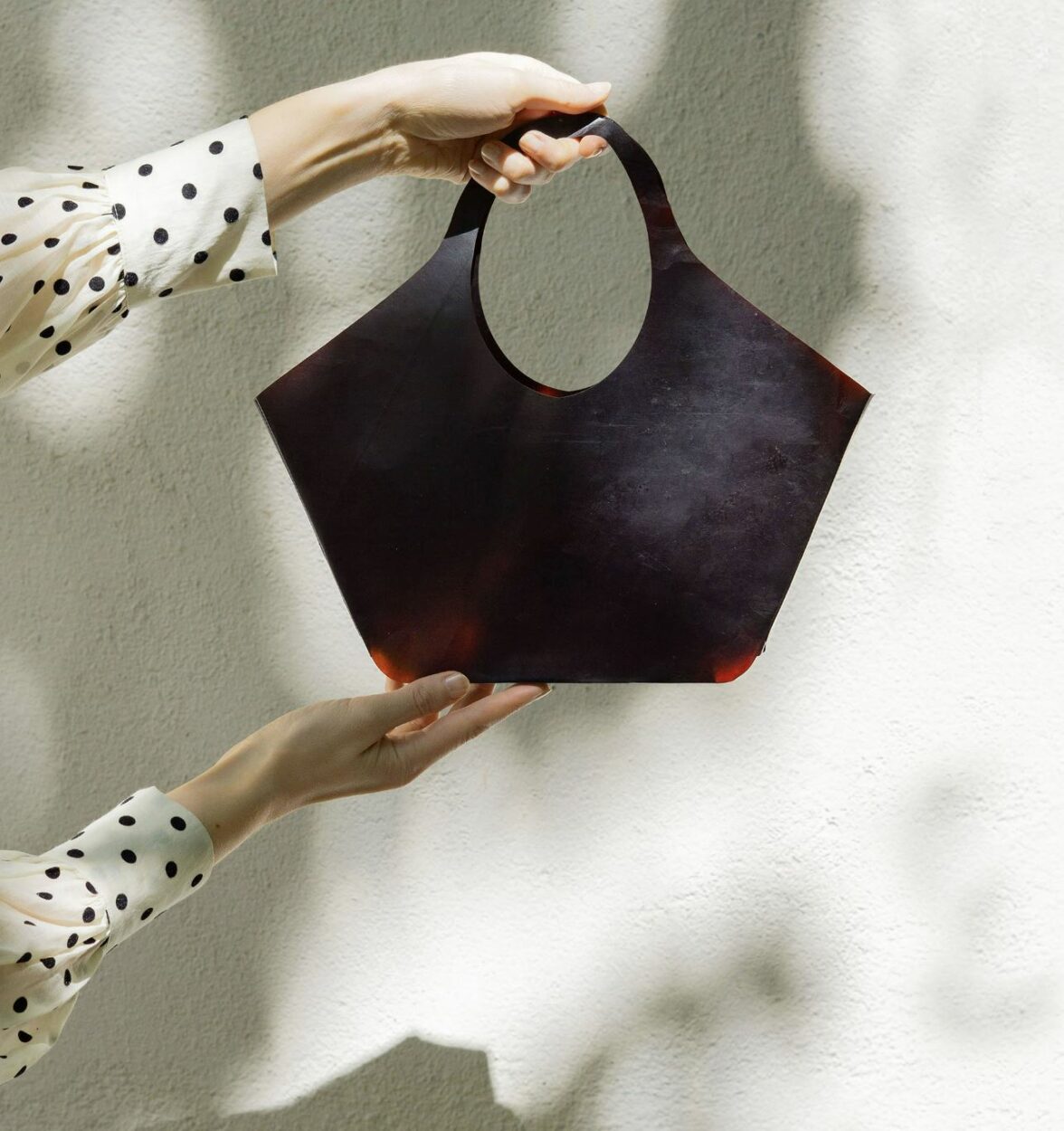 Closing the Loop: 11 Million Tons of Plastic in the Oceans
In 2019, the United Nations ESCAP launched the Solaris Community, a circular-chain b2b collaborative platform for recycling and upcycling solutions. For SFF, the group created the Closing the Loop exhibition in collaboration with Materialbiblioteket which highlights the 11 million tons of plastic found in our oceans each year. Having worked with designers and brands such as Karim Rashid, Pierre Balmain, Swarovski and Julia Koerner; the group is showcasing art, furniture, lighting and fashion.
Ocean plastic waste that has been damaged by water, salt, and UV radiation can now be revived into valuable materials thanks to the work of innovative members such as #tide ocean material® and IWK Institut für Werkstofftechnik und Kunststoffverarbeitung.

Stands Made of Recycled Material and How Materials Affect Climate
The Nude Edition constitutes a new exhibition area with stands made of recycled material. The material used to produce the 15m² stands will return to be recycled after the closing of the event. The area exemplifies a more sustainable way of exhibiting, while the exhibitors in the edition match the concept of eco-centered with names such as Reform Design LAB, a group that merges art and technology into sustainable design pieces, and Johanson, whose artisanal furniture pieces are ISO-certified. The material partners for the stands are Recoma and Tarkett.
Read more about the materials in the exhibition here.

In line with the topic of recycled materials, the Now or Never – 1 kg CO2e exhibition begs the question: What impact does our furniture have on the climate? The exhibition shows how different materials affect our impact on the climate and what difference our choices make. Organized by designer and sustainability strategist Emma Olbers, together with the design and innovation agency EY Doberman, visitors are taken into a world in which the perspective of being a designer means creating products where choosing the right materials and ensuring thoughtful production plays a big part. It's a small scale of what we can accomplish on a global scale if designers switch their mindset from consumerism to how to design good products—good from all aspects, including being good for our planet. Doconomy, Polestar, Nrep and Ludvig Svensson are also participating. Doconomy helped by using its 2030 Calculator to measure the climate impact of different materials.
In the 1kg CO2e exhibition, different materials are shown together with their climate impact. By measuring carbon dioxide equivalents (CO2e), the metric that is used to understand the climate impact of products, we see that our choice of materials is important. A single chair can cause everything from a few kilograms of CO2e to several hundred.
"I have been thinking about the climate impact of furniture and materials for a long time – wanting to find a simple way of making a positive difference through the choices I make. Exhibiting the number of different materials that we can get for one kilogram of greenhouse gas emissions is, I hope, an easy and graspable way of understanding the importance of the material choices we make," Emma Olbers stated in a press release.