When the Pratesi family were forced to sell the family name and factory, an idea to save the history and experience gained through generations grew to fruition: Verderoccia, a new brand with newly developed fabrics, but with a traditional style to forever be remembered.
If ever you're to marry, choose wisely. The heart and soul of the recently launched luxury linens brand Verderoccia is the picturesque image of waves washing upon the shore on a magical bay in Tuscany called Cala Piccola, where the then-young Gaia Leonori met her now-husband Federico Pratesi.
Federico might not have realized it at the time he asked for her hand in marriage, to what extent his bride-to-be would amount to more than a longtime love but a life raft for the family; now, however, there's no mistaking it: he indeed chose wisely. 
When selling the Pratesi family name and factory became obligatory in 2018, Federico fell into a state of shock. He was watching the closure of four generations and 114 years as though the building blocks of history and experience were caving in on him; Gaia, who worked with them since she was younger, couldn't accept such know-how disappearing. The savoir-faire needed to carry into the next generation.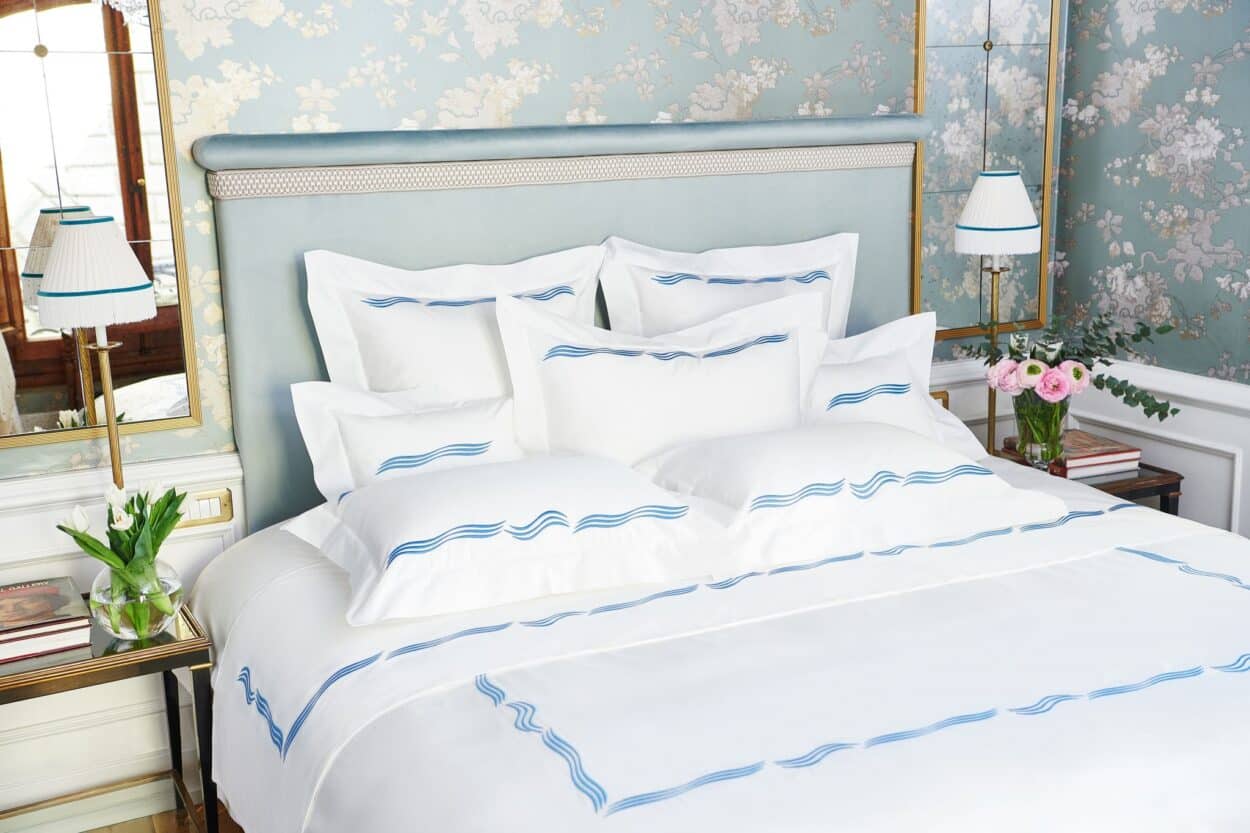 "We lost our 'house', our history, and our artisans couldn't believe we lost the family name. It was a home for all of us," Gaia Leonori said in a video interview with ArchiExpo e-Magazine. "It couldn't end like this."
If only for the love of her family – her parents-in-law, her husband, her children – and the artisans who worked with them for generations, she brought a new chapter to life when she initiated the creation of the new luxury linens brand. Love acts as the common thread shared between both ventures, Pratesi and Verderoccia. 
"It was a gift of life, giving back to my family, the respect and honor they brought to us for generations; and these artisans are our pillar," Gaia Leonori said.
Marriage led Federico's great grandfather into business, launching the Pratesi company in 1906, when he fell in love with a woman who he courted through broidery. As it was a time period when women were only allowed to embroider, nothing else, he requested her services in order to be close to her; once he wooed her, they married and started the family business. Nearly 50 years ago, the father and mother of Federico entered Pratesi into the American market where they established greater fame to the label.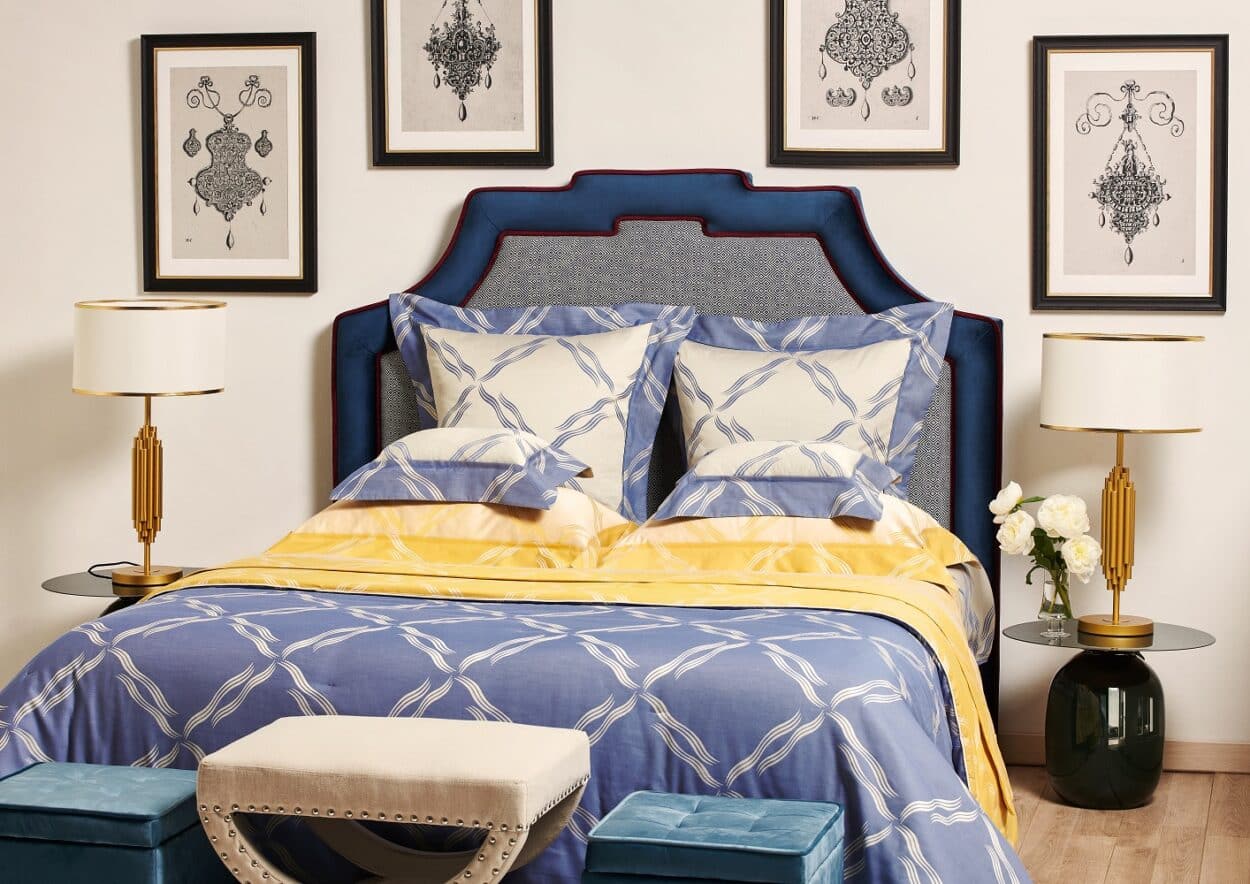 In 2019, the Pratesi name was officially sold and the factories closed. Not long afterward, Gaia opened the door of opportunity for a new brand: Verderoccia, one of the finest names in luxury linens for the bed, bath and table designed by Gaia Leonori Pratesi – and designs by Federico Pratesi. With only months before the pandemic spread, the couple prepared to launch their new brand.
"We meant to launch on November 22, 2019," Gaia Leonori said. "When COVID came, we had to stop. Originally, we didn't think about having an online shop, but following COVID, it became an easier and nicer way to get in touch with our many clients. We might not open a physical shop right now but we're not setting limitations; and my husband would love to see one eventually, but we'll see how it goes. Today, we're just excited to be presenting our products in the United States for the whole month of April."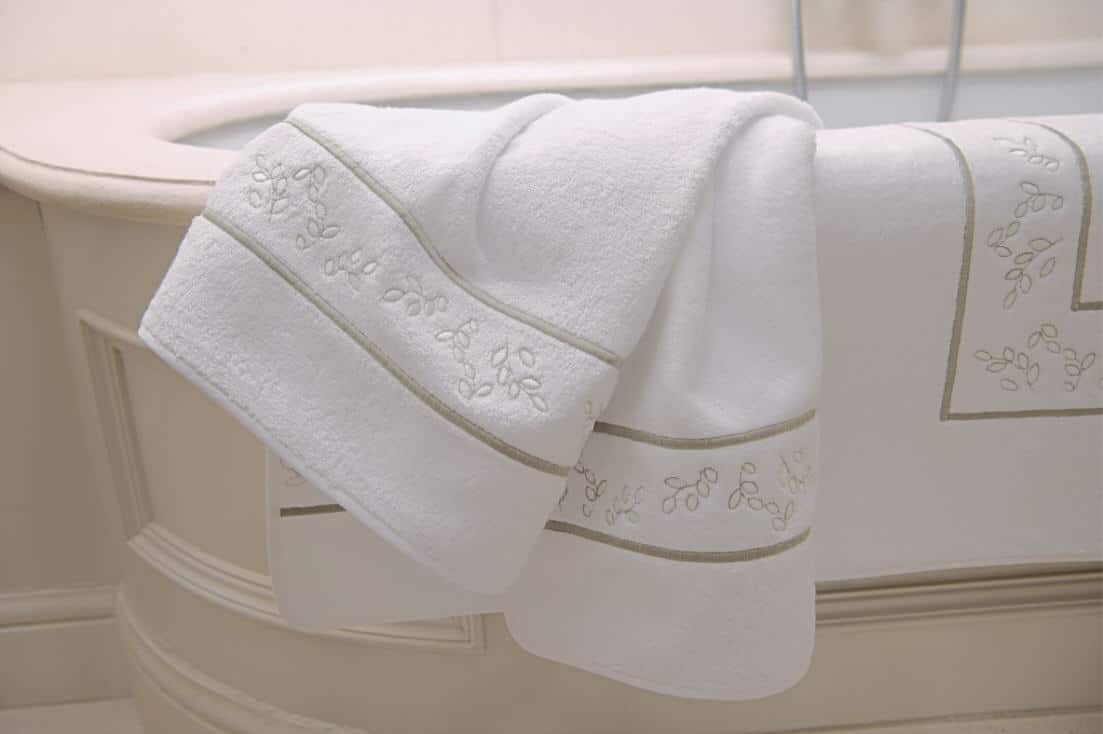 Verderoccia exemplifies the use and fabrication of Jacquards and Estremo, a new percale with the perfect thread count, composed of the longest staple Egyptian cotton, woven, finished and embroidered in Italy by the same artisans who, for generations, worked for the Pratesi family. Both Jacquards and percale fabrics are made exclusively with extra-long-staple cotton yarns, with a very fine count, double-twisted thread in weft and warp. Quality starts with the selection of the most precious materials and the expertise to blend them.
"There are selected places along the Nile where an exceptional interaction of air, heat and humidity allows the cotton grown to be of the finest quality. It is here that our amazing journey in the pursuit of excellence begins."
Gaia and Federico's children, Athos and Margherita, have joined the business, working closely beside their parents and the artisans so they can learn the various aspects of design, manufacturing and production. This leads us to believe there's a favorable chance the 'house' will remain for generations to come.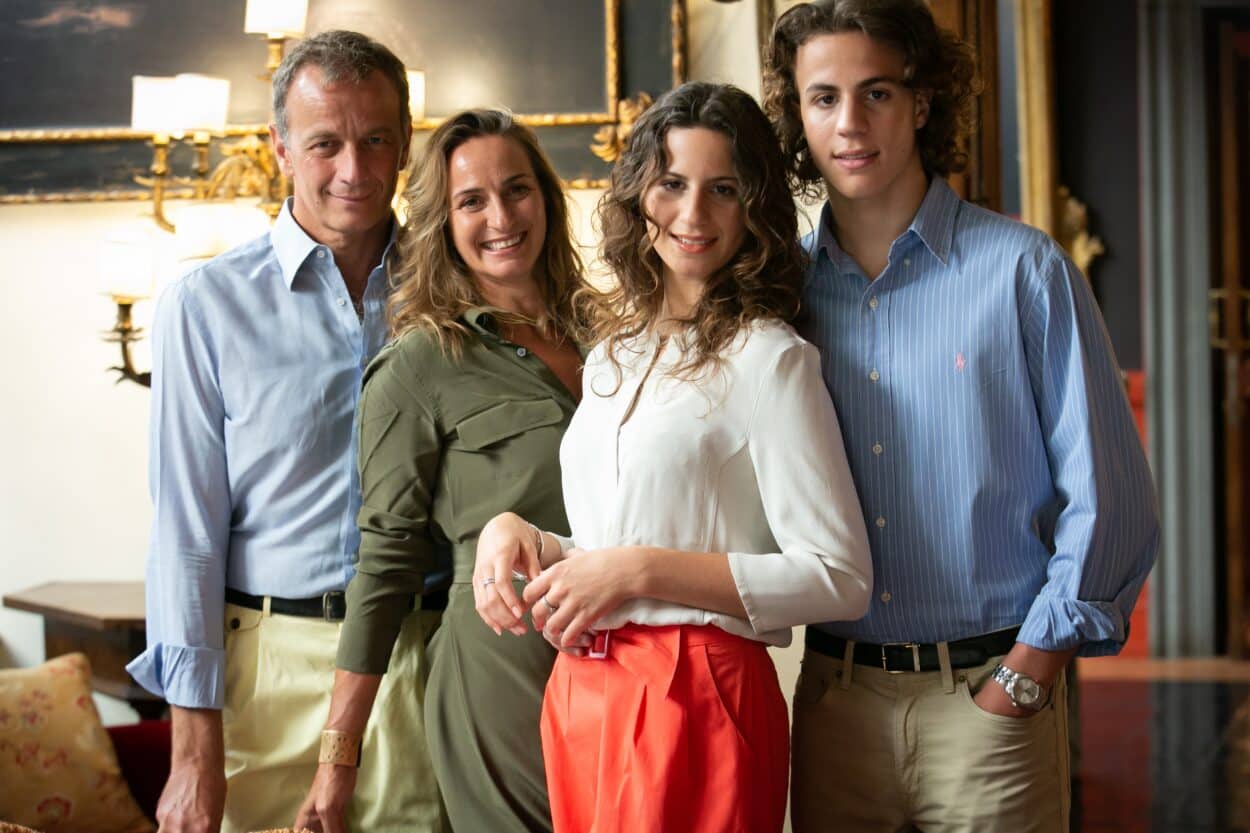 "The difficult time taught me a lesson: that it's very much on you, how you handle these passages, whether you decide to bear them or to step on the stone as an opportunity," Federico Pratesi said, entering the video interview near the end.
"It's within yourself how you react to situations. My wife is my lighthouse. She said she knew what she'd do for our family, for our kids. I was 'off' and couldn't help, but she said I could design, that it was in my blood, and that was enough. The first collection was blessed by my mother and my aunt who were so proud of what we'd accomplished; I saw the enthusiasm in their eyes."
Although Federico initiated the designs for their company, Gaia soon followed. She had it in her blood, too, it seemed. Her grandmother had the most well-known tailoring shop in Naples where there is an incredible tradition of craftsmanship and tailoring. Her shop Sartoria Marino was located at Piazza dei Martiri ( nearby via dei Mille) in Naples, her hometown which gave birth to many beautiful sartorial names such as Caraceni, Kiton, Marinella, ect.
Federico found amusement in recalling the top three designs preferred by their clients, the first two of which were designed by Gaia.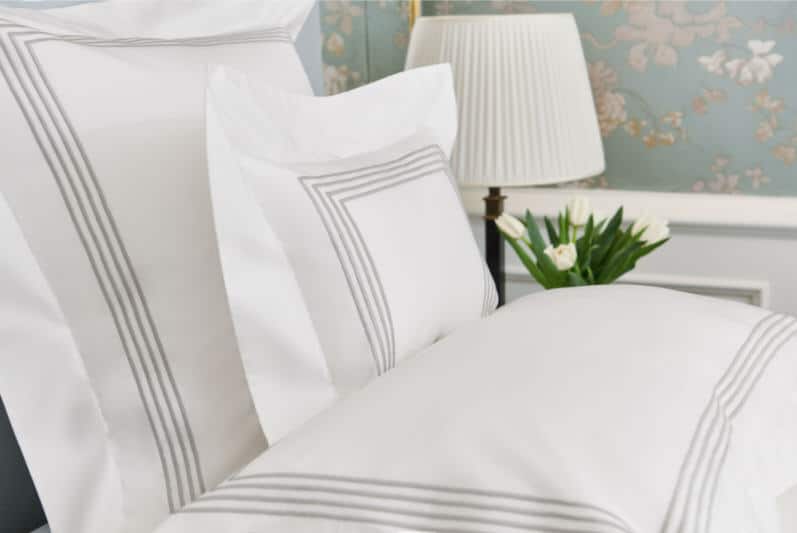 Tuffo, in first place, means 'diving', named in adoration for their love story in which they met by the sea 23 years ago. The second most-liked is The Four Generations, a pattern Gaiai insisted upon as she felt sure it would be a success. Federico drew Roma, the design sitting in third place, which he based on Gaiai's hometown, in honor of his love for her.
VERDEROCCIA HEADS TO THE UNITED STATES:
April 12 – 13th >> 10 am – 5 pm; Casa Branca, 344 Worth Ave, Palm Beach
April 19 – 21st >> 10 am – 6 pm; Biltmore Hotel, 1200 Anastasia Avenue, Coral Gables – Miami
April 25 – 30th >> 10 am – 6 pm; The Carlyle Hotel, 35 East 76th Street, New York