Through the introduction of a "floating ceiling" and advanced HVAC solutions, this project sets a new benchmark for modern office environments, emphasizing both visual appeal and optimal work conditions. —Article written by Marc Mascerllo, Creative Director at Invi Air.
In the modern corporate landscape, the design of the office plays a pivotal role in influencing employee morale, productivity, and overall satisfaction. As companies transition back to physical workspaces post-pandemic, the emphasis on creating inviting, innovative, and functional office designs has never been more important.
Situated in Port Washington, New York, EquaShield, a medical equipment manufacturer, sought to create a groundbreaking design that redefines the aesthetics and functionality of its office. The medical company reached out to Invi Air, which is known for its innovative and unique design solutions for clients with its custom frameless air diffusers. The Invi Air team took the opportunity to update the HVAC air diffusers to create a showstopping and unique design that would inspire employees. They designed a "floating ceiling" by installing frameless diffusers that sit flush to the edges of the ceiling.
EquaShield's new office is a testament to architectural innovation and design prowess. The office's floating ceiling was achieved using custom linear diffusers meticulously designed to run the perimeter of the entire office. Unlike standard diffusers that cannot sit flush against the edge of a wall or ceiling, Invi Air created a custom solution that seamlessly integrates with the office's design. The special diffuser gives an illusion of the ceiling suspended mid-air. This was made possible by rotating half of the diffusers by 90 degrees—a design choice that required precision, planning, and a deep understanding of structural integrity.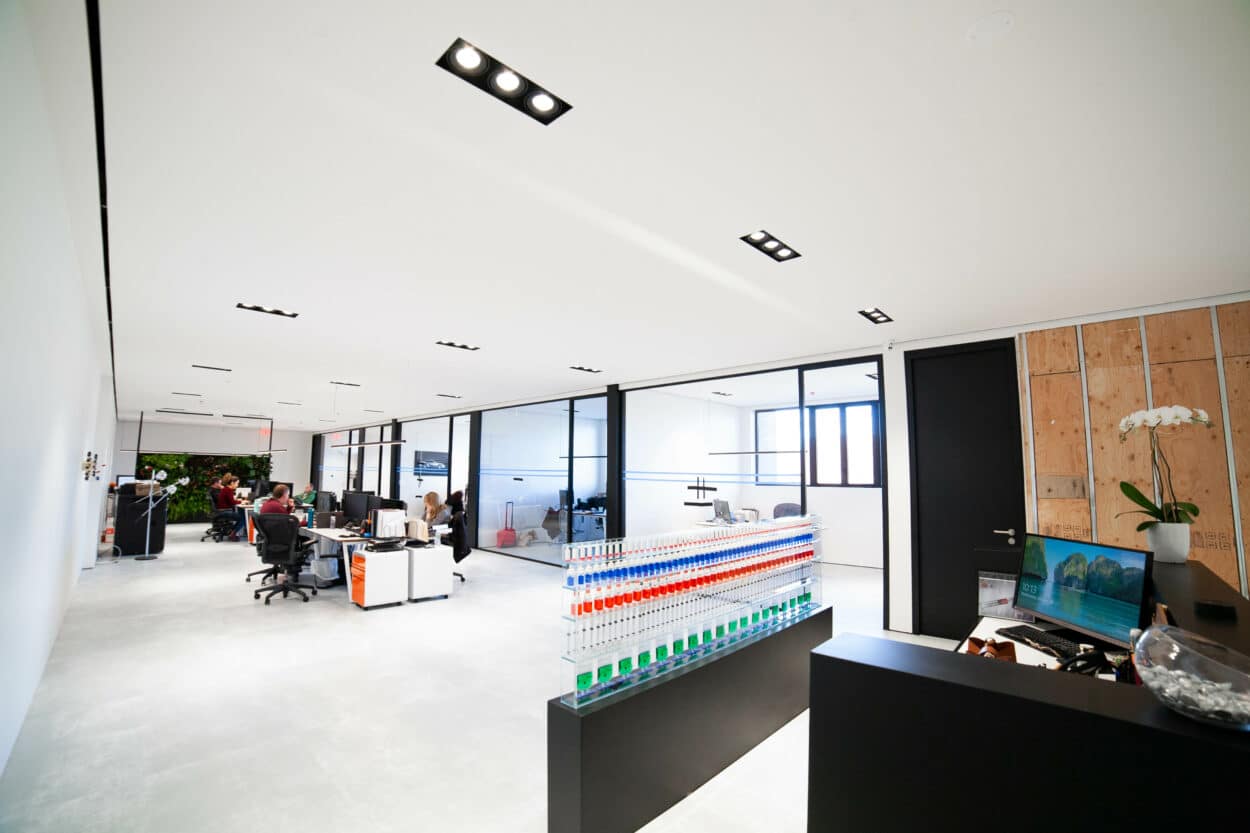 More Than Aesthetics: The Function Behind the Floating Ceiling
While the floating ceiling is undeniably a visual marvel, its brilliance extends beyond its aesthetic appeal. Invi Air's diffusers, the backbone of this design, are a masterclass in functional innovation.
Firstly, these diffusers are engineered to handle double the airflow of traditional metal ones. In an office setting, this means more efficient air circulation, ensuring employees work in a space with optimal air quality. Good air circulation has been linked to improved cognitive function and reduced fatigue, making this a crucial feature for any workspace.
The diffusers are made from a proprietary wood-based material, significantly reducing noise compared to traditional metal diffusers. The quiet, efficient operation of the diffusers ensures that employees can focus on their tasks without the constant hum or rattle of HVAC systems. Additionally, the wood-based material reduces condensation on the diffuser grilles, leading to a healthier environment and minimizing the risks of mold and other related issues.
The integration of the plenum return system is another functional bonus. Simplifying the office's HVAC requirements eliminates the need for additional, often unsightly, ductwork. This contributes to the clean, clutter-free design and ensures efficient air return, optimizing the overall HVAC performance.
The very nature of the floating ceiling design, emphasizing open space, can have psychological benefits. Open spaces are often associated with freedom, creativity, and a lack of restriction—qualities that can enhance an employee's sense of well-being and productivity.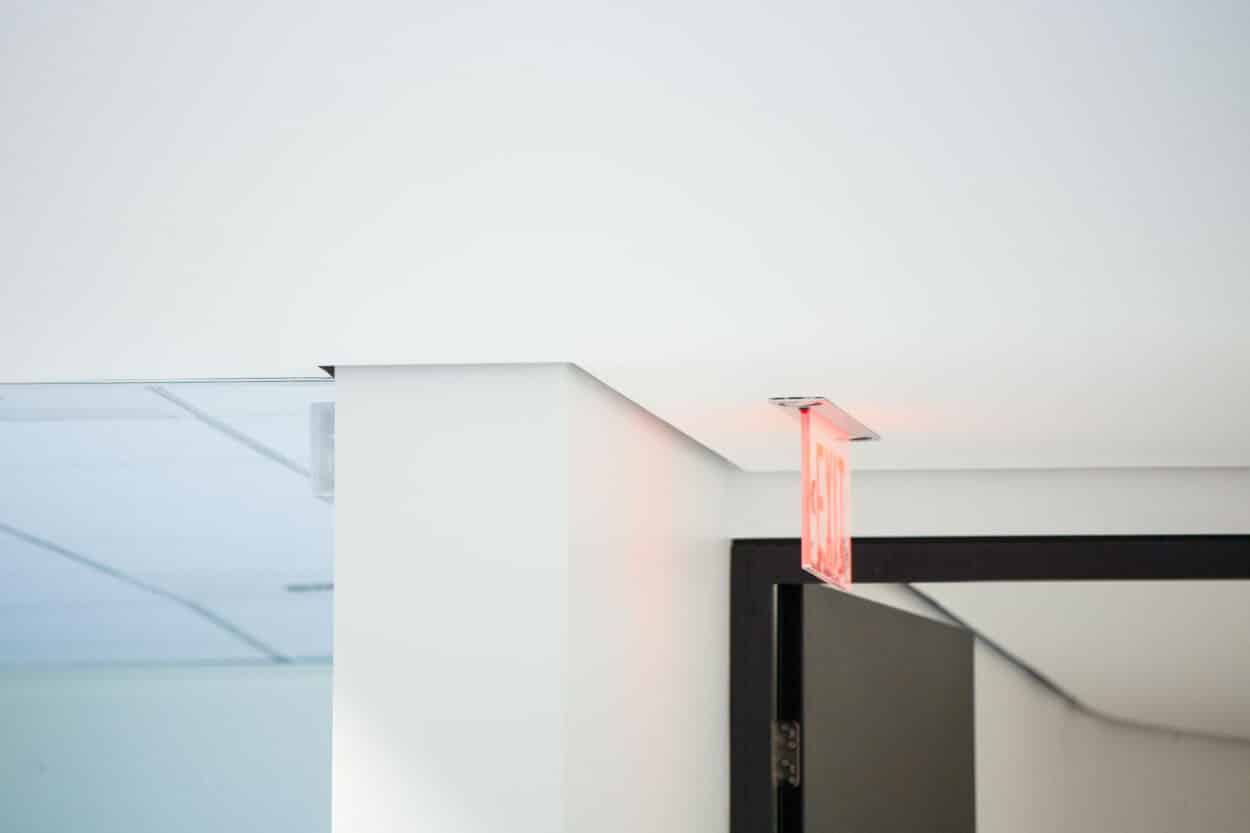 Enticing Employees Back with Unique Design
In the aftermath of a global shift towards remote work, the challenge of bringing employees back to physical office spaces is one that many companies face. Having tasted the flexibility and comfort of working from home, the modern worker now seeks more from their office environment than ever before. It's no longer sufficient for an office to be just a workplace; it needs to be an experience, a space that inspires, comforts, and motivates.
Moreover, the office's design speaks to a company's commitment to innovation and employee well-being. It shows employees that their employers are willing to invest in creating spaces prioritizing form and function. Such a space becomes more than just a place to work—it becomes a place to innovate, collaborate, and thrive.
About Marc Mascarello:
Marc Mascarello is the Head of Design at Invi Air, where he has been working since 2018. After graduating with a Master of Architecture from Columbia University, he has over 10 years of experience in the fields of fabrication and architecture. His broad knowledge and skills in these fields have allowed him to synthesize design and detail with highly engineered components, making Invi Air a leader in design-centric air diffusers, vents, and grilles.