After a visit to the new development project, The Grand, in Los Angeles, where leasing is set to begin this summer, our journalist discusses the architectural features with the project partners.
Sitting just across the road from Frank Gehry's iconic Walt Disney Concert Hall in downtown Los Angeles, his latest ambitious development project, The Grand, truly lives up to its name in scale and ambition.
But it wasn't christened for Gehry's bold vision: The block lies between Grand Avenue and Olive Street, at the heart of a cultural and business quarter which can feel spookily devoid of life despite its prime location.
Bringing more buzz to the neighborhood is a central goal of the new development, which is built around two towers: A 45-story residential complex with 436 units (including 20% priced at affordable levels) and the Conrad Hotel, which boasts 305 rooms spaced over 28 floors.
"The key to creating a 24-7 hub is really having enough core density of people living there," explained Project Partner Tensho Takemori in an interview with ArchiExpo e-Magazine. "That's how that kind of ecology develops, so this is a big thing."
Another key driver will be 15,236m2 of retail and restaurant space, spread over three floors, accessible via sprawling walkways and staircases that curve upwards from a central atrium with olive trees and a small amphitheater for public events.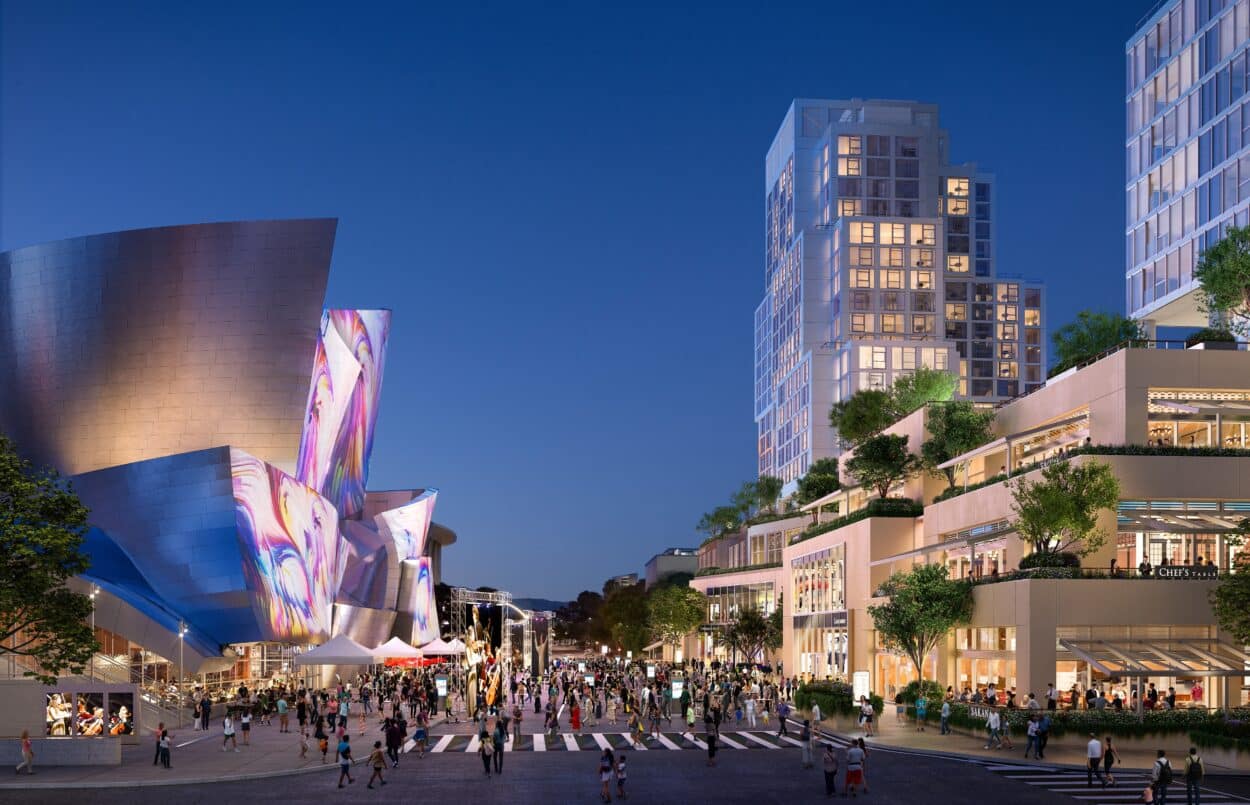 The open plaza is the first of its kind in LA, focused on what Lead Developer Rick Vogel describes as Gehry's concept of a fluid "urban room" where people are invited to spend time.
"A lot of developers wouldn't bother with that outdoor space, because it takes away from the building area where the real economic generator is," Rick Vogel told ArchiExpo e-Magazine. "But you can also create value with all these components."
Gehry's design pushes back against a dispiriting trend of podium and tower structures throughout downtown LA: Parking lots often occupy the first few stories of city blocks, leaving unfriendly high walls at street level, with smaller boxes containing apartments or offices placed on top.
It's the easiest, cheapest option for many builders, but The Grand features 1,063 underground parking spaces in order to prioritize the pedestrian thoroughfare.
"A lot of times when you arrive somewhere, it's a garage, and you just try to make the best experience you possibly can out of it," explained Takemori. "At The Grand, there are no fences and there are no gates; it's public and accessible all the time."
The architects managed to turn a potentially tricky 9.75m slope between Grand Avenue and Olive Street to their advantage, with a distributed vehicular entrance strategy and a quieter back door for residents. The two main towers have also been pushed back deeper into the lot, helping disguise their size, while the height of the outer layers lines up with lower-density buildings across the road.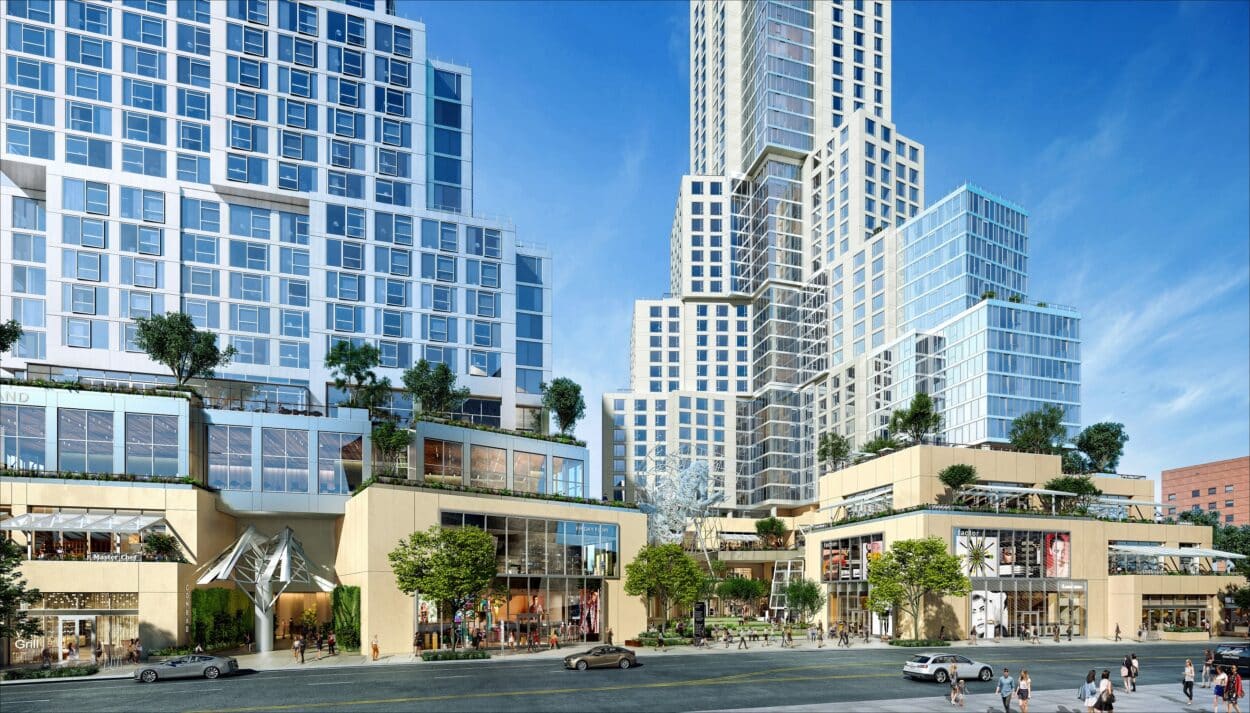 "Frank wanted some very big buildings to look small," said Vogel, an executive vice president at Related. "So it's broken up into series of tumbling blocks and terraces with lots of landscaping and this lively, dancing architecture."
Gehry's playfully uneven towers represent another notable gesture against the uninspiring cookie-cutter cubes which dominate so many cities. But the edgy geometry presented construction challenges for his team due to multiple structural levels and shifting floor plate dimensions.
"The curtain wall, the window wall, the precast punched openings; those all get fabricated in a factory in a fairly repetitious way," explained Vogel. "And when your floor plate changes, all the assembly processes change.
"The analogy is if you buy two IKEA nightstands, the first one goes together in about 30 minutes. The second one may be five or ten minutes because you know where the parts go. But imagine changing nightstands to a coffee table every five or six floors and starting over, getting good at it, then changing again."
After a lengthy development process that goes back to 2005, The Grand is finally opening in July, with its creator having celebrated his 93rd birthday earlier this year. It's been a stop-start operation for all involved, with an enforced five-year break due to the 2008 financial crisis and plenty of Covid-induced stress.
"There was a point in time where we had to wonder if the market would be here if we kept building or if we should suspend until we know what the world is going to look like," recalls Vogel. "But in many ways, this project is being delivered right on time because downtown LA is at a very important transition point now."