Alongside the evolution of workplaces, homes and our nomadic lifestyle; the kitchen remains a top priority, notably the cooking station. Here are our top brands for cooker hoods this year.
As we progress into an era where the kitchen is ever-present in workplaces, a number of brands continue meeting ever-growing demands in the cooker hood or range hood category of appliances. Trend-Monitor research director Jane Blakeborough identified quieter homes, indoor air quality, and smart and curated homes as trending for 2022. In addition to this, creating more hybrid living environments fitting for nomadic lifestyles and spaces of combined uses such as the workplace has helped alter the cooking station. In this piece, we select brands whose cooker hoods match the current and expanding trends of this year.
Smart, Safe and Award-winning RørosHetta SENSE Cooker Hood
Earlier this year, the RørosHetta SENSE cooker hood was awarded the People's Choice award for Innovation at the KBB Birmingham 2022, Europe's leading kitchen and bathroom trade show. The Norwegian family-run company RørosHetta integrates smart technology and safety features into its hoods. Its SENSE cooker hood, for example, is considered to be one of the world's most quiet hoods, while boasting of a range of smart features, such as switching off the electrical hob in case of fire risk and regulating the home's indoor air quality.
Scientific research and analysis point to poor indoor air quality as a contributing factor to a range of illnesses. Around 3.8 million people a year die prematurely from exposure to household air pollution, according to the World Health Organization (WHO). The new RørosHetta SENSE has 11 sensors that measure a range of air quality features, such as fine particles (PM2.5), total volatile organic compounds (TVOC), eCO2, humidity, and temperature as well as movement.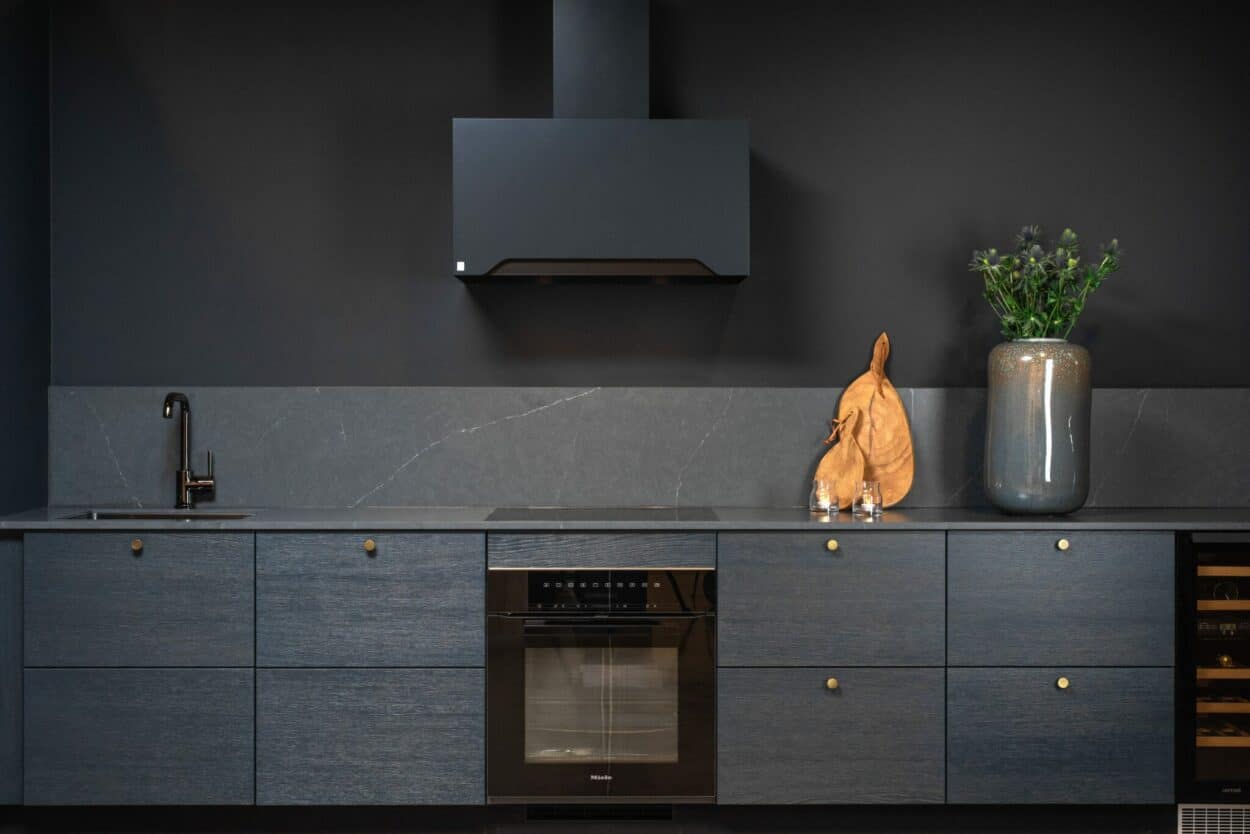 The Marche Region of Italy Meets Turin with Fabita and Adriano Design
Italian brand Fabita located in the Marche region unites with Turin-based Adriano Design. Having acquired know-how from the specialization of the Marche region, traditionally recognized for manufacturing kitchens and home appliances, the brand extends its 10 years of experience in the sector of induction and vitroceramic hobs and of extractor hoods through a collaboration with Adriano Design. Together, they plan to explore a new path with a new image.
In 2020, Adriano Design developed the Linea and Enigma hoods for Fabita as beautiful furnishing elements, ideal for hybrid environments, such as co-working, lofts and studio houses, that offer intelligent technological solutions for household appliances. Linea has a wooden frame with rounded edges that can be customized by choosing the wood and color. It's a thin, non-invasive wall that combines functionality and efficiency. It has clear, easy-to-use touch commands. The Enigma hood doesn't look like a hood at all (see featured image); in fact, the linear shelf just acts as an extraction surface, so it is extremely thin; the air is directed into the two ceramic vases placed on the top, hiding the motor and the filters.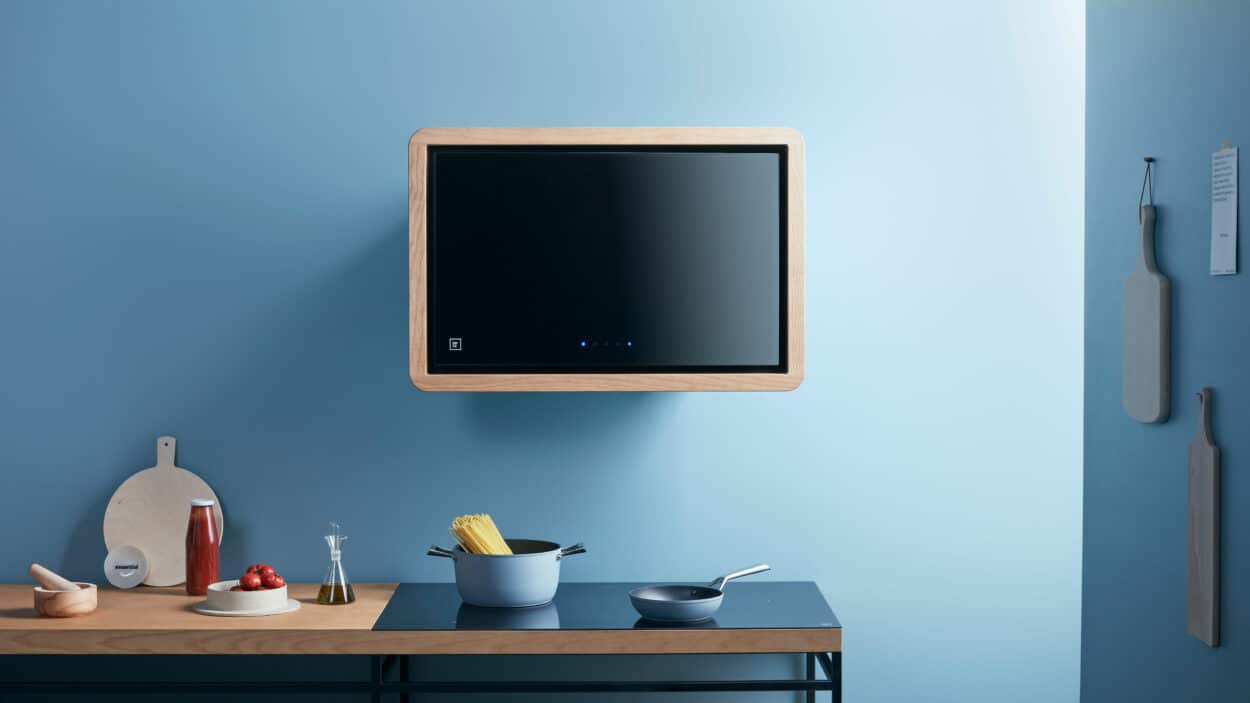 Made in Italy Cooker Hoods by Falmec Purify Air and Reduce Noise
Based in Vittorio Veneto, Italian company Falmec is well-known in the world of kitchen aspiration systems and has received recognition in the form of prestigious international awards such as the "Compasso d'Oro" ADI in 2020. The brand has recently launched several new cooker hoods including Elle, Light and Plane no-drop. Each product is designed, developed and made entirely in Vittorio Veneto, near Venice. In this area known as "inox valley", the craft tradition has evolved over the centuries. It led to the creation of one of the most important Italian industrial districts for steel processing.
The cooker hoods designed by Falmec sit among the top best designs in our opinion with products such as Loop, Materia, Spazio and Soffio, making it nearly impossible to choose a favorite, but the brand goes beyond focusing on exquisite designs. Its Noise Reduction System (NRS) technology is integrated into most silent hoods in the world, reducing noise to an almost imperceptible level. In addition, it has developed a unique technology that, through the bipolar controlled ionization, allows to recreate in the kitchen the air ions that not only eliminate unpleasant odors in a natural way but also restore the optimal ionic balance, with considerable benefits to our physical and psychological well-being. Overall, it is definitely a brand to keep in mind for upcoming kitchen projects.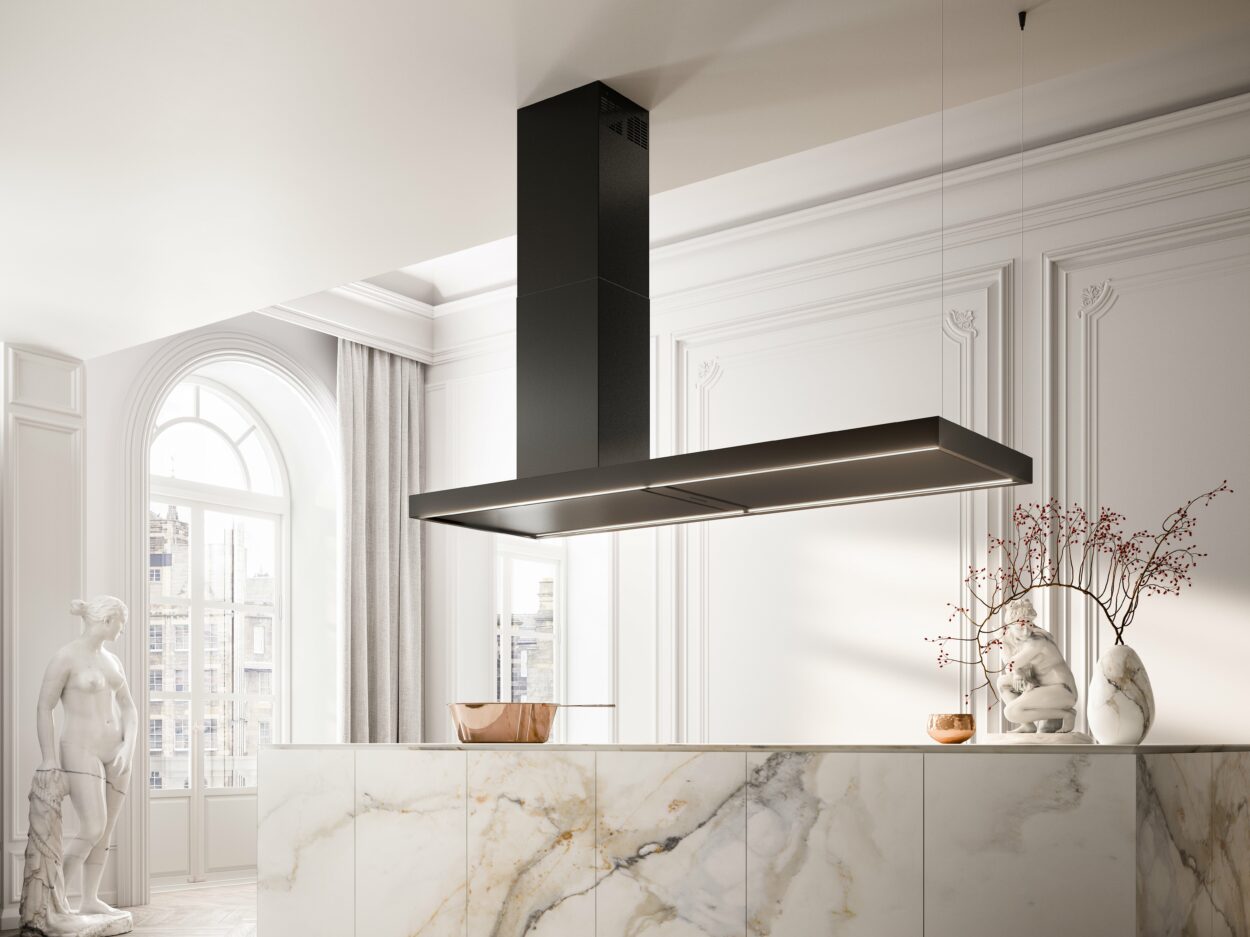 The Flex Induction Cooktop with Integrated Ventilation System by Gaggenau
Following the 2019 release of German brand Gaggenau's 200 series which includes three ceiling ventilation appliances, the brand developed another option last year: its flex induction cooktop with integrated ventilation system 400 series. As a cooker hood can cause distraction; and requires space, having an integrated system such as a downdraft extractor might be the least invasive yet. The frameless and flush-fitting 90 cm appliance offers precise, fast and flexible cooking with low energy consumption paired with integrated ventilation. The expansive sheet of black glass has control knobs in black.
The flex induction cooktop's integrated ventilation system can be set to automatically vent the air whenever in use. Available in air recirculation or air extraction mode, it can determine its own power level based on the vapor detected in the atmosphere and can continue when no longer being used. Energy-efficient, powerful motors work in tandem with airflow ducting to ensure the minimal volume of both noise and space, but maximum effectiveness: odors are removed during air recirculation thanks to the activated charcoal filters.