Le French Design Incubateur 2023 reveals 11 meticulously crafted projects that showcase eco-consciousness, traditional craftsmanship, and a resurgent spirit of innovation, all proudly 'Made in France'. Here are our favorites.
Paris plays host to a dazzling celebration of design this autumn. Nestled within the vibrant tapestry of the Paris Design Week, amidst the grandeur of Maison&Objet, lies the cradle of creativity: Le FRENCH DESIGN GALERIE. From September 6th to October 27th, 2023, this hallowed space at 120 Avenue Ledru-Rollin, 75011 Paris, becomes a portal into the very heart of design evolution.
Le FRENCH DESIGN GALERIE shines this year by unveiling 11 meticulously incubated projects that celebrate eco-consciousness and traditional craftsmanship, emblematic of the resurgent spirit of French design. Sustainable innovation thrives with solutions like Atelier Mesure's online sharing concept and Pierre & Vacances' mindful leisure offerings. The resurgence of reindustrialization shines through Module Origin, awarded the prestigious Label Innovation 2023. Esteemed creators like Normal Studio and Studio Jean-Marc Gady bring elegance and opulence to their designs, while young talents, such as Adjao with the Moon Armchair, infuse audacity. Olivier Toulouse reimagines heritage, and Maison Saman reveals hidden treasures in the ancient craft of burnt wood.
Since its inception in 2016, Le FRENCH DESIGN INCUBATEUR annually champions a select few projects led by dynamic designer-fabricator duos, editors, and artisans, guiding them toward commercial success. Over a year, each project enjoys robust support, including training, expert consultations, and tailored guidance. Le FRENCH DESIGN association invests 30,000 to 35,000 euros per duo, resulting in remarkable growth for these projects, while also revitalizing the entire industry. Building on the success of a spring speed dating event that connected over 500 professionals, the Incubateur has become a lasting network, nurturing fruitful collaborations and sustainable relationships. For this year's edition, we've selected a few of our favorite pieces.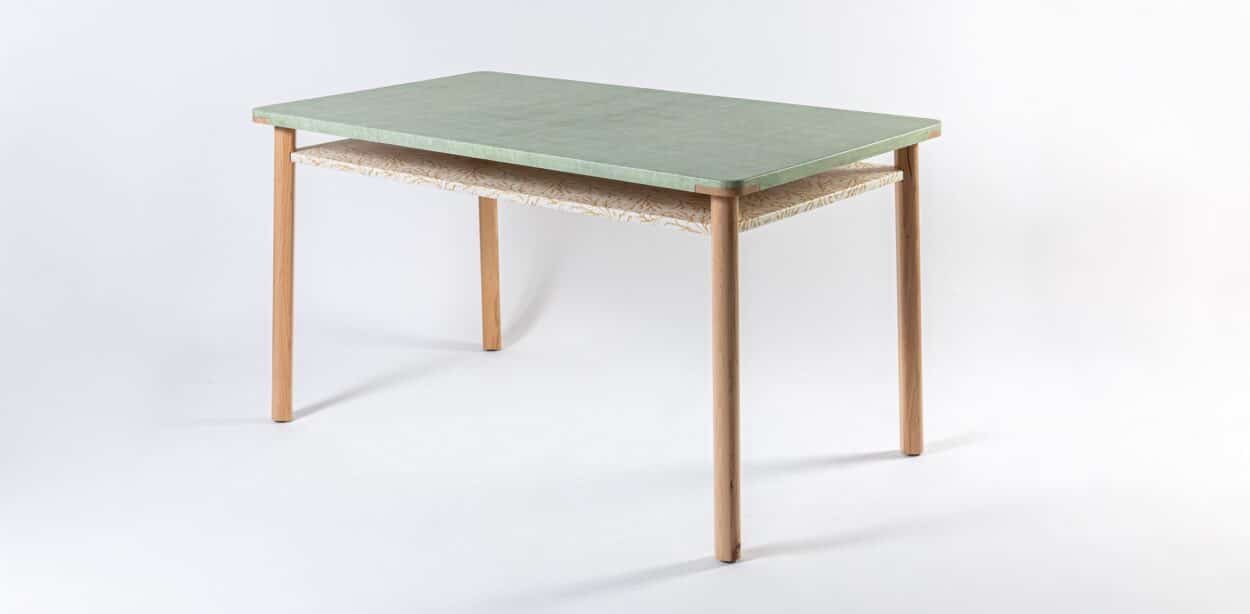 Pierre & Vacances and Bold Design's Sustainable Table
Pierre & Vacances has embarked on an eco-conscious journey to reduce its environmental footprint. In partnership with Le FRENCH DESIGN and expert in circular design, MERCI RENÉ, they delved into a meticulous examination of furniture usage during guest stays. As a result, they joined forces with the French studio BOLD DESIGN to create eco-designed furniture that adheres to the ISO 14062 standard, emphasizing extended product lifespans and optimal repairability.
The centerpiece of this sustainable endeavor is the eco-designed table, a vital element in the Pierre & Vacances experience that often endures wear and tear. The innovative prototype features a tabletop crafted from compressed fabrics sourced from the recycling industry, paired with solid beechwood legs from the circular economy. Every component of the table is replaceable throughout its entire lifecycle, ensuring longevity. In response to specific customer needs, BOLD DESIGN also incorporated modularity, introducing a second shelf that provides coveted storage space. This prototype is poised to evolve with the introduction of new materials and adapt to the unique style of each Pierre & Vacances residence, thanks to its timeless and customizable design.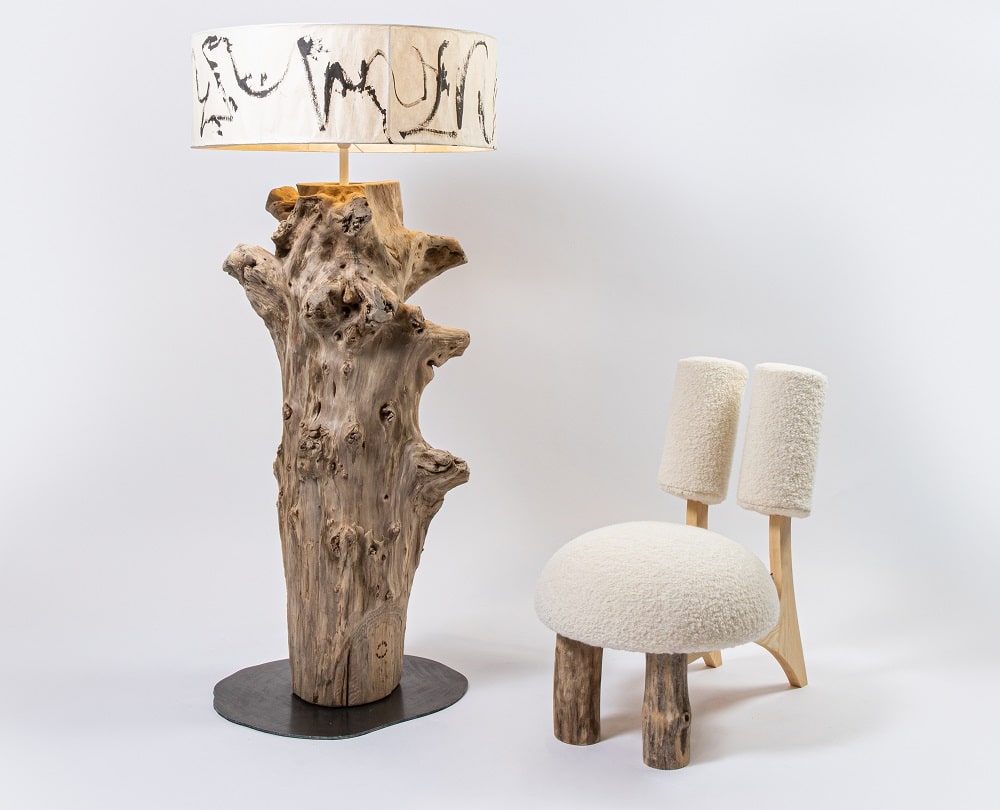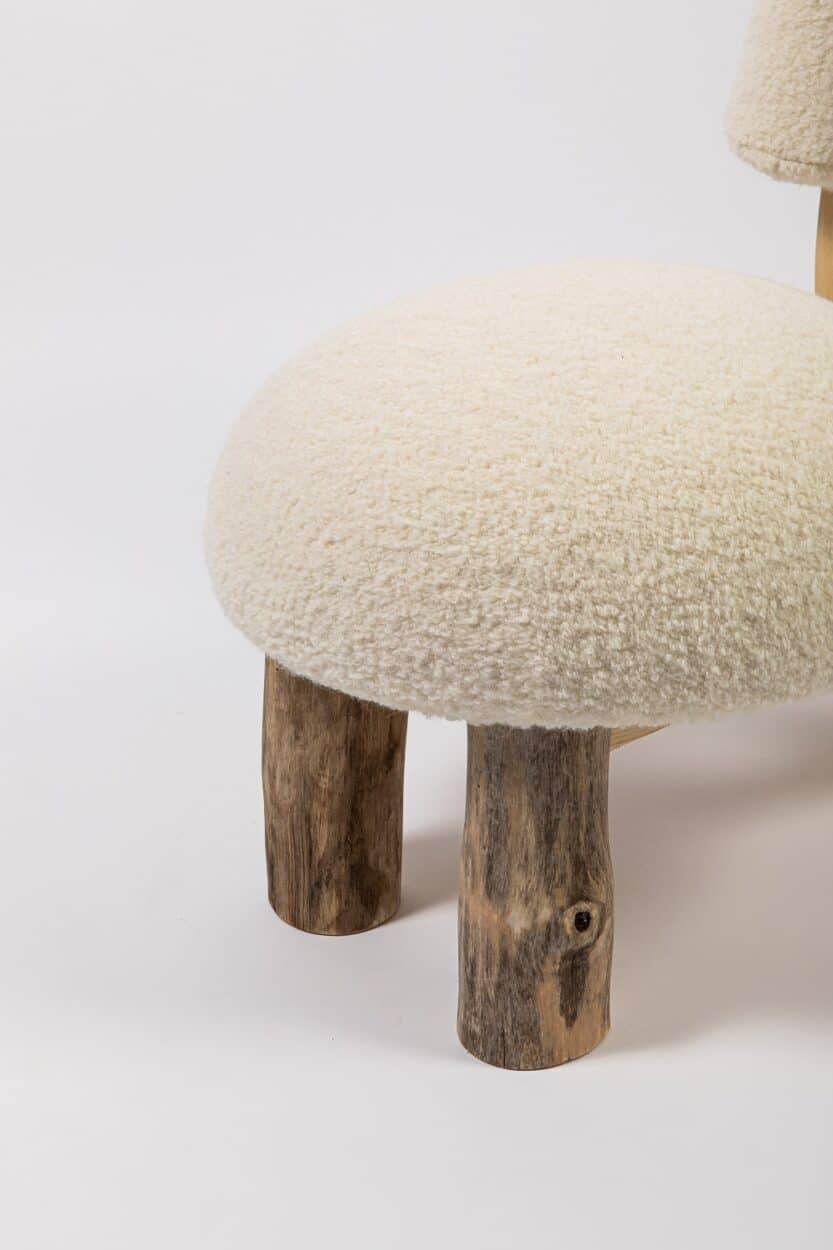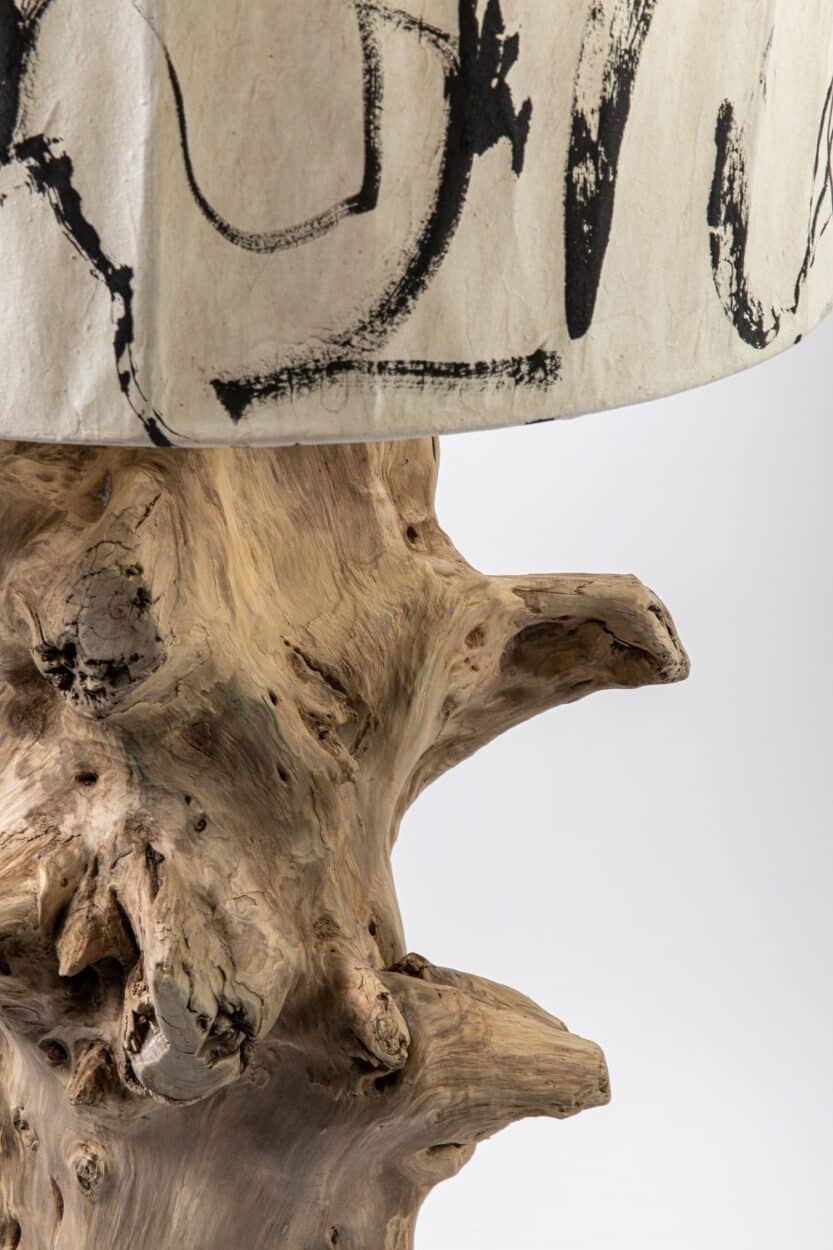 MOON Armchair by StudioRiot and ADJAO
MOON, an extraordinary armchair, beckons you on a captivating journey between minimalism and whimsy. Its playful seat design and textured surface evoke the allure of Earth's own satellite, a concept dear to ADJAO's heart. The chair's base and backrest harmoniously converse with one another, featuring elegantly minimalist, precision-cut ash wood legs or robust, reclaimed driftwood, cradling a plush Alpaca wool-upholstered cushion. MOON represents a contemporary blend of simple yet noble materials, proudly embodying the ethos of 100% sustainable French design.
The collaboration between ADJAO and STUDIO RIOT blossomed during a recent speed-dating event organized by Le FRENCH DESIGN. With ADJAO specializing in crafting custom furniture and lighting from driftwood since 2008, and STUDIO RIOT's expertise in eco-design, they aim to propel their business forward through design, launching a showcase collection and crafting a sharp brand strategy. This partnership represents a shared commitment to creating thoughtfully designed, ethically produced pieces that meet the evolving preferences of today's customers.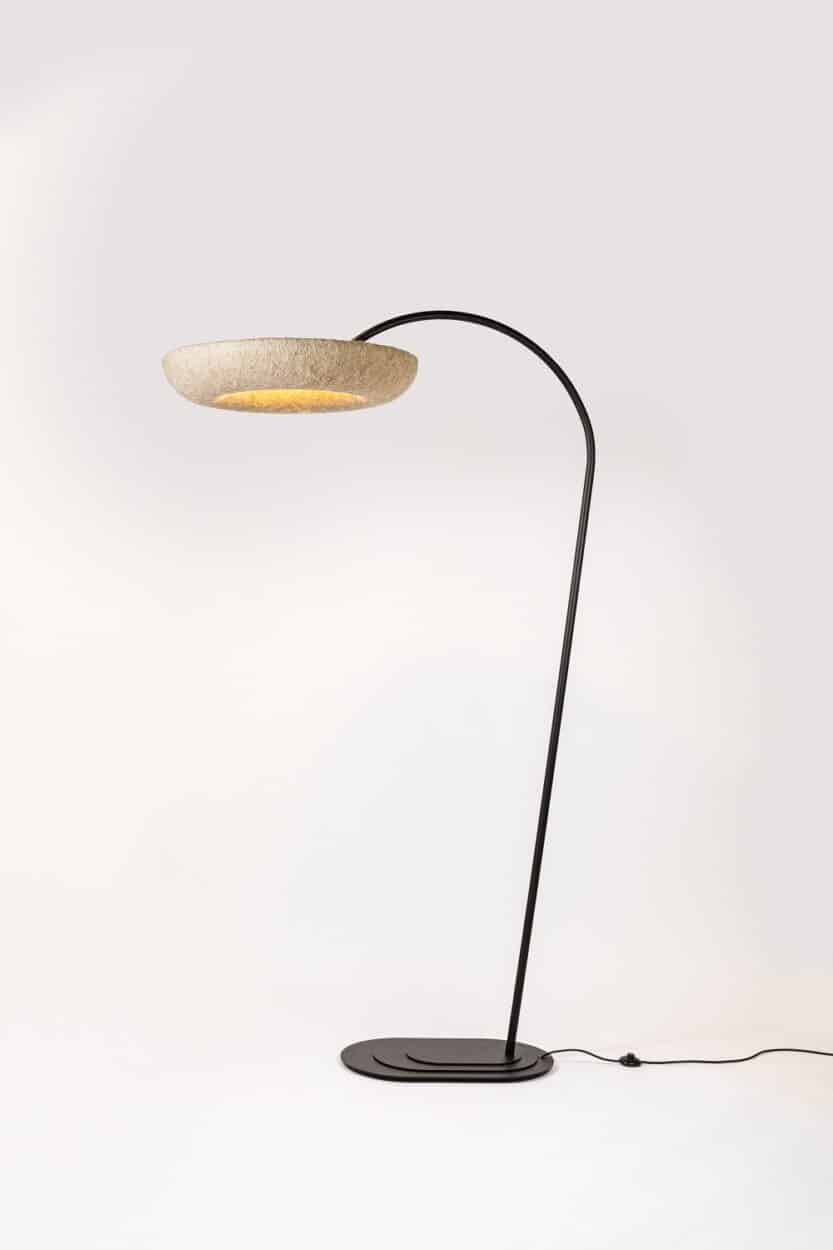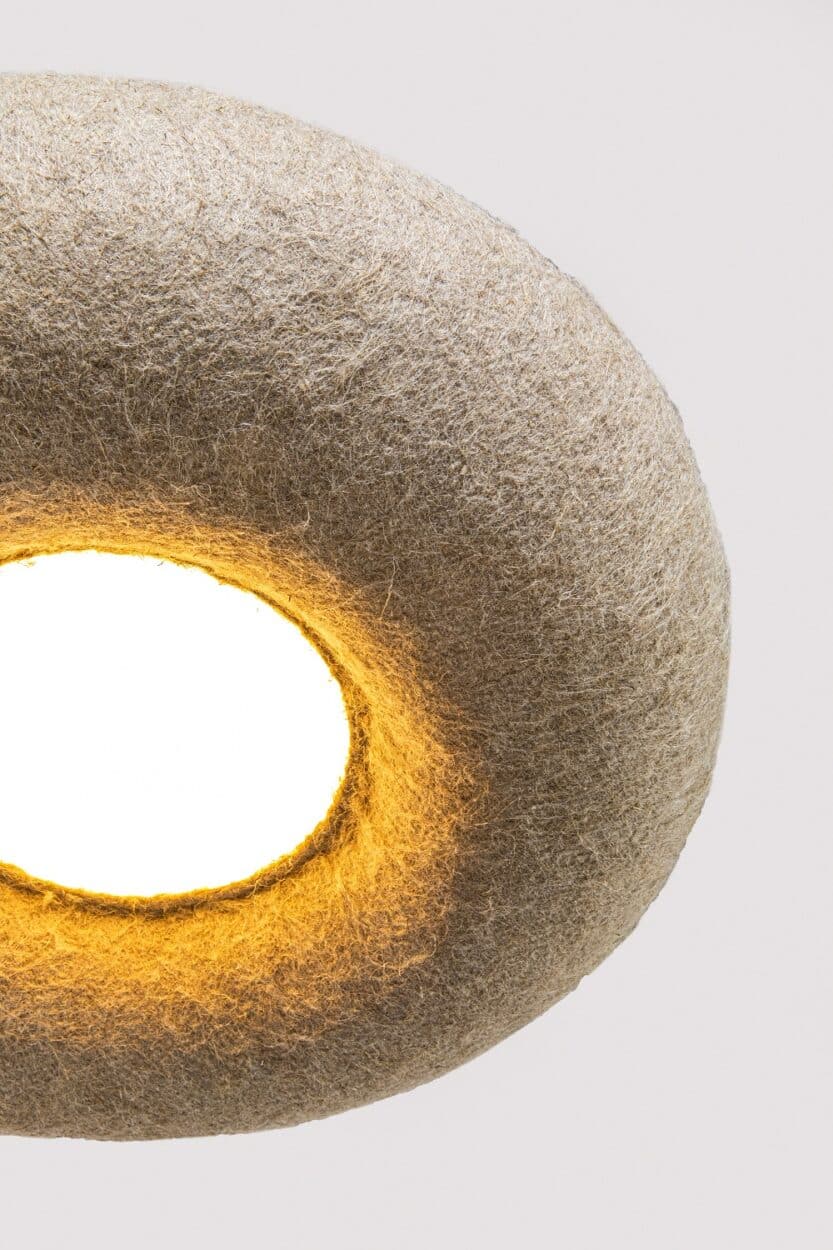 Bruno Houssin and LONAEH's AURAEH and CLARTEH Collections
From floor lamps to desk lighting, the AURAEH and CLARTEH collections, born from the collaboration between Bruno Houssin and LONAEH, seamlessly blend lighting functionality with acoustic absorption, enhancing sensory comfort in work and living spaces. These collections offer various lighting options, from functional direct lighting provided by LED-equipped luminescent disks to ambient lighting with magnetic wooden handheld lights. Featuring linen acoustic shades filled with hemp fibers and a recycled steel support structure, these responsibly designed products add both utility and artistic flair to interior projects.
LONAEH, a Vendée-based company, prioritizes individual and collective comfort, striving to enhance well-being in shared work and living spaces. Inspired by materials, they create eco-conscious designs that reveal the innate qualities of innovative, bio-sourced, or recycled materials. Rooted in their local community, LONAEH is a socially responsible brand that caters to companies committed to corporate social responsibility (CSR).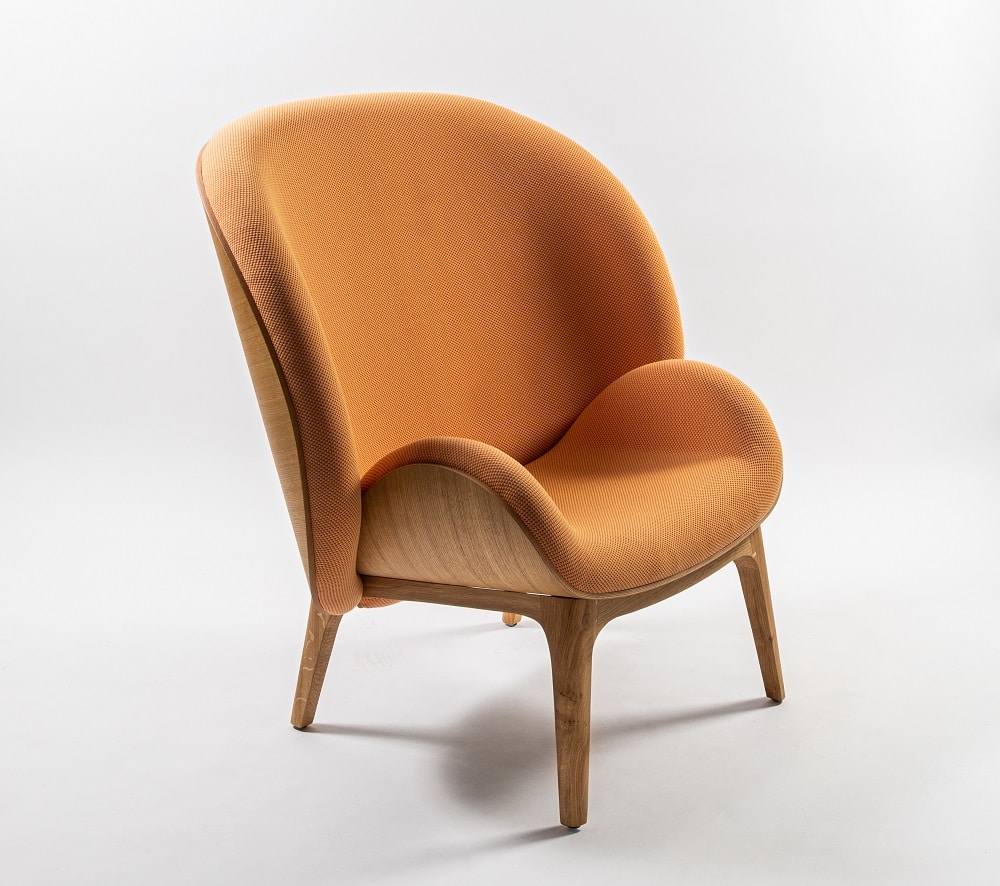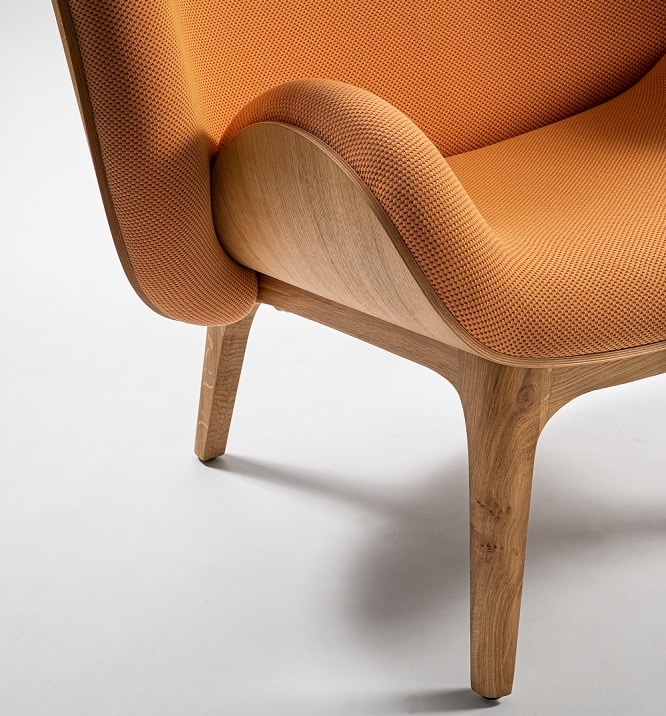 HUG Chair by Studio Jean-Marc Gady and MA'AM
In 2023, the collaboration between MA'AM and the creative studio Jean-Marc Gady marked a pivotal moment in the world of design. This union gave birth to a new furniture publishing house, built upon the contemporary lines initially developed for Perrouin1875. Breaking free from intermediaries, this alliance brings together creators and manufacturers to offer collections born from a direct dialogue between the visionary eye and skilled hands. At the forefront of this partnership stands the iconic HUG chair, a testament to their shared vision. With its oversized dimensions, HUG strikes a distinctive balance between a protective shell and a generous, embracing seat—a contemporary language of comfort that comes in various sizes, materials, and finishes.
MA'AM, born from the revival of Perrouin1875, is the result of the collaborative efforts of Maeva, a Companion Upholsterer, and Janny, a Companion Carpenter, in 2021. Together, they create MA'AM, a company specializing in bespoke furniture design and decorative upholstery. Meanwhile, STUDIO JEAN-MARC GADY, founded in 2006, operates as a versatile multidisciplinary creative agency, seamlessly tackling object and furniture design, scenography, and interior architecture projects. Their diverse portfolio, primarily rooted in the luxury sector, reflects their comprehensive expertise, spanning from conceptualization to execution.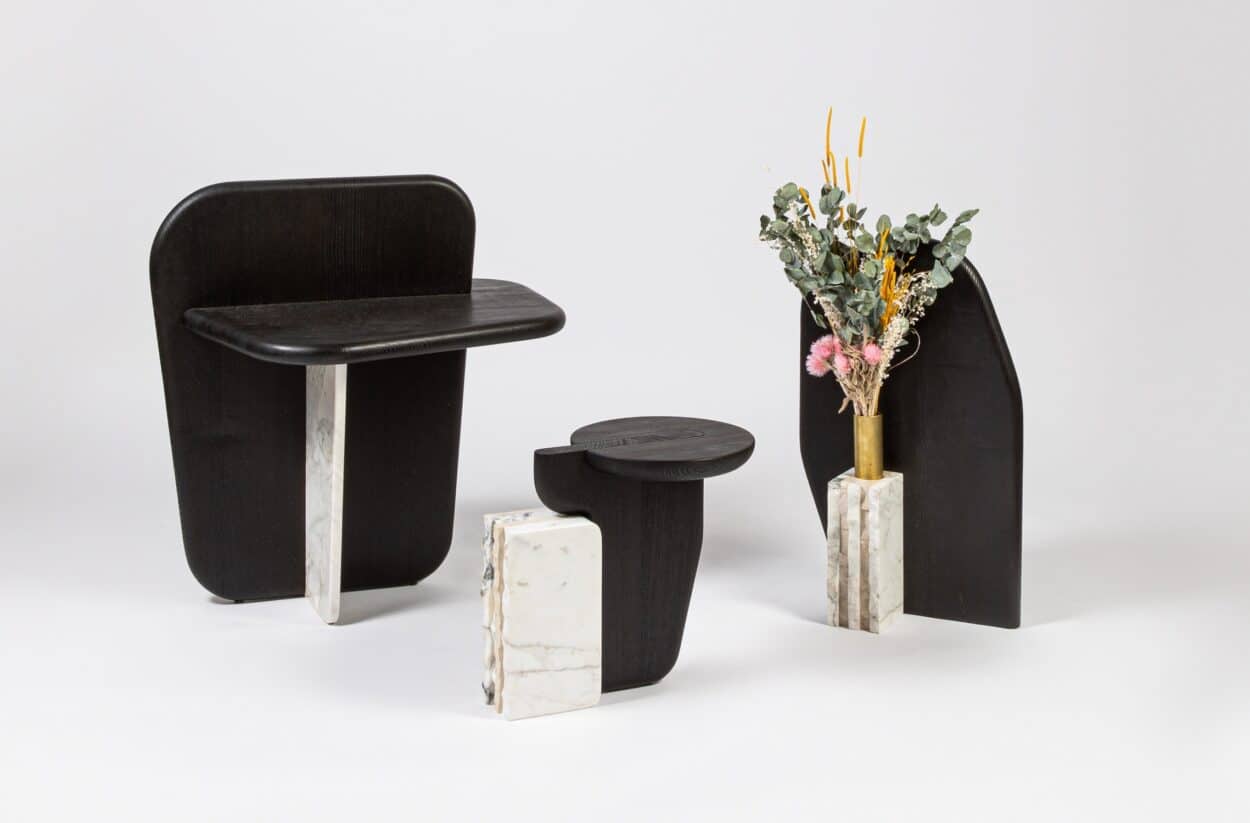 "SHINSHOKU" by Maison Saman and Ludovic Renson's Collection
The "SHINSHOKU" collection represents a harmonious fusion of artistic elegance and the inexorable passage of time. This remarkable collaboration between Maison Saman and Ludovic Renson draws its inspiration from the Japanese word "SHINSHOKU," which translates to "erosion." It's a concept that beautifully encapsulates the collection's essence—an ode to the graceful transformation of materials over time, much like stones that bear the marks of weathering, water's caress, and the craftsmanship of climate.
The signature of Maison Saman, a French design house founded in 2018, is the art of burnt wood, a technique that imparts a unique and timeless quality to their creations. In parallel, Ludovic Renson's experiences, including partnerships with renowned designers like Noé Duchaufour-Lawrance and Angie Anakis, kindled his passion for crafting his own furniture designs. In 2010, Renson established his agency in Bordeaux, where he continues to create projects that seamlessly blend interior architecture and furniture design. Together with Maison Saman, this collaboration marries Ludovic Renson's architectural vision with Maison Saman's expertise in burnt wood, giving life to the "SHINSHOKU" collection—a celebration of the exquisite interplay between nature, time, and design.