For part of the world, we're edging closer to the 'hottest' season of the year: summer. Here are some of the latest outdoor furniture and decoration pieces to consider for exterior projects.
Last year, Forbes published an article on some of the best outdoor design trends which aren't going away any time soon, including the eco-friendly, high-quality material rattan which we saw used beautifully in our recent visit to the four-star hotel Kasano in Corsica. Bright, friendly colors like yellow accompanied by greenery and outdoor fire pits and kitchens seem key to creating the perfect outdoor setting for summer. In this article, we'll highlight some of the latest furniture pieces to enhance the quality of any exterior.
Ethimo, Eco-products for the Outdoors and Sports Venues
The Italian brand Ethimo has been furnishing outdoor spaces for 40 years and went into landscaping in 2009. It has a presence in over 70 countries and collaborates with designers of international fame such as Luca Nichetto, exemplified in the 2020 design of the Venexia collection. The company has perfected its role as a conscious player by selecting quality materials and maintaining its attention on the natural environment, such as using FSC-certified wood from monitored forests which undergo rigorous reforestation processes. The catalog includes lounge elements, dining sets and lighting fixtures along with accessories such as hand-woven carpets, the warm light of lamps, large lounge chairs and waterside deckchairs, all of which are tagged Made in Italy.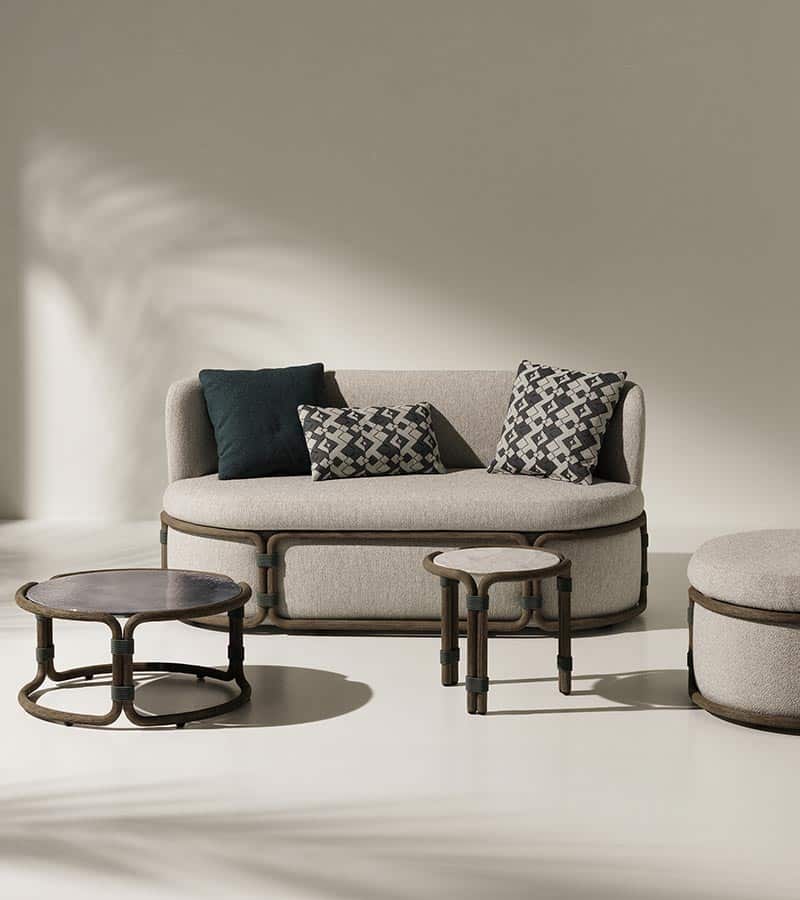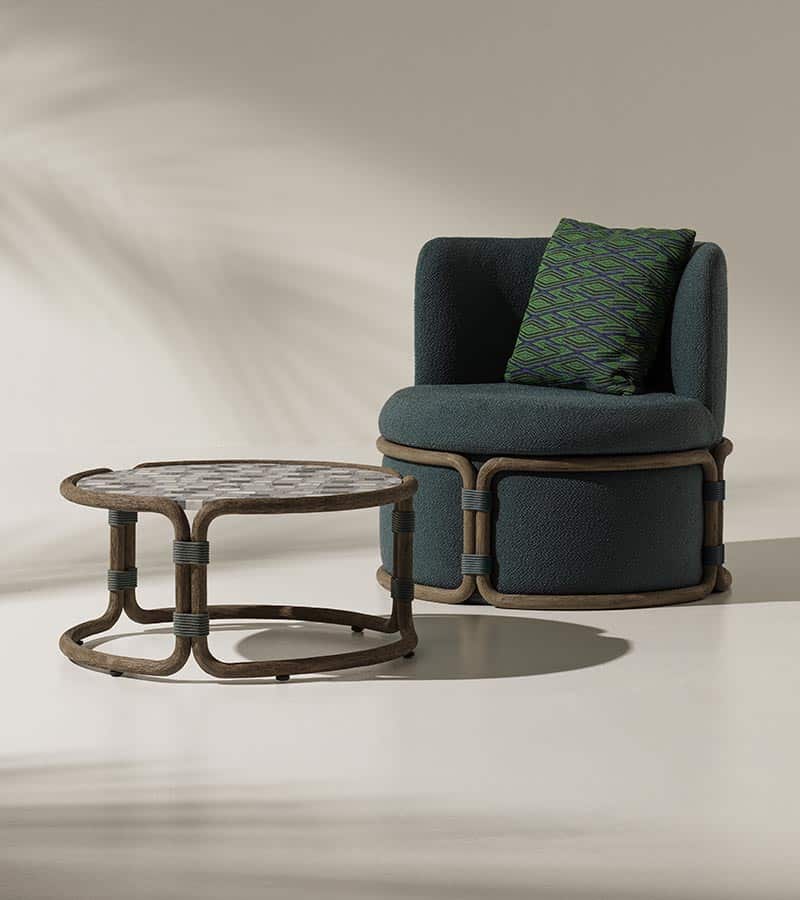 The most recent products include Rotin by Zanellato/Bortotto, Calispo by Ilaria Marelli, Ace by Patrick Norguet, Sling by Studiopepe and Gaia by Marc Sadler.
With its pickled teak structure, Rotin is composed of a sofa, lounge chair, coffee table and pouf. It's inspired by the Asian tradition of bamboo as the main element of outdoor furniture and the techniques usually used in the manufacture of rush complements. The coffee table tops are entirely handcrafted and made of enameled terracotta or marble – from scrap quarry slabs – and cement. The original composition of these stone "details" come from the use of three marbles: Green Guatemala, Cipollino and Bardiglio, between which run cement "joints".
Ace is an unprecedented collection of furnishing elements for outdoor sports usually found at the edge of the grounds and the swimming pools or in the spaces reserved for the reception of the athletes, the guests or the supporters. The most emblematic product of the collection is an extremely flexible bench that can be configured and completed with various accessories: tops made of Black cork – a 100% natural and ecological material – a shoe rack, a bag rack or a storage unit with an aluminum bottle holder. For the world of tennis, the bench is accompanied by the essential referee chair.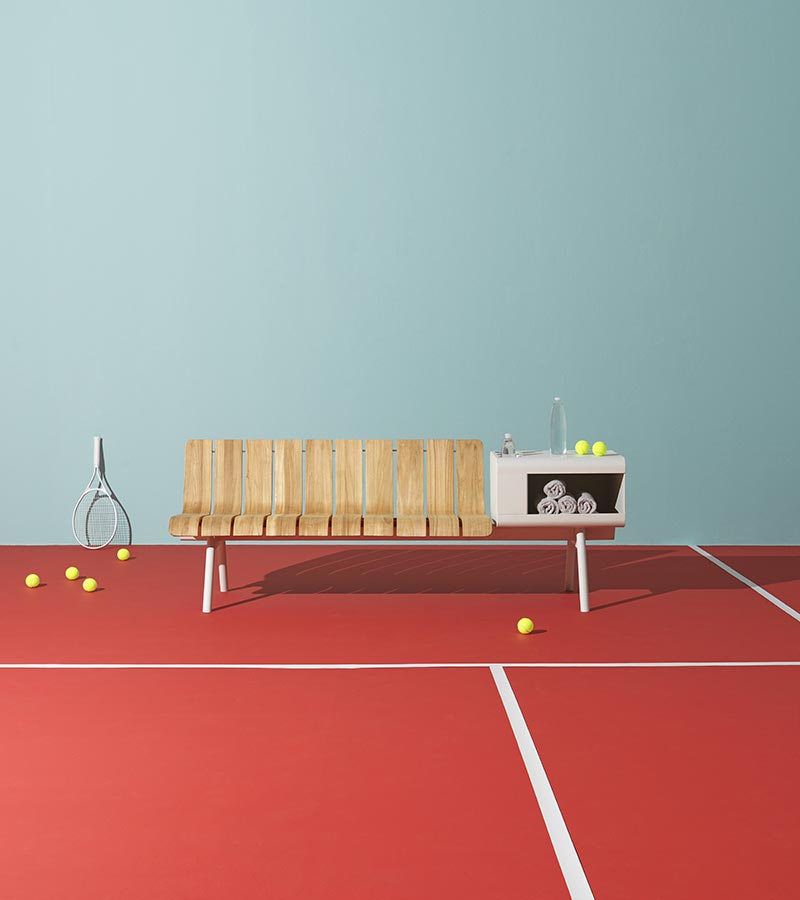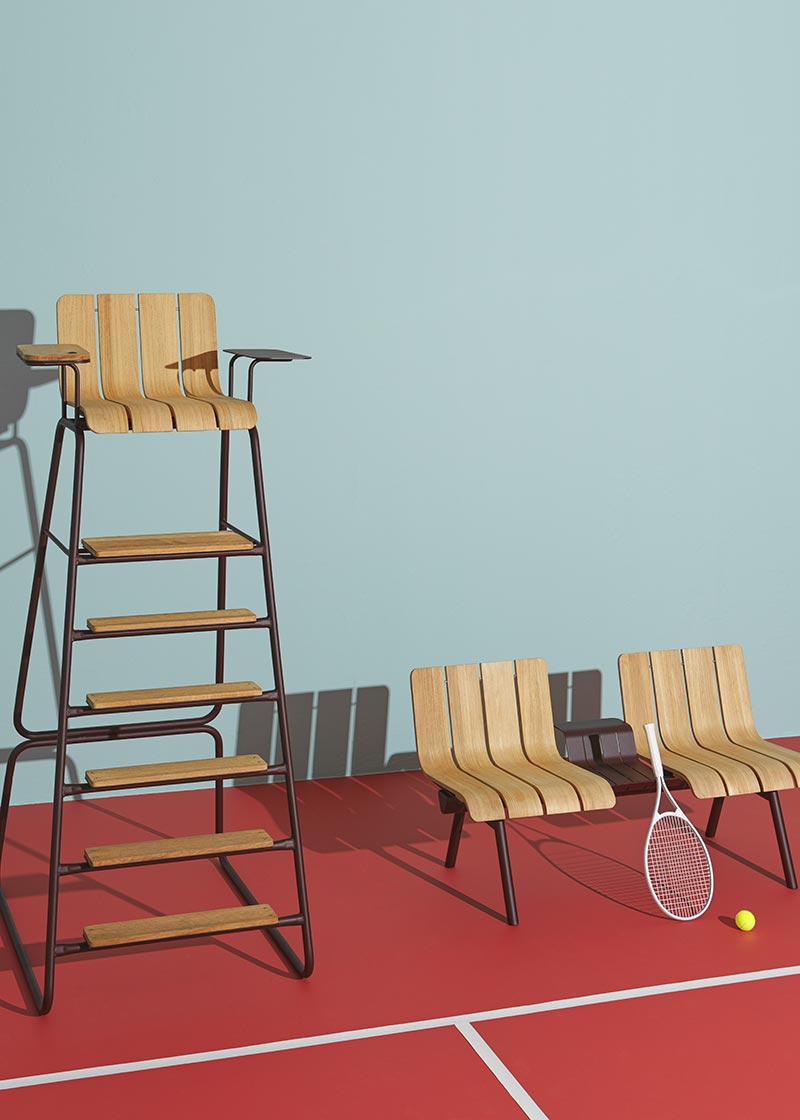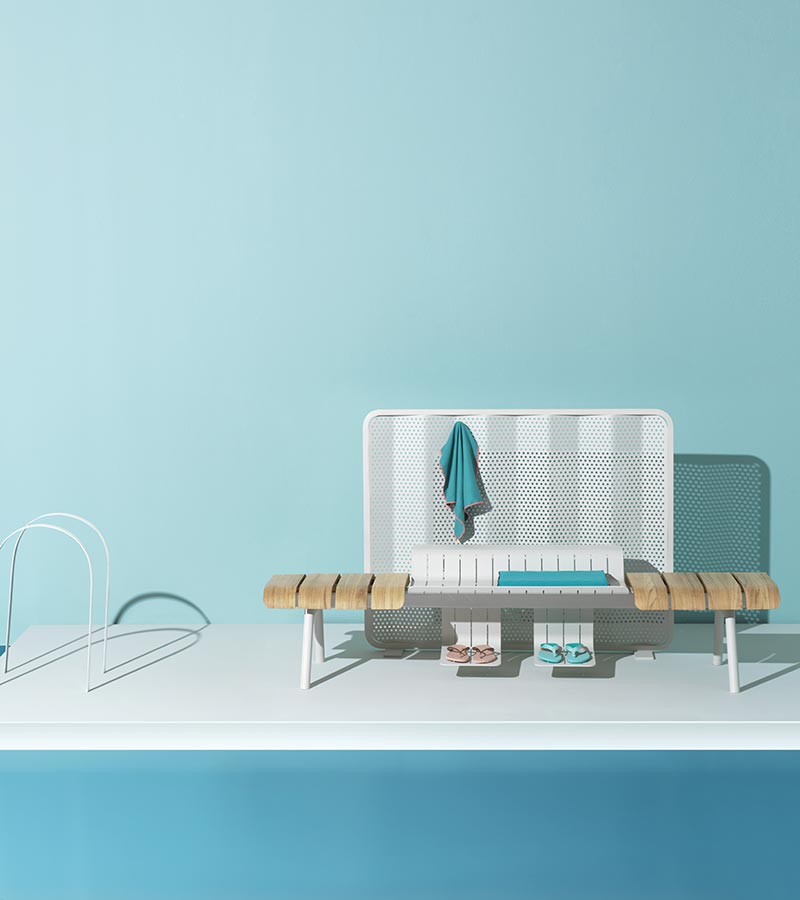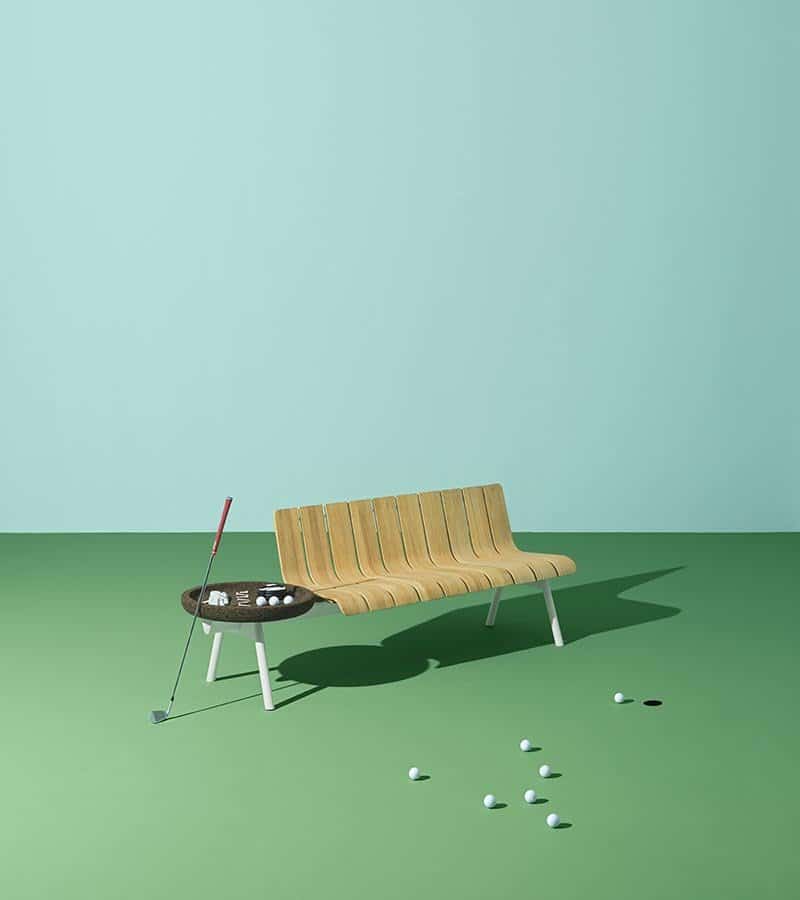 Perfecting Rattan Furniture with Organic Living by GOMMAIRE
GOMMAIRE Cleybergh, Bert Verelst (Head of Purchase and Inventory Control) and Laurent De Greef (CEO) launched the Belgian brand GOMMAIRE in 2015, and while their experience brings the design world with indoor and outdoor furniture and decorations, we'll focus on the latter two. Gommaire Cleybergh began as a master florist and later became a designer, now drawing the majority of the new furniture collection by hand. Gommaire is a master florist turned designer. He is a creative soul, responsible for drawing the majority of the new furniture collection by hand and of quality control.
The 2022 outdoor collection by GOMMAIRE includes solid teak wood chairs, benches and chairs made of high-quality PE rattan/rope fibers and teak frames. The outdoor tables and coffee tables are made of solid (reclaimed and untreated) teak wood and teak root structures, assembled in their atelier and finished by hand. It can be treated with the GOMMAIRE Teak Protector, exterior wood oil and maintained with GOMMAIRE teak Cleaner upon request.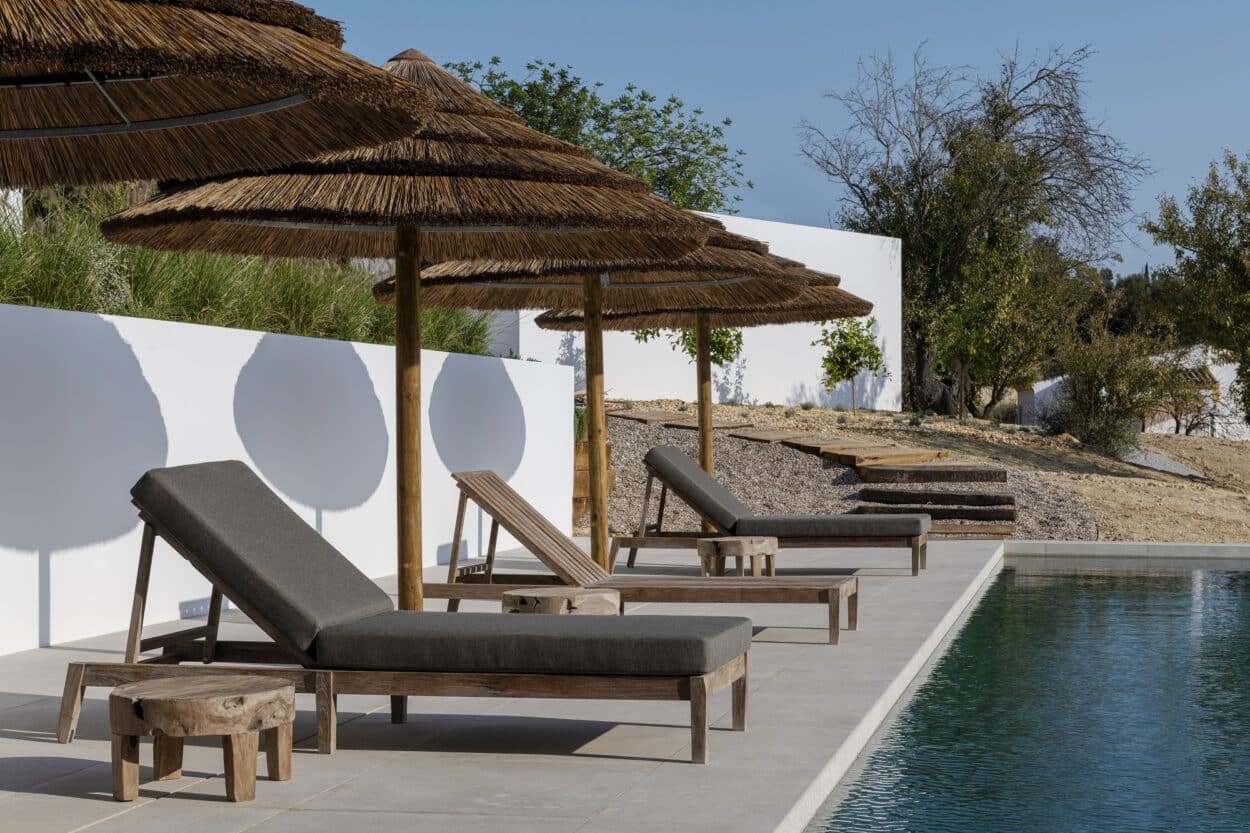 The Sunrise collection, designed by Matthew Townsend for Manutti
Founded in 2002, the Belgian brand Manutti celebrates two decades of experience in designing and producing outdoor furniture. The company recently unveiled a new collection, called Sunrise. Designed by Matthew Townsend, this complete range of living room and dining furniture combines seating comfort, pronounced curves and noble materials. Sunrise thus represents the virtuous balance between robustness and elegance. The softness of light teak makes this line a captivating collection, which invites tranquility in any environment.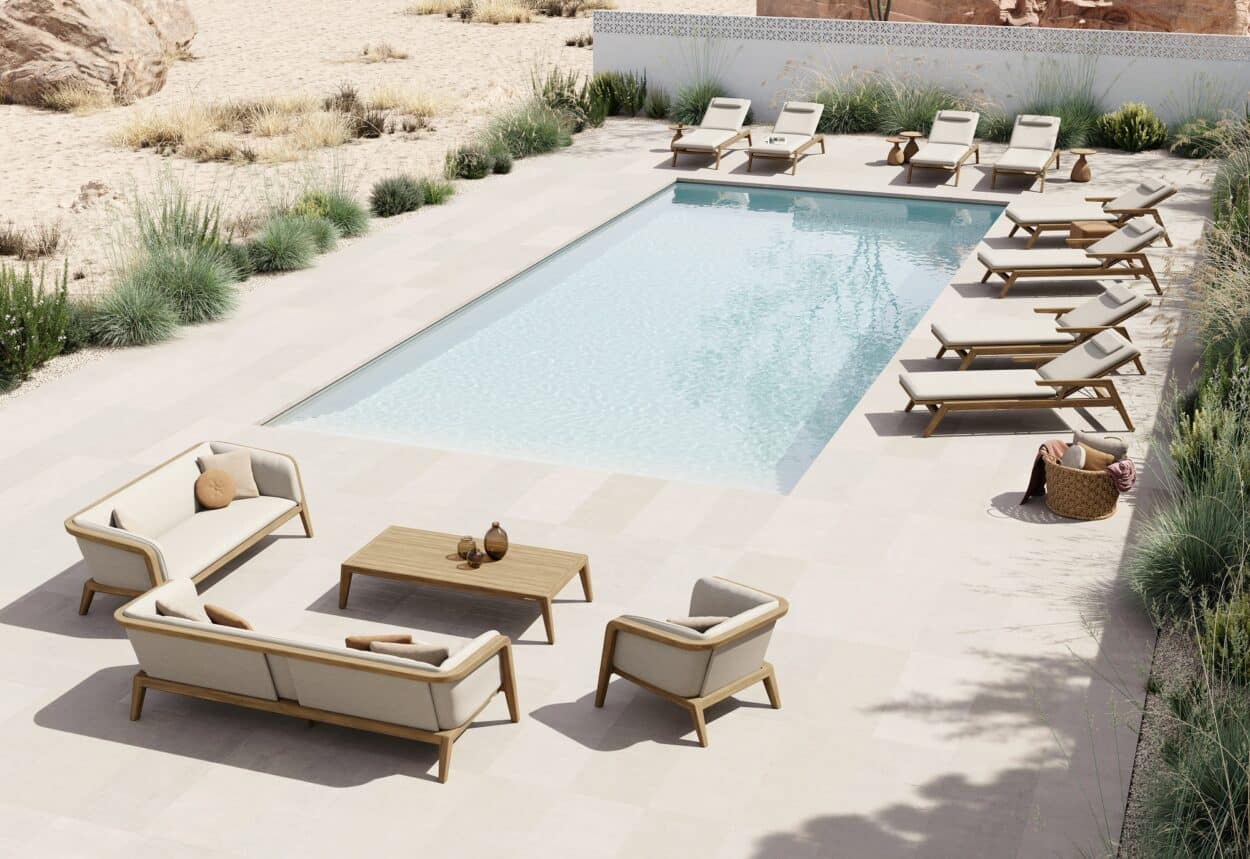 An Assortment of Delightful Brands with Beautiful Outdoor Products
Many brands have released products worth noting and, while we cannot list them all here, we'd like to give you snippets of a few more in order to keep your search for outdoor furniture an ongoing excitement.
Launched only in 2021, the French brand Off/Grid presents the TIPY armchair created by founder Marie-Caroline who based the chair off a family creation that's been with them since 1959. It's handcrafted in France and made from noble and timeless materials. Read an interview with Marie-Caroline (in French) to learn more about it or visit the website.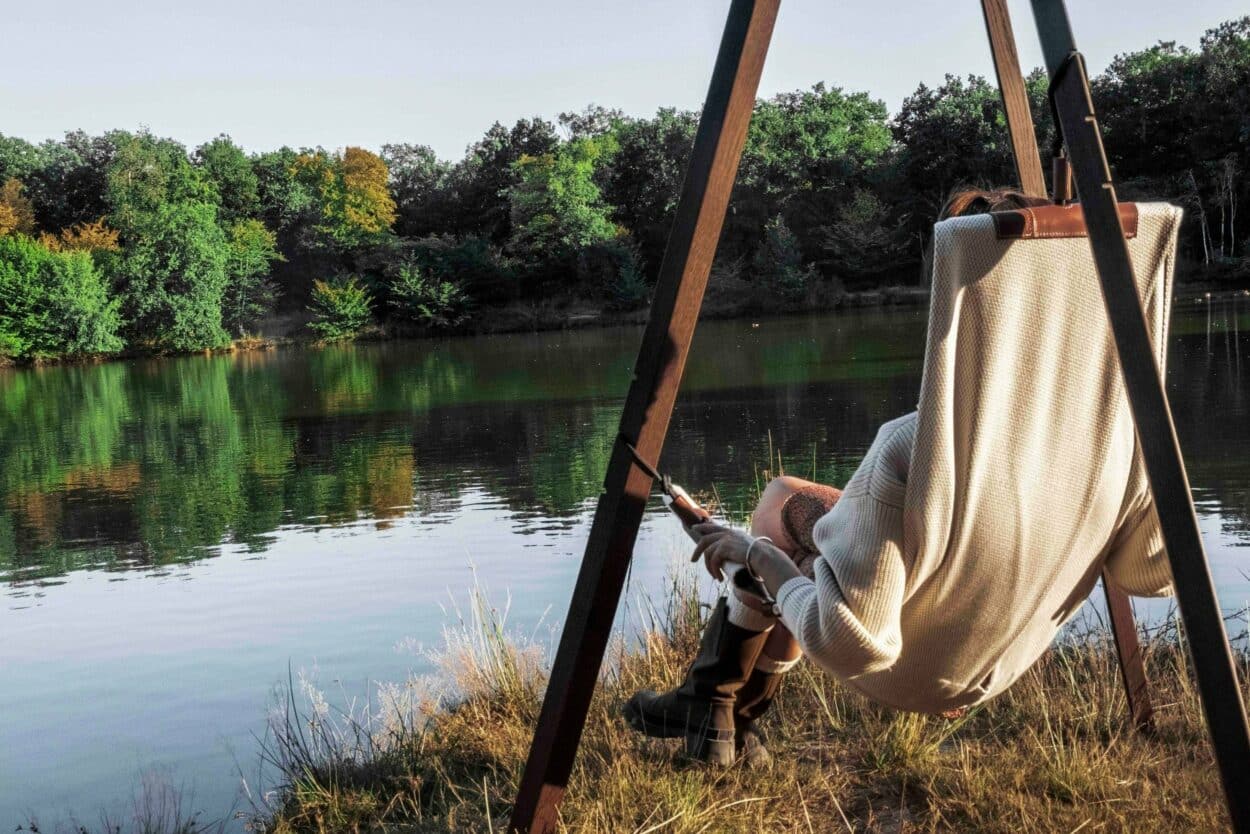 Based in both France and Tunisia, Rock the Kashbah revisits Tunisian craftsmanship through designer Philippe Xerri's creations made in his La Soukra workshop. Launched in 2011, the brand uses materials such as palm fibe or olive wood. The products are listed for indoor use but would make great outdoor patio furniture and decoration.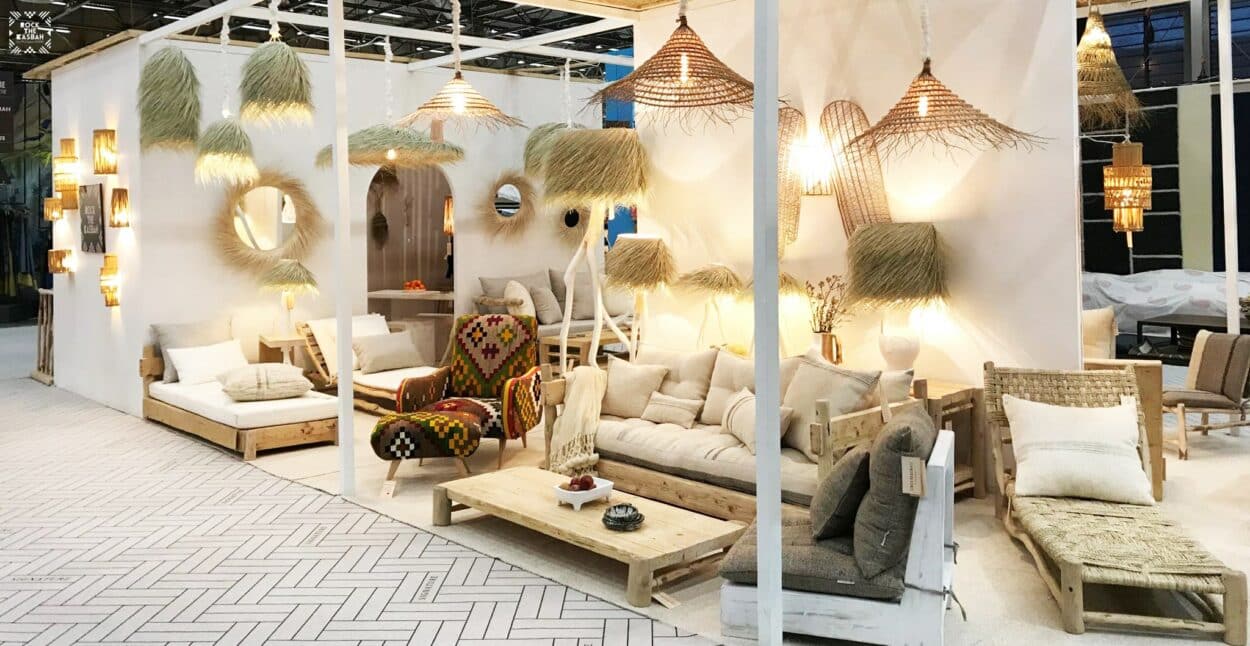 The Greek brand Mexil started out in the early 60s as a small workshop founded manufacturing handmade garden furniture and metal chairs. Today, Mexil is a professional contract furniture company. Mexil's products include furniture manufactured at Mexil's plant and imported designer furniture manufactured by selected partners in Italy, and all over the world. Indoor and outdoor collections include a vast variety of chairs, tables, stools, sofas and armchairs, both for home and professional use. More than 80% of Mexil's clientele are hotels, restaurants, cafes & bars and clubs.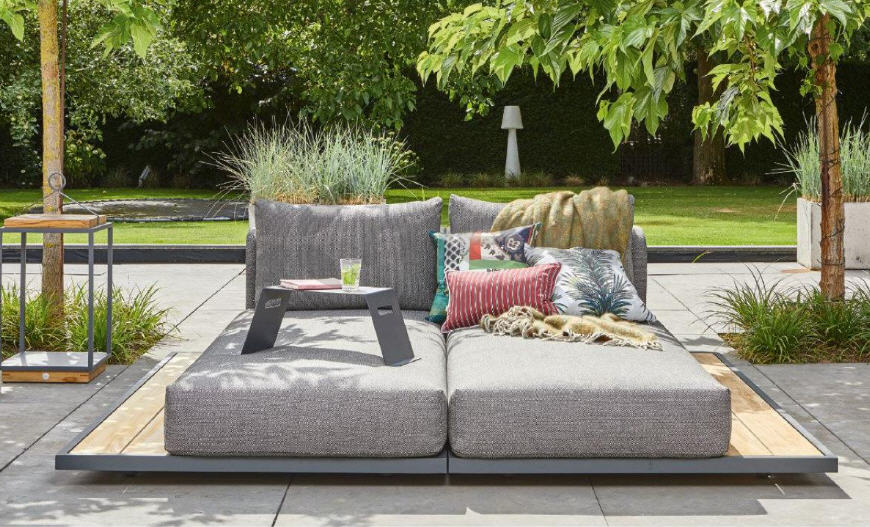 Swiss brand Nouvel, launched in 1964, has extensive know-how in the fields of table cooking and gardening. The company produces a number of items including garden furniture, garden fires, firewood shelves in its New Garden category; while cooking appliances such as for Raclette and Fondue can be found in the New Home section. Don't miss the special recipes offered by Nouvel.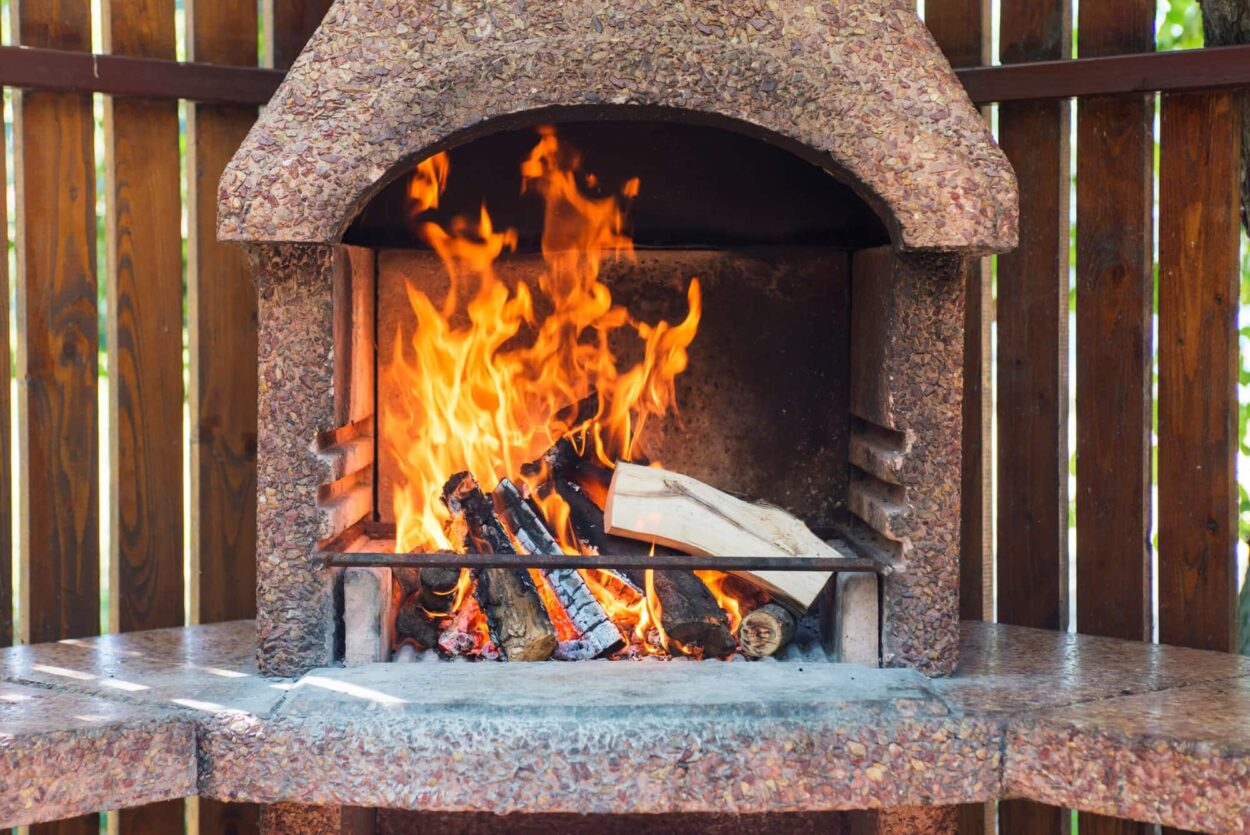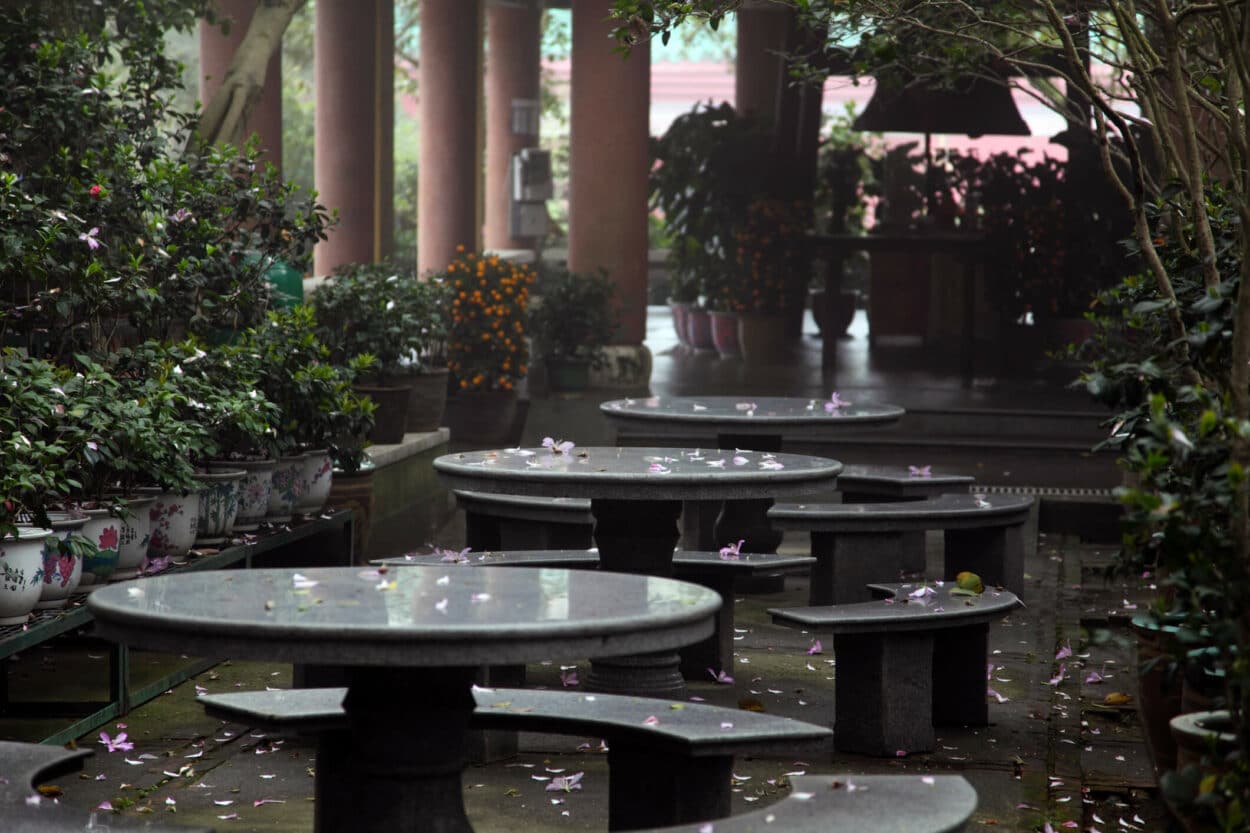 Italian company Il Giardino di Corten has over 150 years of experience in making outdoor furniture and kitchens with Corten as the basis of every product. La Stanza Che Non C'è (The Room That Isn't There) is a Corten structure that can be used as a place of rest, play, relaxation, hospitality, work, or a toolshed.