The International Bathroom exhibition this year in Milan had an outstanding number of top brands presenting new products. Here are some of our favorites.
During our visit to the Salone del Mobile in Milan this year, we gathered information on some of our preferred bathroom brands and their latest products. For its 8th edition, the International Bathroom exhibition hosted 172 exhibitors who showcased innovative products and ideas for bathrooms. As the Salone del Mobile heads toward becoming a 100% eco-fair, the bathroom exhibition honed in on the exhibiting companies' innovative focus on sustainability. In this piece, we highlight our editorial favorites found at the event.
Furniture PIeces for a Clean-looking Bathroom
A number of brands presented new furniture pieces for the bathroom such as washbasin stands, cabinets, vanity tops and more. Mobilcrab exhibited its new Frame collection, a suspended piece of furniture whose name derives from the 4cm structural frame that surrounds the mobile. It comes in different guises thanks to the different possible combinations and the play of colors. The brand also released its multilaminar wood, available in blue and green, made up of many thin sheets that after being individually dyed. The multilaminars are paginated and assembled so as to obtain real solid woods, from which the veneers are then obtained.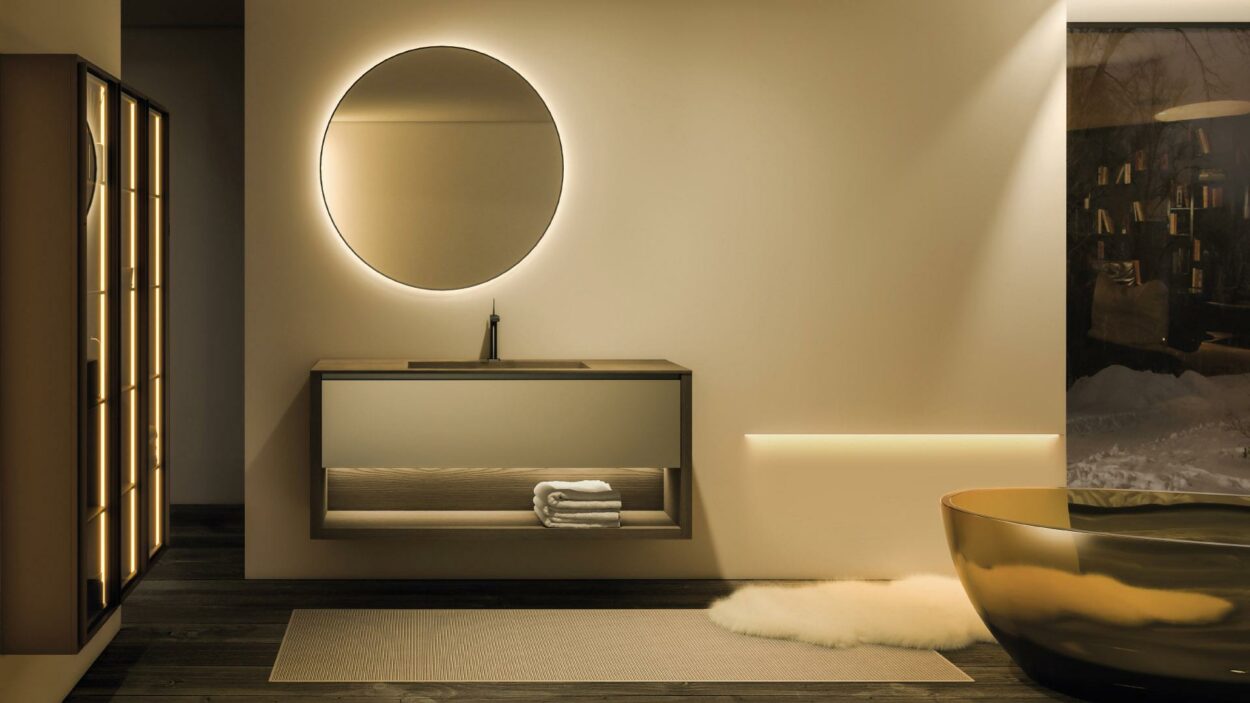 Noorth exhibited a wide range of new solutions, varying in style, typology and compositional logic: the new collections Azuco, Saba, and Caba, designed by the Spanish studio Altherr Désile Park, together with new components and finishes of the iconic collections Fjord, designed by Giuseppe Bavuso, and Puro and Sintesi, designed by Michele Marcon.
The Azuco collection includes a variety of tops, including those made of a single material, those with a built-in stone washbasin, and those with a white or painted vanity unit. Saba is a column washbasin that allows the use of different finishes and materials and is fitting in both indoor and outdoor settings. The Caba storage system solves the typical containment needs of the bathroom environment.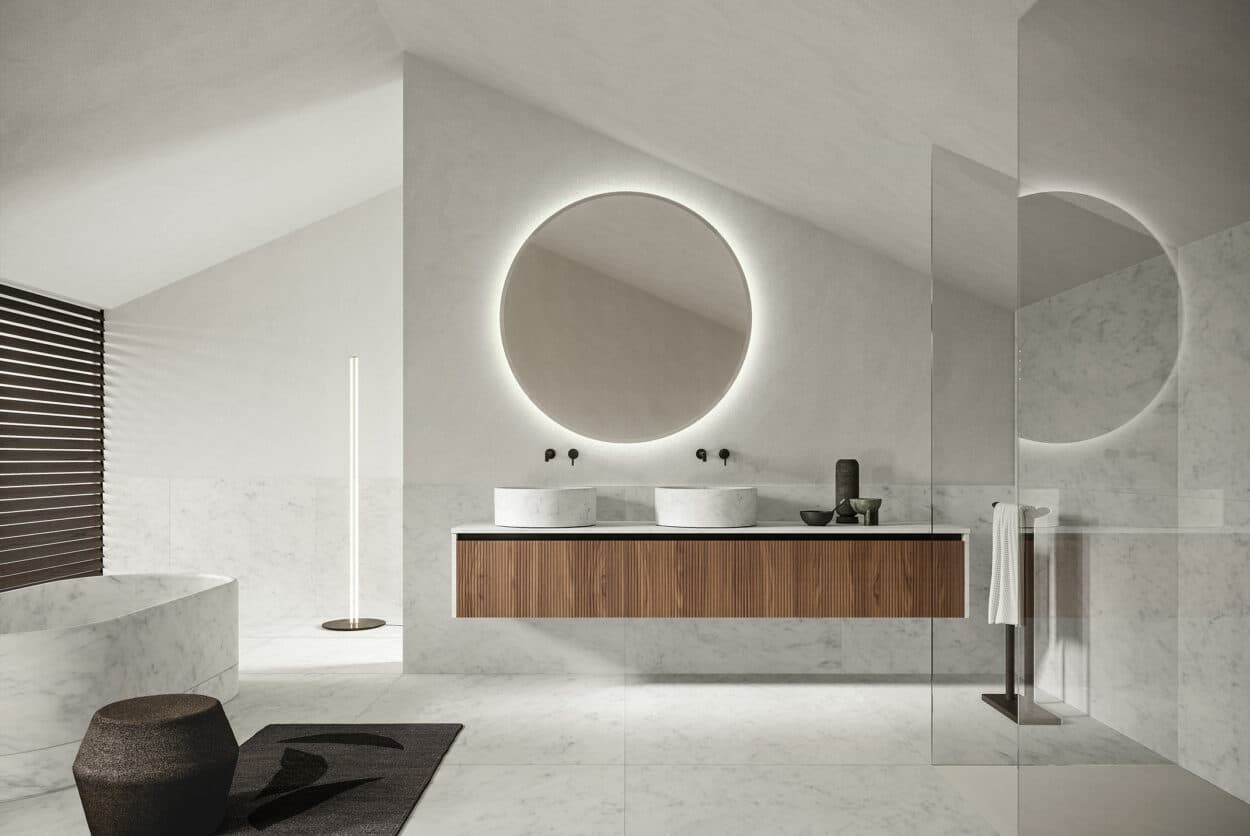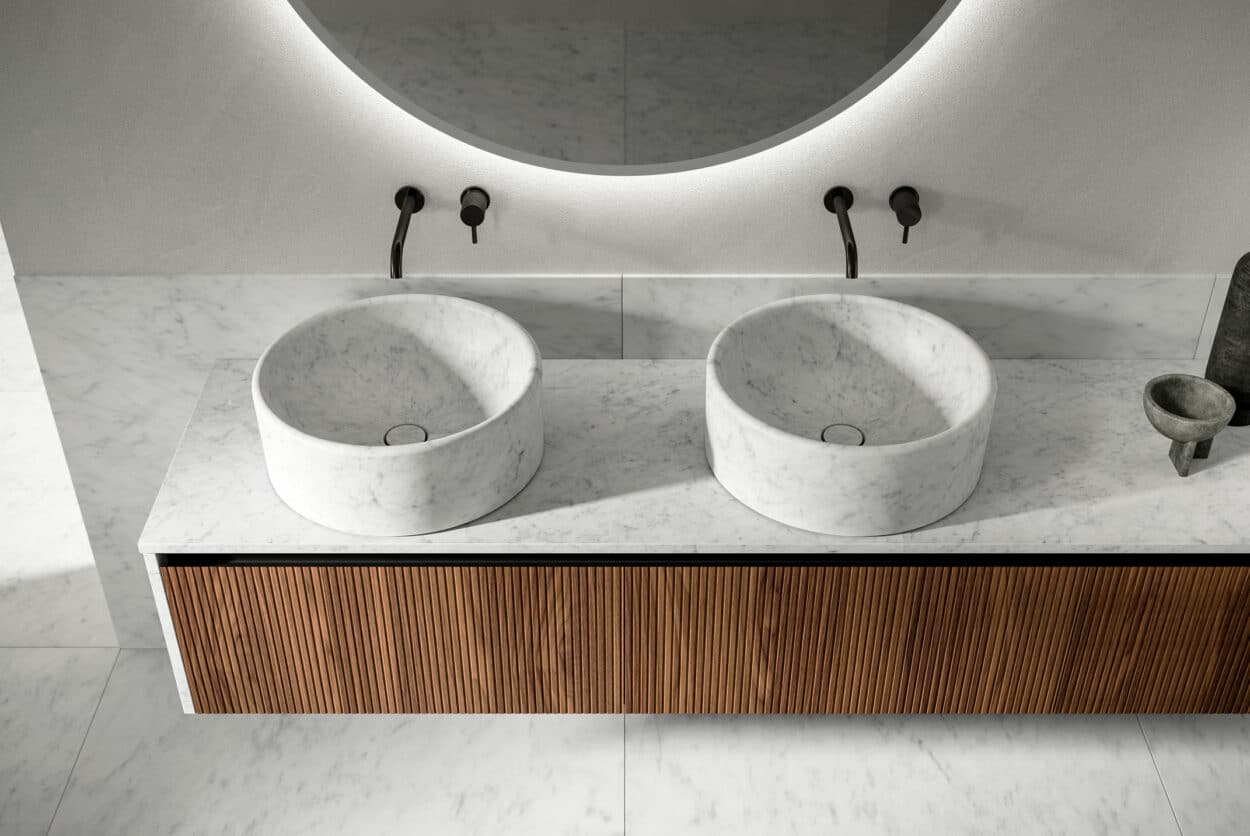 The stand for Cielo at the Salone was like a gallery with its "handmade in Italy" collections on display. The Marcel collection and the Mare collection caught our attention. Marcel is the new cabinet with washbasin whose concept is inspired by the sinuous yet rational shapes of the Bauhaus and the elegance and essentiality of the production of curved solid wood furniture and Vienna straw, a distinctive feature of the Thonet family, reinterpreted in a contemporary way by designers Andrea Parisio and Giuseppe Pezzano.
Mare consists of three oval wall-mounted washbasins and three wash bowls with different shapes flanked by two pairs of sanitary ware. The latter is available in the rimless version with the revolutionary Rimless 2.0 technology – patented by the company – that combines aesthetics, functionality, water-saving and maximum hygienic efficiency. The technology reduces water flow noise by up to 40%.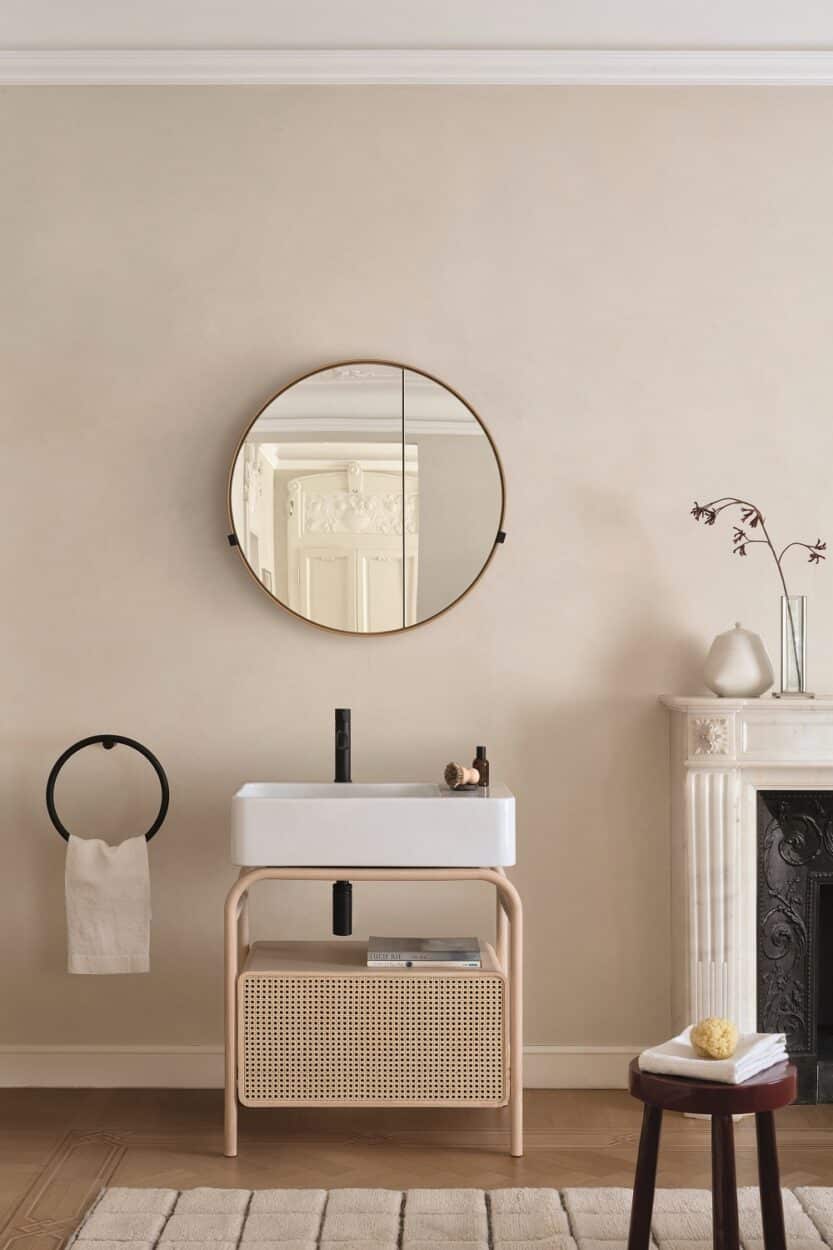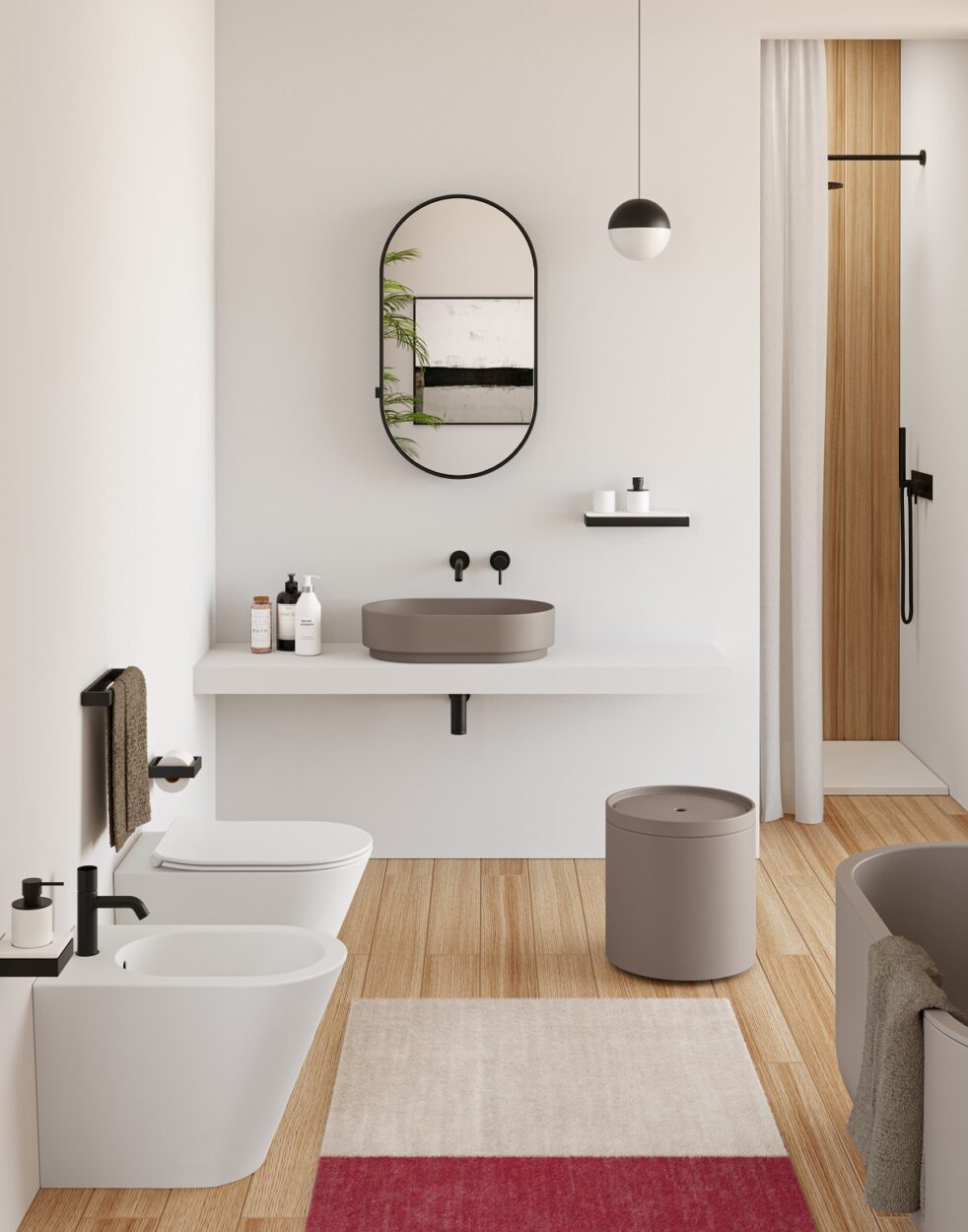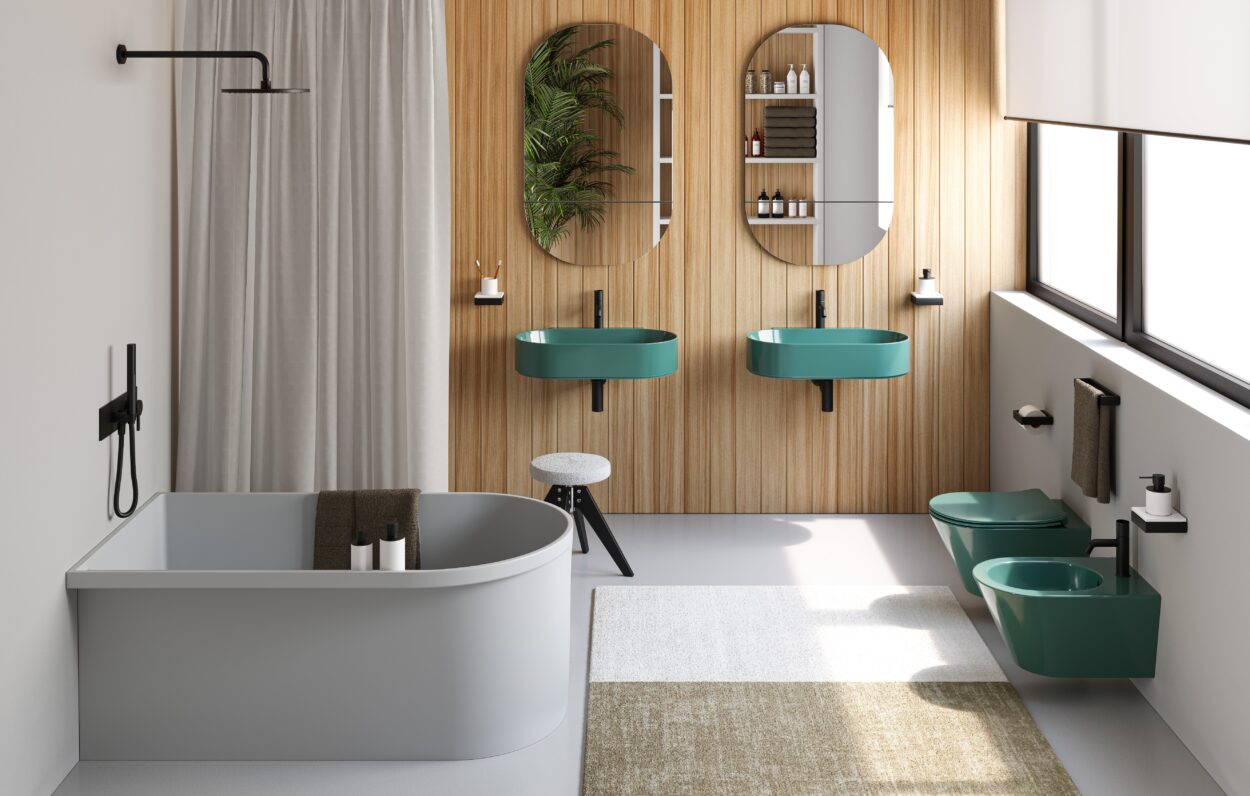 Ex.t launched its Swing collection designed by Fabio Fantolino. It's a collection of bathtubs, bathroom furniture, mirrors, shelves and accessories aiming to break the mold. Inspired by the early 1900s style, the designer reinterpreted lines and shapes of that era while playing with colors conceived to break the rules. In this collection, we find walnut hues and playful details that stand out.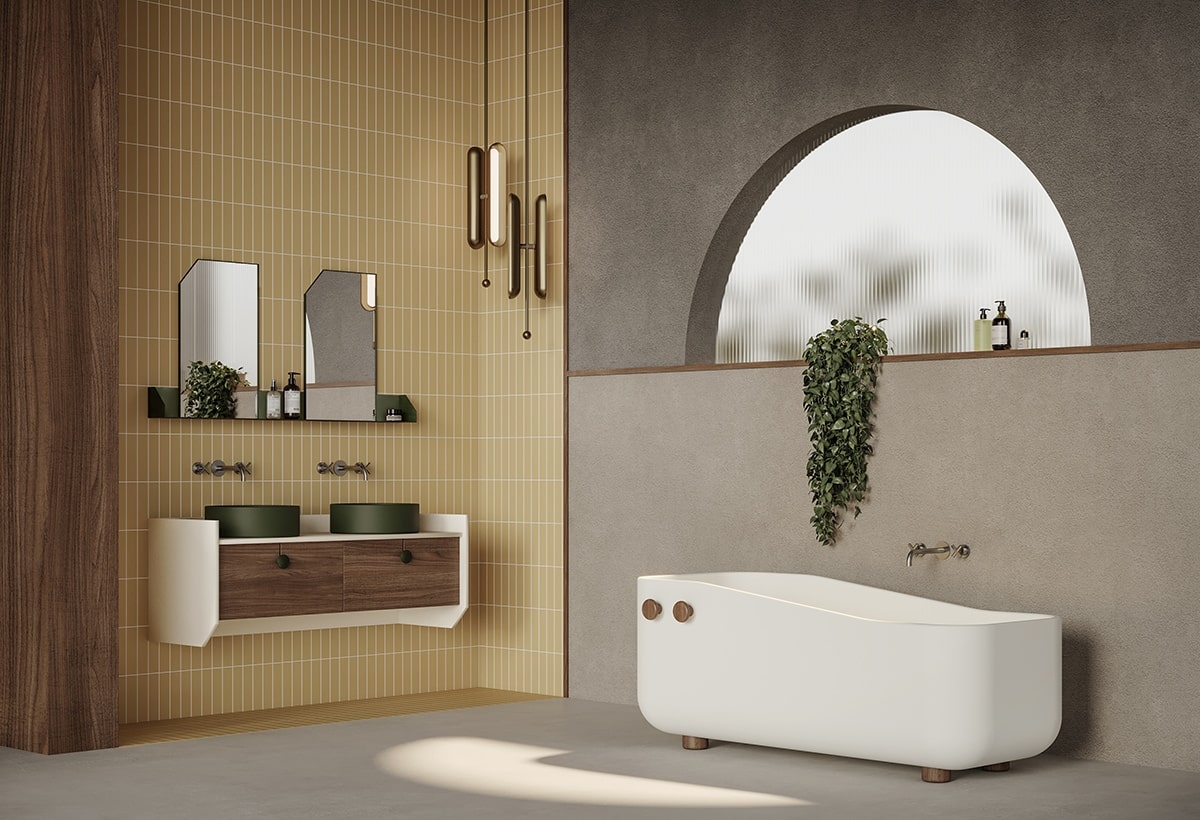 All-in-one, the New Concept of a Bath by Modulit
Modulit developed a new concept of a bathroom that combines the toilet, sink, storage and shower options, all of which take up a space of 1m². It's a small and functional bathroom to fit into the smallest and most unexpected spaces of a home and can be a great hotel solution as well. The concept can be used to reconfigure an existing bathroom, opening up the space for more usage without compromising on the size of the room. The stackable modular system can accommodate any type of wall-hung and floor-mounted toilet thanks to its adjustable feet. Inside you will find everything you need for the loading and unloading water system.
Completely autonomous and self-sufficient thanks to the two 10l tanks (one for clean water and the other for wastewater) with a single-lever pedal tap that allows you to avoid contact with your hands. A product designed specifically for sanitary use, respecting the requirements of safety, comfort and pleasantness as well as aesthetics thanks also to its depth of only 19 cm. The surfaces of the washbasin are made of ABS plus a protective PMMA film ensuring an anti-bacterial, impact-resistant and scratch-resistant surface.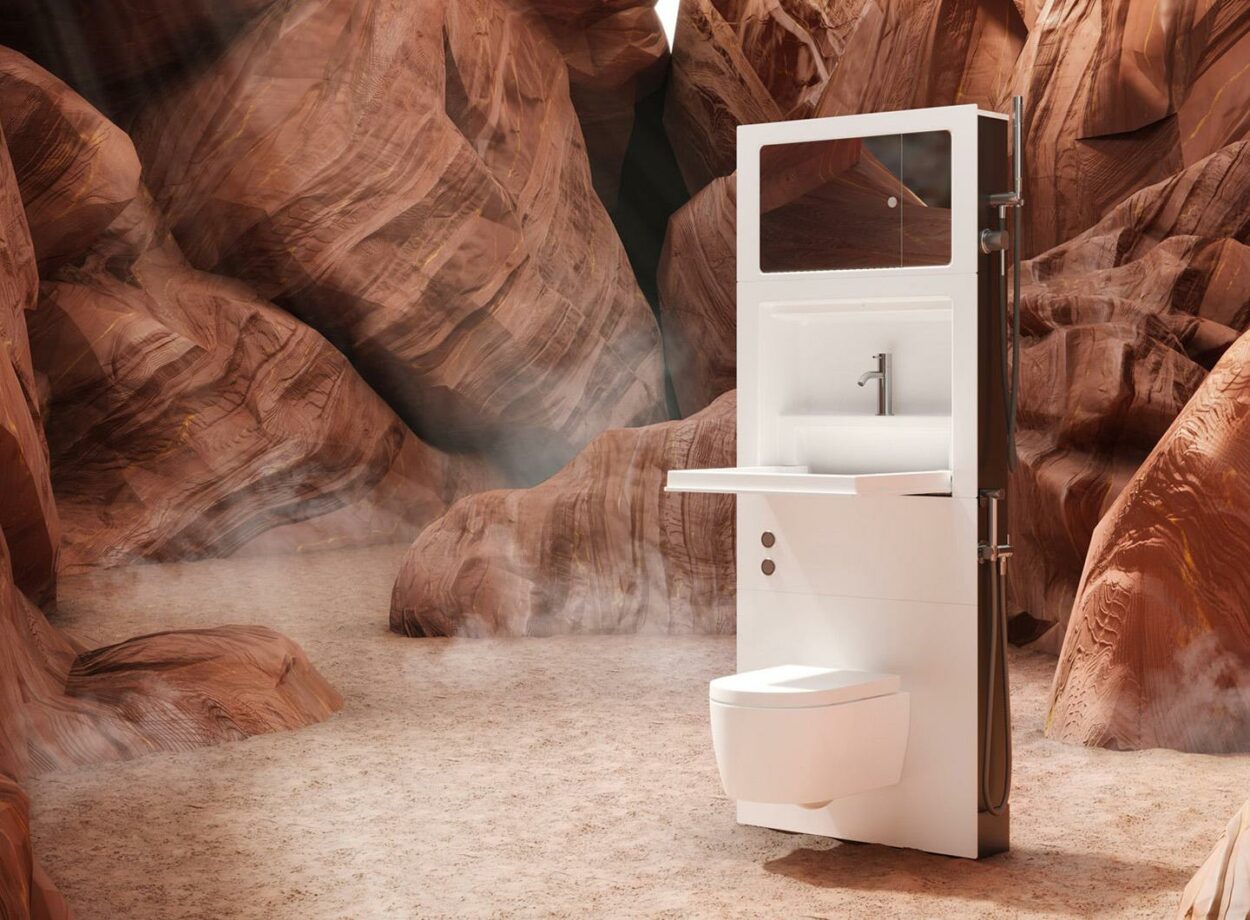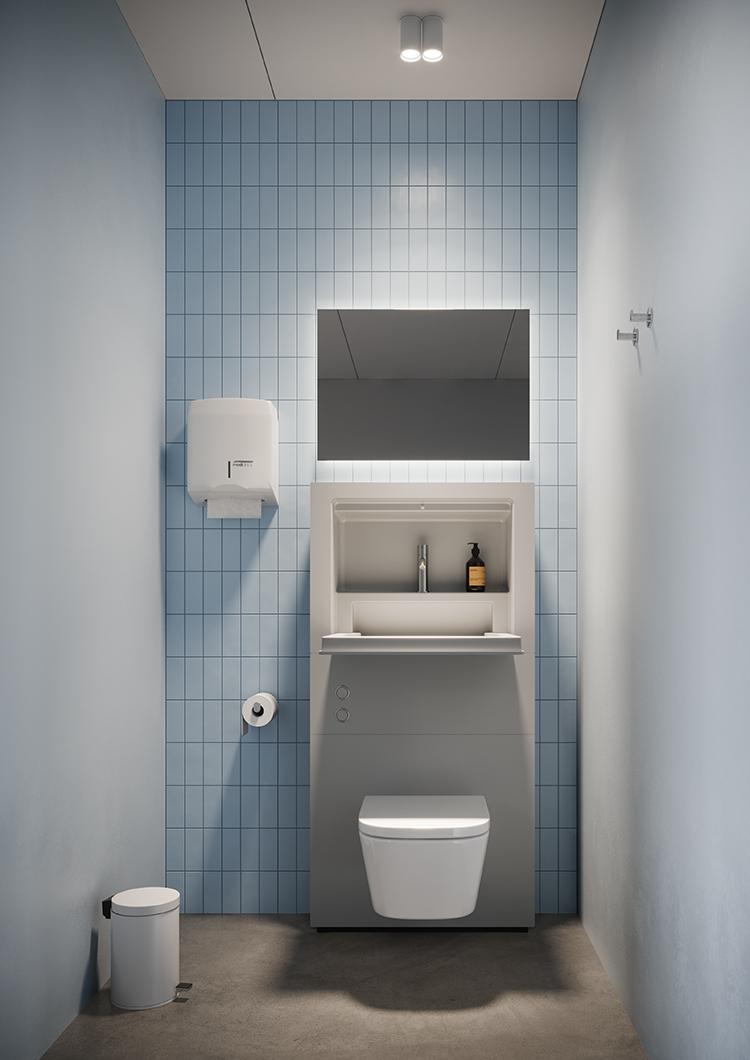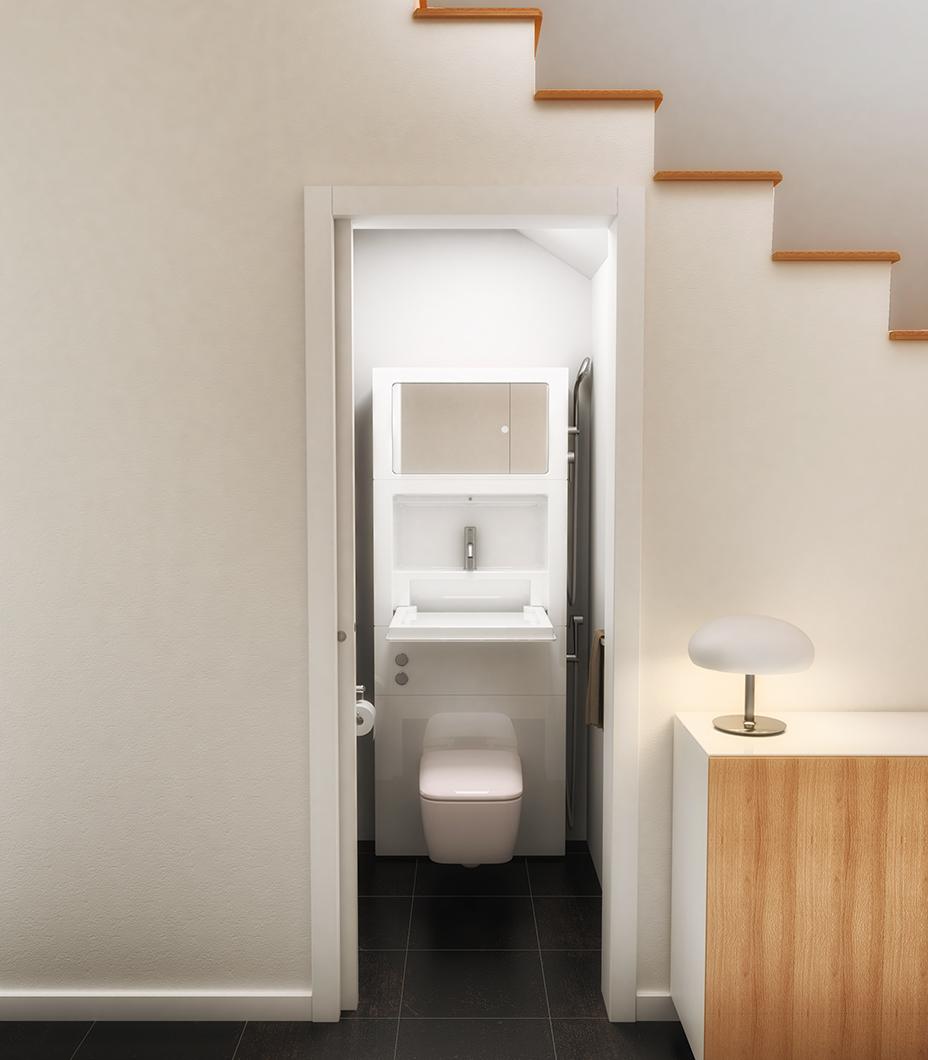 Towel Rails as an Artistic Geometry for the Bathroom
Tubes presented its new heated towel rail called I Ching which fits onto walls via asymmetrical attachments to create a range of graphic and form compositions, conjuring up I Ching book's hexagrams. I Ching is a new element in the Tubes Elements collection, a family of radiators born in 2004 and supplemented every year by new components designed by internationally famous designers. Elisa Ossino designed I Ching as a lightweight, minimalist and essential towel rail with an artistic contribution to the bathroom. The development of I Ching had technological requirements which led the brand to take out a patent for the connectors.
The entire production cycle has always been concentrated in the historic company headquarters in Resana, with a focus on a short and controlled supply chain in order to make the concepts responsible and reliable. Tubes uses 100% recyclable materials whenever possible, a nanotech-supported painting process that allows a drastic reduction of water consumption and implements energy-saving systems and the abatement of production waste.