In hall 4 of Maison&Objet Paris 2021, three installations displayed new products for the home, for safety and for connectivity.
Maison&Objet Paris invited three guests to create a universe within the event that would touch upon the idea of leisure (the installations are in hall 4 of the fair). Elizabeth Leriche focused on the home; François Bernard, Founder & CEO of Croisements agency, on protection; and François Delclaux, Founder and Director of Un Nouvel Air agency, on connectivity. 
The three guests also created an installation found in hall 3.
"TO BE HOME" by Elizabeth Leriche
In the tight space allotted, Elizabeth Lerich utilized the release of exquisite new products to portray the coziness of home through design. She displayed a lovely array of small, essential objects, benches and cushions, cozy-soft materials.
In the writing workshop, we see the return to office life now that the summer holidays have come to a close. There is a selection of pens and notebooks, within a setting oriented toward calligraphy and typography. In the DIY workshop, there is creativity-kit energy through a lot of handcraft and gardening materials. The bedroom area had a living-room-style space next to it, and the two dedicated areas worked well together to create a zen atmosphere.
"We feel good at home", Elizabeth Leriche told the press office of Maison&Objet. "The theme, which had started even before the pandemic, is in total resonance with what we're experiencing. We wanted to show the internal nature of the home, its porous character". And the home is doing quite well, thank you very much, since everyone has become so interested in this sector. "It's not a revolution, but we're seeing these objects in a new light. It's bringing us renewed energy".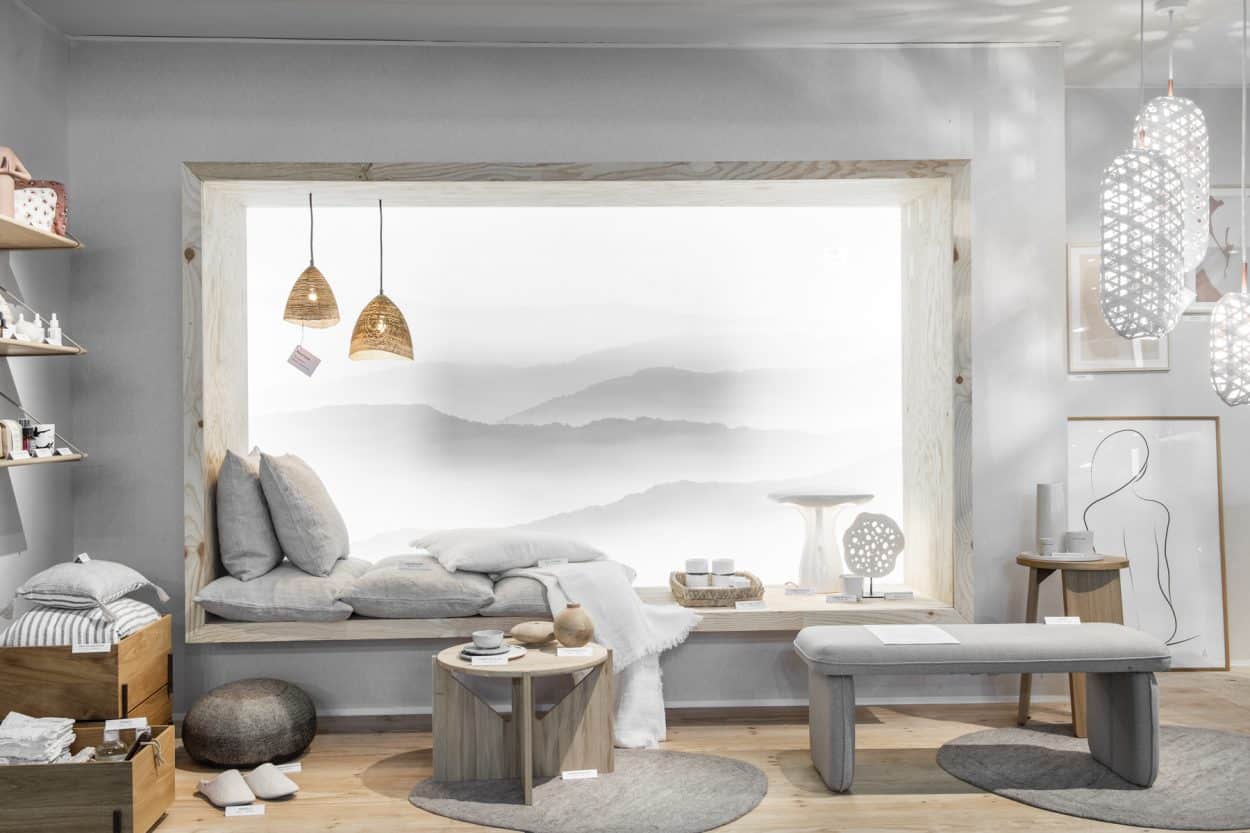 In the bedroom/living room space, an incredible pendant light by Forestier called Capsule Suspension designed by Anon Pairot welcomes viewers. Lamps by Broste Copenhagen and Blomus stand in the far right corner of the space, working in harmony with the pendant.
The new products selected by Elizabeth Lerich show intention; the focus on leisure is visible with linens by Dorothee Lehnen, En fil d'Indienne and Gabrielle Paris, to name a few. The soft textiles used by Mikmax Barcelona and NOMA Editions furniture, mentioned in a previous article of our favorite brands at the event, and ceramic tableware and objects by Sophie Masson Porcelaine and Clement Boutillon gave the room a touch of nature along with wooden objects by Kristina Dam Studio.
We especially appreciated the feminine vibe the artwork contributed to the calm aesthetics. Tinystories' artwork of a woman accompanied the silhouette of a woman by Mettehandberg Art Print.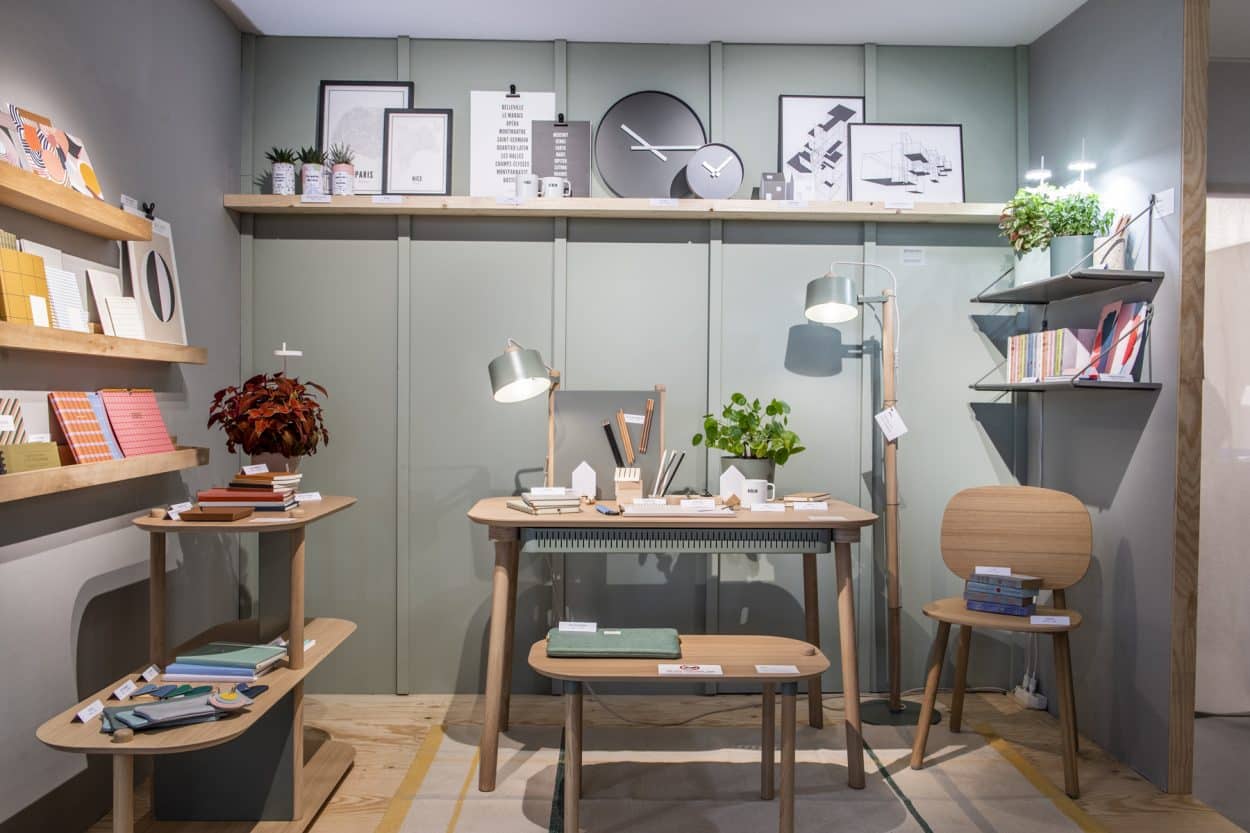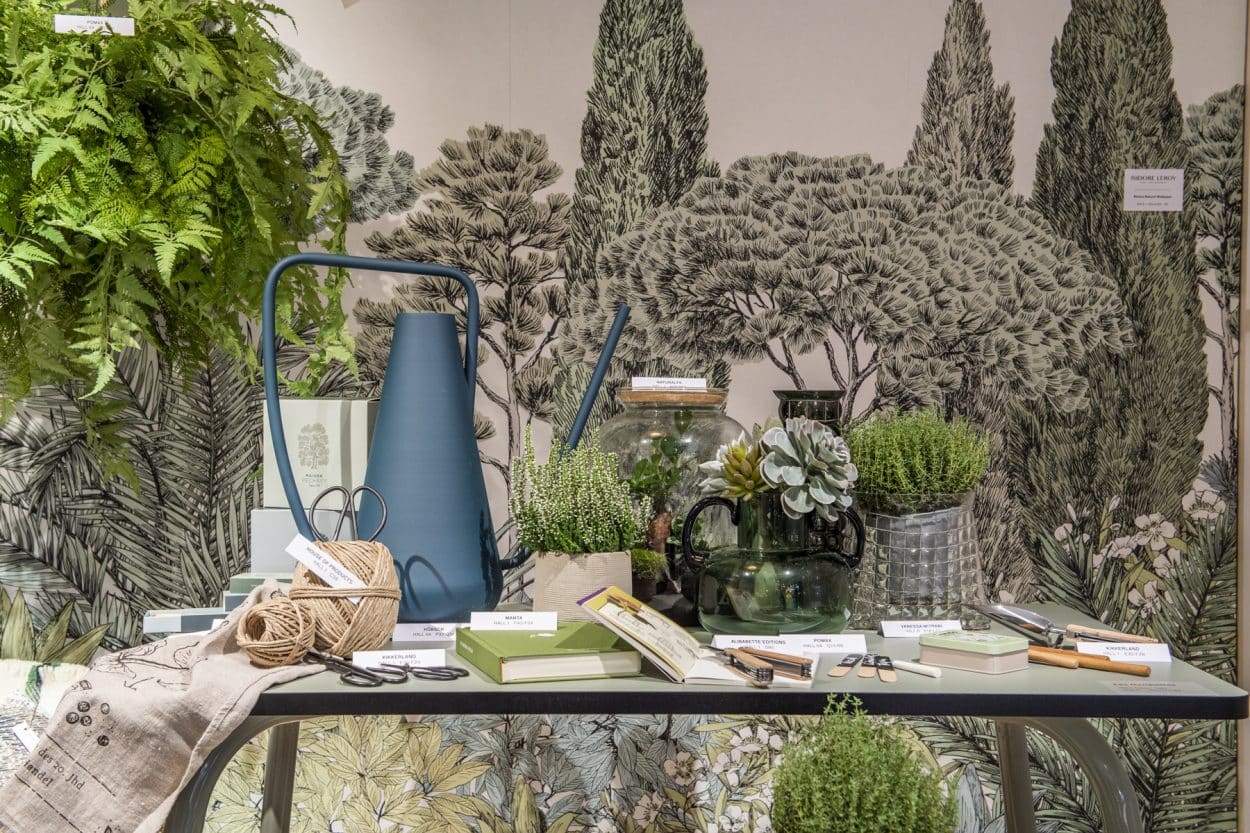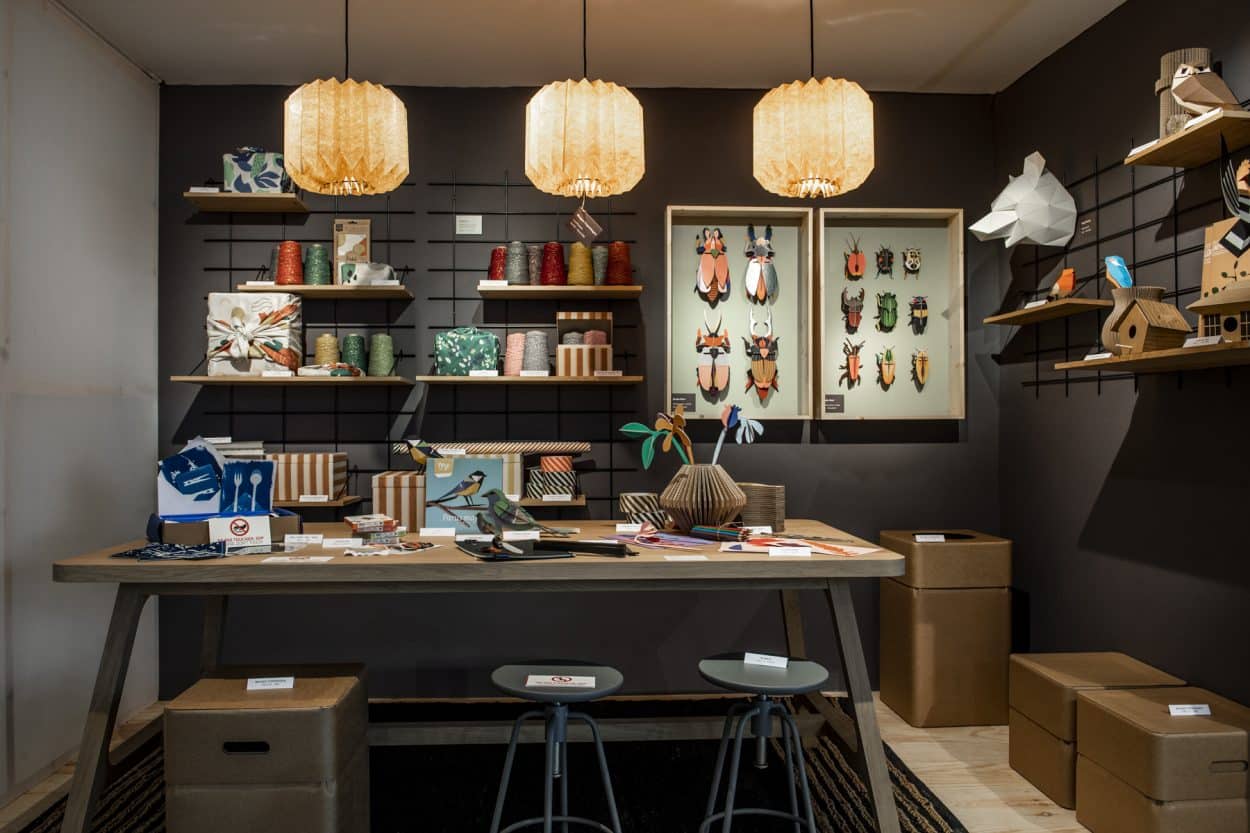 "TO PROTECT" by François Bernard and "TO CONNECT" by François Delclaux
Elizabeth Lerich split her installation into different rooms or specific spaces; however, the two François kept a gallery-like layout for theirs. Exiting the home area, we walked into the room dedicated to connection by François Delclaux. Remote working, the digital environment, the increase in apps, François Delclaux dug into the new products to facilitate our interactions with people and objects. This is the "era of everything smart" where immediacy has become the norm.
In order to exemplify the evolution of IoT objects as more simplified and ubiquitous, he created a display of objects that express how anything can be used now as an excuse for connection: air, sound, light, plants and our own sleep patterns.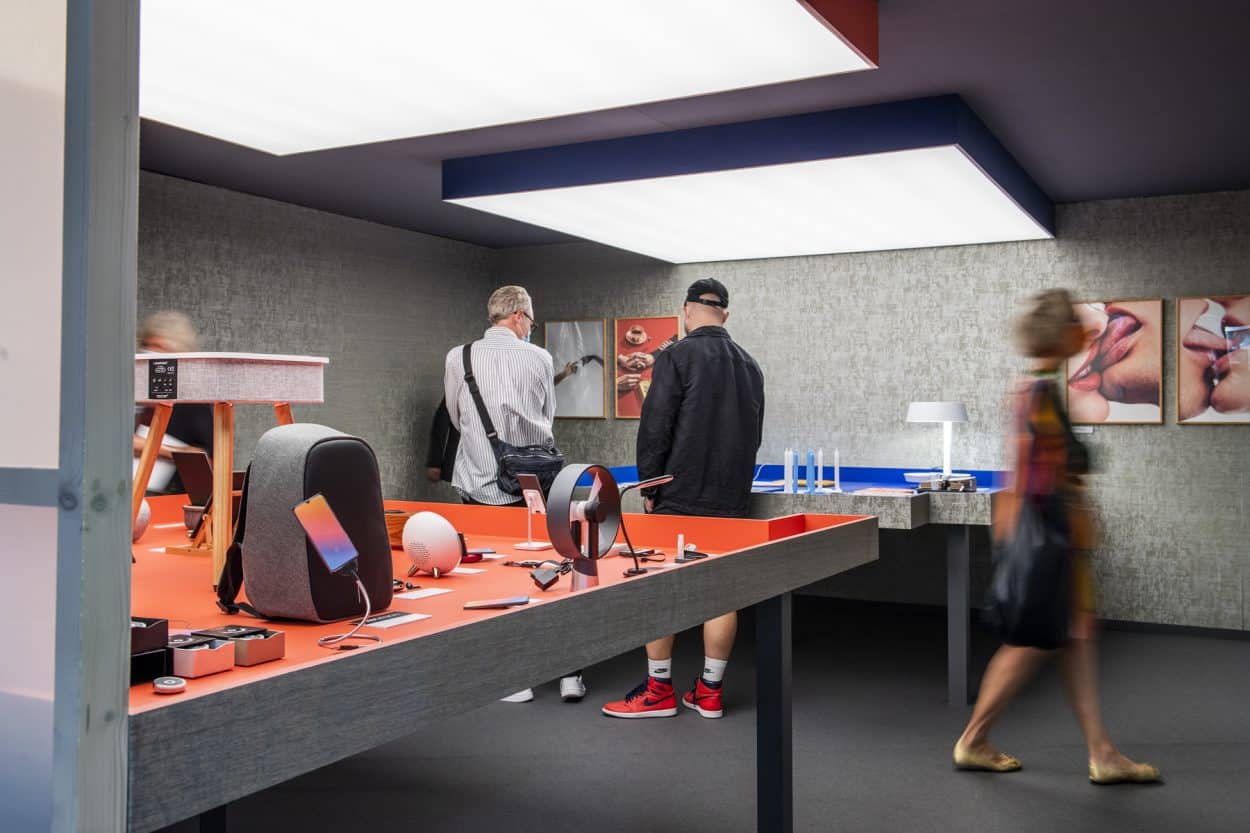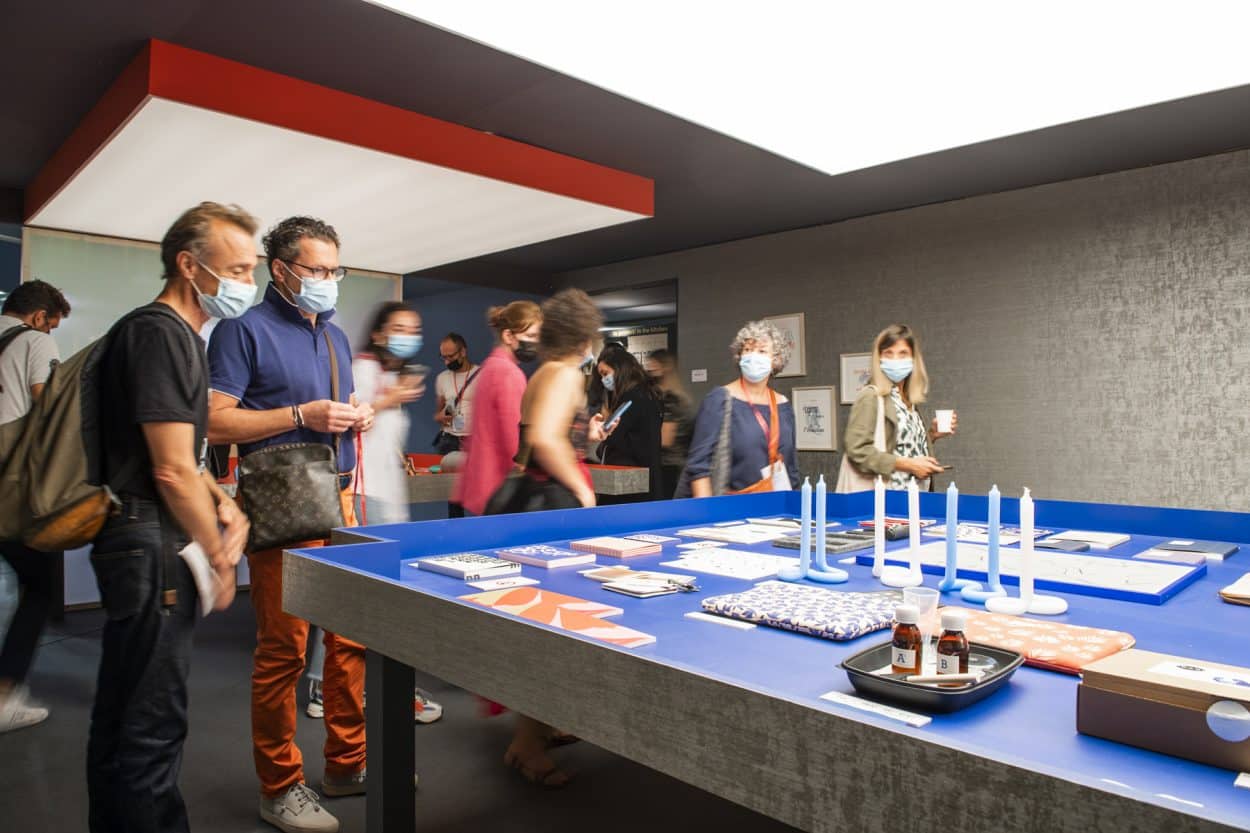 Market Maker has a low table speaker with an integrated induction charger as well as a vintage soundbar equipped with TWS technology allowing the same sound to be broadcast on several speakers. Kikkerland has a self-standing phone stand with an ergonomic design that offers comfort when using mobile devices such as phones and tablets. 
In the next room, François Bernard split his section focused on protection into different categories: travel, resources, mobility, at home, weather and personal. He viewed the idea of protection as a metaphor for caring such as for one's belongings, one's body and one's environment. It crosses categories and offers inspiration for everyday objects that are both practical and beautiful. He displayed products by Esschert Design, Air&Me, Héloïse Levieux, L'atelier des Tanneries, Slow Design, Bag All and more.