While perusing the pavilions at the Salone del Mobile this year, we gathered information on some of our preferred outdoor design brands and their latest products.
June 7-9, 2022—As the Salone del Mobile took place pre-summer this year instead of its usual spring edition in April, due to current events, it was the perfect opportunity to discover some of the new outdoor furniture products. In an article we published before the Salone began, "2022 Delights: Summer Lovin' with Outdoor Furniture and Decor", we already mentioned some great brands such as Ethimo whose Ace collection of outdoor furniture for sports venues includes a bench and referee chair for tennis which is impeccable timing given the British Open takes place this July. During the Salone, we published a profile piece on a wellness brand that is expanding to the outdoor section in our article "Salone del Mobile: First Collection of Outdoor Saunas by Effe". Here's more of what we found at the Salone we think you'll enjoy.
Yacht Collection, Multi-scenario Outdoor Living by Ethimo
Italian brand Ethimo launched its new Yacht Collection designed by Christophe Pillet, which can adapt to different scenarios of outdoor living without altering its style and elegance. The collection can be placed on a yacht, at a prestigious resort or in a refined home. It includes the Baia armchair, daybed and sofa and the Costiera modular sofa.
The Costiera and Baia differ in the volume of their armrests but they share the same modular concept that makes it possible to create different situations to match a lounger or a day bed; the former has a larger armrest. The frames are made from weather-resistant aluminum in the new Silver and Carbonio finishings and accompanied by one of three types of wood: Mahogany, Iroko and Accoya. The paddings are sealed and completely waterproof, a fundamental peculiarity for nautical furniture. The fabrics used to upholster the sofas and armchairs are of neutral colors to match the eco-leather strips found at the bottom of the sideboards and are always made with typical Italian tailoring.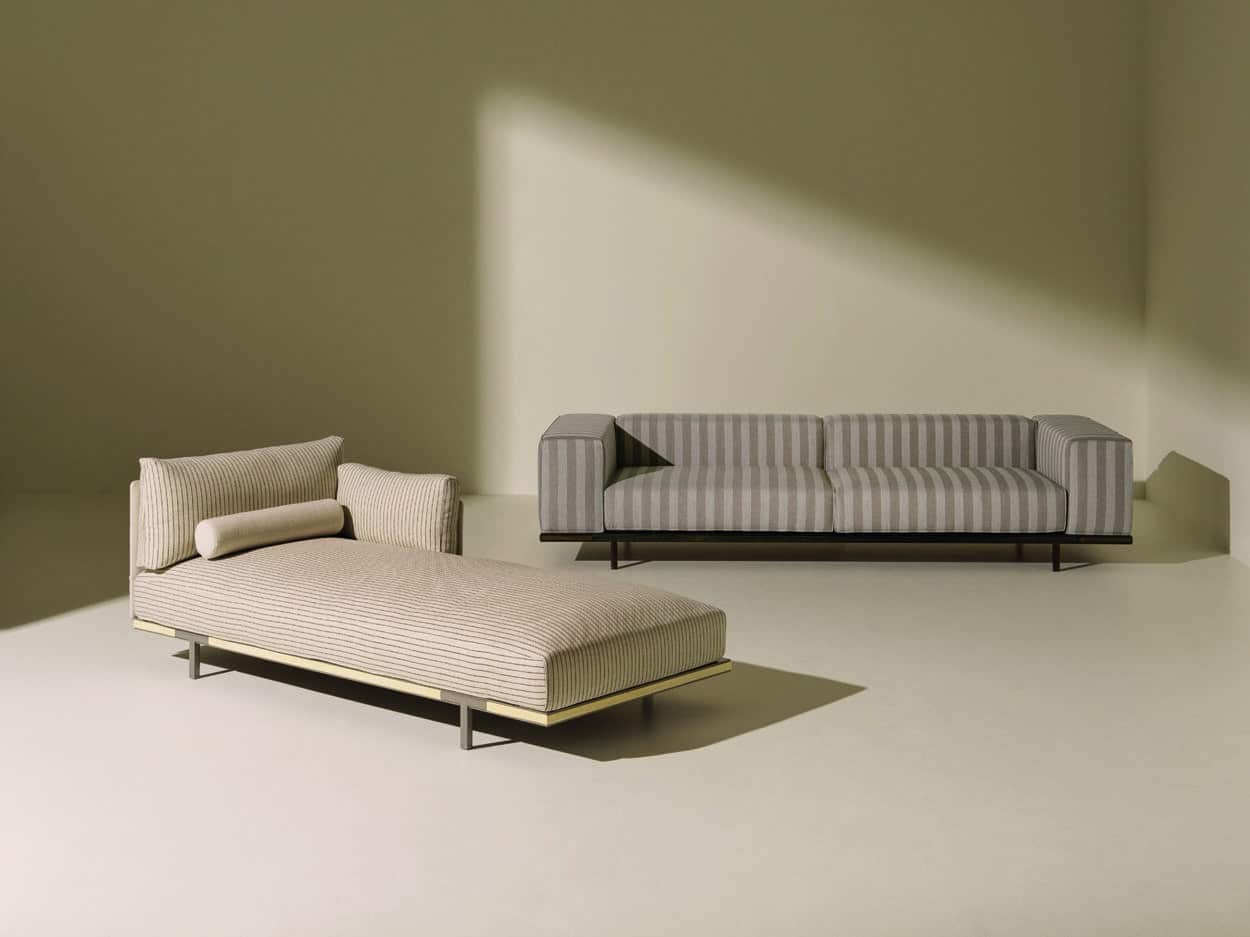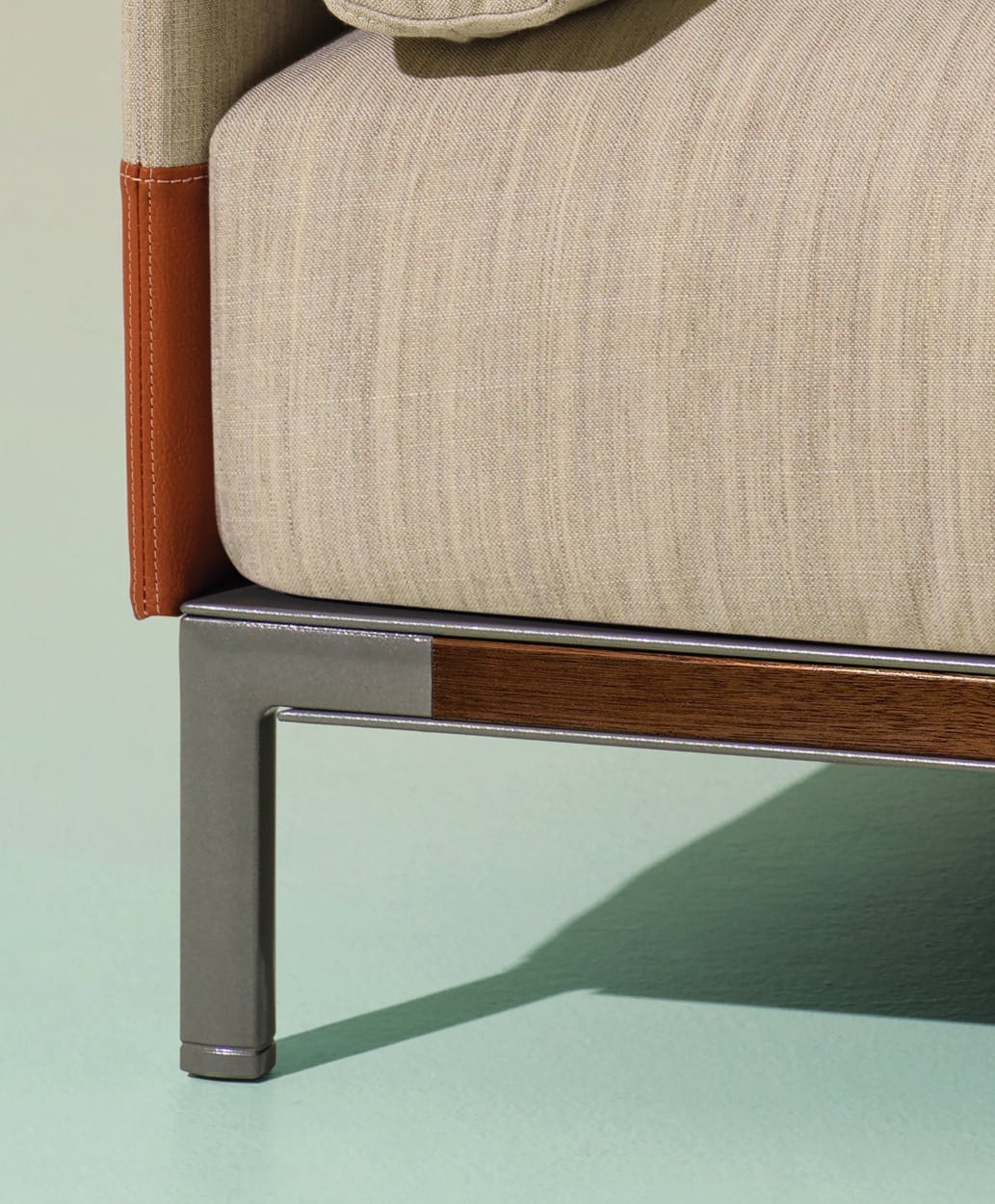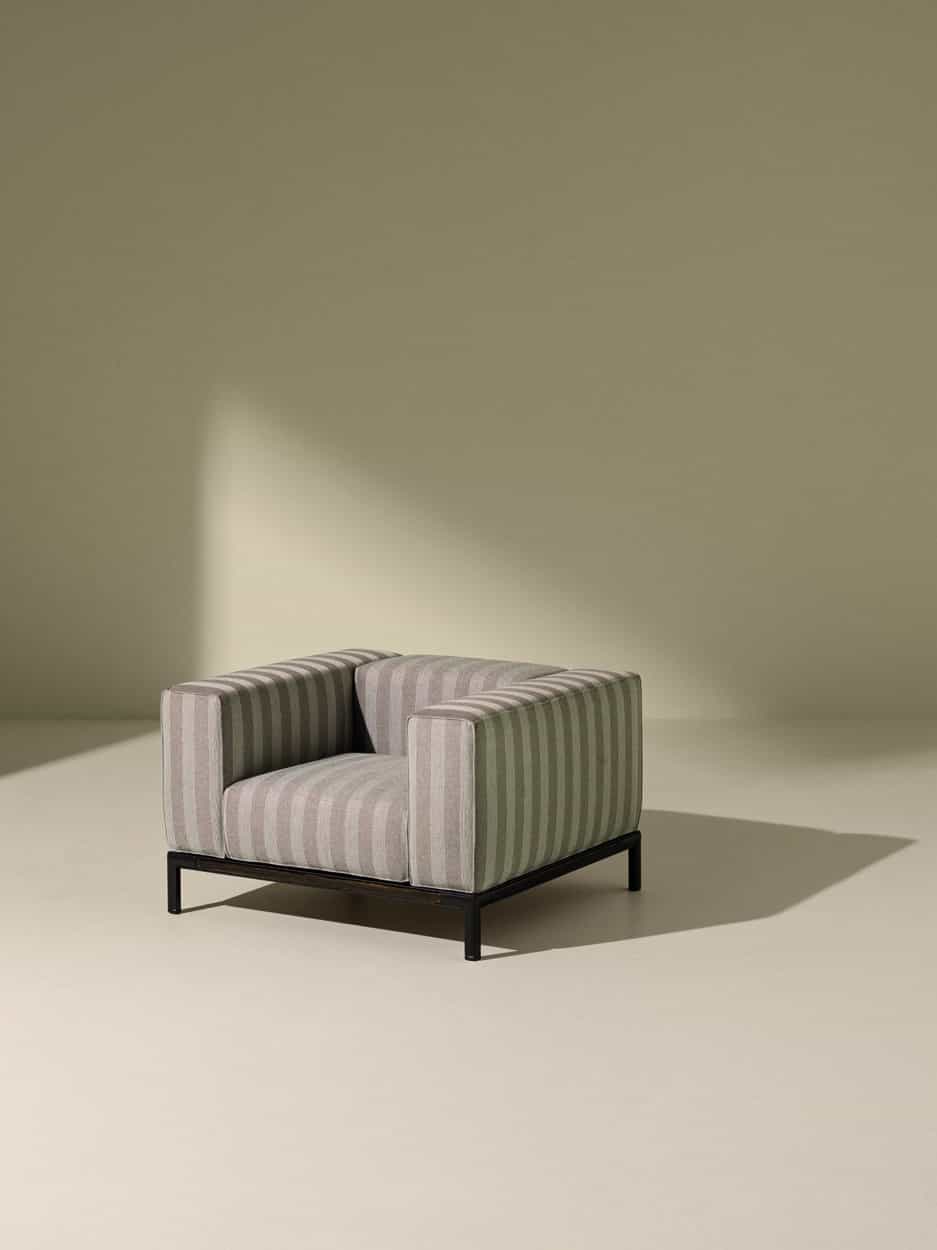 OiCook, Modular Kitchens by Spanish Brand Oiside
OiCook by Oiside is a modular collection of outdoor kitchens whose design is inspired by the look and finish of indoor kitchens. Oiside released the OiCook outdoor kitchens in March 2022 in two fully equipped options. The One Side series is a conventional wall-supported installation while the Island series allows for a freestanding installation with a cantilevered worktop/bartop. Both options share the same modules and accessories, providing the same configurations either against a wall or freestanding.
The range of OiCook outdoor kitchens includes four types of modules: two for storage, one with two compartments and another with two drawers and a compartment; an under sink module with a drawer and a compartment with a recycling containers option; and a module for a gas cylinder for the hob. Similarly, the accessories include a PITT gas burner, washing up sink, tap and 132 Lt capacity fridge with an integrated panel—multiple configurations available. OiSide provides two set compositions of four units that integrate all modular options and accessories (the One Side Oi Four and Island Oi Eat Four models).
The structure of the modules is aluminum, while the panels and worktop are made from a porcelain material (MDI) available in four different finishes that are highly resistant to the elements as well as scratches, stains and cooking splashes. The tap is made of steel with a composite composition of 16% chrome, 10% nickel and 2% molybdenum, making it more resistant to corrosion, especially in saline atmospheres. The integrated sink is made from hard-wearing high-density porcelain stoneware.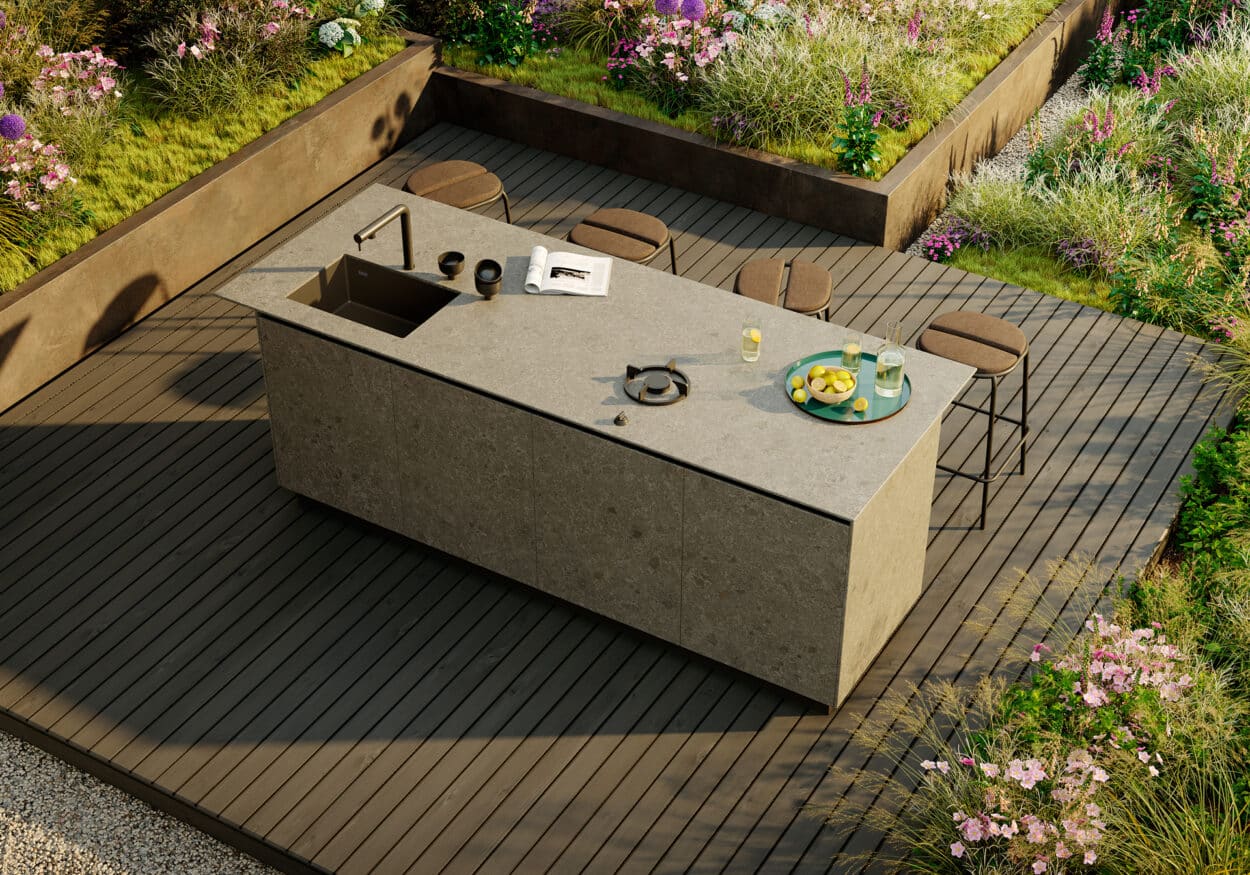 Big Roll Collection, Inspired by Inflatable Floats for the Swimming Pool
Paris-based Döppel Studio designed the latest Big Roll collection of outdoor furniture for Cannes-based manufacturing brand Sifas. Inspired by inflatable floats for the swimming pool, the collection includes sofas, chairs, tables and dining chairs. Although the prototype for this collection was exhibited in 2021 at Maison&Objet, it made its debut in Milan this year. For 2022, in addition to launching the new Big Roll collection, Sifas added new complementary items to its Komfy and Coco ranges and launched another original collection: Outline.
Sifas has been designing gardens and terraces since 1964. The company specializes in outdoor furniture and fabrics for terraces, swimming pools, and boats, giving it extensive experience and expertise in outdoor materials. Sifas' designers and design studios carefully select the countries where the materials, components and finished products are produced, hewing to the best criteria of craftsmanship and quality: all-weather (sun or storm), ease of use and care, and eco-friendly recycling.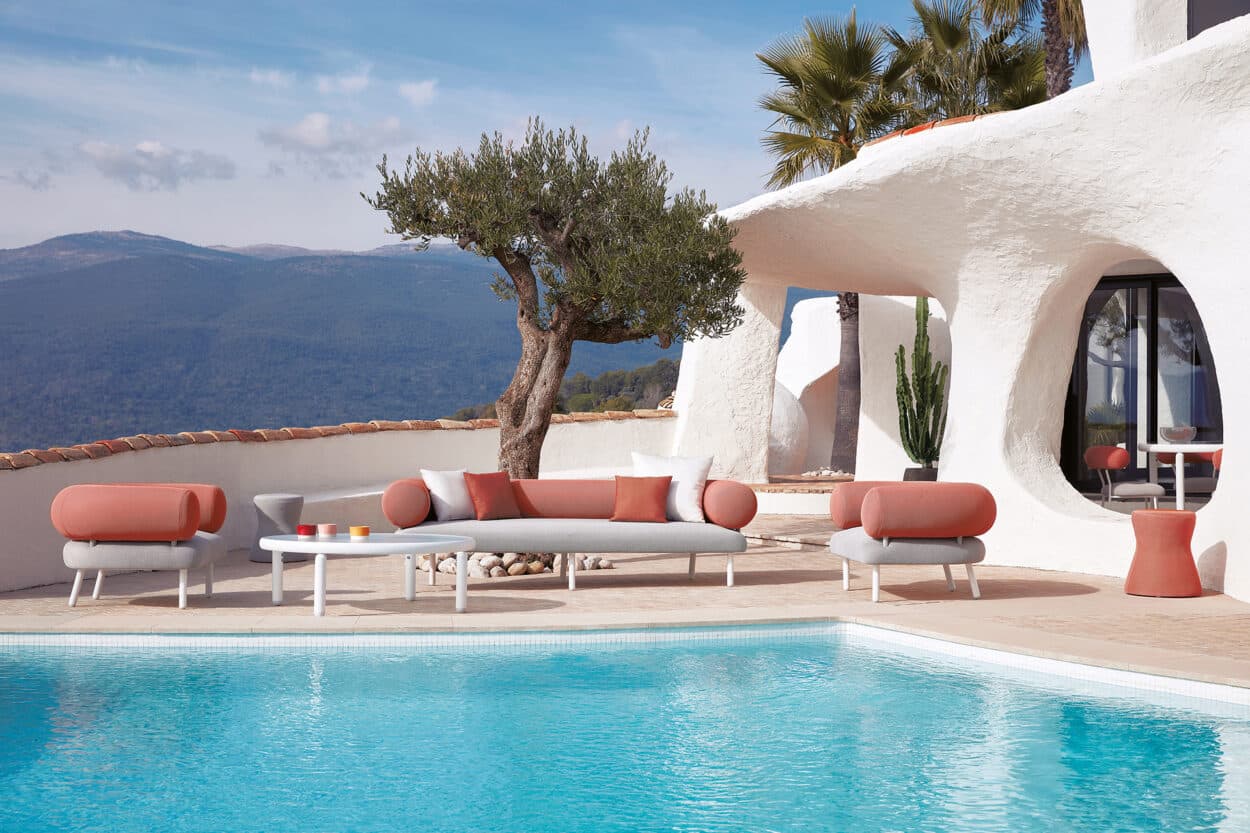 Mitjorn Collection, a Beach Paradise Becomes Outdoor Furniture
Valencia-based Ramón Esteve designed the Mitjorn collection for Spanish brand iSiMAR whose manufacturing experience dates back to 1964 and whose know-how in producing outdoor furniture has matured over the last ten years. The collection is inspired by the shapes of the rocks that blend into the sandbanks of Mitjorn beach, a natural paradise located on the island of Formentera. The faceted lines create a geometric design, which comes to life in these avant-garde pieces.
The Mitjorn colleciton is made of galvanized wire steel with a polyester powder coating. It's suitable for outdoor, indoor and contract use. The materials used are 100% recycled and recyclable, making the collection environmentally friendly.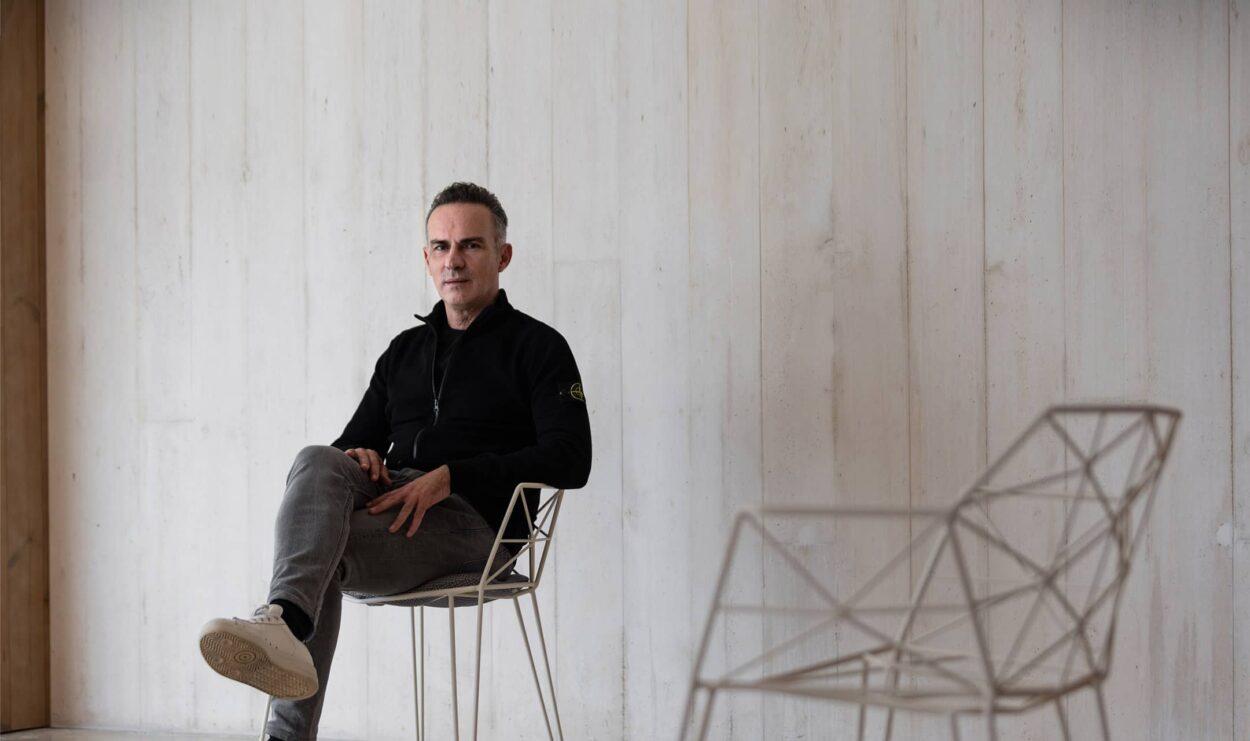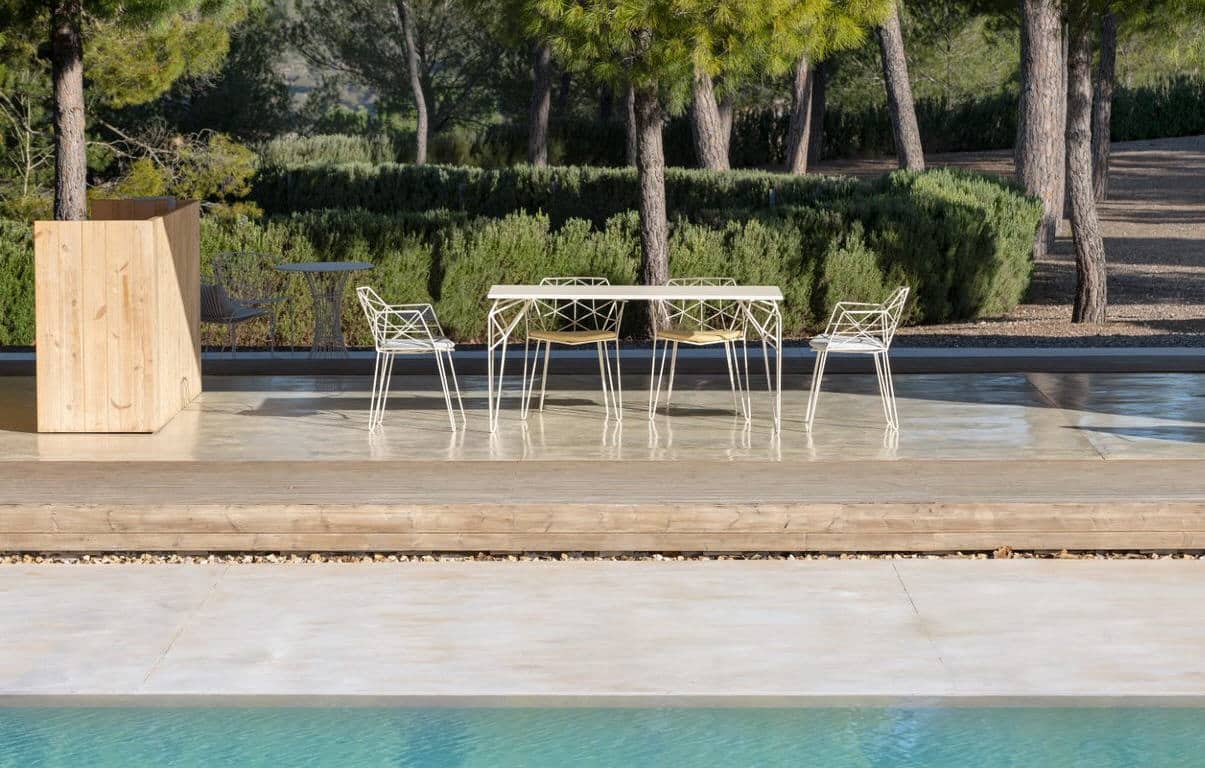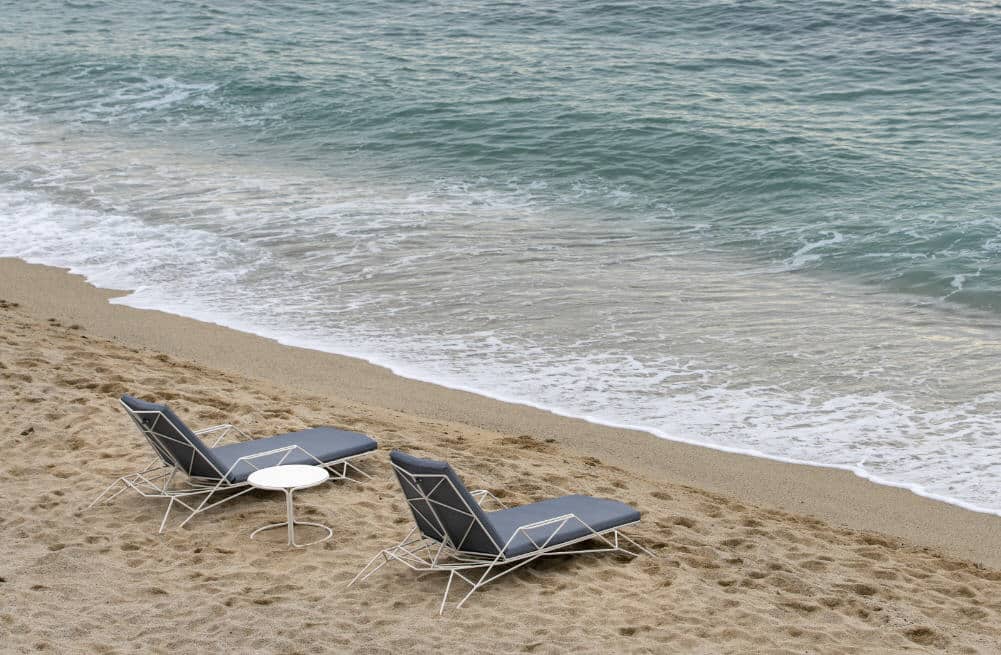 The brand also launched its new Bolonia pour and lounge armchair collection, inspired by the imitation of waves created by the sand at the Bolonia dune, a natural monument since 2001. iSiMAR also presented new side, low and high tables in its Paradiso collection of stools, chairs and tables inspired by the 50s MiMo (Miami Modern) aesthetics.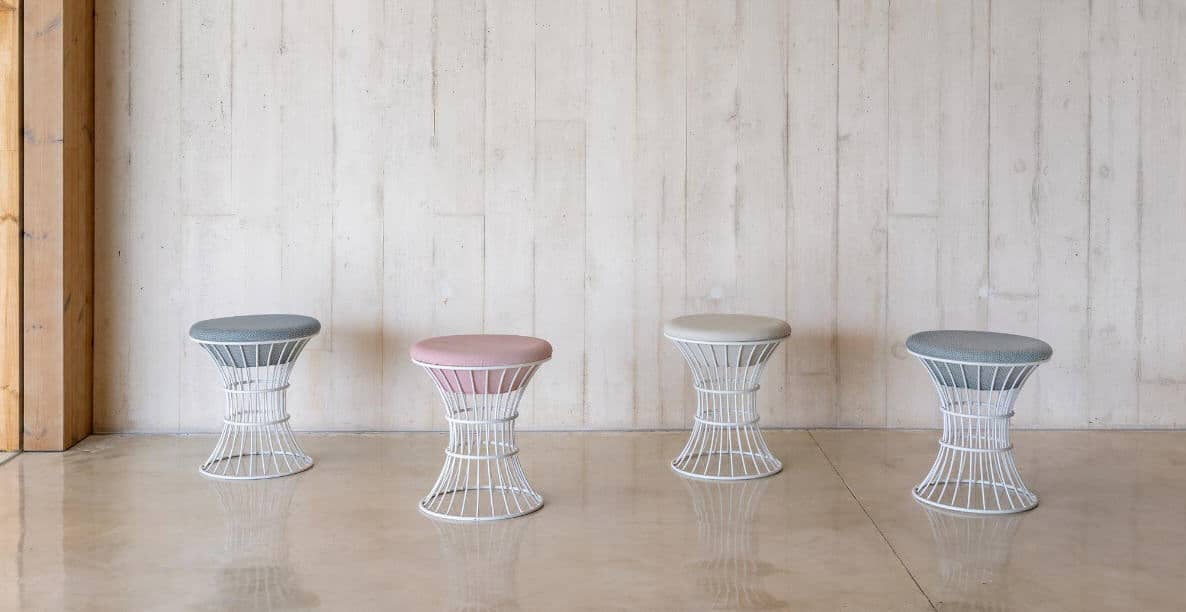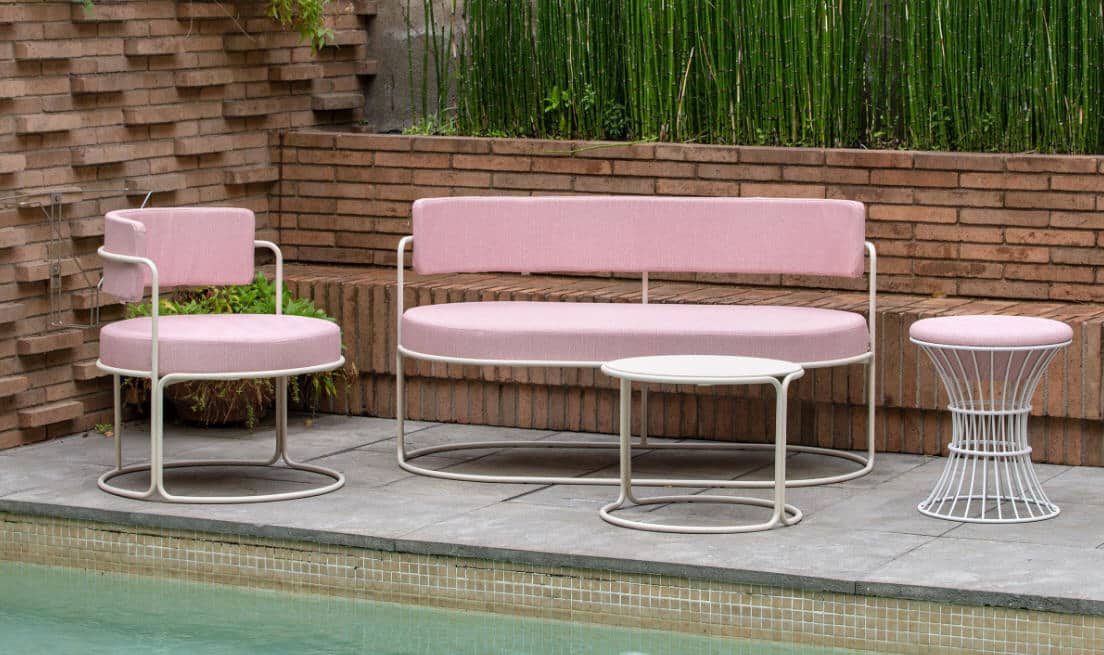 Iconic Designs, Handmade and Hand-painted with New Color
Danish brand Sika-Design has been crafting furniture since 1942, transforming iconic designs into modern times. As an example, the brand presented the new Robert exterior dining chair during the fair; the design dates back to 1901. Today, it's handcrafted in Alu-Rattan and ArtFiber, making the chair weather-resistant against frosty temperatures, heavy rain and UV radiation. It comes in the new hand-painted color Alu-Natural which was inspired by the color of natural rattan. The craftsmen apply first a powder coat, then a hand-painted coat. It can take them five hours to paint one lounge chair.
The new color is found in the brand's Exterior collection in which there are iconic designs by SIka-Design and by some of the world's greatest designers and architects. In addition to the new chair and new color exhibited at the fair, Sika-Design announced its new iconic designer: Japanese designer Jin Kuramoto (1976-) who has received international recognition and numerous awards including the Red Dot Award, Good Design Award and the iF Product Design Award.