Ahead of buildingSMART International's upcoming Virtual Summit Spring 2022, ArchiExpo e-Magazine caught up with the organization's Chief Executive, Richard Petrie, to discuss the event and the latest developments in the smart building space. 
March 28 – April 1, 2022—UK-based,  no-for-profit organization buildingSMART International leads the development of open digital information flows across the built asset industry and is hosting a virtual summit on the digital transformation of the built asset industry. The community of visionaries working to transform the design, construction, operation and maintenance of built assets can expect to hear discussions on openBIM, sustainability, digital twins and more during the summit.
ArchiExpo e-Magazine: Can you tell us a little about the upcoming summit?
Richard Petrie: This summit is one of a series of summits – we generally have two a year. The theme of our spring summit is "Helping clients and users control their digital destiny". For me this is a very important message in the context of the digitalization of the construction sector. Having control of your data, fundamentally, shouldn't be taken for granted – most users and clients typically receive data in the format that their contractors or designers are using. Regardless of whether the supply chain relates to design or client-driven facilities management, those involved at the top end invariably need to amalgamate that data with data from other projects or transfer it somewhere else for analysis. 
A shift towards open neutral formats for storing, using and managing data is therefore essential if users are to flexibly and seamlessly control their flow of information. At buildingSMART we have labeled this collaborative, vendor-neutral process openBIM. OpenBIM extends the benefits of BIM (Building Information Modeling) by improving the accessibility, usability, management and sustainability of digital data in the built asset industry. It enables clients to manipulate and manage data on their own terms. 
ArchiExpo e-Magazine: Can you tell us about the latest innovations in the smart building sector? What will the major trends be in 2022?
Richard Petrie: From a buildingSMART perspective we are now using service platforms to help vendors access and use our solutions much more easily – one example is our Data Dictionary (bSDD), which is close to a new release. The bSDD gives modelers easy and efficient access to all kinds of standards to enrich their model. We are also introducing a platform to help users involved in projects record and share their particular use cases. On a wider level there is an increasing focus on bringing IoT-type smart building capability and the BIM world into closer alignment. This means taking advantage of what is already assumed and built in to technical standards and making that available to support IoT much more fully in the design stages of buildings. 
---
READ: Digital Innovation Reshapes the Construction Industry
---
ArchiExpo e-Magazine: What benefits are these innovations delivering to clients and society in general?
Richard Petrie: I think we will see efficiency benefits across the supply chain, depending on the use case. Having specified an object or a wall in a design process, for example, designers might then be able to see a particular product that can fulfill their needs, almost in real-time through their software tools. When people start to specify their needs in open standards, it's far better to have the product manufacturers also working to the same open standards – then the cross-linking is much easier. 
A move towards open digitalization will also make the material passports that are due to be introduced under the European Green Deal far easier and tracking those requirements through the whole lifecycle of a product being used in a building. Sustainability and low carbon strategies are two of the topics emphasized in our sustainability session in the upcoming summit. 
ArchiExpo e-Magazine: How is smart building technology and the trend towards smarter buildings influencing architectural practice?
Richard Petrie: There are two sides to this. For high-profile practices that are designing very sophisticated buildings, these new technologies offer greater flexibility and support. And for the great mass of the fragmented industry, I think we're reaching a point where we can lower the entry barrier for smaller architects to use more advanced methods and tools. These will be more accessible through openBIM, rather than the architects and architectural practices being tied into expensive licenses on platforms. For me, this breaking down of barriers is a huge opportunity and just as exciting as what's happening at the top end of the architecture industry.    
ArchiExpo e-Magazine: Are there any particular smart building projects that stand out for you in 2020-2021? What makes them stand out?
Richard Petrie: The brand new Siemens Campus in Zug, which is one of the first new projects to use Building Information Modelling (BIM) for design and construction, is really exciting.  The campus complex is equipped with building automation, security and fire safety technology and particular emphasis was placed on sustainability and energy efficiency. It's a real reference project for smart buildings that demonstrates how to use open standards and overcome sustainability challenges. 
ArchiExpo e-Magazine: How do you see the smart building sector developing over the next decade?
Richard Petrie: I think there's going to be a congruence of IoT, openBIM and digital twins. I think all of these different agendas are going to be seen to be much more part of a whole. There will be much more recognition of the value and importance of the open digital ways of working – of the tools and services that we're trying to provide at buildingSMART. Quality assurance schemes and validation services will also develop to give users the confidence to work with these new technologies.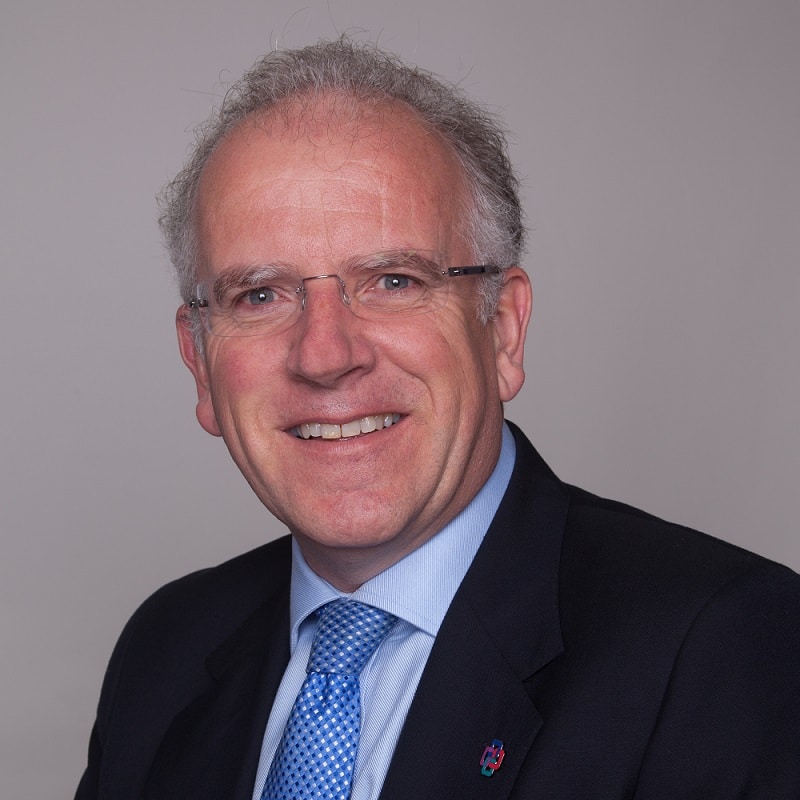 ---
READ: Interview. Digital Twin Platform SmartWorldOS Transforms New York's Historic Brooklyn Navy Yard
---