At Orgatec in Cologne, in line with the trend for flexible working, ONGO is presenting its pop-up office solutions and FLAT by Artis is exhibiting partitions for the hybrid office model. We give a few more options from Caimi and BD.
October 25–29, 2022; Cologne—The leading international trade fair for the modern working world, Orgatec explores how work environments and work culture interact and presents new visions of work. The future belongs to flexible working, distant from fixed places and times, with creative and independent people motivated by the prospect of cooperation and collaboration. Tomorrow's office can be anywhere. Here are two brands with practical ideas to consider.
ONGO Active Sitting, Mobile Desk and Pop-up Office
The drivers of the change are big data, robotics and artificial intelligence. When new technologies gradually take over routine jobs, completely new areas of responsibility and profiles for human work gradually emerge. As a result, tomorrow's employees will work in a more creative, collaborative, communicative and agile way. The workplace of tomorrow must offer freedom for this. "Movability on all levels" is therefore the maxim in the development of the ONGO workplace concepts.
On ONGO stools you constantly change position: up, down, right, left, tilted forwards or backward or even around your own axis. The stools are so light that you can easily carry or roll them from A to B with one hand. The mobile desks are cleverly designed and flexible mini work units that can be moved around whenever needed. The ONGO pop-up offices can be put together quickly. It combines seating with a worktop but can also include ONGOBoards such as the think tank, the meeting room or the video conference. The concept is to quickly install an office and just as quickly pack it away.

Partitions for the Hybrid Office Model
The latest trends in office design and decoration show a vision toward open and diaphanous spaces. However, some companies require compartmentalizing work areas to make them more operational. The hybrid office model is on the rise, and the FLAT SET partition and the new FLAT MOVE partition are the perfect elements to configure it.
FLAT SET is the most flexible dividing system in the FLAT collection. Composed of a single 72×43 mm aluminum profile, it allows different screen formats to be configured with materials, colors, finishes and functionality to suit the client. Its design facilitates the integration of partitions with a lateral or central glass, double glass and double-blind panel in different areas of the same space, also optimizing the assembly process and stocking of the profiles.
With the arrival of a new normality, we use the same profiles, materials and finishes of the FLAT SET partition to design the self-supporting, independent and interactive FLAT MOVE partition. In order to follow the same aesthetic and optimize costs, we created this large element that allows spaces to be divided with a single module.
The FLAT MOVE divider brings together the concepts of coworking, teleworking and configurable multifunctional areas and results in a fully customizable and configurable solution for each moment or situation.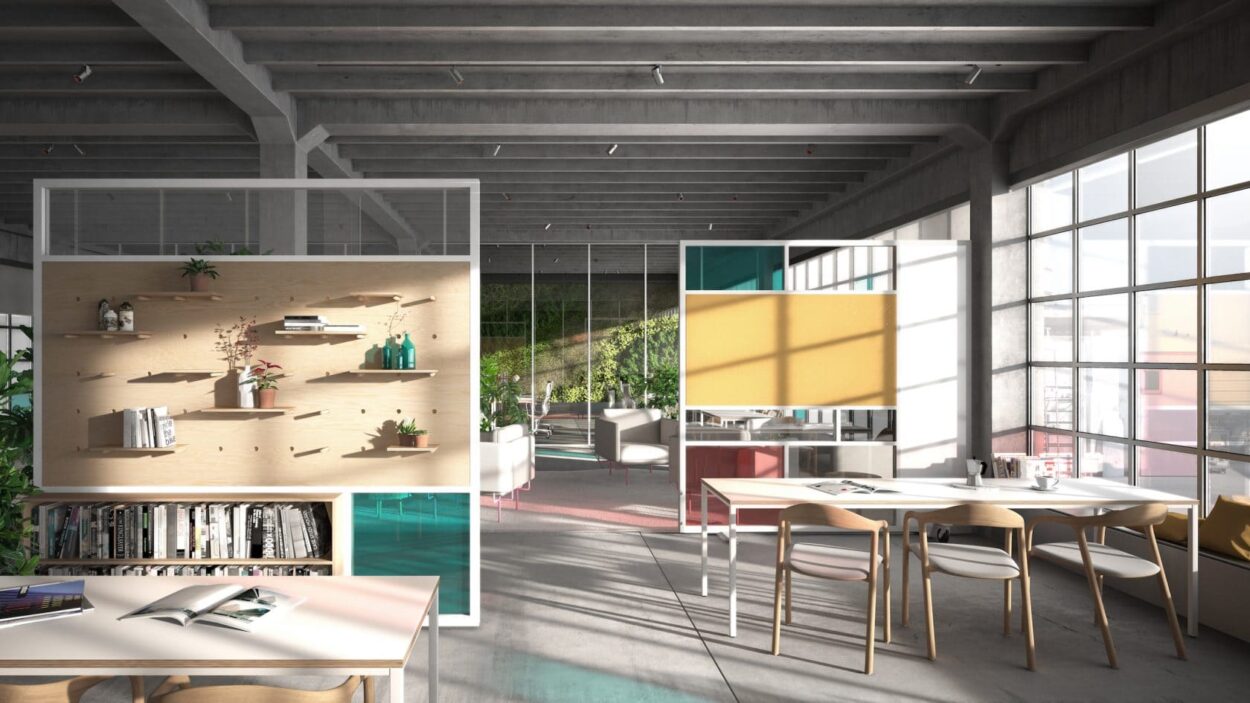 B Chair, the Foldable Solution for Mobility
BD celebrates its 50th anniversary this year. Having been founded in 1972 by a group of young architects and designers from Barcelona, it's nice to see their objective for creative freedom hasn't changed. The brand's B Chair fits perfectly into the concept of mobility at the office.
The B Table was the first in the Extrusions collection and an aesthetic that is the product of a combination of industrial and manual processes. The result is a highly crafted piece that surprises with its solidity and lightness. To complement it, Konstantin Grcic has now designed the B chair, a wooden chair with pieces of aluminum in its structure. The legs are X-shaped and the seat folds, allowing it to be stacked horizontally. The decorative touch is concealed beneath the seat, offered in a varied range of colors.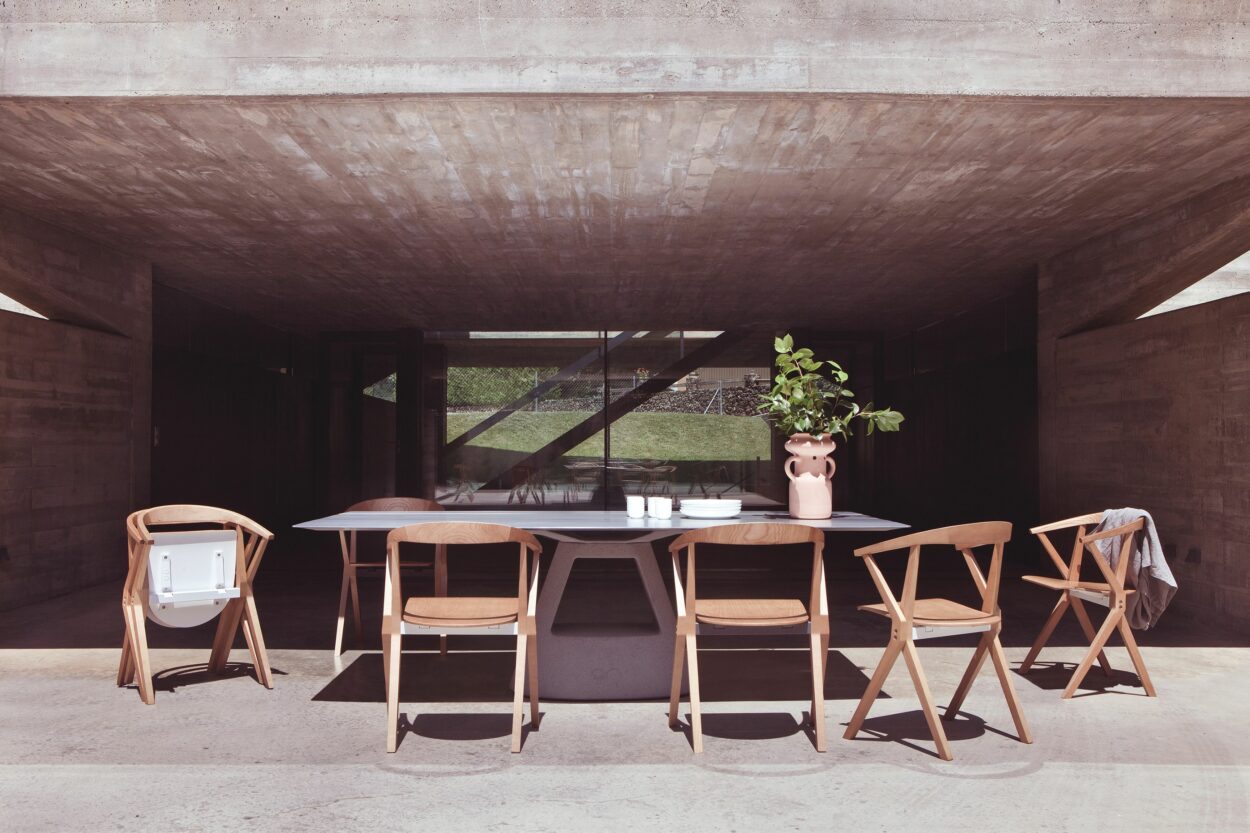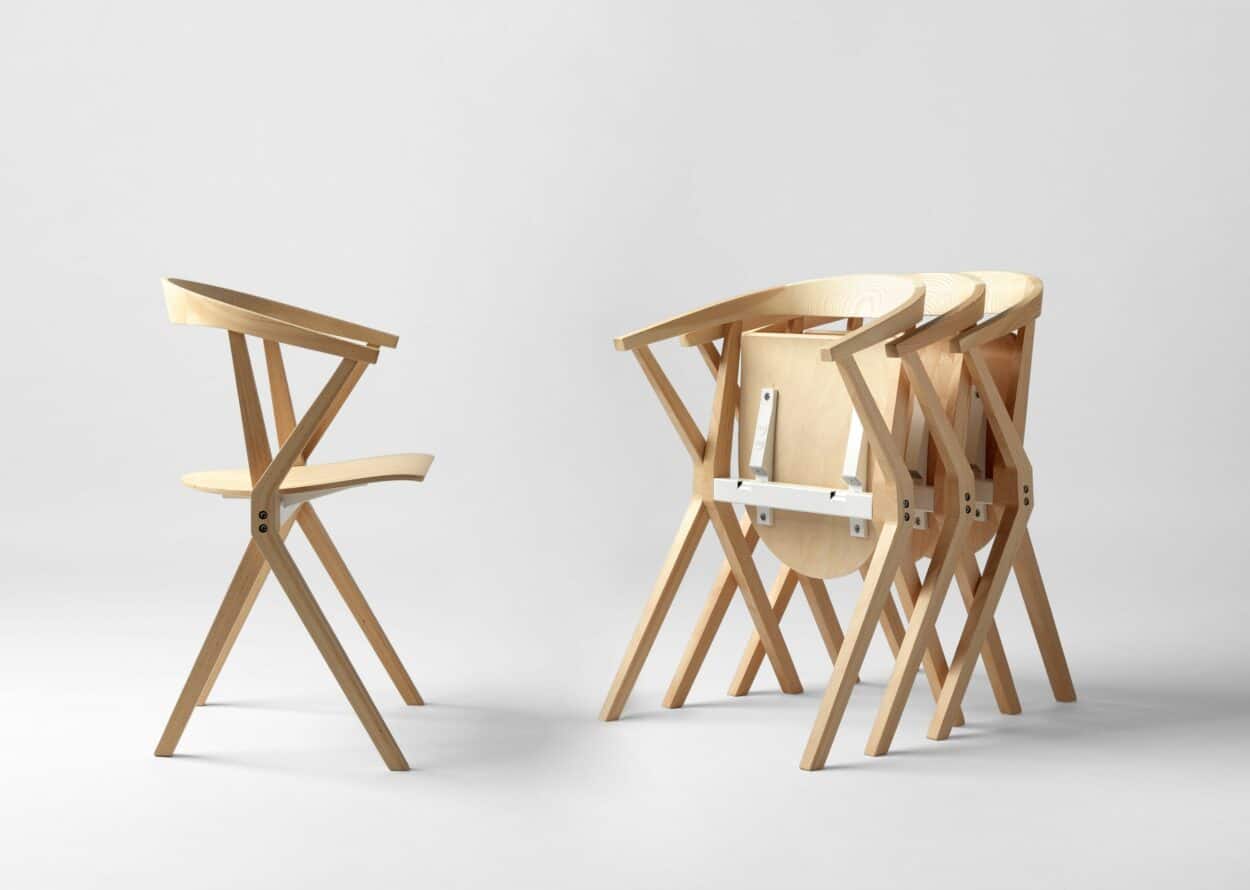 New Sound-absorbing Panels, Curtains and Furniture by Caimi
Caimi is presenting its extensive collection of sound-absorbing panels, which have Snowsound technologies integrated into them. On stage at their stand, Caimi is showcasing an original collection of acoustic sofas such as NapWork, designed by Paola Navone and Studio Otto, which is a versatile system of linear and hexagonal modules. Next up is Cilindro, designed Claudio Bellini, which combines the sofa with a waiting armchair, exhibiting a modernist imprint and characterized by an imposing cylindrical backrest. Caimi Lab designed Volumi, a modular collection of sound-absorbing sofas, with visibly square lines, characterized by a skillful effect of visual continuity, created by the base covered in acoustic fabric, also dark gray. The Snowking family of modular sofas, design (a+b) Dominoni, Quaquaro, has a remarkable scenic presence.
The vast range of acoustic curtains is made using the many varieties of the SnowsoundFiber fabric collection. Caimi offers the possibility of having made-to-measure acoustic curtains, designed and calibrated on the real needs of acoustic well-being to be achieved in a specific environment. The Climbing collection of wall-mounted, sound-absorbing panels, designed Raffaello Manzoni, is a free composition system, with shapes and volumes inspired by the natural world: pebbles and stone walls capable of increasing acoustic performance.