In Japan, the home office has risen from 20% in 2019 to 50%. Here are some furniture solutions for the home office we found at this year's Orgatec Tokyo. This article was written by Selena Takigawa Hoy.
April 26-28, 2022—In line with current affairs, the theme at Orgatec Tokyo this year, the rise of hybrid work, presented visitors with a large variety of products to consider for the new style of working in the era of the home office.
Work from home, or telework as it's most commonly known in Japan, rose stratospherically in Japan in 2020 with almost half of companies offering remote options compared to about 20% in 2019. And companies are flexing to fit. Architects and designers are rethinking the way that we use space, moving away from the static one-desk-per-worker model that has ruled for decades. Japan is good at adapting spaces to different occasions, especially in Tokyo, where space is at a premium.
Flexible, moveable arrangements were on full display, with a number of makers showcasing privacy booths for workers who want to move from a hot desk or conference table mode to a more focused setting. These were available in single, double, or quad models, and varied from quick, light, and portable to luxury pods with multiple bells and whistles. One standout was Lion's DelicaBooth, a soundproof cubicle on wheels with adjustable desks for standing or sitting, a comfortable cushioned seat, adjustable lighting, and the option of a digital room management device for booking slots.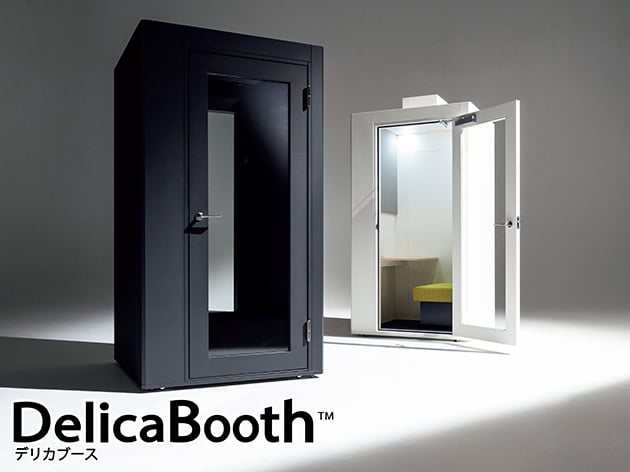 Other companies also combined tech solutions with furniture, with an understanding that the office will increasingly require digital integrations.
An innovative take on the conference room came from Itoki with the Sound Parasol. Tomomi Kanesashi explains that "the setup allows several people to join a web meeting in relative privacy in the middle of an office." The table, open on the sides, is anchored at one end with a screen panel and at the other with a sonic umbrella that projects sound only to seated participants, who can clearly hear, while people just a few feet away receive no more than a murmur.
"What's the meaning of coming to the office in 2022?" asks Ken Shimomura from Kurogane Kosakusho. "It has to be for communication."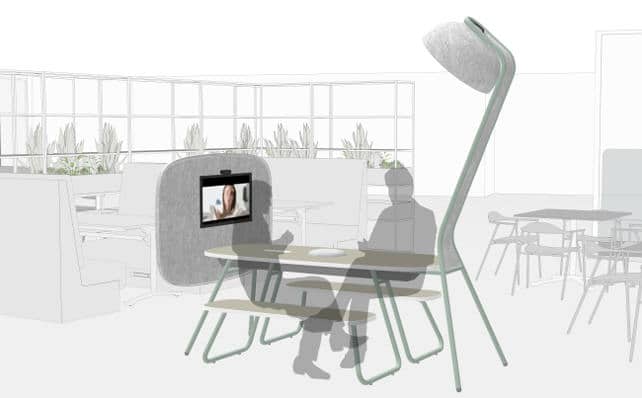 Kurogane is Steelcase's partner in Japan, and their booth had a number of interesting products for a hybrid office. The Roam media stand rolls on smoothly flowing casters and holds a massive touch screen such as the Microsoft Surface Hub 2S, and has a built-in battery so that the display can go wherever it's needed without needing to be tethered to a power outlet. The booth also featured a Designtex Casper screen, with the transparency of a window, allowing for a feeling of openness, but with cloaking technology that renders a computer screen black when viewed from behind the screen.
"Here we're exploring the idea of a private space within a public space," says Shimomura.
Companies have to pivot, making their workspaces more seamless, creating collaborative spaces as workers choose to come into the office for team meetings and client interactions, leaving the desk work for the home office. This means modular furniture that can be easily configured to meet different needs.
Uchida's Commons Table System combines simple, attractive cedar tables in geometric shapes that can be pulled apart and used as a single desk but also fit together in multiple configurations for group work or even a conference table.

A good solution for small spaces is the Set Hut table and chair set from Inaba International. This pint-sized round meeting table has four chairs on casters that perfectly wrap around the edge of the table when pushed all the way in, making a neat cylinder when not in use.
With many workers happier either working from home, or adopting a hybrid model of working, coming into the office sometimes but not necessarily daily, many companies are sitting on tons of real estate, looking at empty offices, and trying to adjust to keep workers happy, as workers have made new work habits, become accustomed to different norms, and learned to juggle their work and home duties in new ways.
The Iyobe furniture company uses the concept of "fusuma," the sliding paper doors that can easily move to redefine a space, making it larger or smaller, private or public. Their offerings at Orgatec focused on pieces that could transition from home to office and would look equally attractive in either setting. For example, the Kekosa chair brings a touch of color and whimsy to a workspace, but its beautiful lines and comfortable upholstery also easily fit into a living area.
"Kekosa is a misspelling of the Italian for 'che cosa,' or 'what is this?'" says Riccardo Daniel, Iyobe designer and architect. The question brings to mind the versatility of the pieces.