Despite large numbers of its employees doing home office, the plan to construct Amazon's HQ2 in Arlington, Virginia, continues. Its first phase of construction is expected to open in 2023 with a pair of office towers. PenPlace is expected to earn county approval by December of this year, with construction scheduled to start in 2022 and finish by 2025.
Amazon announced its design plans to transform Arlington's PenPlace square into its second headquarters earlier this year. While many of its employees are currently working from home, the company views its new headquarters as an investment opportunity.
The 3.3 million ft² proposed design will include street-level retail, public parks, amenity spaces, making it a new destination for local residents. In total, the project involves four buildings: Three 22-story office buildings with ground-floor retail and one destination- and amenity-focused building called "The Helix," a unique biophilic double helix structure with plantings native to the Mid-Atlantic region.
In addition, the proposal includes a 2.5-acre public open space, detached retail pavilions, and underground vehicular access. Specific details of the open space will be evaluated through a Park Master Plan process.
Designed by leading architecture firm NBBJ, the plans also infuse nature into the urban landscape and create a unique, sustainable environment where employees can work and innovate. The three office buildings will run on 100% renewable energy.
Buildings will be designed for LEED Platinum certification and tailored towards achieving the County's Community Energy Plan goals. In addition, the project would contribute to the County's utility fund, public art, and streetscape improvements.
The proposal is currently under review by the county. There have been discussions on varied critiques and revisions. Although they have not yet come to an agreement, the company should receive approval by December of this year. Construction should begin in 2022 and finish by 2025.
Stay updated here.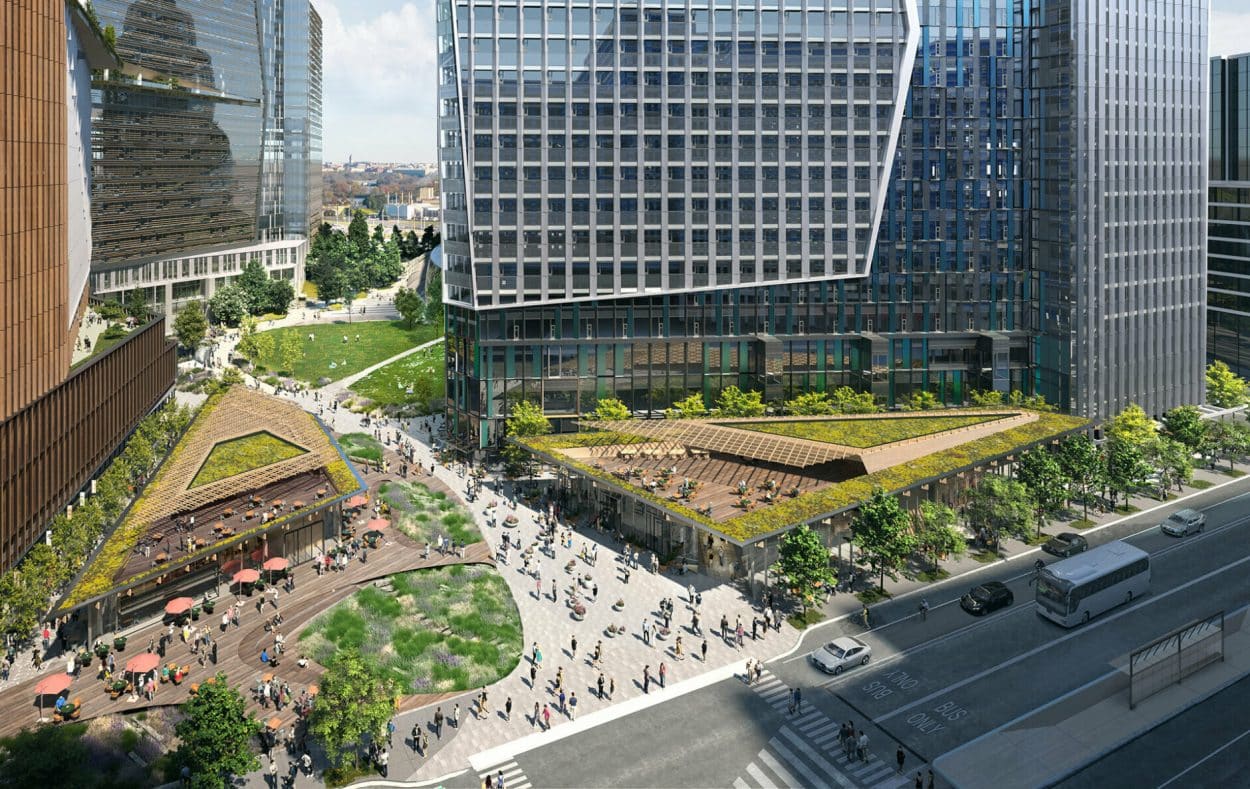 A variety of inviting open spaces totaling more than two and a half acres will be accessible to the public, including an amphitheater facing a central green that can accommodate outdoor concerts, farmers' markets and movies. In addition, a forest grove will offer shaded areas for relaxation during the hot summer months. Retail pavilions will be located throughout, enlivened with outdoor seating. In addition to expansive retail and restaurant options, the project will include a daycare, dog park and spaces for food trucks.
To foster a safe and welcoming pedestrian environment, all streets – including those for delivery truck access – will be moved underground. The publicly accessible connections and spaces throughout the site will prioritize walking, landscape and retail rather than cars. Each of the streets surrounding the project will have dedicated entrances that bring bike commuters and visitors directly into the office buildings.
Biophilia – the concept that describes humanity's innate connection to nature – is the inspiration behind the project at large and a special building on-site called the Helix. The Helix will offer a variety of alternative work environments for Amazon employees amidst lush gardens and flourishing trees native to the region. A true double helix in shape and structure, it will feature two walkable paths of landscaped terrain that will spiral up the outside of the building, featuring plantings found in Virginia's Blue Ridge Mountains. Similar to the Spheres in Seattle, the Helix will be open for public tours.