In an era many professionals refer to as the Glass Age, we follow the year of glass with a roundup of some beautiful and eco-centered glass products released in 2023.
Organizations dedicated to the glass-making industry previously united to discuss the scientific and technical breakthroughs in the industry as well as the material's influence on art and history, leading the UN to approve a joint application to declare 2022 as the year of glass. This decision opened the door to focusing more seriously on glass as a prime material for eco-products and eco-constructions. Many benefits of glass point to the medical field, such as the chemically resistant container material for life-saving treatments, and the architecture industry, wherein glass sheets support solar cells to give a clean energy solution and glass fibers are used to produce insulation for homes. 
Yet, we see advantages in the design industry as well: Glass melting is being decarbonized and glass products are being safely recycled. Glass remains crucial for many designers, and we see the material used in many of our daily objects such as tableware and decorations. In fact, many companies are referring to our time period as the Glass Age. Here, we've assembled a few of our favorite glass creations released in 2023 and we discuss the eco-side of their processes.
READ: Murano, Inside a Glass Furnace Factory and the Family Biz with Micheluzzi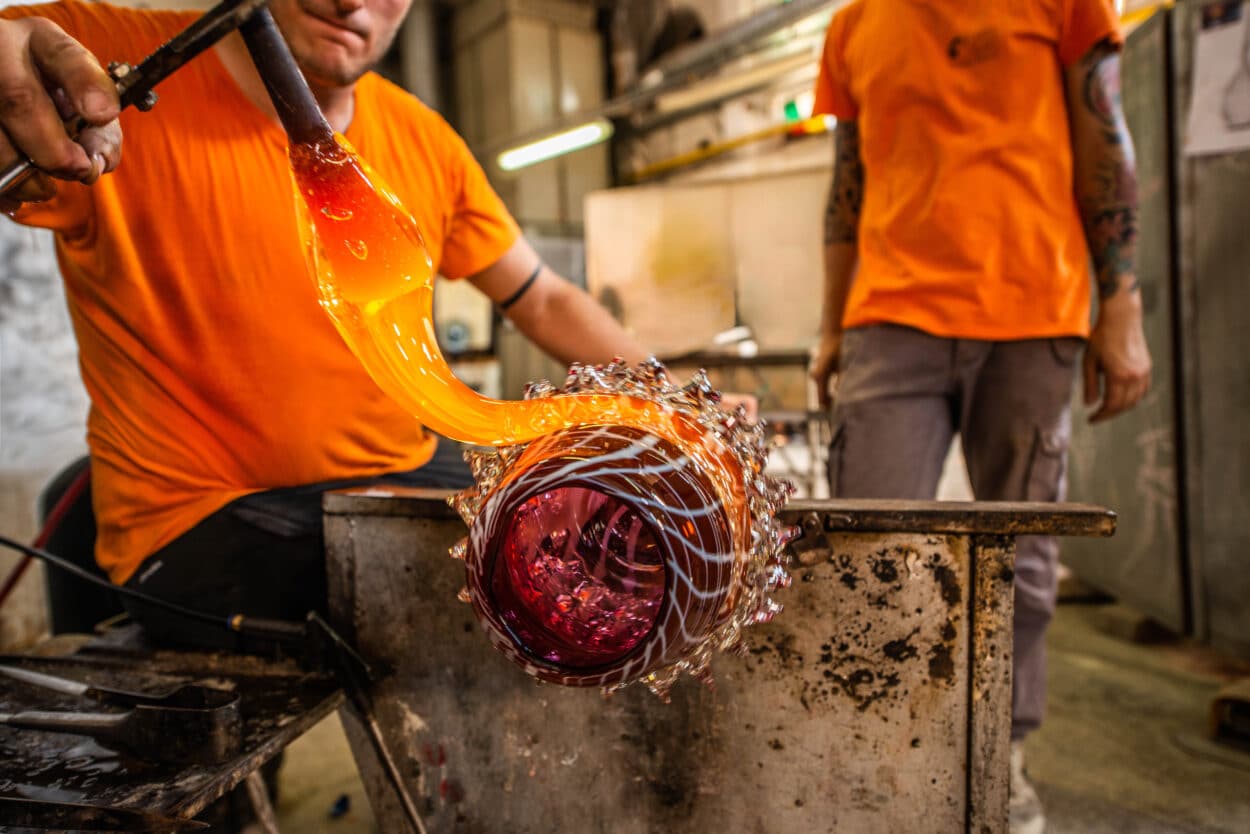 Wave Murano Glass, the Most Carbon-neutral Factory in Murano
At Wave Murano Glass, Roberto Beltrami serves as both the master glassblower and main designer. He frequently works with other brands and interior designers, reveling in the challenge of realizing their glass projects. He's always prepared to suggest alternative solutions to ensure success. Roberto's youth and scientific background allow the team at Wave to create collections that are technically advanced and modern while remaining committed to traditional Murano glass techniques—as we see in the new collection Plume. 
"In addition to our scientific approach, we also employ several unique techniques that set our work apart from others in the industry. One example is our Amorfo technique, which we invented to create mesmerizing light beam optical games that refract and distort light on the surfaces near the object, turning the piece itself into a modifier for its surrounding environment," Roberto Beltrami, founder and glass master, said in an interview with ArchiExpo e-Magazine.
The Plume Vase Collection shows how Murano glass art can have a contemporary twist. Each vase reveals its own unique character, exuding a bubbly energy that plays with the light in any room. Roberto Beltrami masterfully formed the shapes with his skilled hands, providing a testament to the elegance of Murano glass-making in the smallest details.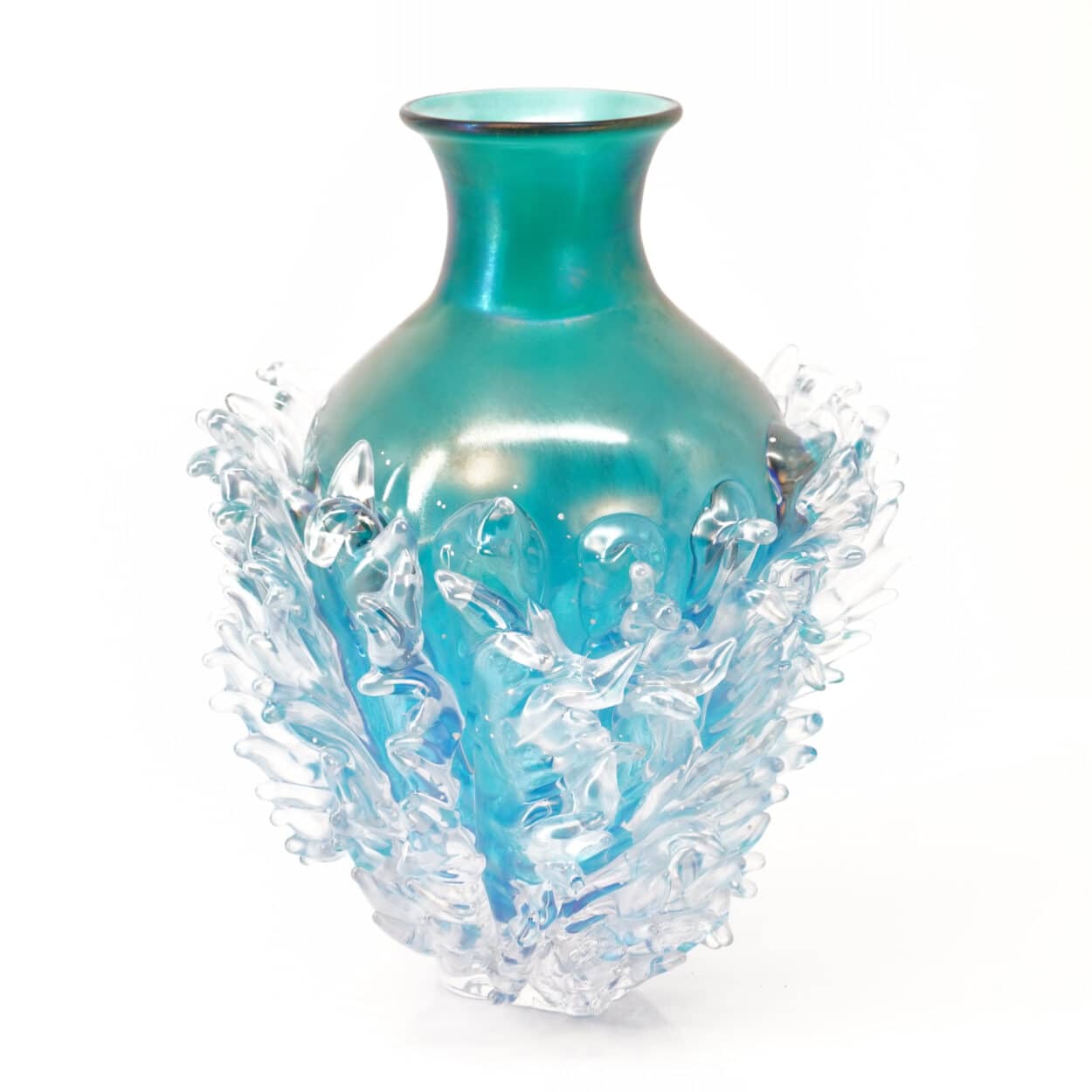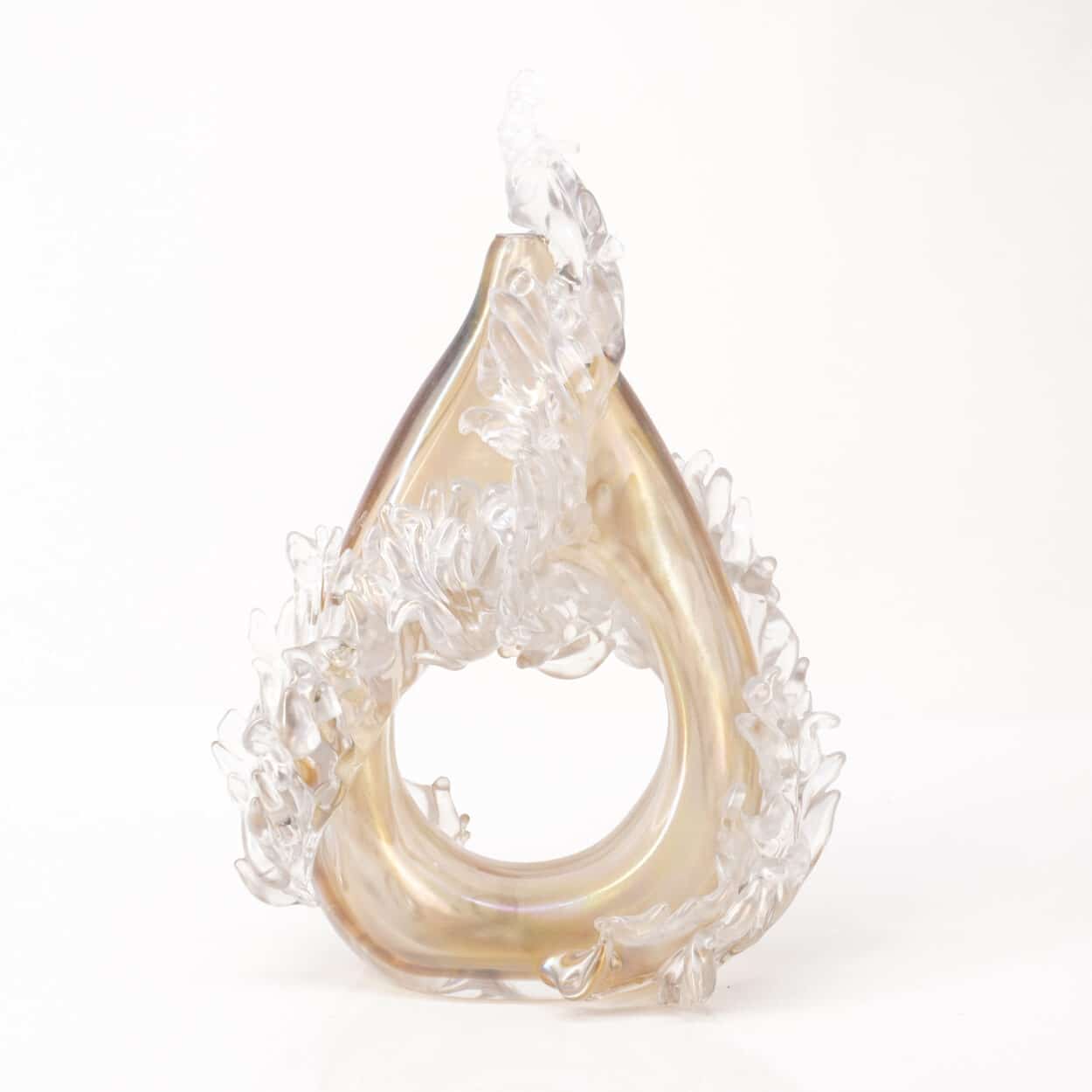 On an environmental note, Wave recycles part of the leftovers in order to create architectural panels and bespoke options they sell in the factory shop and online store. Since glass products are 100% recyclable, glass as a material can enhance sustainability efforts.
"We are also constantly exploring new ways to reduce our carbon footprint, and we have recently installed the first high-efficiency electric furnace in Murano to start the R&D process for decarbonized glass melting. Additionally, we are gradually switching all our furnaces from the classic inefficient Murano furnace architecture to high-tech, advanced American-made gas glass melting furnaces that are 700-800% more efficient. This enables us to become the most carbon-neutral factory in all of Murano."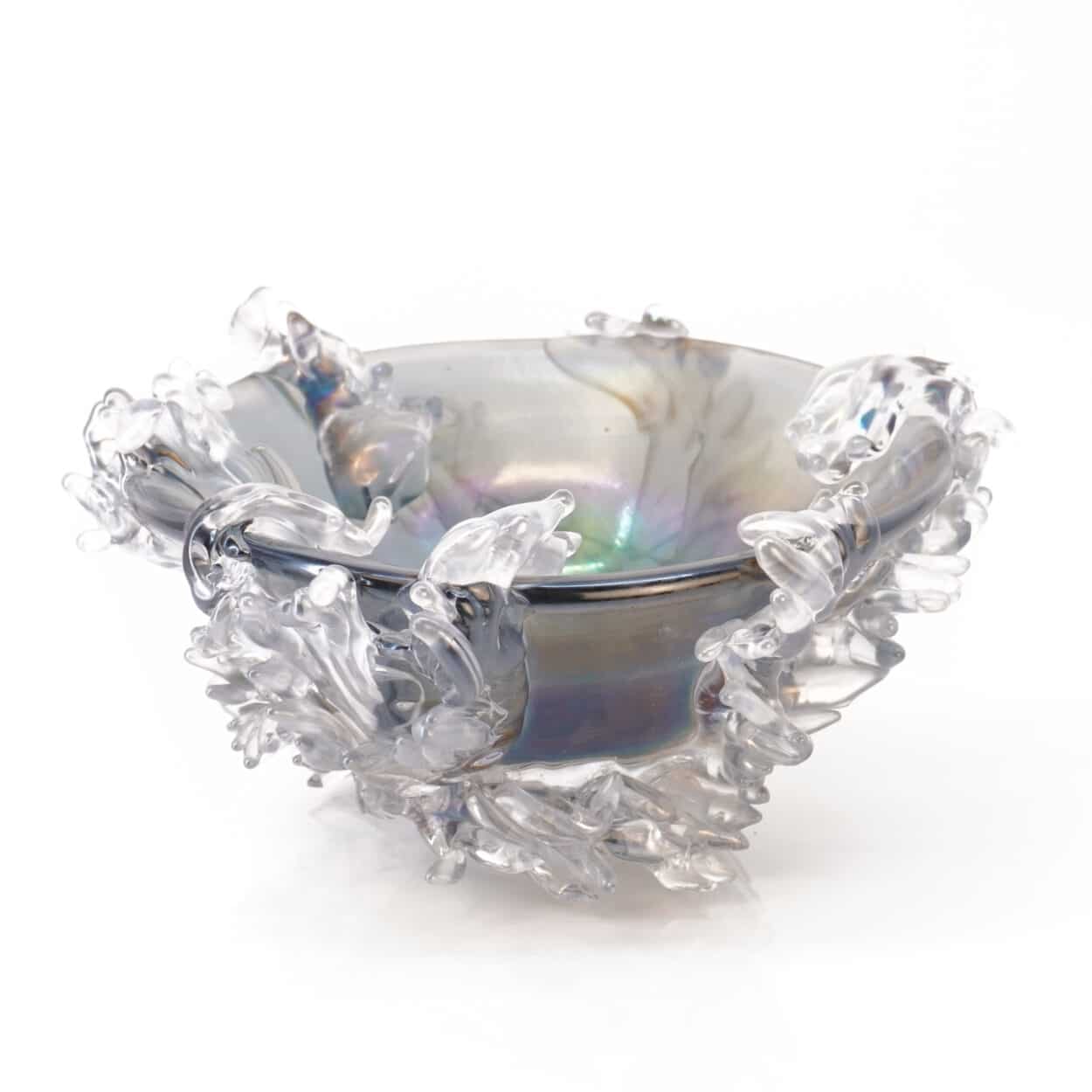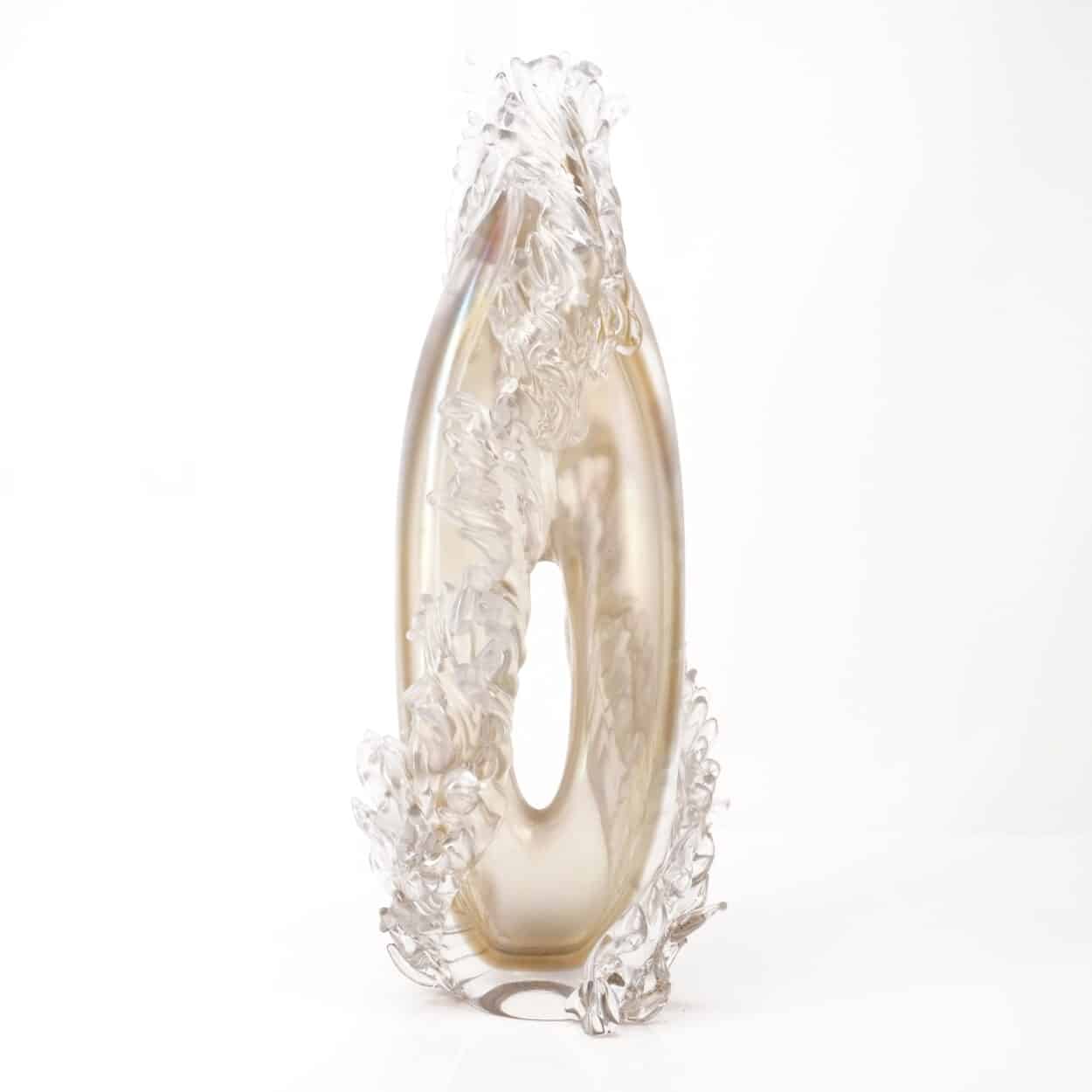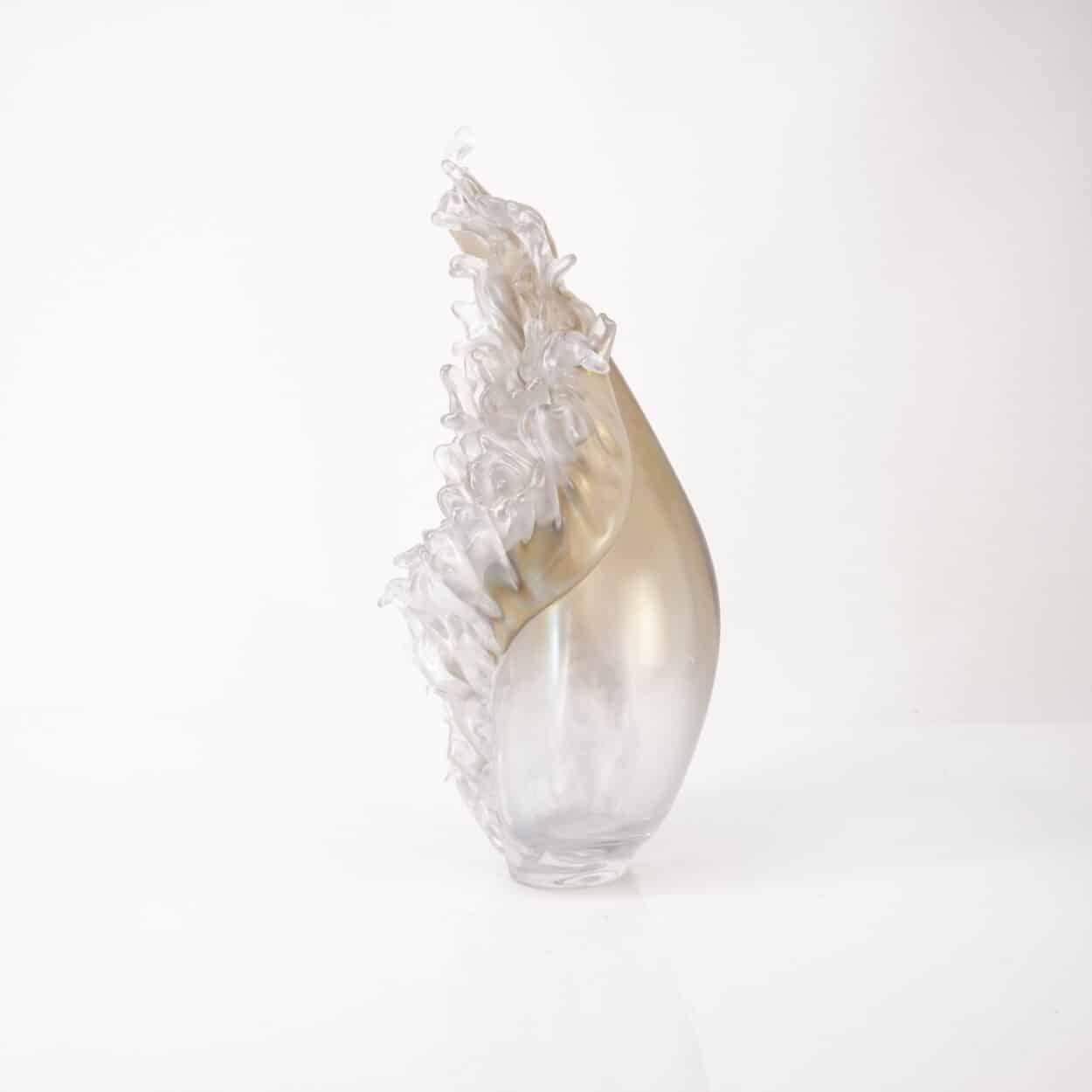 READ: Venetian Glassmakers: New Techniques, AR Tools and Tradition
Mella Vases like Glass Candies by Broste Copenhagen
Since its founding year of 1955, Broste Copenhagen has continuously expanded its portfolio. Today, the brand publishes two collections a year which include products from candles and lanterns to tableware, home textiles and decorative items. The Scandinavian brand not only focuses on interior design but lifestyles, offering tips and ideas to its customers—anything from spring cleaning to new recipes for seasonal cooking such as waffles with vanilla cream and poached rhubarb, yummy. 
On February 1, 2023, the company made its new SS23 collection available. The collection comprises a variety of objects for the interior. While the different vases are beautiful and fit nicely together, the Mella vases resemble candies and remind us of our inner child as we prepare for spring. The Mella vases come in three variations: Taupe Sand, Fairy Pink and Intense Blue.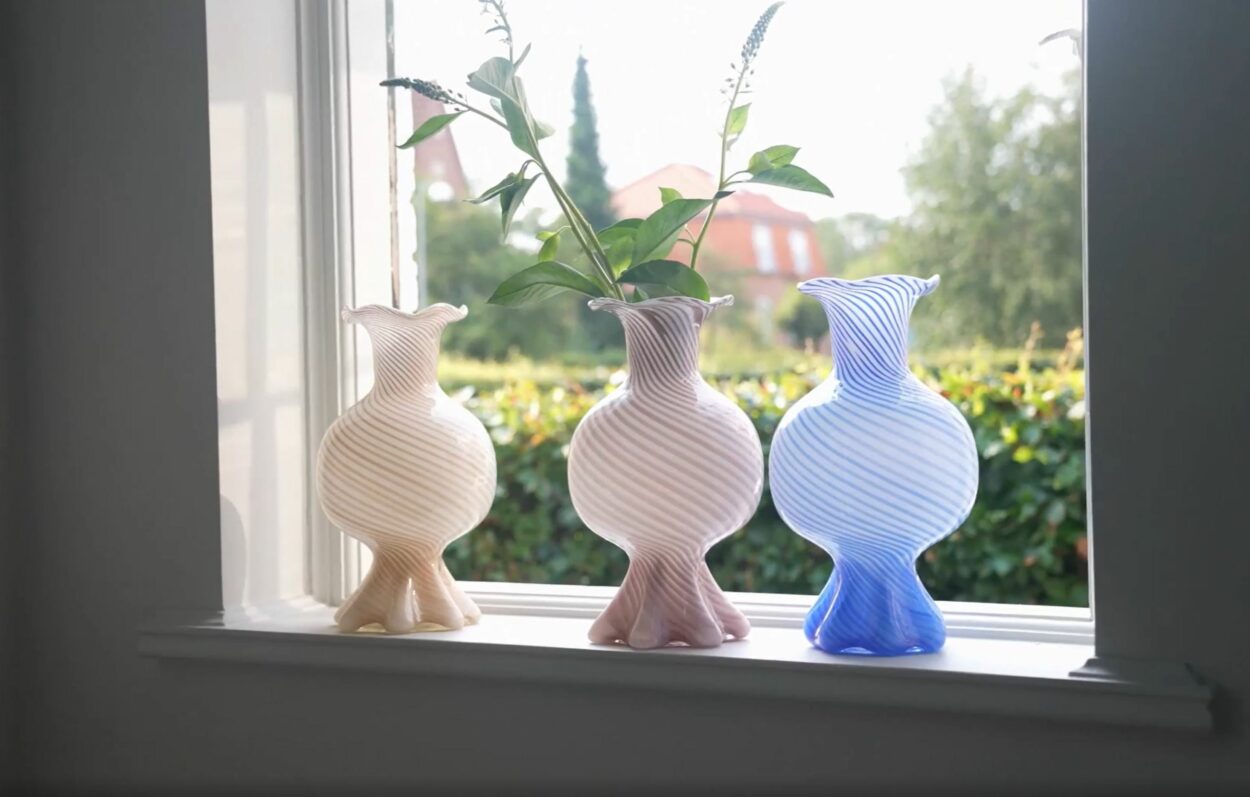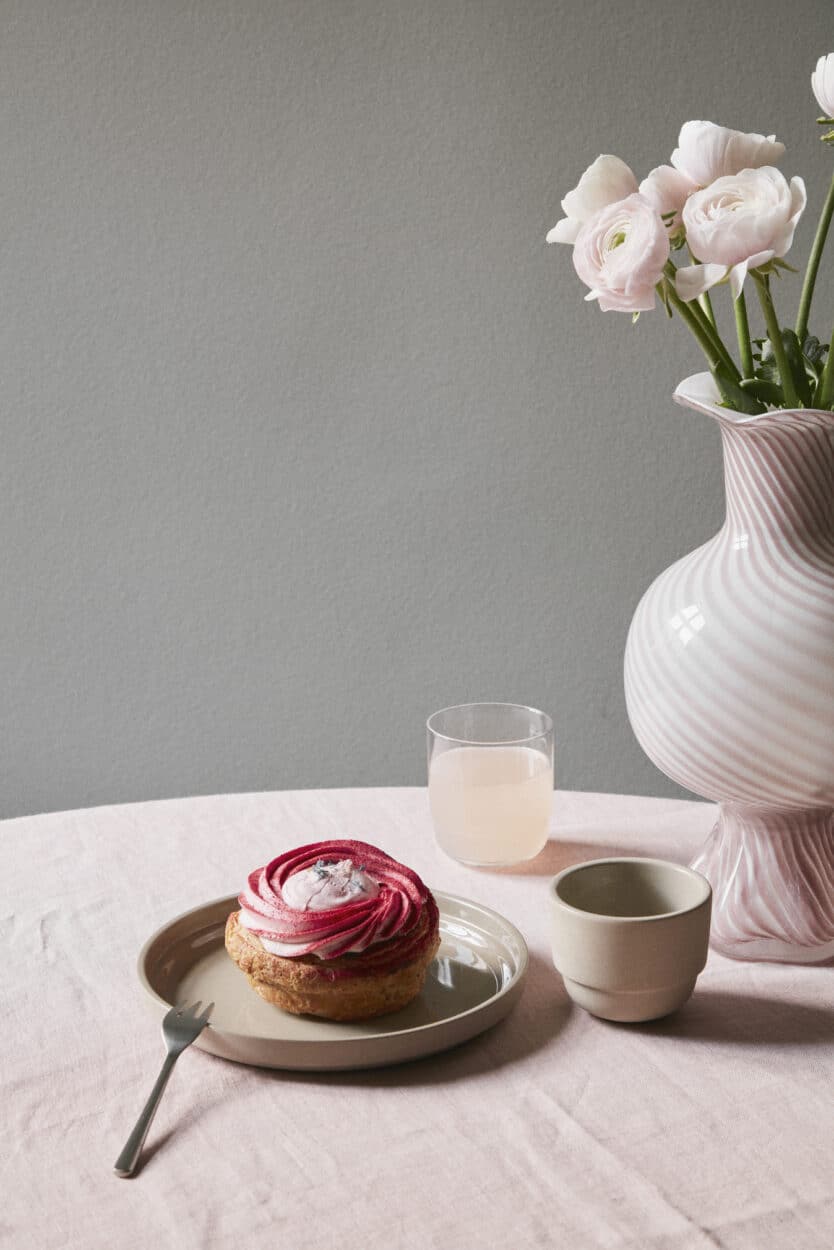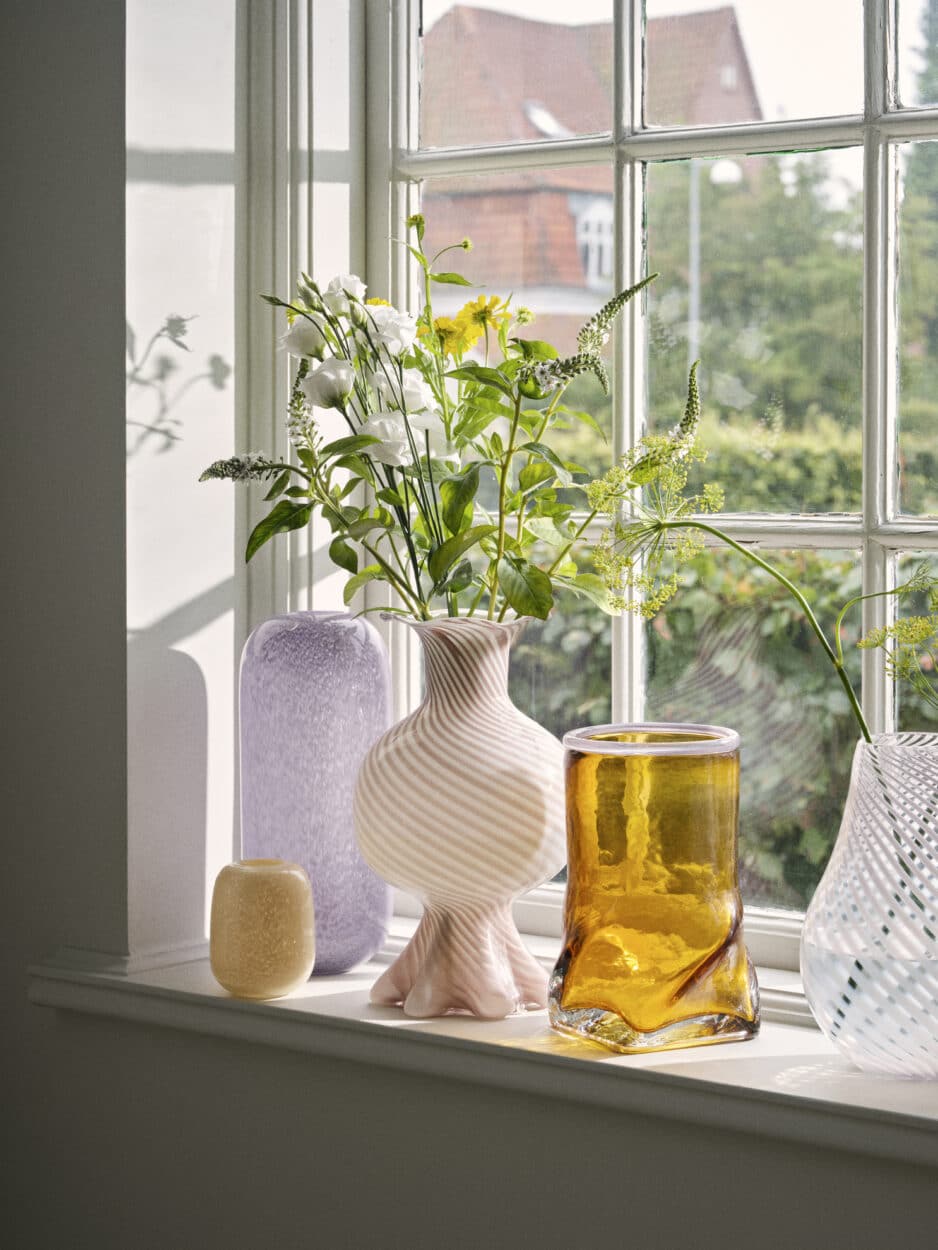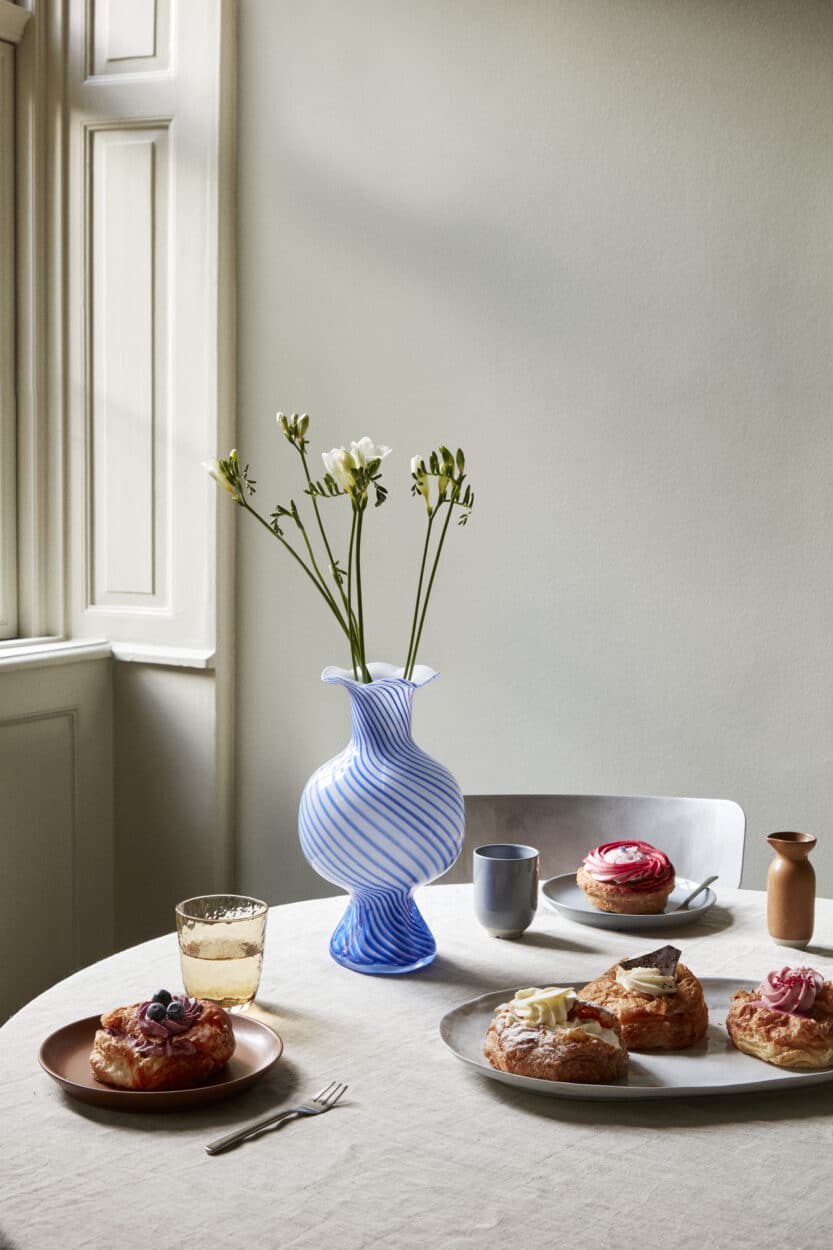 Liquid like Honey, Solid like Stone: Glass Art by Florence Lemoine
French artist Florence Lemoine produces a range of high-end blown glass lamps and objects in her workshop. She collaborates with hotels, restaurants, architects and individuals on tailor-made projects that include installations, chandeliers, lamps, sconces and decorative objects. Each model is made entirely by hand in the workshop in France. Her artistic approach only enhances the exceptional design.
"Transparent as water, glass can be as black as coal. Smooth and soft, it is also rough, sharp. Liquid like honey, it becomes solid like stone. It breaks like nothing or goes through the ages," the artist describes on her website.
"I work with a technique of thermal shock on the glass which is a very well-known and very old technique, only, I push the material a little further than the only surface treatment provided by the cracks. I open my pieces in a singular way as if torn. This technique gives a rather particular aspect to the glass. Putting light on it makes the cracks sparkle and I find this aspect very delicate and very poetic," she said in an interview with ArchiExpo e-Magazine.
In order to reduce waste, she remelts unstained glass in the melting furnace. Transparent glass, she stated, can be recycled infinitely in the working furnace. The rest, however, is discarded.
"Glass is an infinitely meltable material. It's a solid material and is useful in many uses. it is an alternative to plastic when weight or fragility is not an issue."
Recently, she collaborated with cabinetmaker Paul Hauffmann on the Tripod lamp. She asked the cabinetmaker and his team to think about a base for her blown glass lamps with a cracked material effect. They proposed a contemporary suspension with an arch that supports and accompanies the delicate shape of the globe. The solid oak tripod provides stability by framing the globe without hiding it. The power supply is hidden in the structure of one of the three legs. It exists in two sizes: large (HxL 170 x 60 cm) and average (HxL 130 x 43 cm).