As part of the Salone del Mobile.Milano, the SaloneSatellite features design teaching as its theme this year.
Former editor Marva Griffin Wilshire initiated the SaloneSatellite in 1998 as an initiative of the Salone del Mobile.Milano aimed at fostering the relationship between manufacturers and product designers under 35 years of age. Over the years, the event has shown itself to be a very important international launchpad for young designers, and its international character is demonstrated by the considerable sum of 31 countries represented in the 2023 edition.
This year the theme is "Design Schools – Universities / BUILDING THE (IM)POSSIBLE Process, Progress, Practice". It addresses the current question schools and universities in the design field are being asked: Where are you going? The idea is to gather a variety of answers and contributions into a collage of collective ideas, portraying a vision of what design should actually be, and the challenges it faces today.
Since 2010, the SaloneSatellite has featured the SaloneSatellite Award, a recognition of the exhibition's three best projects. Among illustrious former participants of SaloneSatellite in the past two decades are names such as nendo's Oki Sato (Japan), whose work we featured in an article we published in 2018; Lorenzo Damiani, Cristina Celestino, and Davide Groppi (Italy); Patrick Jouin and Matali Crasset (France); Xavier Lust (Belgium); Sebastian Wrong (UK); Pedro Paulo Franco and Ricardo Bello Dias (Brazil); Rodolfo Agrella (Venezuela); Cory Grosser and Sean Yoo (United States); Satyendra Pakhalé (India/The Netherlands), and Harri Koskinen (Finland); along with a long list of industry leaders.
We've made a selection of five participants exhibiting at the SaloneSatellite 2023 who come from five different countries.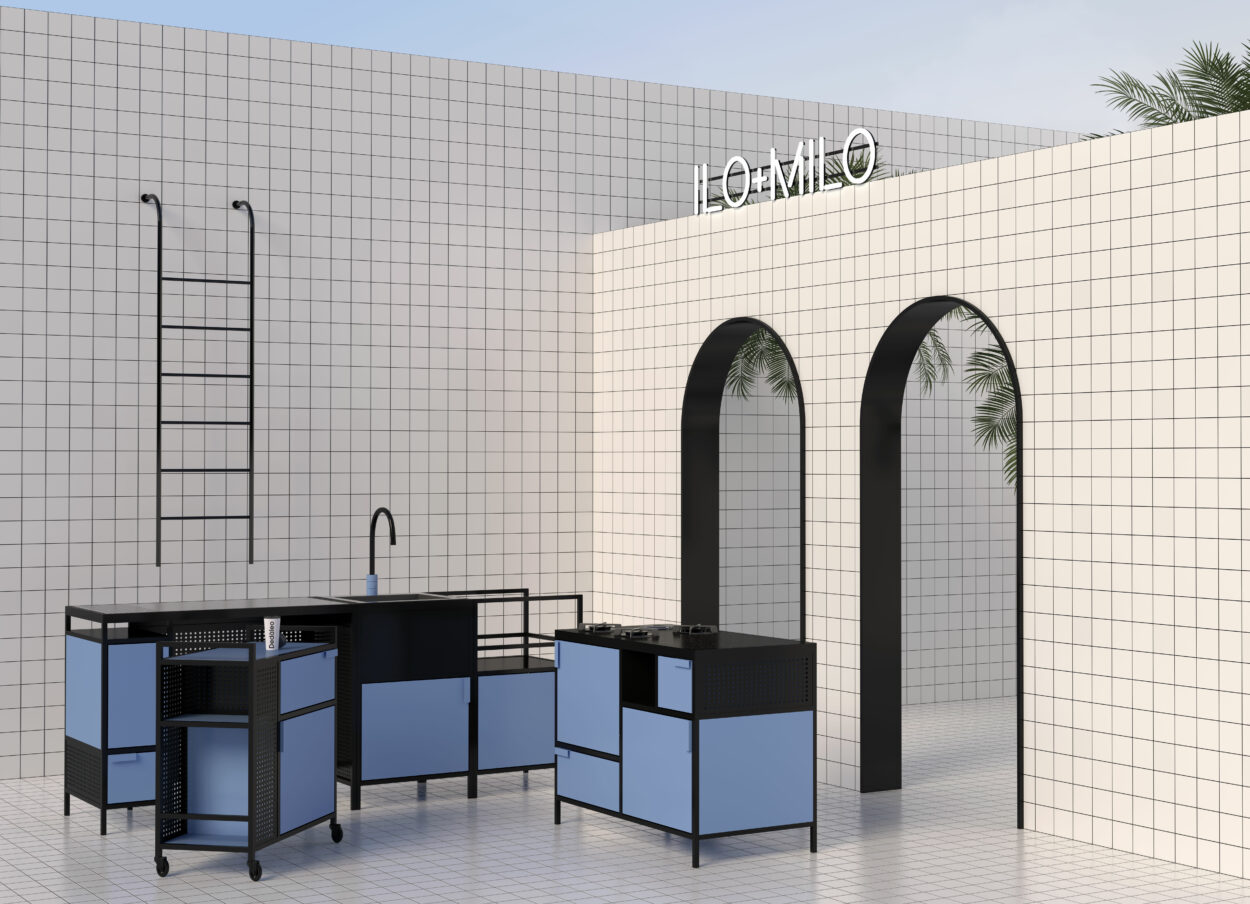 Ntaiana Charalampous
An interior architect who graduated from the Politecnico di Milano, Ntaiana Charalampous divides her work between her native Cyprus and Milan. She is one of the co-founders of the brand Dedàleo which took part of the 2022 edition of SaloneSatellite with a new version of the kitchen furniture collection Ilo+milo of which the original version was first presented at Stecca 3.0 – Isola Design District during Milano Design Week in 2021. The second Ilo+milo won the Special Award at the German Design Awards 2023 – Excellent Product Design in the category Kitchen, and will be exhibited at the next SaloneSatellite.
The series consists of playful Kitchen modular elements and accessories that can be adapted and reconfigured in various layouts to fit the user's needs. The tubular stainless-steel modules come in two different heights and can be freely rearranged. Plus, they include two semi-circular edge units that can be moved away from the other units and form a round table. In addition, the modules can be personalized by choosing different metal panels which can be plain, perforated or corrugated. As well as making use of recycled glass and metal, this enables future replacement of individual panels, facilitating the redesign of function and layout; thus making the series a truly sustainable product. The modules are available to order now and are manufactured by Dedàleo's partner Foster S.p.a., a high-quality specialist in stainless steel.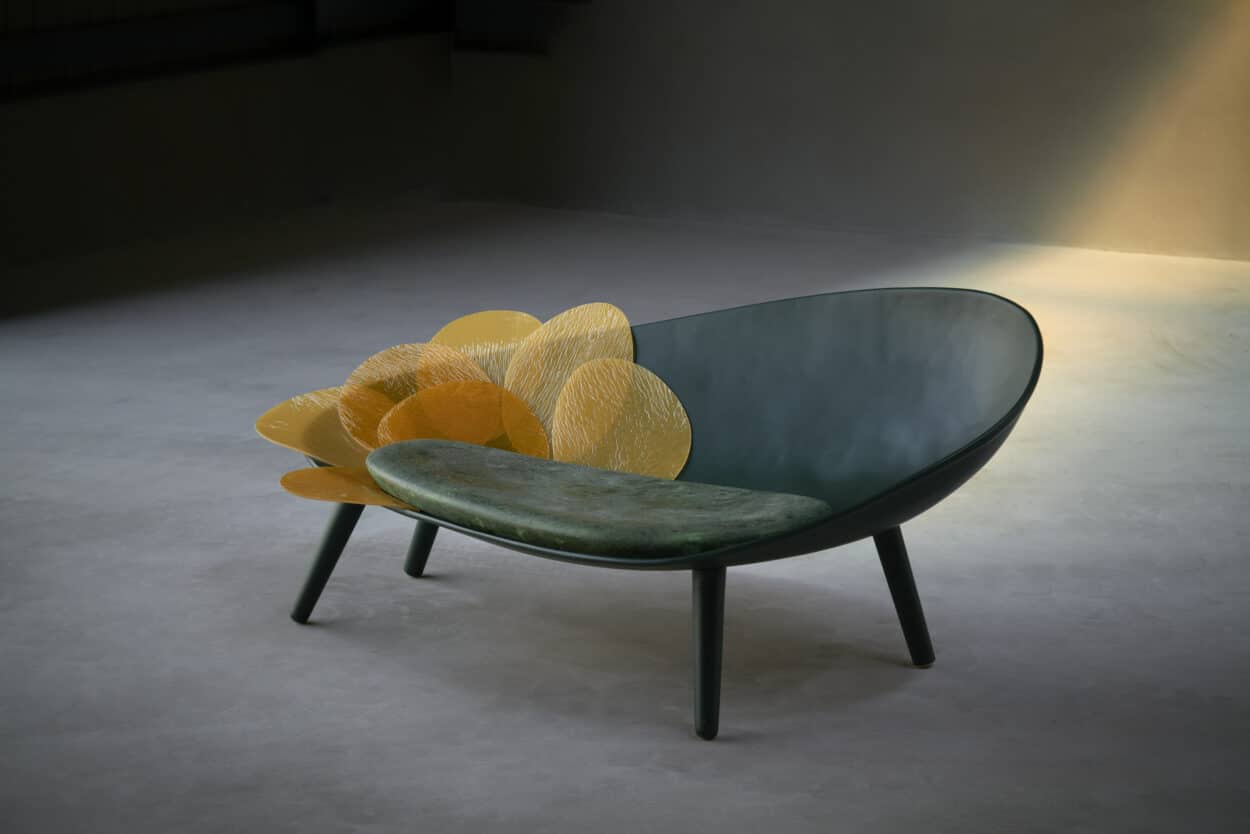 Hideyuki Yamazawa
Hideyuki Yamazawa is a Japanese architect, designer and concept artist whose work is strongly influenced by his country's many natural disasters and high suicide rates. This explains why death and the cycle of life are constantly recurring themes.
Hideyuki will be presenting his Re-generate Life collection at SaloneSatellite 2023. An interesting feature of the series is his use of Generative Artificial Intelligence (GenAI) – a type of AI capable of generating text, images or other media in response to specific prompts. This is something he believes is a valuable asset for the next generation of designers. "Co-creating with Generative AI feels like a new life sprouting from a seed of an idea. It allows me to advance in my design creation at previously impossible speeds" he explains in his press material.
Among the items of this series is the Shi-Tai chair, with which Hideyuki aims to symbolize how decomposition after death creates matter which promotes new life. Inspired by the traditional Japanese Shi-Tai lacquer Craft technique, this chair is made of discarded cardboard and cushioning material, and the paper part is laminated with resin to give it sturdy solidity. The same materials and techniques employed in the Shi-Tai chair are used on the Sprout chaise longue. In contrast, the Brilliance low table is entirely made of resin.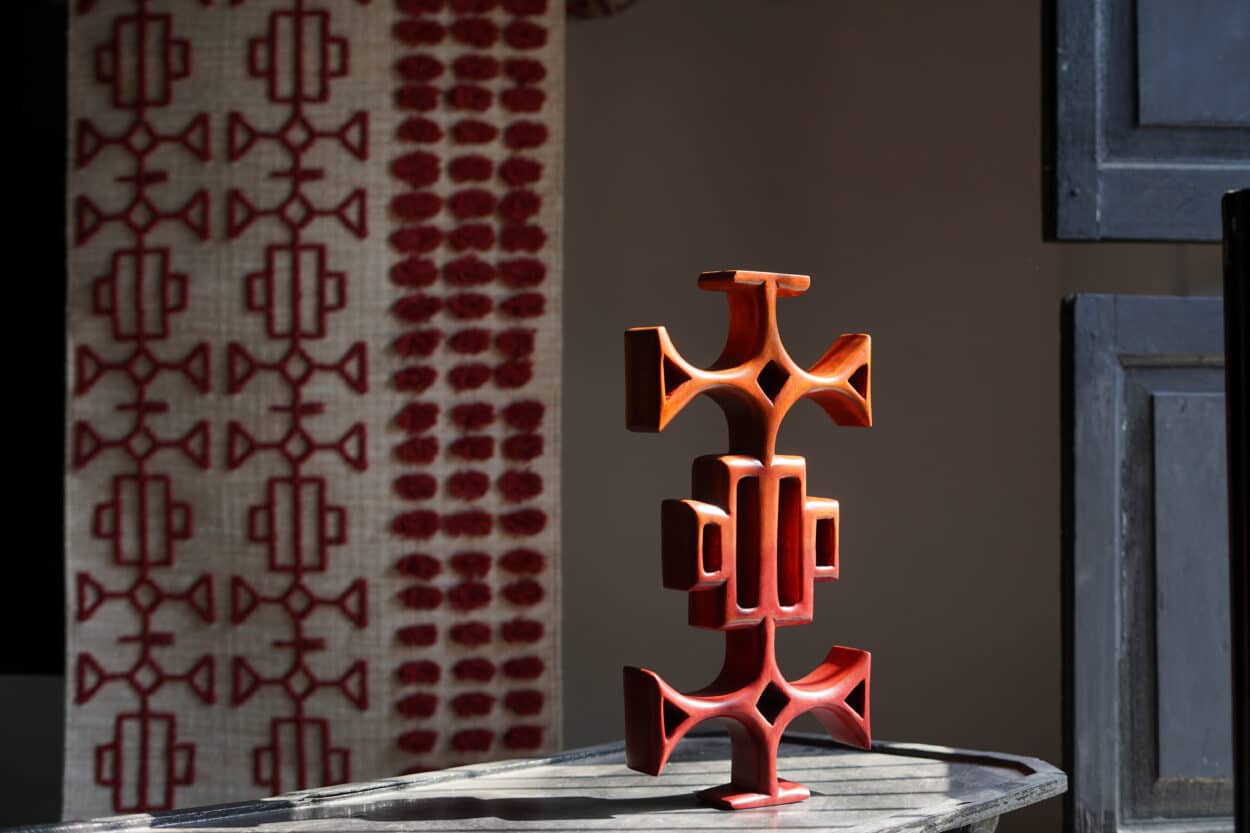 Aashka Shah
The creator of the brand Arisaa, Aashka Shah is from India. Originally a graphic designer, but now considers herself a multidisciplinary designer whose strengths lie in visualization, with a great sense of color. At this year's edition of the SaloneSatellite exhibition, Aashka's work will be represented by her collection Objects of Culture, which consists of intricately woven rugs, sculptural wall pieces and hand-painted wood totems. Her goal with this series is to bridge the gap between traditional and contemporary design and to celebrate the beauty and history of traditional weaving and embroidery techniques from India – or, as she puts it, from the four corners of India. From the East of the country, the Naga Loin loom weave; from the West, the intricate double ikat weaves Patola; from the North, the Phulkari embroidery and, from the South, the Kasuti intricate embroidery.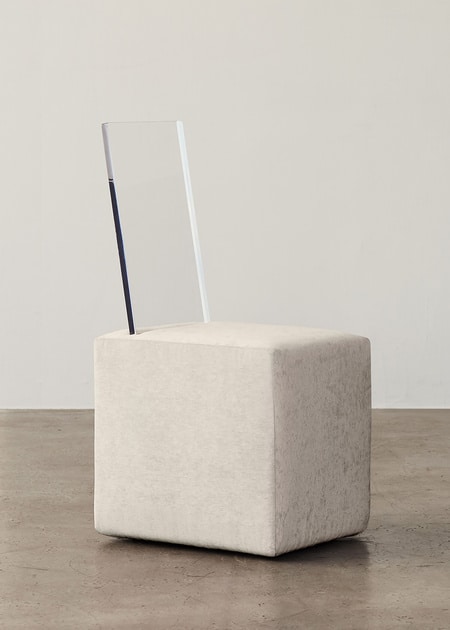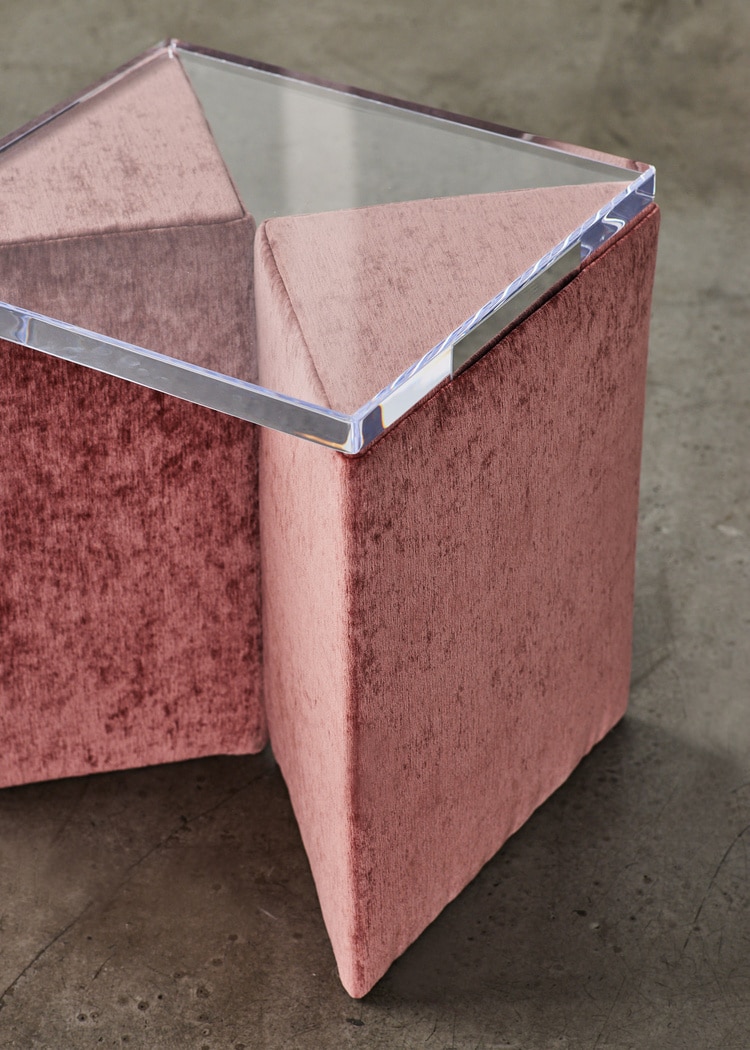 Caroline Chao
Currently based in New York but with roots in San Francisco, Caroline Chao is an American interior architect and furniture designer who has worked for numerous design firms worldwide, including Stanley Saitowitz | Natoma Architects, Handel Architects, Edmonds + Lee Architects, and Skidmore, Owings and Merrill. Now working from her own design studio From: C., she describes herself as "passionate about creating objects and spaces that spark curiosity, encouraging us to more deeply understand our physical environment".
At the 2023 edition of SaloneSatellite, Caroline will be presenting PLAYSCAPE, a curated landscape of selected pieces from the debut launch of her BLOC Collection – a range of mixed furniture that uses familiar geometric shapes reminiscent of children's play blocks, such as cubes, wedges, triangles, and cylinders. These geometric shapes are highlighted by their contrast of materials; transparency versus solidity, softness versus hardness, and textured and imperfect versus smooth and fine. The addition of more unconventional materials such as transparent lucite blocks helps transform these familiar shapes into elevated sculptural objects, while also providing functionality and comfort.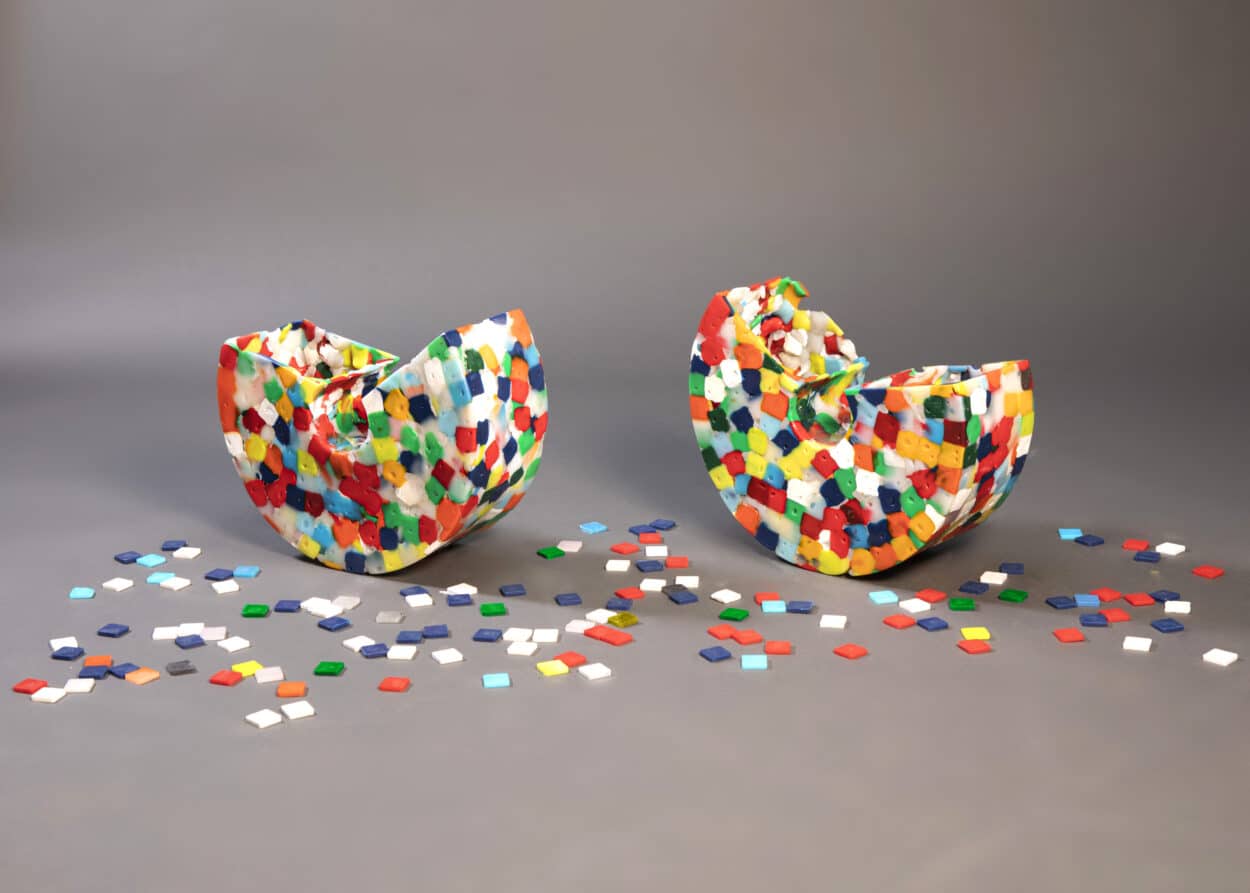 Federica Cammarota
Federica Cammarota is an Italian designer who spent five years working in England as a lighting designer for architectural projects in the hospitality, luxury residential and historic sectors. After returning to Italy two years ago, she set up her own lighting design studio and has lately been expanding her professional attention toward limited production decoration items.
At SaloneSatellite 2023, Federica will be exhibiting three items. One of them is Rock, a desktop recycling bin that has two internal compartments to separate plastic from paper (or recyclables from non-recyclables, depending on the user's needs). Manufactured in Italy, it is made of recycled plastic. The version that will be shown at the event is the Arlecchino, a prototype (there are currently only two examples) of the standard Rock product. While the original piece is either black, white or other solid colors available by request, the rich, multi-colored pattern used in the Arlecchino was originally created by Alessandro Mendini.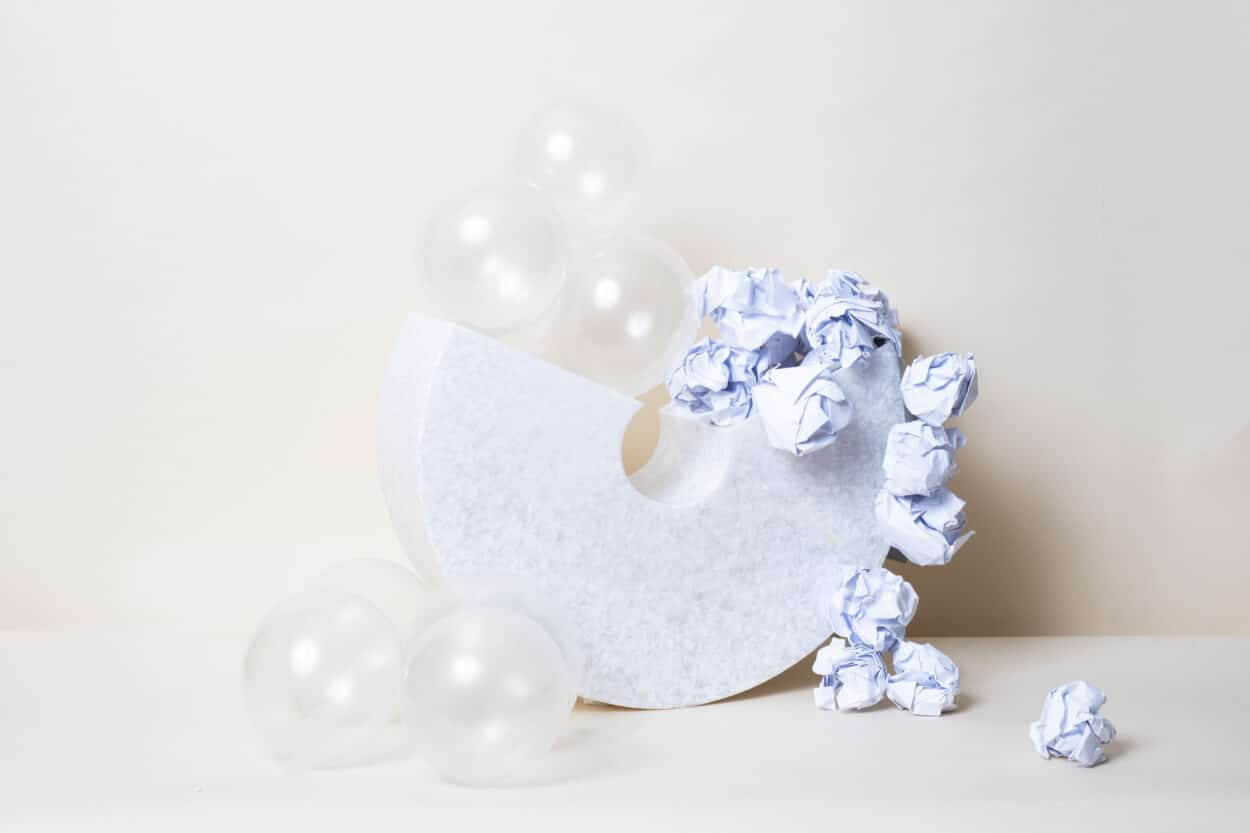 First, Second and Third Prize Winners of the SaloneSatellite Award
April 19, the SaloneSatellite Award jury selected three winning projects and three special mentions. Projects by representatives of different countries of origin and provenance encompassed different geographic latitudes and design approaches. The first prize was awarded to Japan's Honoka for his Tatami Refab, combining reclaimed tatami material and 3D printing. The second prize went to the Hong Kong-based Studio Ryte for its Triplex Stool, made using flax, a sustainable wood fiber. The third prize went to Ahokpe + Chatalin, appearing at SaloneSatellite as Belgium is Design, for their Kudoazò hammock, made from recycled fabric spun in Benin.
The Tatami Prefab project: 3D printing and reclaimed poor materials come together in a versatile project that innovatively reintroduces traditional marks and culture into everyday life and domestic spaces. Tatami is declining year by year. The Tatami Refab Project is a project that re-embeds Tatami into modern life using 3D printing technology.
The Triplex Stool project: From lightweight to efficient structure; compactness to sustainability; the flax fiber Triplex Stool is an experimental furniture piece that responds to the nomadic lifestyle of the current era.
The Kudoazò Hammock project: A hanging bed designed and handwoven in Benin for European interiors. The fabric comes from unraveled yarn from sweaters that end up on African markets, the shape informed by the strip. Conceived in Belgium and produced in Benin from recycled materials, this ancient object is an expression of sustainability channeled by a marriage of traditions and handiwork that breaks down geographical barriers and colonialist aspirations.