HagenHinderael will showcase three products during the Art in the Reading Zone event to feature the latest in 3D printing technologies and emphasize the sustainability achievements of using such technology.
March 5 – June 25, 2022—During the Kunst in der Lesezone (Art in the Reading Zone) show of innovative sustainable product design at the Vorarlberger Architektur Institute in Austria, London-based Design Studio HagenHinderdael (HH) is presenting innovative, cutting-edge product designs.
In line with the event which is running as a series of cultural productions at the intersection of architecture, art and design, the products exhibited by HH highlight the use of 3D printing technologies to create complex three-dimensional design into physical reality, pushing the boundaries of additive manufacturing and sustainable design.
Founded by Sofia Hagen and Lisa Hinderdael in 2020, the duo didn't expect their products to be manufactured entirely from 3D printed technologies but when COVID hit, they focused their attention on researching materials and it opened their eyes to the numerous possibilities. The central point of their brand HagenHinderdael is designing products to be made from repurposed materials, and the 3D printing world has much to offer. Still, they're planning to combine the two – 3D printing and traditional methods – for future designs.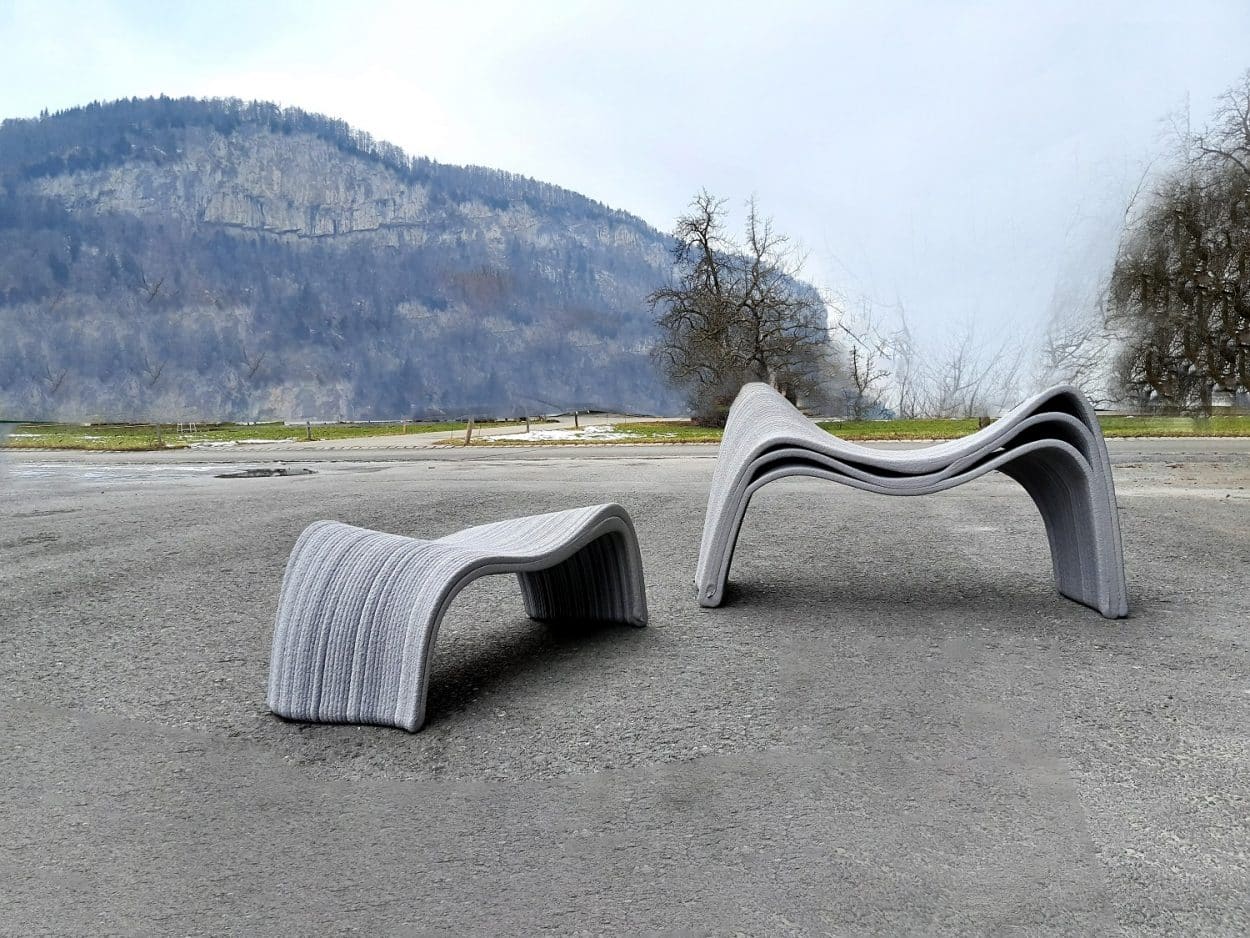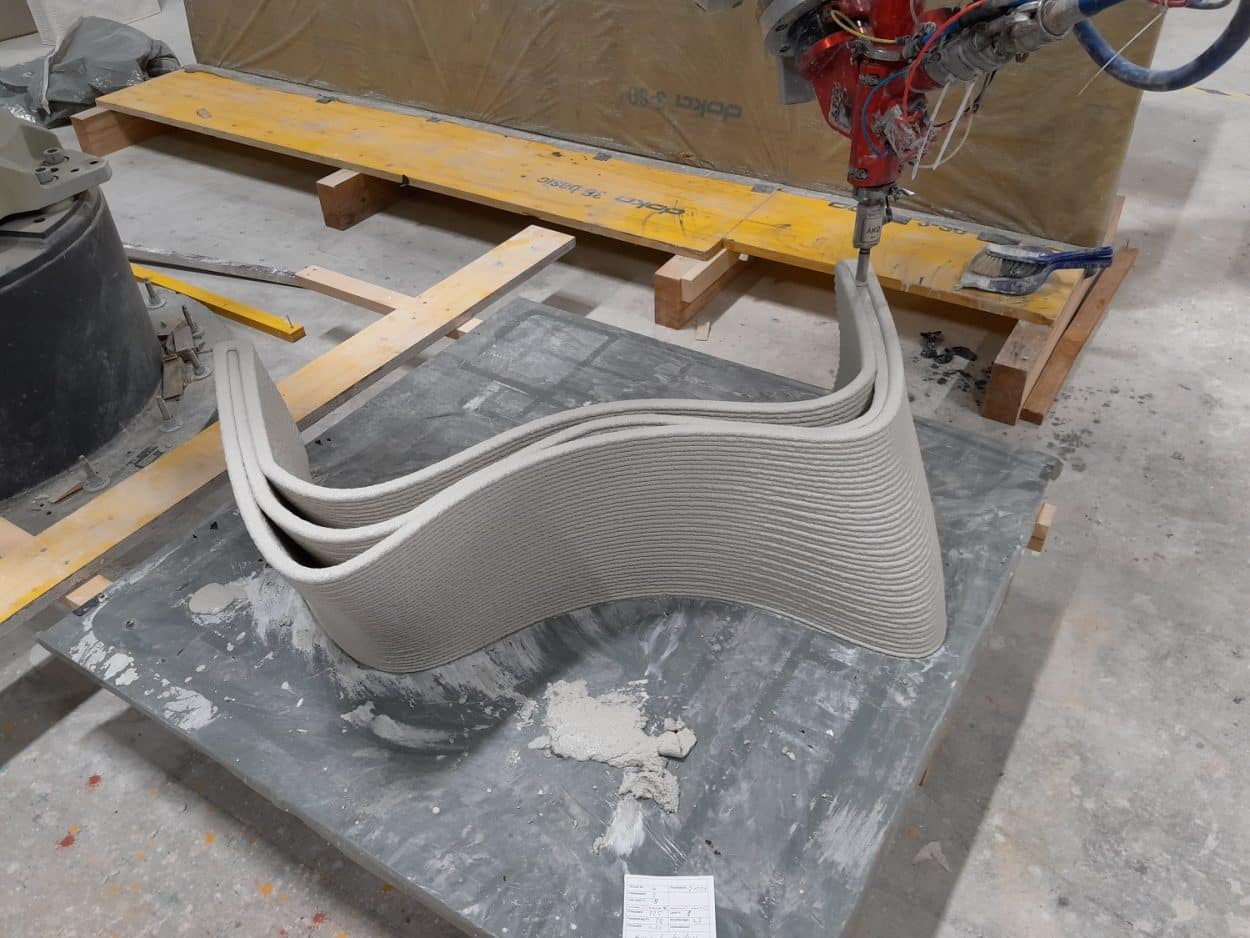 "We were always open to technology but we didn't expect to go this direction 100%," Lisa Hinderdael said in a phone interview with ArchiExpo e-Magazine. "To an extent, COVID is the reason we chose to use 3D printing technologies instead of traditional manufacturing. We first looked at glassblowing and metalwork but with COVID, we couldn't pass the glass between people. We didn't want to hit pause so we looked into other materials and manufacturing to continue putting out our designs."
"We were so fresh during COVID, starting our company during lockdown, that we had time to build our narrative, develop the products and build our portfolio and range. Since we were new, we could be flexible about which direction we wanted to go," Sofia Hagen added.
In under two years, the company can boast of numerous collaborations. Depending on the project, the duo either designs for the market or works on pieces specifically for installations that can remain sur place or later be brought to the market. One of their products for the Dubai Design Week, which took place last November, that they made in partnership with Concreative is now being used as an outdoor furniture piece and is on display at the Minotti showroom in London.
"They're classic but very open-minded," Sofia Hagen said. "They invited us to do a talk about innovative technologies and sustainable materials. We've had our products in the showroom since then."
They begin their product designs with the material research, then identify which 3D printing companies have appropriate printers for the material they've selected to use and the product size they've planned. They're constantly looking for who's working with what materials, Lisa Hinderdael mentioned, and how they can reduce the carbon footprint of their products. When they present their findings to their client or collaborator, the challenge to create commences. From time to time, they might jump the gun on a material not quite ready for the market.
"We knew there was a new hemp material by Reflow coming, so when we showed it to a client, they said they wanted the product we're designing for them made from this material but the material only comes out in the spring. Their product will be one of the first made from it," Sofia Hagen said.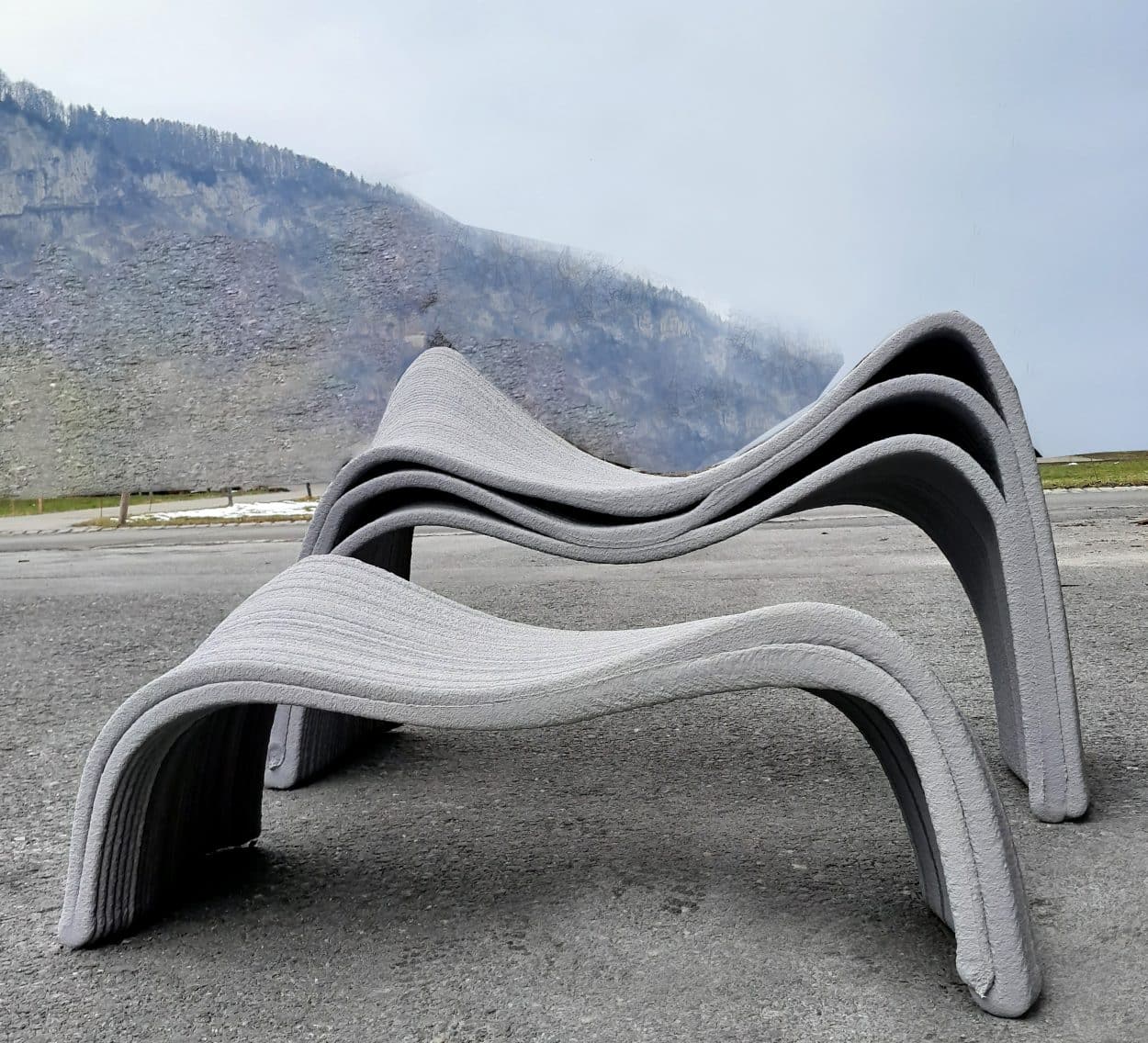 The display in Austria will include the launch of the HH's latest product Contour which is made in collaboration with local 3D printing specialist Concrete3D, alongside Twine which was launched at Rossana Orlandi Milan '21, and the Cocoon light made of 3D printed sawdust. These pieces display how 3D printing technologies can establish an effective methodology for the afterlife of discarded materials, by using a fully recycled and traceable input, making 3D printing sustainable.
"Even for printers, we pushed the limits," Sofia Hagen said. "Twine, for example, is double curved. We don't print that way, usually. Since the shapes are very complex, the company had to decode their software and find a way to regenerate their tool path which was a challenge; they only pick up projects that challenge them. Also, Contour can hold a lot of weight for a small bench thanks to being printed. It can hold 650kg because of the shape."
Contour, a functional bench seating for indoor and outdoor use, is made from 3D printed concrete and designed to reference the mountainous landscape of Voralberg. Organic curvatures are printed layer by layer to reveal the topographical layers of the mountainscapes coupled together to form the seat. The bench comes in two sizes – S and L – that can nestle into one another; leaving a negative space in between to enhance the playful character of the benches. The graphic coloring of the print uses a unique algorithm to print varying gradients of gray. Concrete3D prints the benches with advanced robotic technology that requires no formwork. This solution provides limitless choices in geometry and the ability to create bespoke curvature while saving resources. In the design process, the concrete mixture is optimized to create a material thickness, then tried and tested to ensure structural stability with the least material use possible.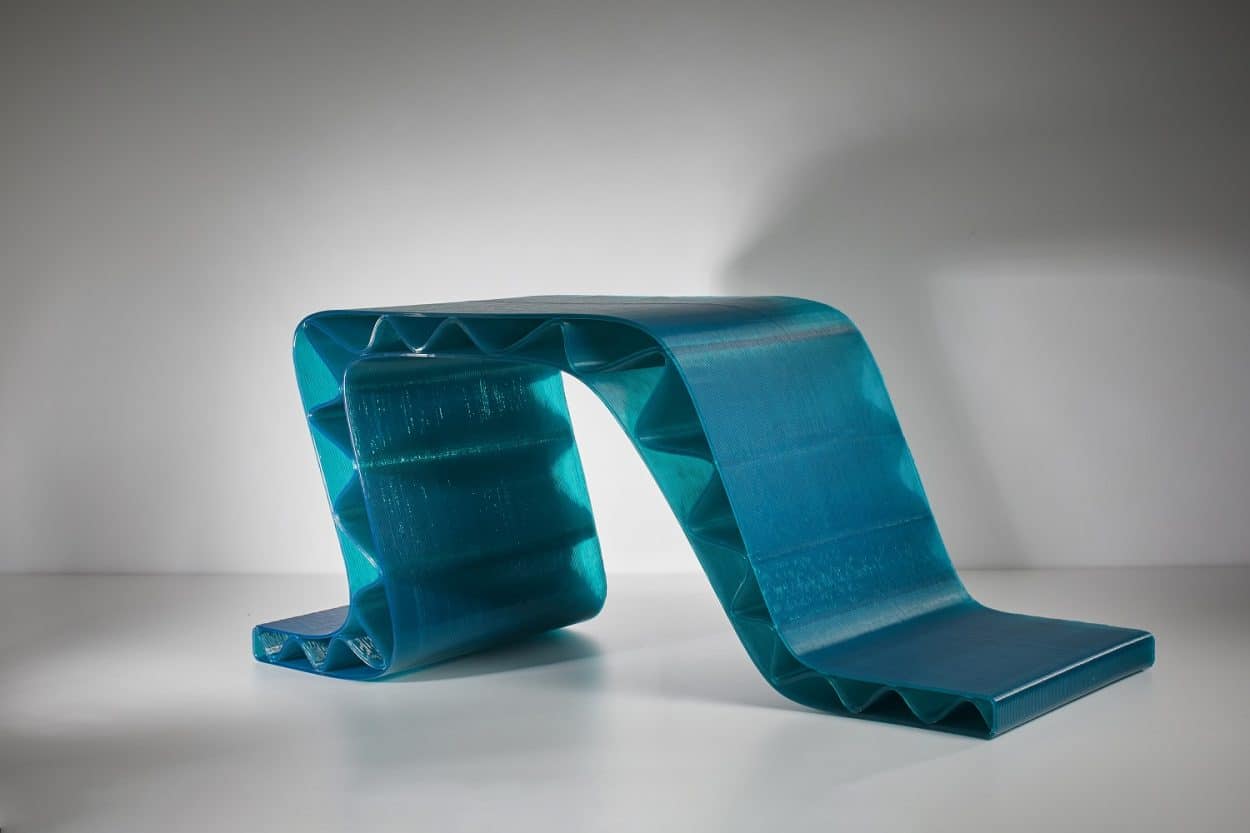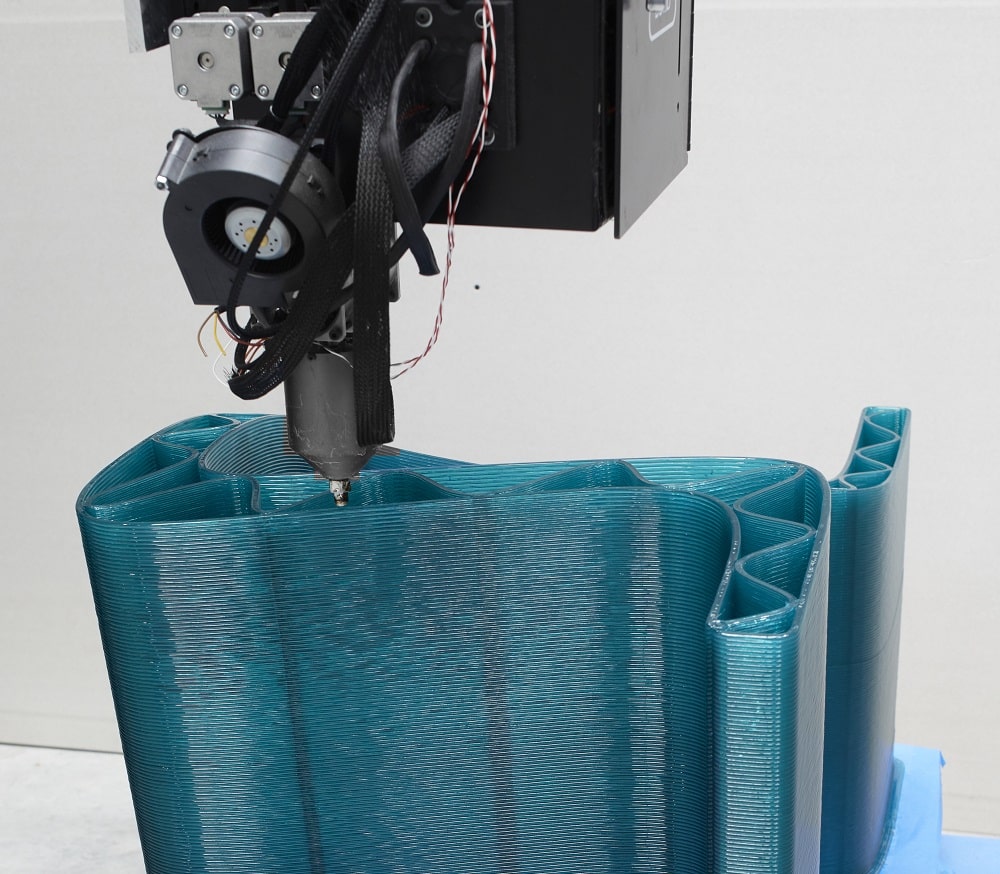 Twine is a series of 3D printed modular urban public seating elements made entirely of r-PETG recycled from medical tray waste, designed for the third edition of Rossana Orlandi Guiltless Plastic campaign. The production of Twine stems from a collaboration between designers HagenHinderdael, outstanding sustainable material supplier Reflow, and award-winning Artificial Intelligence and robotic 3D print developers Ai Build.
The material itself has been extruded by Reflow, a sustainable material development team that works in collaboration with leading recyclers in the EU to extensively test and match discarded material streams to specific design applications from prototyping to architecture, automotive or product design. In the process, Reflow melts and pulls shredded rPETG plastic granules through a number of specific heating zones until the medical tray waste can be winded into filament for high-performance, large-format 3D printing. The filament is heat resistant, weatherproof, and durable for the usage of indoor and outdoor furniture.
Ai Build robotic systems use AiSync software to create conformal tool-paths to print atop a bespoke mold. As the filament feeds through the robotic system, Twine is created. The system can carry up to four varying filament streams, enabling a gradient of transparencies within the elements and unlocking a rich spectrum of color from recycled material.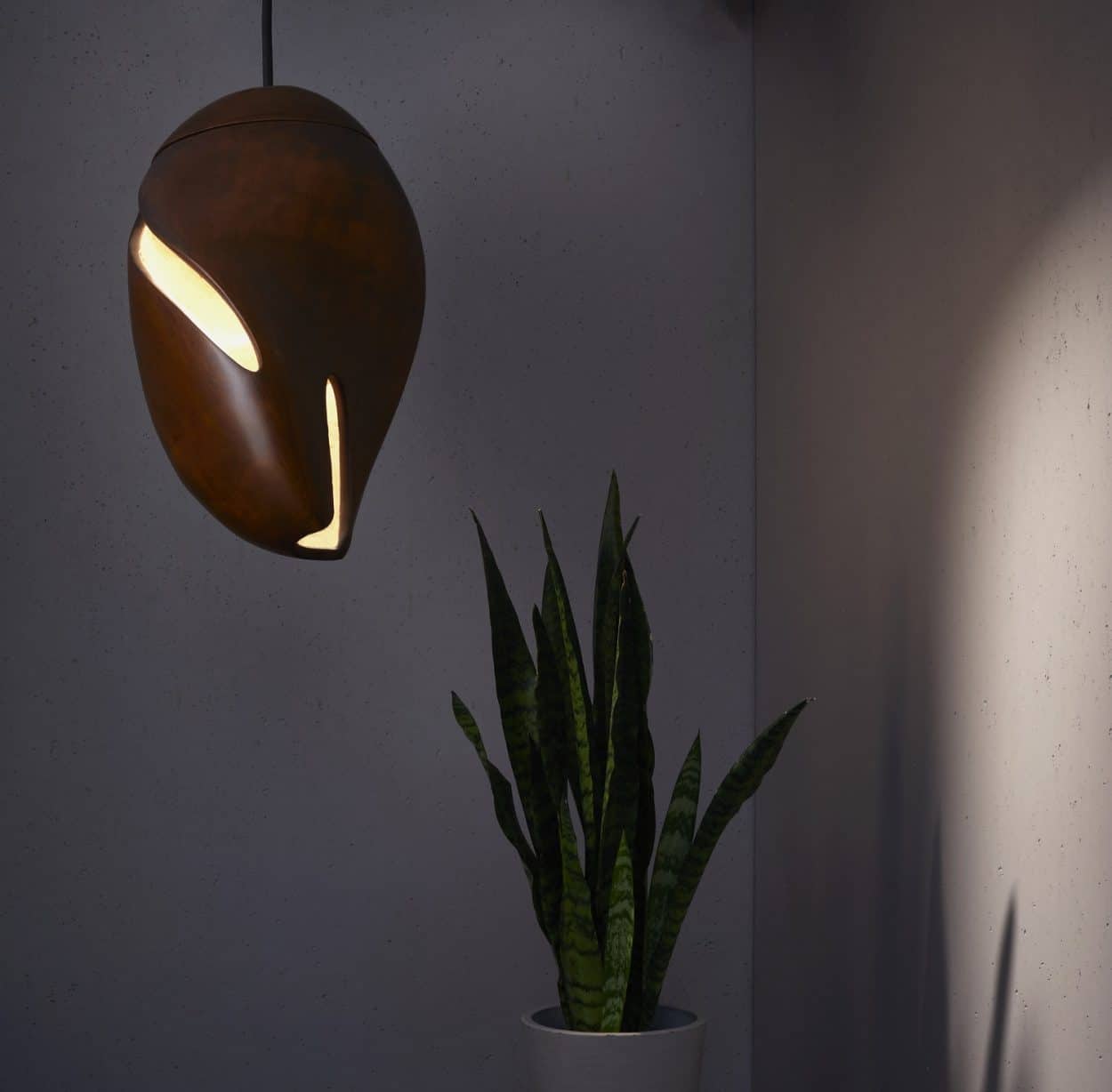 Cocoon is a 3d printed decorative pendant celebrating craft and pushing the boundaries of new and sustainable technologies by transforming wood waste into an organic, technologically advanced light.
A collaboration between designers HagenHinderdael and 3D printing technologists ForustTM, Cocoon is a decorative pendant light celebrating an innovative way to reduce timber waste through rethinking deforestation and the take and make production process. From the form through to its materiality and manufacturing, we sought to develop a product that is not only eco-friendly but fully degradable.
The shell of Cocoon is made of 3D printed sawdust and has been developed in collaboration with ForustTM, a new 3D printing process by Desktop Metal that sustainably produces functional end-use wood parts through high-speed manufacturing, using methods that are non-destructive to our planet's ecology. It comes in two typologies each with its own unique shape. Using ground-breaking 3D printing technology, layers of powdered wood are bound together with lignin into a 250mm (w) x 460mm (h) Cocoon. Once out of the printer, each piece is carefully hand-stained and finished. In this process, there is also the opportunity to finish Cocoon in a wide variety of wood species including natural, oak, teak, and walnut.
---
MELIKE ALTINISIK ARCHITECTS
MAAGuests Live Talks Series
How can a multi-disciplinary design practice push the boundaries of additive manufacturing, craftsmanship and earth-centric design? We will be discussing a variety of projects and topics which introduce 3D printing as an innovative family of technologies that translates any complex three-dimensional design into physical reality, whilst merging it with traditional fabrication methods and groundbreaking material research.

JOIN US ON FRIDAY
25.02.2022
2:00PM GMT