This year's event breaks away from the history of Western art with the majority of the participating artists being either female or gender non-conforming, many of whom are non-western. With such a wide variety of talents from all walks of life on a more global scale, the curator hopes to build connections between artist methods.
The Venice Art Biennale ostensibly is about fine art, but this year's revolutionary show, titled the Milk of Dreams, breaks open the genre by incorporating materials, methods and forms that in modern times have traditionally associated with the worlds of design and craft. Along with paintings and sculptures, the traditional media of high art in modern times, an extraordinary amount of work in this year's show features textiles, ceramics and costume design.
One of the reasons behind the shift in sensibilities is that there is a major change in the color and gender of the people exhibiting in this year's biennale. For the first time in the show's 127-year history, the biennale is including a majority of women and gender non-conforming artists and it also is incorporating what is probably the largest group of non-western artists that have ever exhibited in this exhibition or in any international art show. It is a "choice that reflects an international art scene full of creative ferment and a deliberate rethinking of man's centrality in the history of art and contemporary culture," writes the Biennale's curator Cecelia Alemani, and she identifies a new curatorial approach that "traces kinships and affinities between artistic methods and practices, even across generations, to create new layers of meaning and bridge present and past."
Certainly, when one looks at the history of Western art during the latter part of the 20th century, it's incontrovertible that art Institutions and cultural gatekeepers marginalized women and non-Western artists. Take the dominant American postwar painting style, Abstract Expressionism, which was considered a boys 'club where male critics and artists ruled the roost and women were accorded second-tier status. Lee Krasner is now considered one of the preeminent Abstract Expressionists, but in the 1950s she was only grudgingly acknowledged by art powerbrokers, "This is so good you would not believe it was done by a woman," the prominent artist and critic Hans Hofman quipped about a Krasner painting at the time.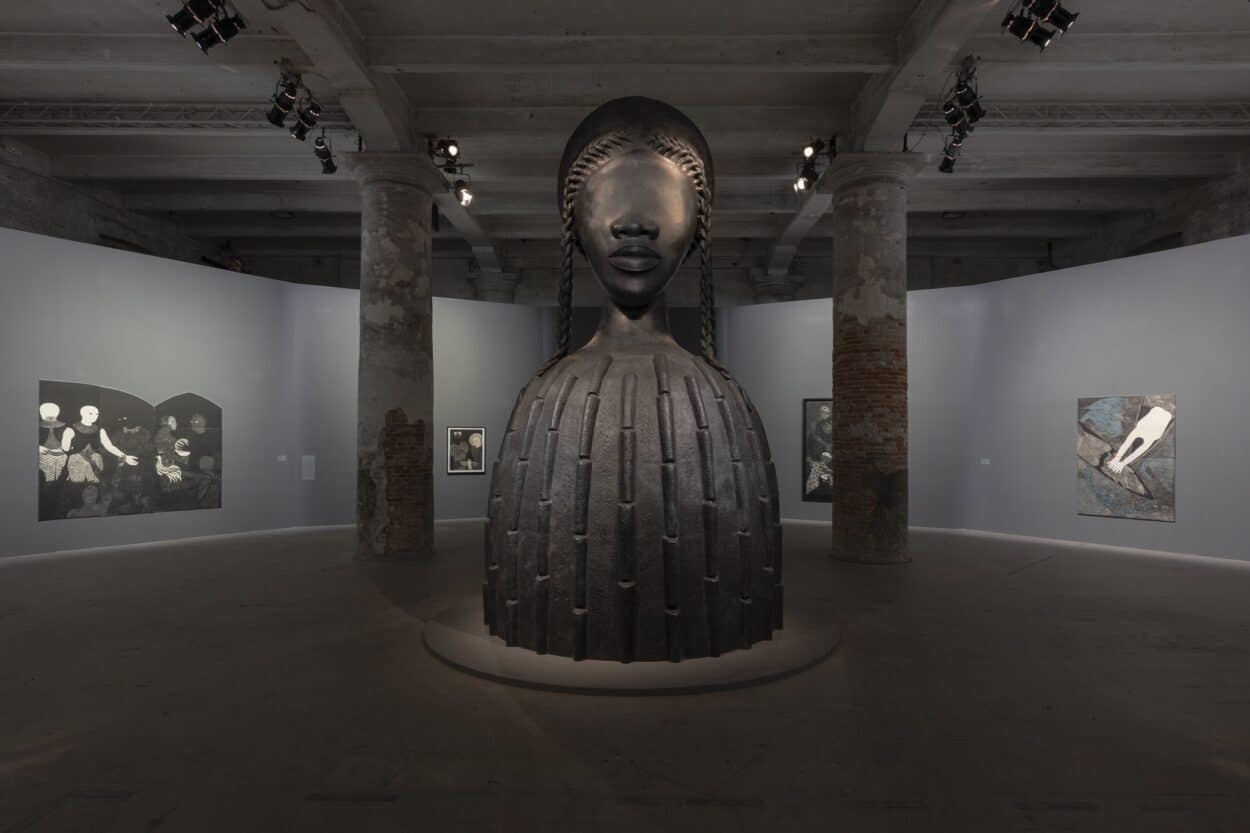 Although women and indigenous artists were typically relegated to the sidelines within the precincts of High Art, they generally were accorded much more success if they worked in media further down in the hierarchy of arts that existed at the time, such as ceramics and weaving. These prejudices have been exposed and addressed in recent seminal shows such as the 2015 Pathmakers: Women in Art, Craft and Design, Midcentury and Today at the Museum of Art and Craft in New York.
But now thanks to Alemani, contemporary artists working with textiles and pottery and other non-traditionally high art materials are being celebrated front and center at the most prominent art show in the world and the boundaries between craft and art have been definitively demolished.
Probably the most celebrated artist at this year's biennale is the African American artist Simone Leigh whose bulbous bronze figure called "Brick House" sits at the entrance to the main group show at the Arsenale and who is also the subject of a one-person show at the American Pavilion, where she was the first African American woman to represent the U.S. in the history of the Biennale. Leigh won the Golden Lion award, the Biennale most prominent prize, for Brick House, which is part of her Anatomy of Architecture series. The work shows ahead of a woman with a tribal hairdo towering above a bulging skirt that looks akin to an adobe building and can be interpreted as referencing African indigenous culture.
Leigh came to fine art through the world of ceramics and actually spent the first part of her career working on clay water pots. In both the material and her subject matter she was celebrating a new socially engaged feminist ethos that is more marked than anything from major 20th Century art movements dominated by men. It "was a kind of perfect form," she said of her early clay water pots in a recent interview in The New Yorker magazine, adding, "it was something women had been making all over the world for centuries, this anonymous labor of women."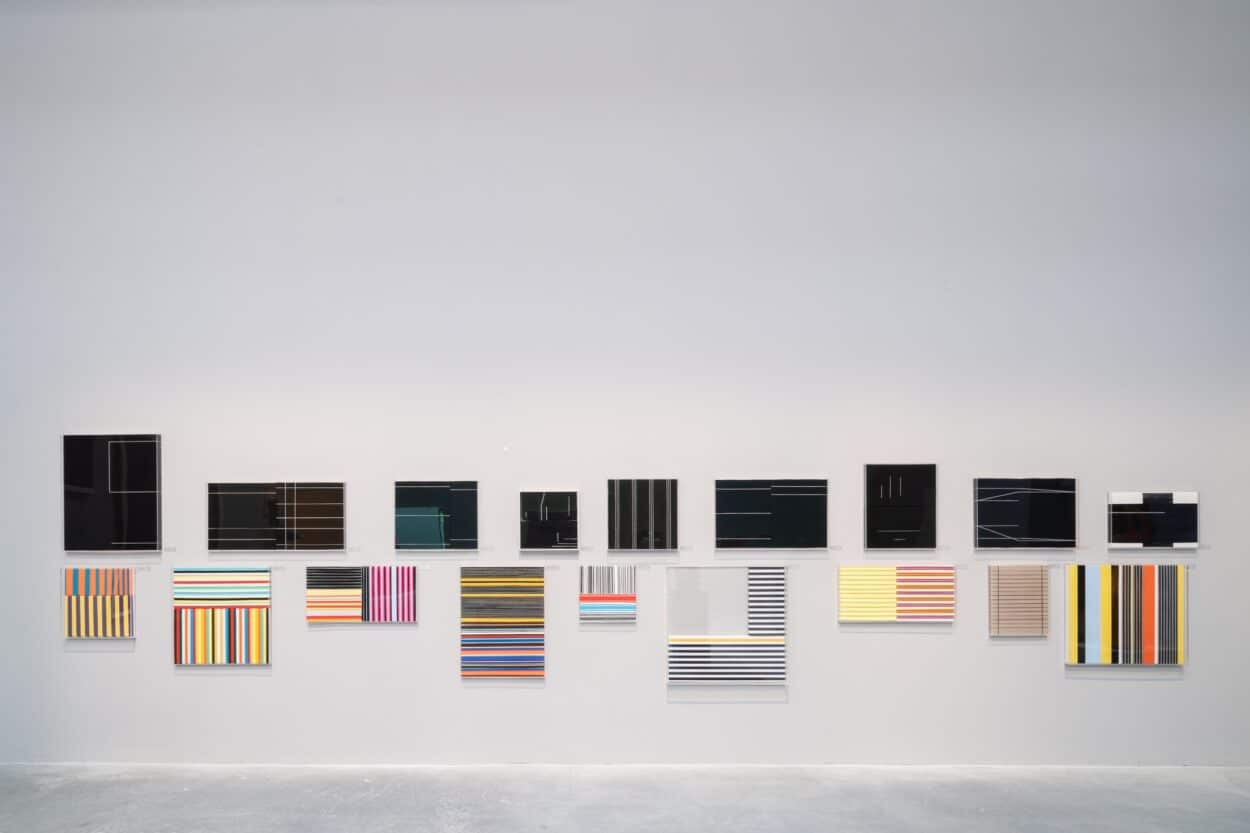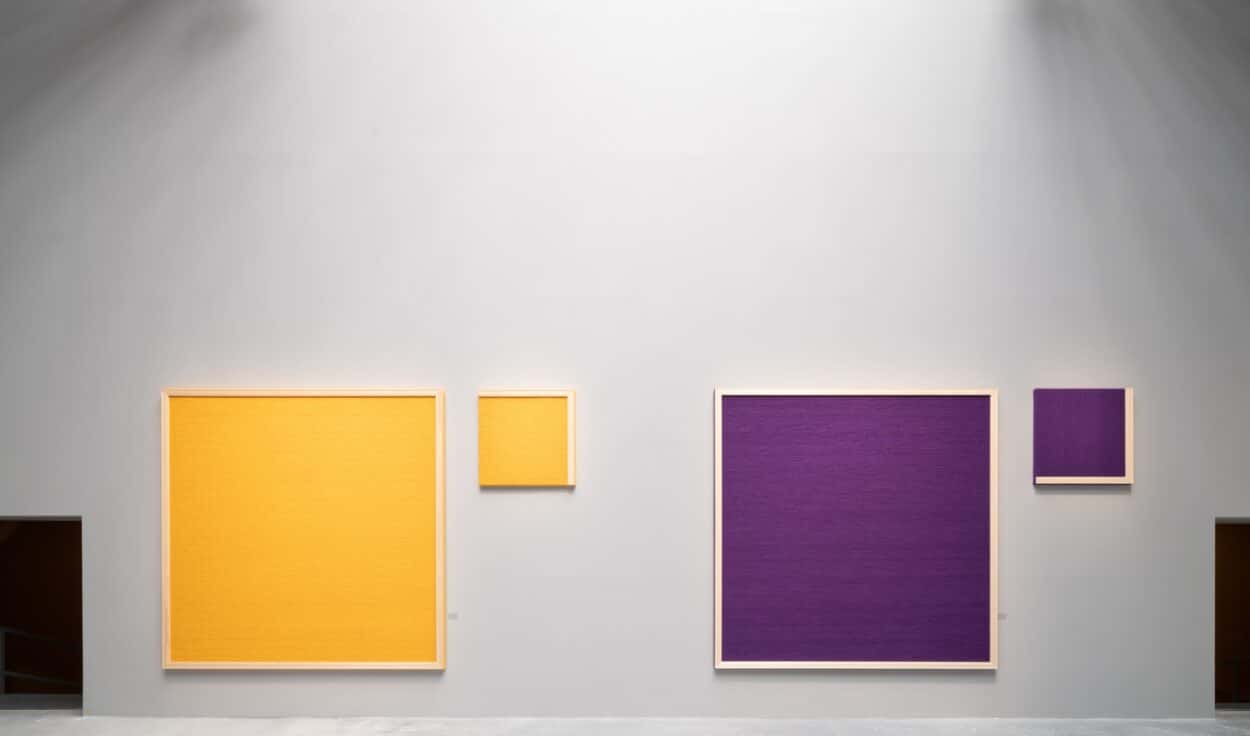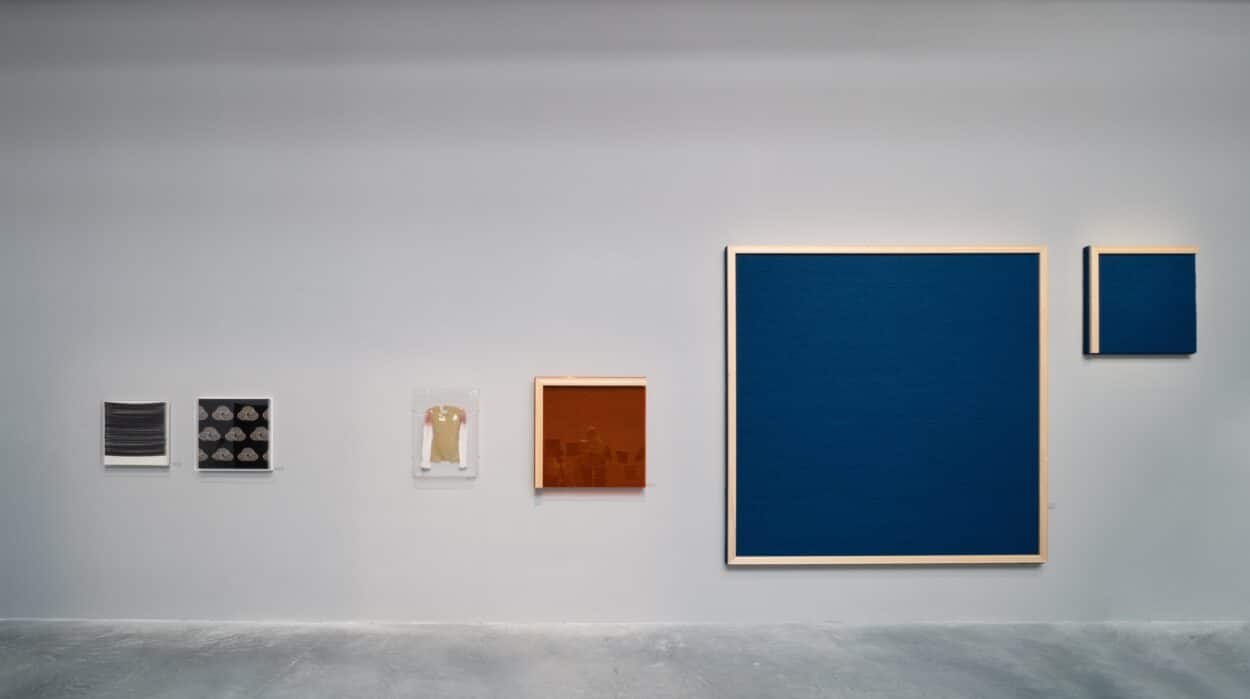 Another example of a craft artwork with a feminist agenda in this year's biennale is "Same Different" a large framed yellow color field "knitted tapestry" by the German artist Rosmarie Trockel that from a distance looks like a painting. In the catalog for the Biennale, Trockel's work is described as expressing, "The artist's sharp engagement with questions of 'women's work' and the devalued status of craft in the context of an increasingly mechanized society." 
One of the most striking aspects of some of the craft-oriented artworks on display in this year's Biennale is the strange and otherworldly forms that they can take. One example of the knotted spectral sculptural figures by Indian artist Mrinalini Mukherjee who produces here work with various traditional weaving methods that are related to the Arab hand-knotting technique of macrame. Mukherjee's rope sculptures are hued in vegetal oranges, yellows and purples and their organic flowing shapes look sensuous and mysterious.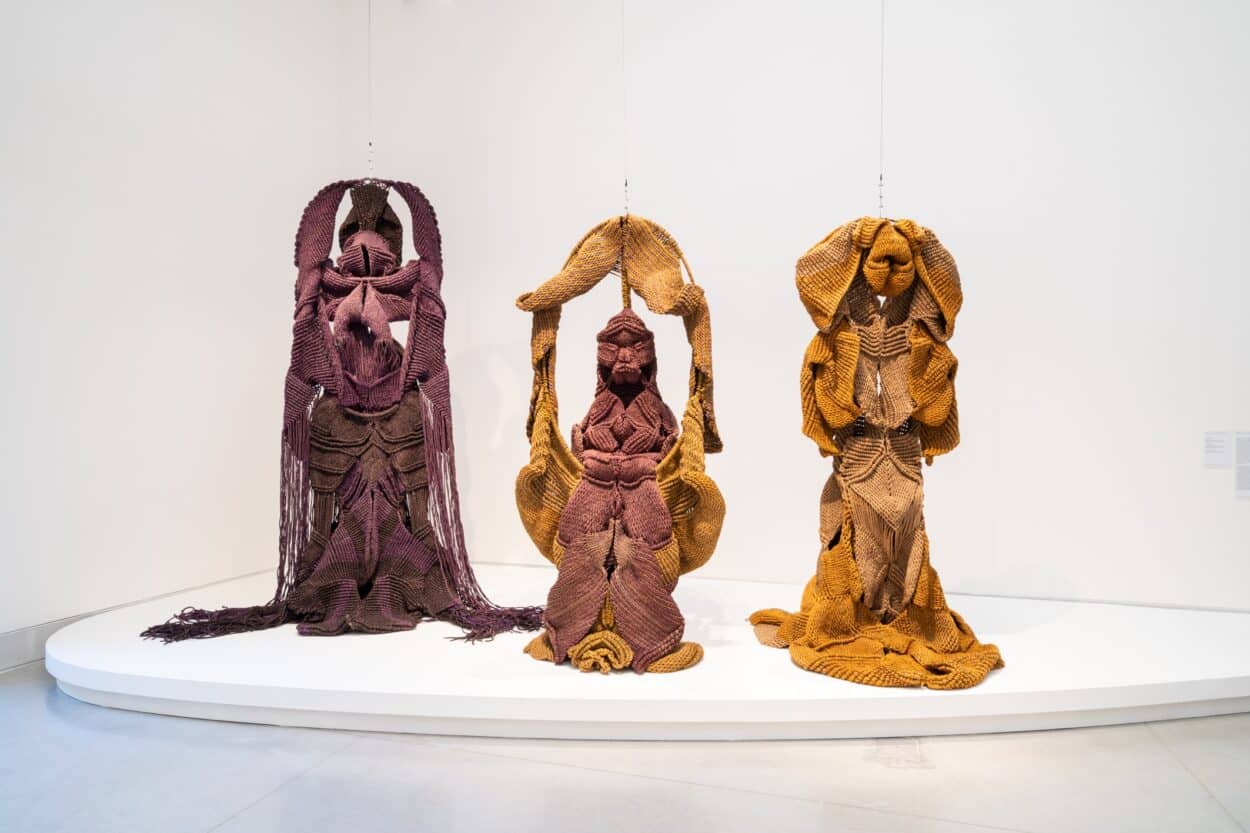 Alemani has even dedicated an entire section of the Biennale to artworks portraying bags, vessels and sacks, which is inspired by feminist author Ursla K. Le Guin's theory linking the birth of civilization to these types of tools that were associated with women's work as opposed to weapons that were typically used by men.
One of the standouts in the Biennale's vessel section is a series of large gourds and rounded vases with ultra-smooth shimmering orange and black surfaces by Kenyan ceramicist Magdalene Odundo that finished with a process called terra sigillata and burnished with stones and other traditional Kenyan polishing tools. One could easily imagine this work in a show about collectible design. However, here in the new curatorial context at the Venice Bienneale this year it is fine art and an accompanying wall text informs viewers that Odundo's "understated, anthropomorphic ceramic vases speak to a layered understanding of the ceramic arts following in a long tradition of associating women's bodies with architecture or vessels."
This was a biennale where even the most cosmopolitan art lovers could discover something new and not on the typical gallery show circuit. A prime example was Uganda's national pavilion, which as a country was exhibiting for the first time at the Biennale and received a special mention from the show's judges. The pavilion's show titled Radiance: They Dream in Time, features the work of Acaye Kerunen and Collin Sekajugo, who both live and work in Uganda.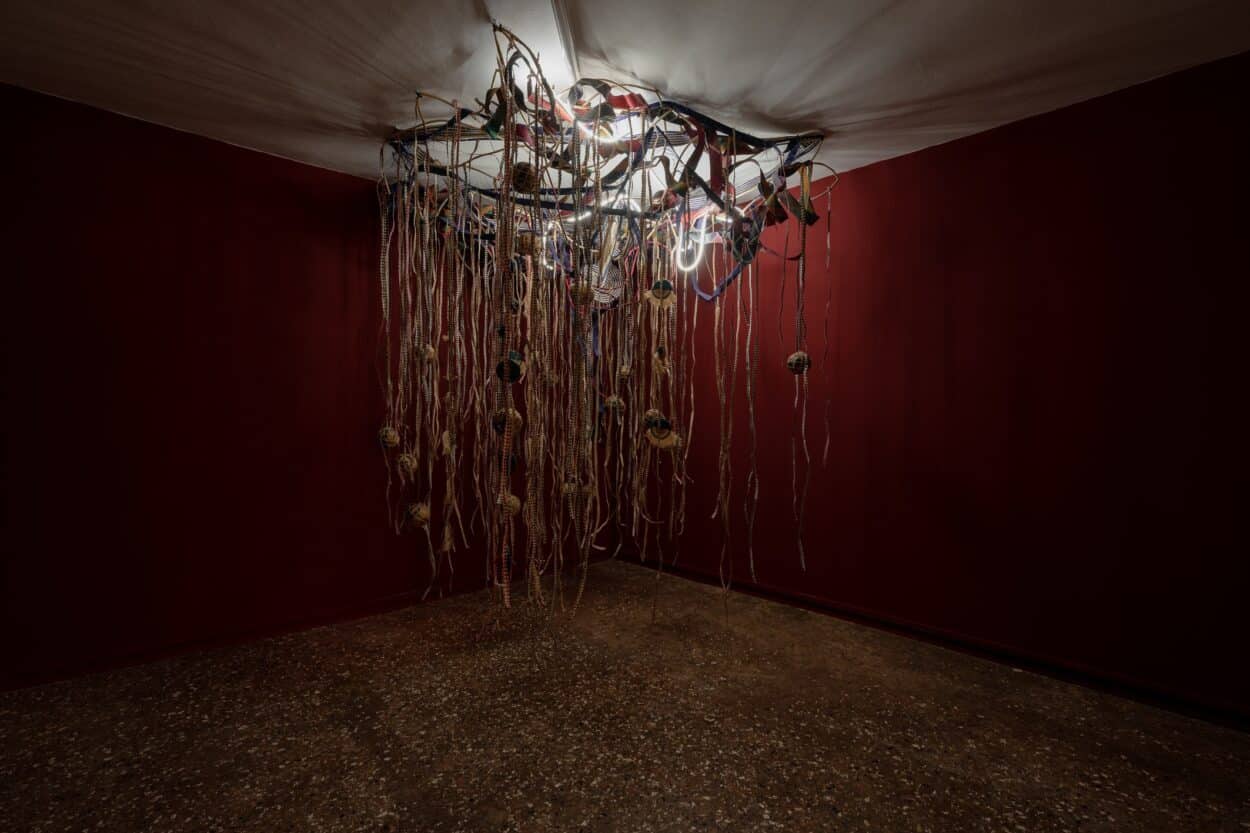 Kerunen's work, which featured deconstructed placemats and baskets as art installations related to the "agency of women's work in Africa," was particularly striking. These works, which were made from palm leaves, banana fiber and sorghum stems were defined by colorful tribal patterns, vibrant dyes, and a variety of unusual textures. The incorporation of traditional crafts and materials into a work of contemporary art that was a bold assertion of  and indigenous craft from a country that had never before been exhibited in the Biennale seemed to perfectly epitomize Alemani's agenda to build connections between different artistic methods and to "create new layers of meaning."