Having led the development of industrial design, Germany is recognized as a powerful design hub with rich culture and history as seen through the Bauhaus movement. Here are five of our favorite German design brands.
Germany is said to have led the development of the industrial design sector in the 1900s with architect Peter Behrens whose work on designing buildings also included conceiving light fixtures, furniture and fittings. Still, the creation of the Bauhaus school and the Werkbund association put German design on the map. The Bauhaus movement targeted all artistic mediums, merging them into one unified approach, combining an individual's artistry with mass production and functionality. In terms of design, it's often abstract, angular and geometric with little ornamentation. Today, Bauhaus remains a point of interest for designers around the world; the historic founding site of Bauhaus is still in use and a yearly Bauhaus Festival livens up the streets.
Germany also hosts design events that attract professionals from around the world—Ambiente, a consumer goods fair, next due in January of 2024, in Frankfurt; and imm cologne, one of the world's most important furniture and interior design shows next scheduled for this coming June in Cologne. In anticipation of these events, we've selected five of our favorite German designers and brands, ranging from a young designer in his 20s to brands with roots in the 18th or 19th centuries.
Zeitraum, a Pioneer for the Green Initiatives in Germany
Founded in 1990, Zeitraum was the first German furniture manufacturer to prioritize the needs of the ecology and environment within its design parameters. Its high-quality items for living areas and the hospitality sector are crafted from solid wood like beech, oak, maple, cherry and walnut; all with woods sourced from sustainable forestry and treated with natural oils rather than industrial chemicals. Zeitraum brings traditional centuries-old woodworking craftsmanship from the South of Germany and the Alpine region. Combined with state-of-the-art production technologies, it delivers items in a style one could define as elegant, timeless and minimalistic.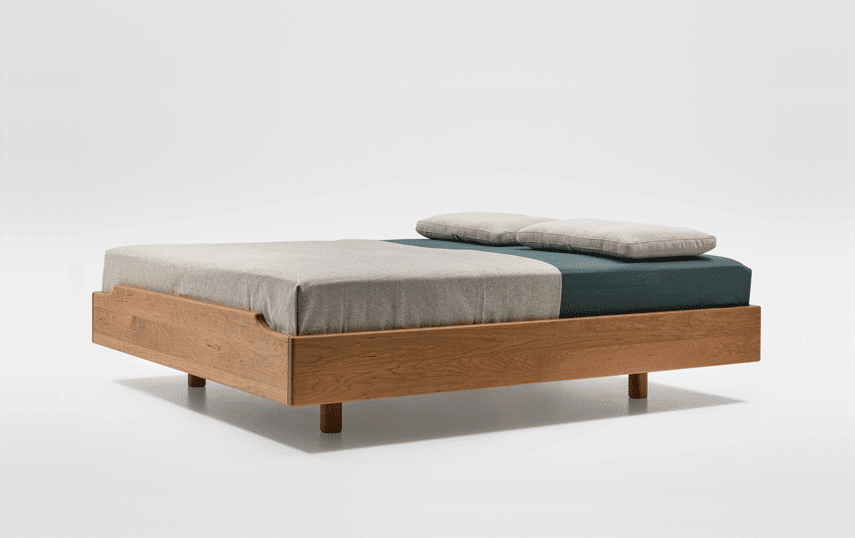 Zeitraum produces many of its pieces in collaboration with reputed designers. One example is the ECLAIR Bold series, beds designed by Britta Nehrdich and launched in 2022. In this design, the solid wood, minimalist frame construction encompasses the mattress on top and offers a comfortable accessibility height. Interchangeable insertion depth panels allow for various lying heights and mattress thicknesses, as well as sufficient space for motorized slatted frames. Another highlight of Zeitraum in 2022 is the curved folding screen AD JUST, which can provide privacy but can also restructure spaces at home or work. The leather straps that form the curved panels' hinges offer flexibility that allows the screen to be fully folded open.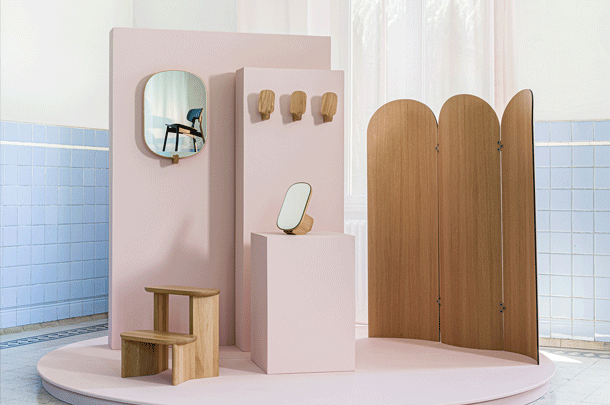 Thonet, Leader of the Bauhaus Style
Based in Frankenberg, in Germany's state region of Hesse, Thonet produces furniture for homes, offices and the hospitality business. Its extensive history goes back to when the cabinetmaker and joiner Michael Thonet opened his first workshop in 1819 and created elegant chairs through the use of innovative wood production techniques which facilitated an almost industrial production method. The Chair No.14 (today 214), for example, would be delivered to customers disassembled in its individual parts in a space-saving way; long before modern globalization gave rise to the universal availability of products produced and distributed in an economical way.
After founding the Bauhaus school in 1919, led by architect Walter Gropius, designers from the school began contacting Thonet to produce their designs. They were looking for a manufacturer who could accompany them in the commercialization of new furniture products. This is how lecturing architects such as Mart Stam, Marcel Breuer and Mies van der Rohe got involved with Thonet. Through this, the Bauhaus style was born.
In the 1930s, the brand began producing the tubular steel designs of architect Marcel Breuer. Today's classics S 32 and S 64 date from that time, representing important links between the traditional bentwood techniques and the modern bending of tubular steel. Thonet's tubular steel collection continued to be re-discovered and reinterpreted by successive generations, including collaborations with Sebastian Herkner, whose Range 118 collection pays homage to the Coffee House Chair 214, the archetypical Thonet chair. In fact, the brand exhibited several reinterpretations of this model at the 2022 edition of the Milano Design Week.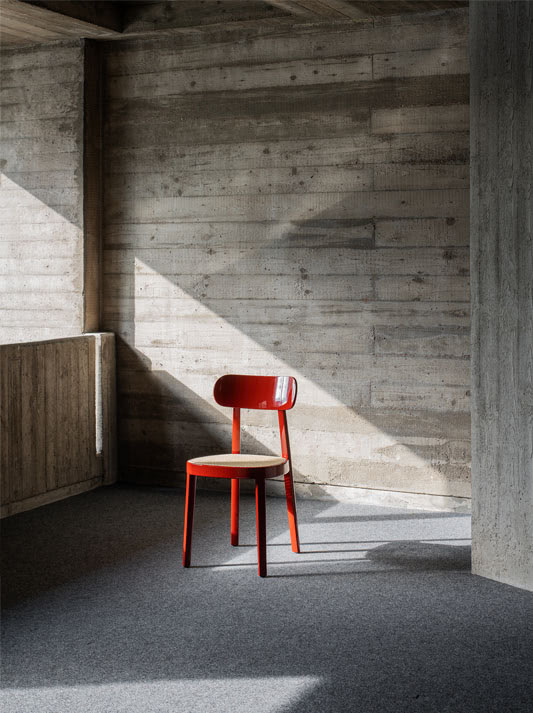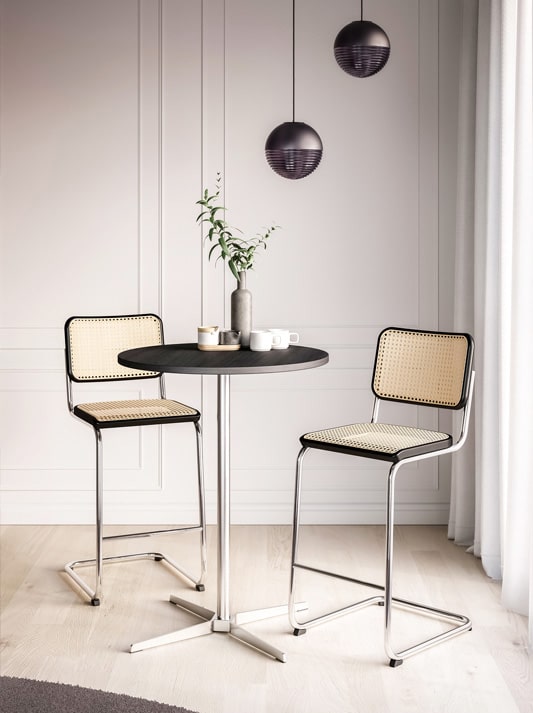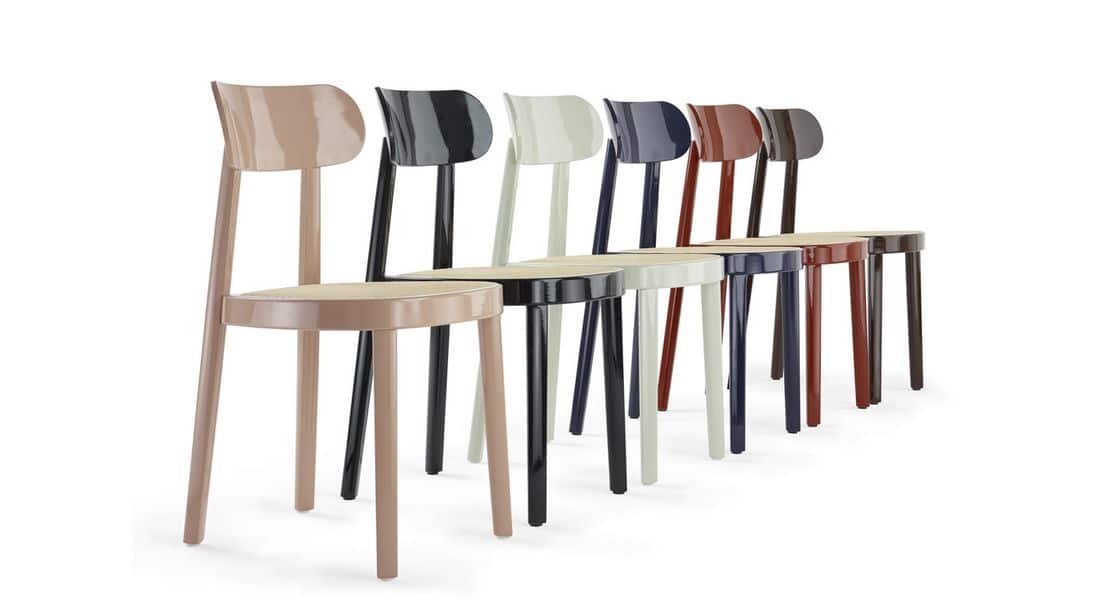 Formstelle, an Interior Design Award Winner
The German Duo Claudia Kleine and Jörg Kuerschner created Formstelle in 2001, immediately following their graduation from the Munich Academy of Fine Arts, specializing in product design and interior architecture. With a particular focus on the relationship between people and products, Formstelle's ethos is a synergy of product design, interior design and corporate identity. In fact, since its inception, Formstelle has been leading the art direction of the strategic brand development of many different companies. Their product design items are the result of extensive research and experimentation with various materials. Also, Formstelle's model-making workshop enables it to develop the product not only in the details of the design process but also with the construction of prototypes.
In 2022, the company collaborated with Zeitraum to release several items such as the two additions to the ZENSO chair family: armchair ZENSO High and ZENSO POUF. Sculptural and yet comfortable, the items carry the basic formal motif of the Enso circle from Japanese calligraphy. Also for Zeitraum is the KUYU DINE table, inspired by and abstracted from African masks – and which can be chosen in three shapes: circle, rectangle and convex.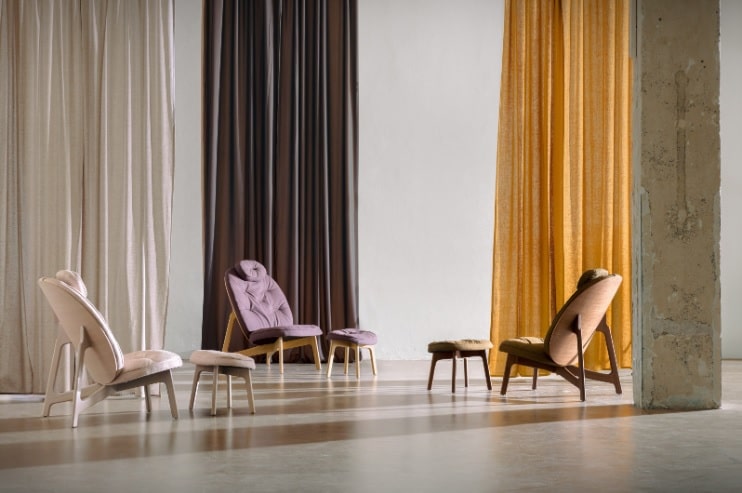 SIEGER by FÜRSTENBERG: Handmade Porcelain Pieces
Created in 2005, brothers Christian and Michael Sieger launched their signature brand for which they design porcelain objects and glassware. Their collections are produced in partnership with the Porzellanmanufaktur FÜRSTENBERG, a porcelain manufacturer with experience since 1747. The SIEGER by FÜRSTENBERG brand was launched as a cooperation between FÜRSTENBERG and sieger design. Together, they create a range of beautiful tabletop collections. Michael Sieger designs the pieces which are handmade in the FÜRSTENBERG facilities in Germany. All items – whether they are cups, plates or accessories – are one of a kind. The individual crafting of these unique creations involves many different stages and can require the skills of up to 100 hands and six weeks of work.
Among its 2022 highlights is the cooler Cushion (a cooler designed to complement the Sip of Gold champagne tumblers) made in satin-finished porcelain and available in two colors; a radiant white and a distinctive black – both with a 24-carat gold finish on the inside. In contrast, the MY CHINA! Paraíso series brings exotic imagery and more varied decorative elements and allows the plates, cups and bowls to be combined in constantly varying ways.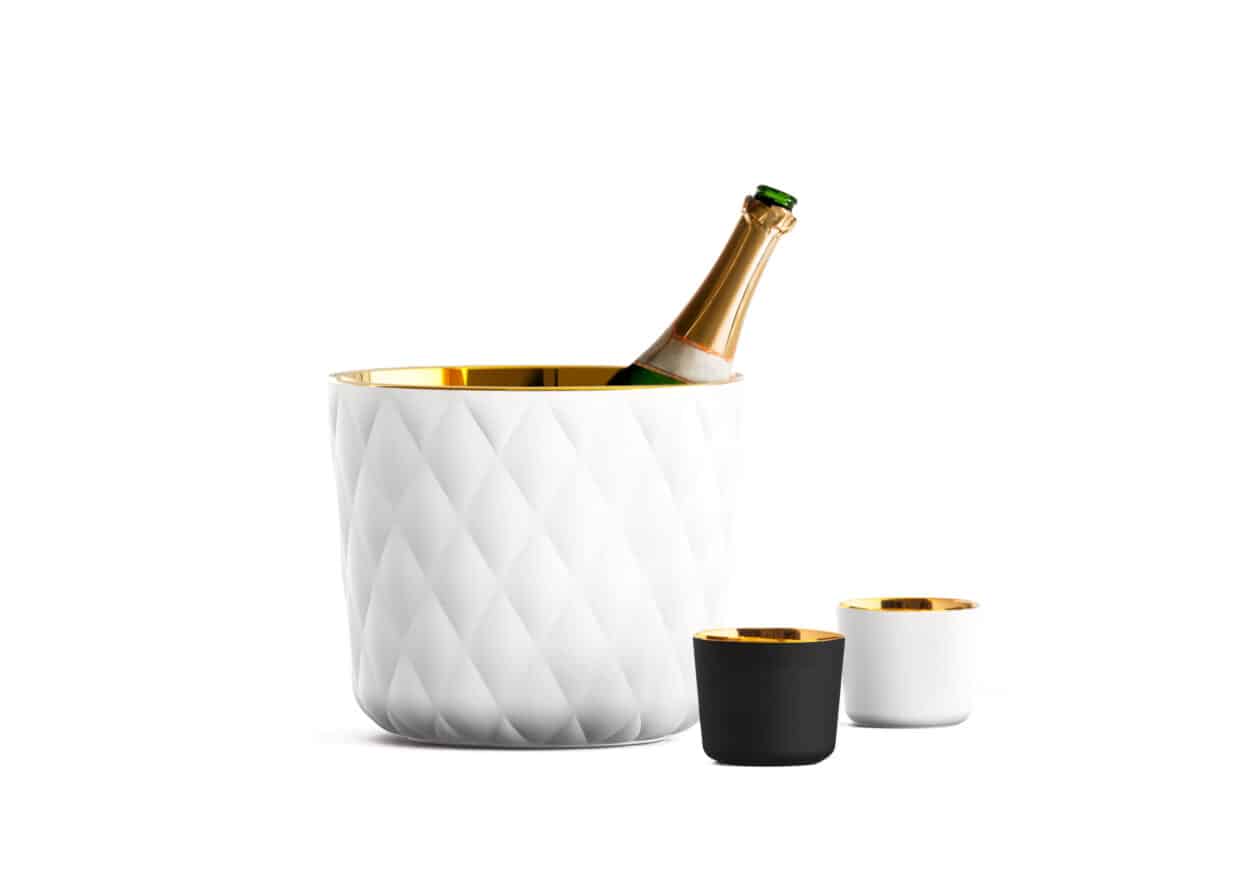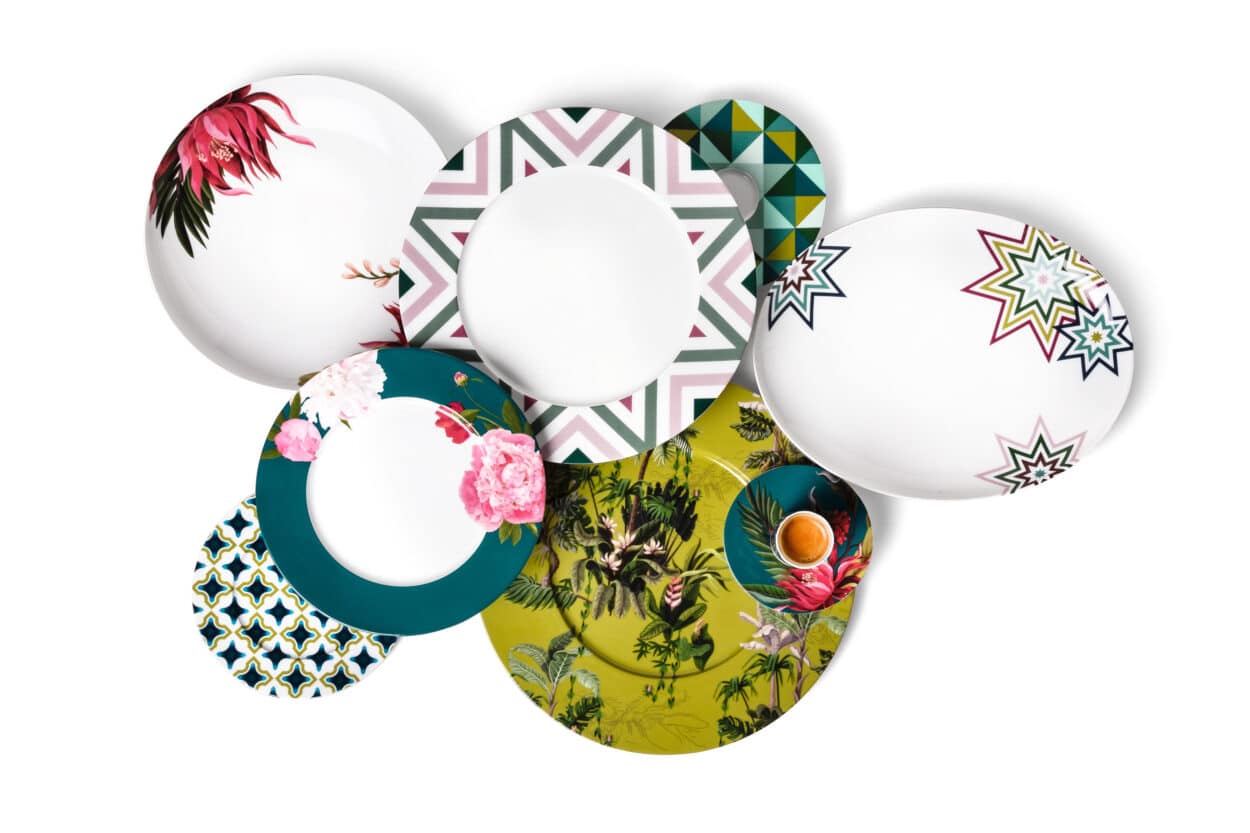 Tobias Trübenbacher, an Up-and-coming Young Designer
At age 26, the young product designer Tobias Trübenbacher was a finalist in the Newcomer category of the German Design Award 2023. A Graduate in both Industrial Design (at the University of Applied Sciences in Munich) and Product Design (University of the Arts Berlin), he was an intern at Atelier Steffen Kehrle. He worked from August 2021 to July 2022 as a designer at Berlin-based Konstantin Grcic Design.
Tobias' work is noted for sustainability and material innovation, as well as a pared-down functional design aesthetic. He is focused on the development of new solutions for environmental problems and global challenges, hoping to contribute to a transformation in production and consumption habits.
Among the highlights of his latest production is the street lamp Papilio, which has an insect-friendly light spectrum, tackles light pollution and at the same time generates energy through an integrated wind rotor. The chairs from his INNER VALUE project are also interesting examples of his work. Made of tanned and further processed cattle intestines and pigs' bladders transformed to soft seating leather, they are Tobias' solution for a sustainability concern.
"We tend to be disgusted by and reject the by-products of animals. But is this justified and legitimate? Or shouldn't we, if we really need to kill an animal, at least appreciate all of its resources?" he asks on his website.