A sustainable hotel impacts the environment and society in a positive way, expressing good design. At HIX, many brands displayed eco-based products made from repurposed materials with, at times, the aid of technology such as 3D printing to transform plastic waste.
November 17-18, London—During the Hotel Interiors Experience (HIX) event,  a panel of sustainable design experts debated the talking point, Absolute Zero: What's Next for Net Zero Design. Among these experts were Diana Darmina, interior design manager at Room2, Brendan Mullard, co-founder and director of Object Space Place, and Jeremy Grove, co-founder of Sibley Grove. The panel explored a host of environmental design issues, ranging from the next step in the push to net zero to what it means for the overall guest experience.
"We need to start looking at the project from the inception, going through every single stage of design, and working with the right consultants to start measuring our emissions and really making the right decisions at every juncture," said Darmina. "That includes the extraction of materials through construction and operations, to end of lifecycle.
"Rather than just offsetting our carbon, we have to avoid using it as much as we can to lower emissions. Our responsibility has now shifted and we need to start looking at how we can repurpose and plan for the future. It's about working with natural materials such as clays and stones. We also have to deal with the embodied carbon emitted during construction and make structural decisions that will decrease our carbon footprint and future-proof our buildings."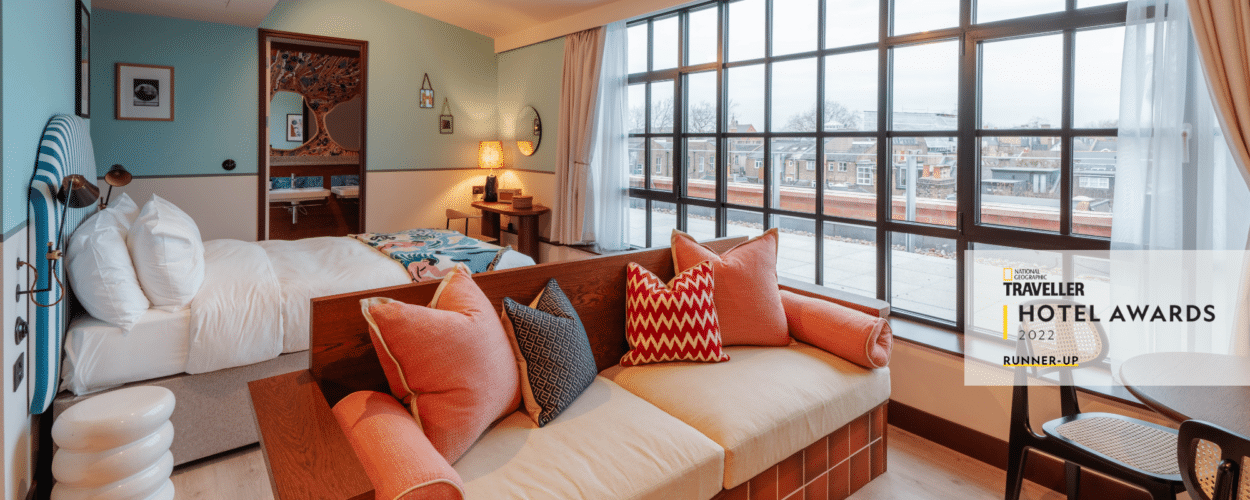 Repurposing Existing Materials
When it comes to refits, it's key to work out what components can be retained and repurposed to keep carbon usage to a minimum, said Mullard. Predominantly working on refits, he has successfully managed to reduce embodied carbon footprints in his projects by 45%.
It's also essential to look at where the materials are sourced from and to use them in an appropriate way in terms of fixings and adhesives to ensure contaminants are avoided wherever possible so that the materials can be recycled at a later stage, said Grove. By designing a hotel room that can be taken apart sometime in the future, with the furniture and material being repurposed, he said that both solve the waste problem and lowers the cost of future refurbishment and repairs.
"When we talk about a sustainable hotel, the environment and social impact is ultimately a part of good and bad design," said Grove. "If you build a hotel and it looks fantastic but it's done using exploited labor or it has damaged the environment in some way when it didn't need to, then that's part of a failed process, which ultimately impacts the hotel."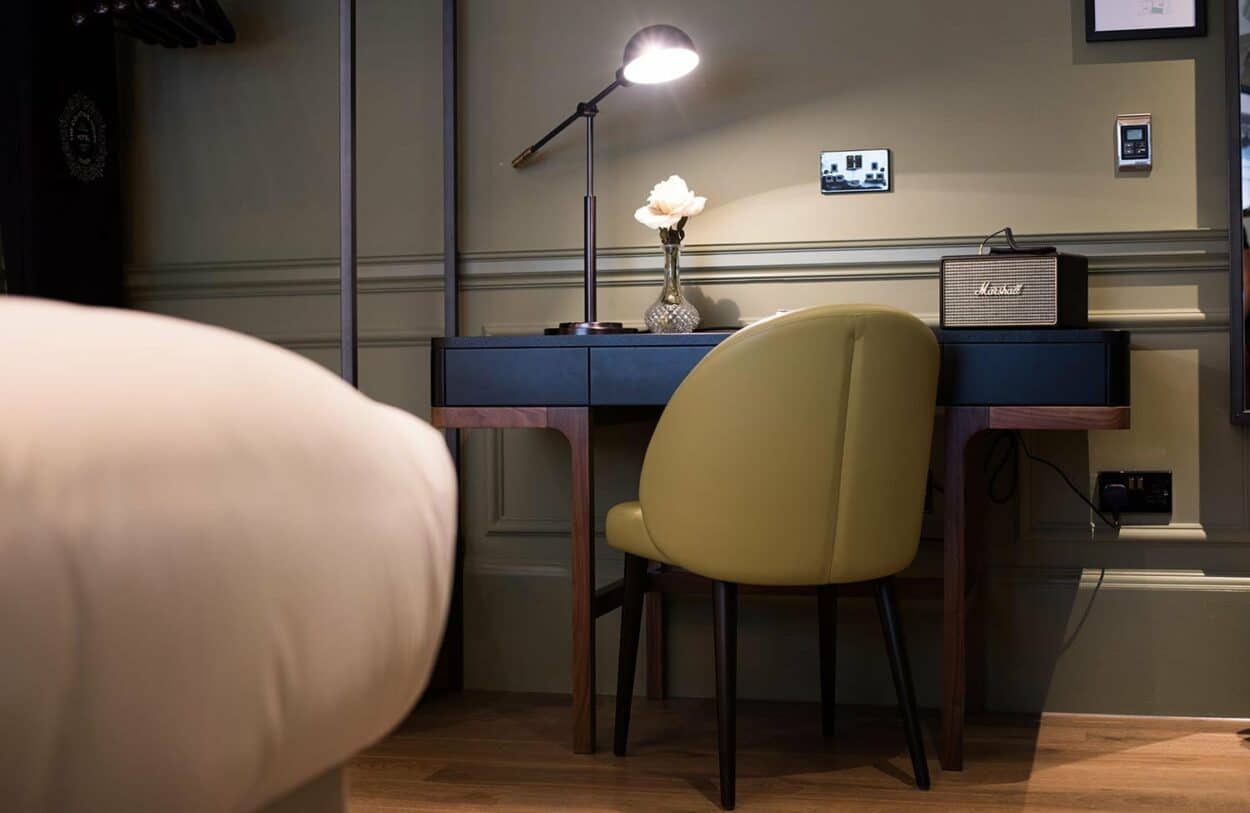 Darmina added that while it was important to reduce the carbon footprint for the transportation of materials, the manufacturing process was actually more significant in terms of the carbon emitted by sources such as the energy and chemicals used. Where possible, it's better to make goods via traditional methods, without using glues and similar products, she said.
"At the end of the day, we're all on a learning journey in terms of sustainability," said Darmina. "We're finding out what we've done well and what we can improve upon, and we can only achieve that through education and collaboration as an industry."
Sustainability was a key theme throughout many of the new product launches too. Among the latest offerings was everything from 3D printer-manufactured chairs made from plastic waste recovered from the sea to lights whose bases are produced using discarded marble offcuts.
The Io Lamp, Made from Unwanted Offcuts
Leading the way was Joe Scog designed the Io table light. Inspired by the moons of Jupiter and created during the Covid-19 pandemic using locally available components, the spherical globe is made from delicate blown glass that looks like it's floating above a striated marble base, which is produced using unwanted offcuts from a table and kitchen top manufacturer in Bury.
Customers can design and configure their own bespoke lamp using a selection of fully sustainable materials and finishes. Even the packaging consists of 100% paper fiber mold and organic carbon-negative hemp grown in Yorkshire, while the outer box is made of plywood that can be reused.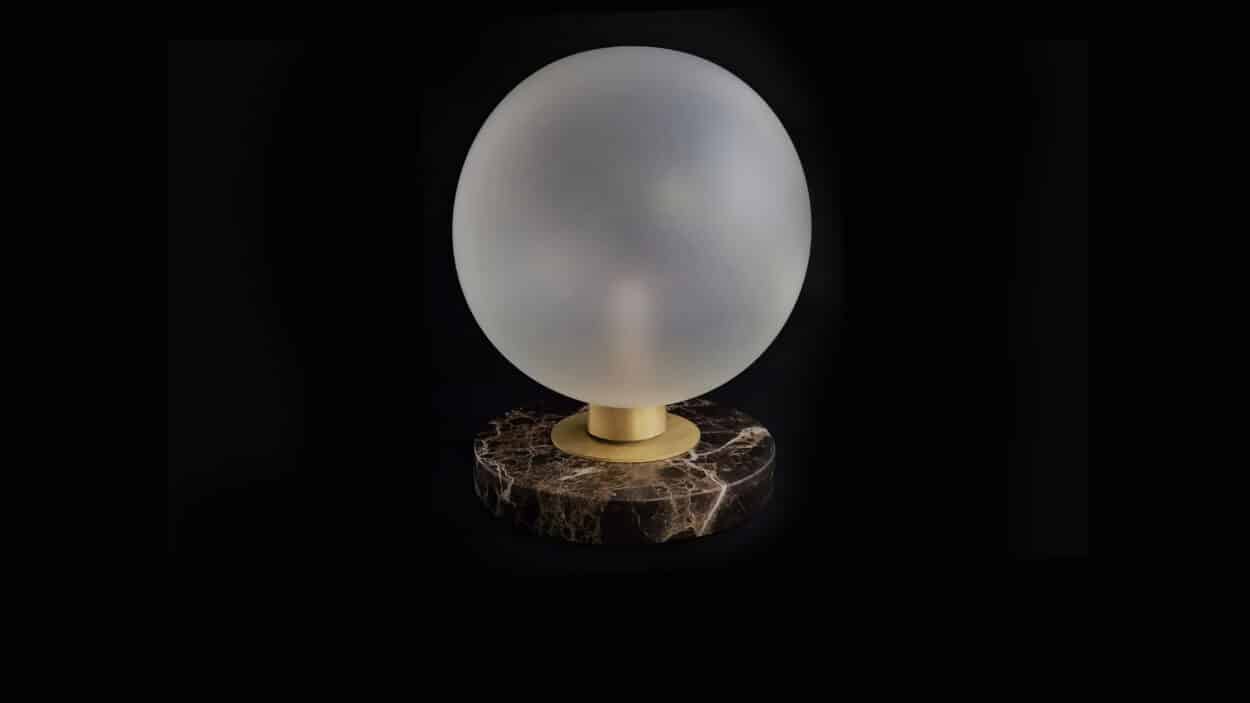 The Stackable Eternity Side Chair, a Circular Seating Solution
Recycled waste is also at the heart of Mater's stackable Eternity Sidechair. Designed by Space Copenhagen, the circular shell chair is focused on comfort and functionality, and its industrial and sculptural features lend it to be easily integrated into a range of different spaces and interiors.
Eternity shell is made of Mater Circular Materials. The company combines upcycled fiber-based waste materials with recycled plastic waste, using a specific technology. Eternity shell is made of 70% industrial plastic waste from Grohe mixed with 30% Coffee Bean waste from Danish coffee producer BKI Kaffe. At the end of its life, the chair can then be repurposed into a new piece of furniture.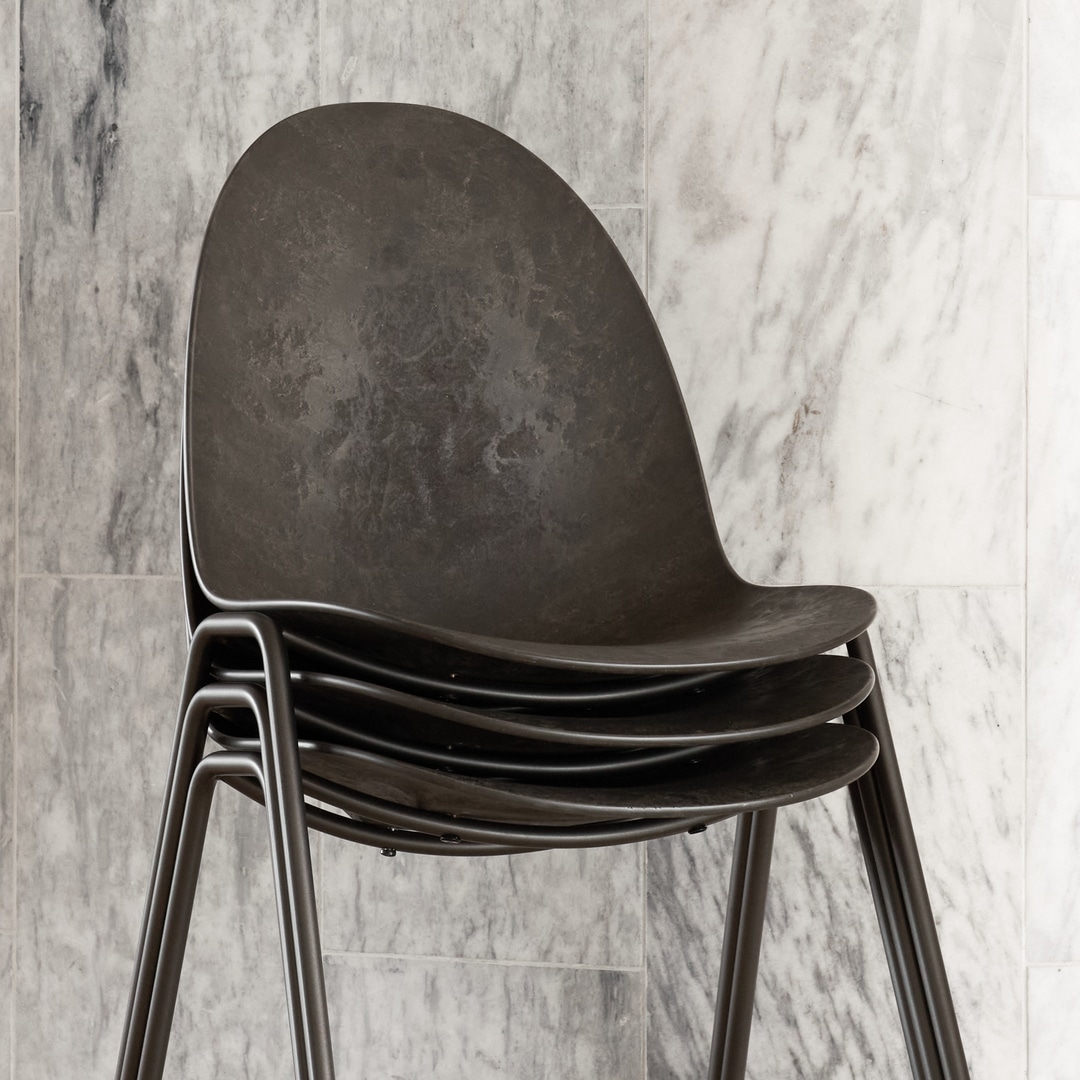 3D-printed Flow Chair from Recycled Plastic Found in Oceans
Staying with the seating theme, award-winning German-Iranian Architect Yasmine Mahmoudieh's Flow chair is the culmination of decades of work focused on innovative sustainable furniture designs. Produced using a 3D printer, it's made using plastic recycled water bottles from the ocean or non-toxic plastic waste, reflecting its marine origin in the form of an ocean wave.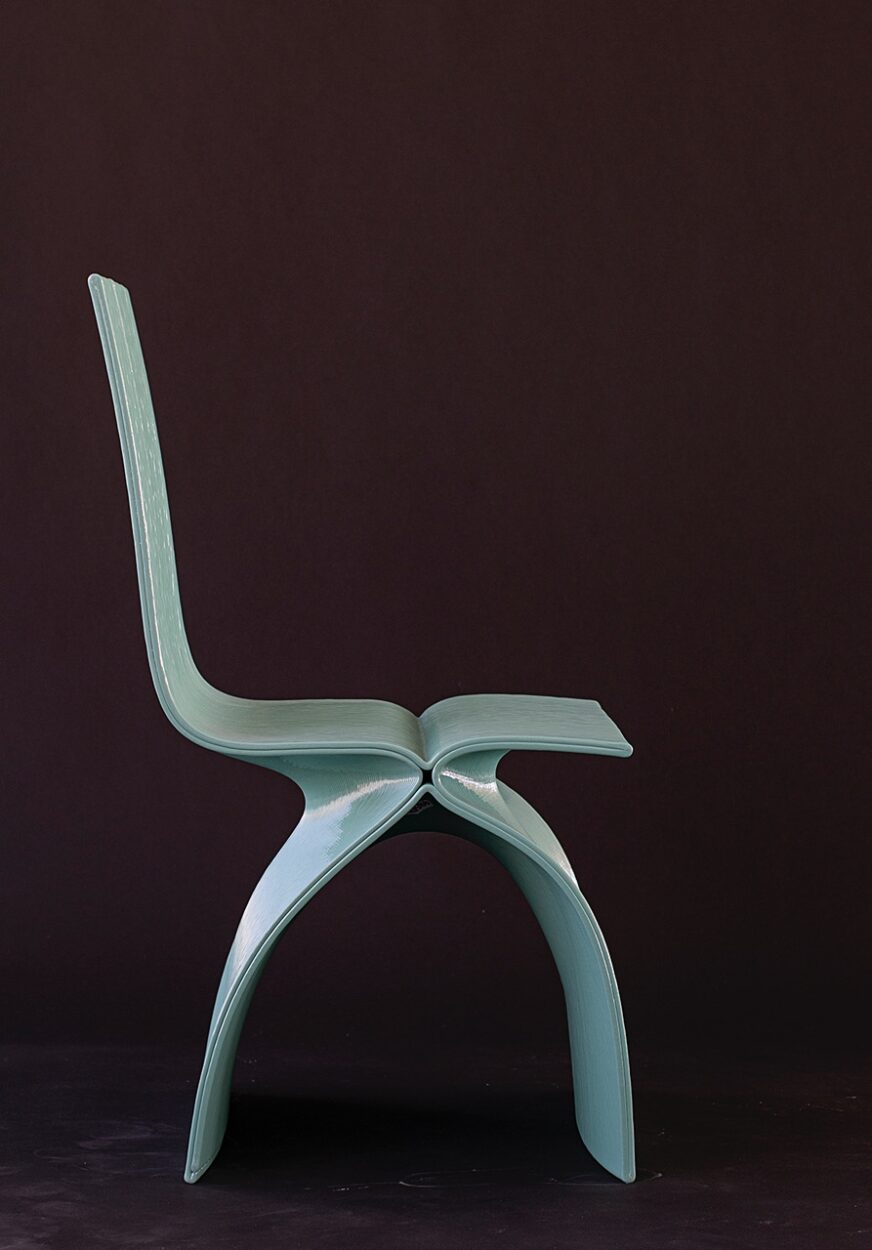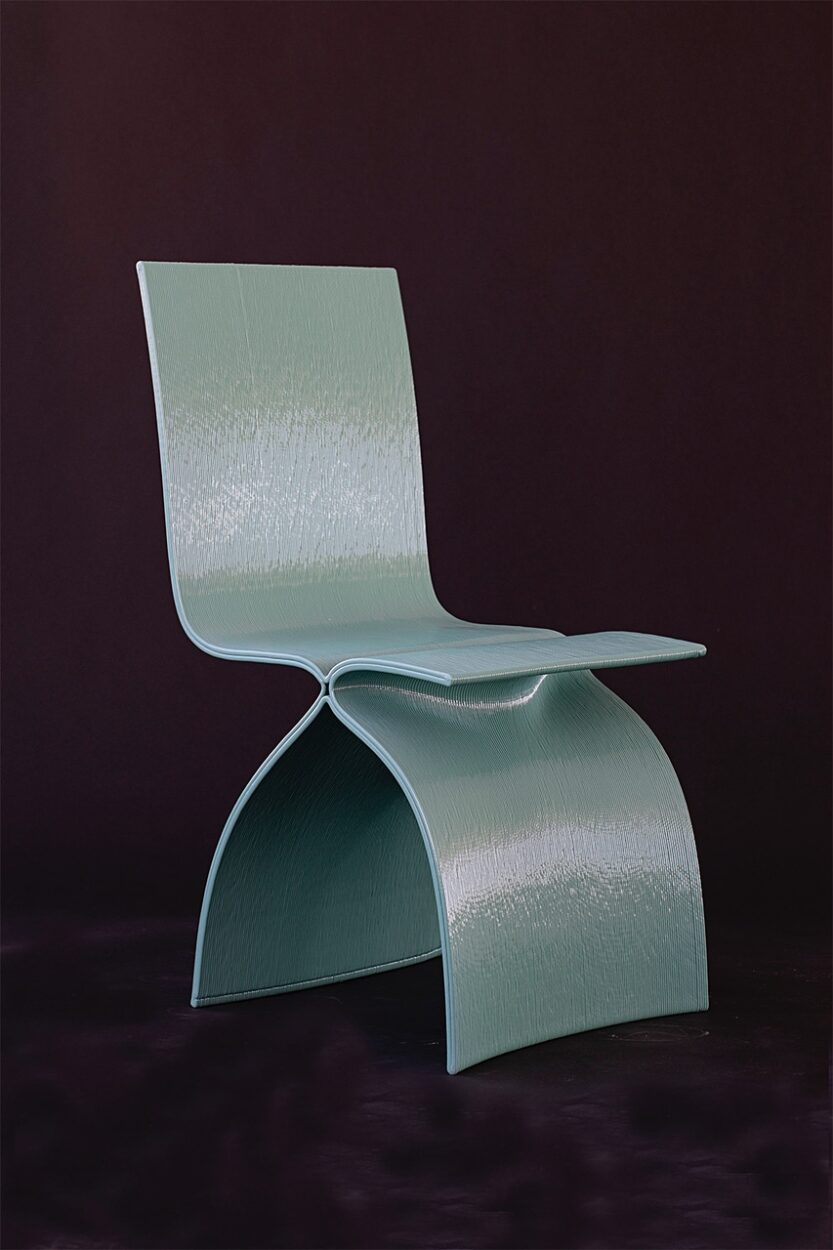 Space-saving Furniture: The TableBed
Maximizing space and flexibility are central to Welltek's freestanding TableBed, which can be transformed from a desk to a bed, and vice versa, in a matter of seconds. It's the ideal solution for the family or business traveler alike.
"It's manufactured in Finland and all the material is locally sourced, so it meets all the required sustainability certifications," said Neil Jenkins, owner of Welltek, in an interview with ArchiExpo e-Magazine. "The tabletop is made from oak veneer and the bed from metal, which is all fully recyclable."
Great Things Will Grow Theme Inspired Brand Ege Carpets
Ege Carpets has taken weaving to a new and greener level. Inspired by HIX's theme 'Great things will grow' and the patterns and colors of Raku pottery, ahead of its official launch in 2023, the company previewed its latest carpet made using 100% premium tightly twisted New Zealand wool, which makes it more wear-resistant.
"Not only is it durable, but by going to 100% wool, you don't have a mixed fiber, so by the end of the carpet's life there's scope to remove that fiber and essentially make it compostable," said Richard Strong, national sales manager at Ege Carpets, in an interview with ArchiExpo e-Magazine.
Shower Showcase: Push Button for Water Savings and Handcrafted Glass Shower Screen
Sustainability was also a key feature of many new bathroom products. Zucchetti's Hoop is a push-button shower system that makes it simple to turn the water on and off and select the desired output from the hand shower, shower head, body jets and spout. The thermostatic knob enables simple and constant water temperature regulation, ensuring it never inadvertently exceeds 38 degrees Celsius. The system can be installed either horizontally or vertically to fit most spaces.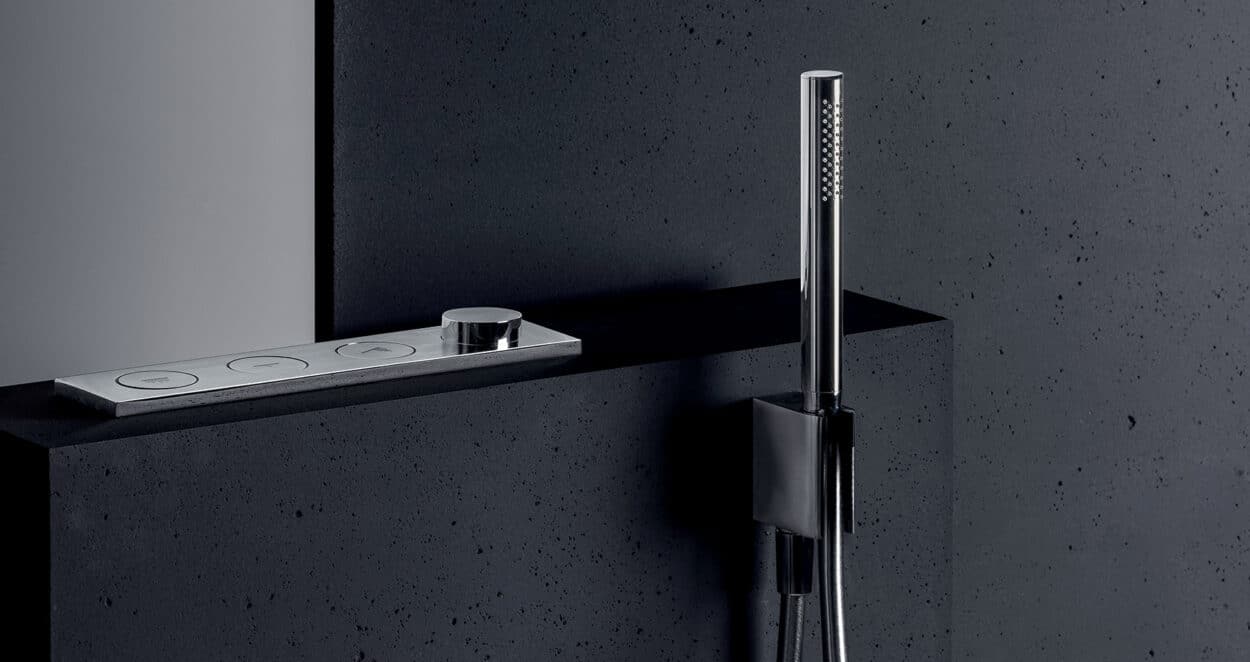 Elsewhere, shower and screen enclosure firm Majestic showcased its Art Glass Collection, a range of bespoke handcrafted kiln-formed glass shower screens manufactured in the UK. It also unveiled its Sarah design, an elegant toilet and shower dividing enclosure as part of its Frameless portfolio.