The millennial area. The daily and constant use of technology. The blending of spaces, where the restaurant is the workplace and vice versa. Tech-obsessed behavioral changes in our society have affected how we design, notably for the luxury sector. How are we turning this into a positive?
November 2019—Many point to the younger generations and say, "Technology is creating a social barrier." The millennials spend more time on their phones, Instagramming (oops! Instagram is out with the young; it's TikTok now), rather than 'real' moments in peer gatherings. In fact, many generations combined are seeing this trend overtake their—our—lives.
FlexAbility, a term coined at this year's Sleep & Eat event in London, references spaces with the ability to generate flexible hospitality; spaces that create social environments that fit customers of various requirements, to fill the need for communities, for human interaction, because despite our obsession with technology, we still crave it.
"With this theme, professionals had to think ahead of the curve and reflect upon a topic that the hospitality industry is facing, a topic they will need to address over the next five years," said Mark Gordon, show director of the event.
A number of design teams worked on installations for the event called Sleep Sets to demonstrate how we can combat tech-based social behaviors while responding to overall human needs of reconnecting to nature and having an emotional experience.
Find the names of the collaborators per Sleep Set here.
Design Tools to Establish Communities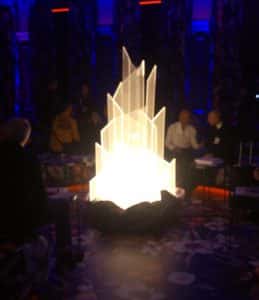 How can design bring people together to share experiences? Founder of Megre Interiors and designer of the VIP Lounge at the event, Yuna Megre asked the audience this question.
The VIP Lounge was designed with floral prints on the flooring, walling and furniture; the center of the entire space exhibited a luxurious-looking, bonfire-style glass lighting—like a chandelier standing on the floor instead of dangling from the ceiling.
Her design tool came in the form of a bonfire that had cushioned benches encircling it, on which guests could sit either facing the fire or the opposite direction to stimulate discussion.
What were some other tools used?
A dining space. NAME Architecture was responsible for the restaurant installation: a table fabricated in a continuous plane for social interaction. The architect used the same ellipse to cut out points of the dining table in order to create varied distances between guests facing one another. Studio founder Nathalie Rozencwajg interpreted the idea of flexibility as a choice of seating depending on the distance desired. It's for the solo traveler or groups and can be a place to eat, work or socialize.
"In order to socialize, we need to face each other," Nathalie Rowencwajg told ArchiExpo e-Magazine in an interview. "Sometimes we don't necessarily want to chat but we don't want to feel alone. We can choose to sit at a larger distance from the person facing us and maintain our space while dining or working at the table with others for a sense of togetherness."
The closest distance the table created was 60cm, based on the Paris bistro, and the largest was 800cm to 1m. "Anything over one meter is too much distance," she said. The table comprised four modular pieces to configure differently if desired.
Losing Static and Rethinking Materials
A bedroom. After researching social behavior through experts and learning, by Susan Pinker, that it's currently more important for our health to socialize than to stop smoking; HAT Design chose to create a hotel room in which you could host guests as if you were in your own home. The bed was found at the center of the room and could rotate and fold up on the sides, prompting the idea of inviting guests onto the bed for a card game or laptop-style collaborations. The fun, modular room combined funky and chic in a surprising way. Velvet curtains lined the entire room to conceal necessary functions, opening the space.
We did not expect to find all that was hidden behind them: a table on wheels that could be made larger, behind which foam blocks acted as additional storage—each block could be removed and used as a stool; a wardrobe on wheels with the same stackable foam storage blocks; a shower and more.

"It's very difficult to accommodate all types of guests in a static room," Anne-Marie Sabatier told ArchiExpo e-Magazine in an interview.
Luxury design does not have to be expensive. Sabatier explained the HAT Design concept rethinks materials by combining low-standard with high-class materials. The velvet and upscaled, recyclable polycarbonate combo or the velvet and recycled foam did not clash.
A 180,000-year-old Seashell: Dream or Reality?
Guests are looking to discover unique spaces, what they can't find elsewhere. Isabelle Miaja, the founder of Miaja Design Group, chose to create art rather than a typical room for her installation called Elevation.
She integrated nature and technology so exquisitely that every element attracted visitors: the very large 180,000-year-old seashell dug up in Kenya by her conservationist friend—reality; a pretend, luxurious bonfire in the center of the guest room surrounded by wooden stools topped in dark pink leather, on top of which sat designer headsets that played a musical poem she wrote, accompanied by her son on guitar.
"We could never have dug up that seashell without the use of technology," she said in an interview with ArchiExpo e-Magazine.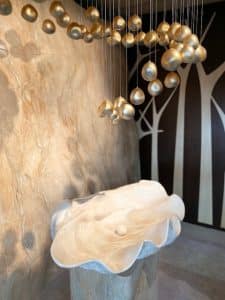 Phi, the glass art sculpture she designed based on the Golden Number, dangled above the seashell, behind all of which stood a custom marble wall and marble pedestal by MM Galleri—they call it bendable marble, using a specific technology to cut it very thin in order to mold it into whatever shape they want. Nature reflects mathematics, Miaja said, and technology requires mathematics.
"We don't have to let go of technology or luxury but we need to pay attention to the details. Our designs need to be sustainable, eco-friendly, nature-centered and human-focused. I think of nature as the lungs of the world."
Details. A recording of the sound of the forest accompanied the marquetry forest wall she designed; the mini-bar, transformed into a picnic trolley that could be folded up and become "part of the forest"; a tent dangled high above the bonfire, removing the required space for a bed; the evident integration of Asian philosophy which combines nature, technology and well-being.
"It is a story of time and evolution. As are we."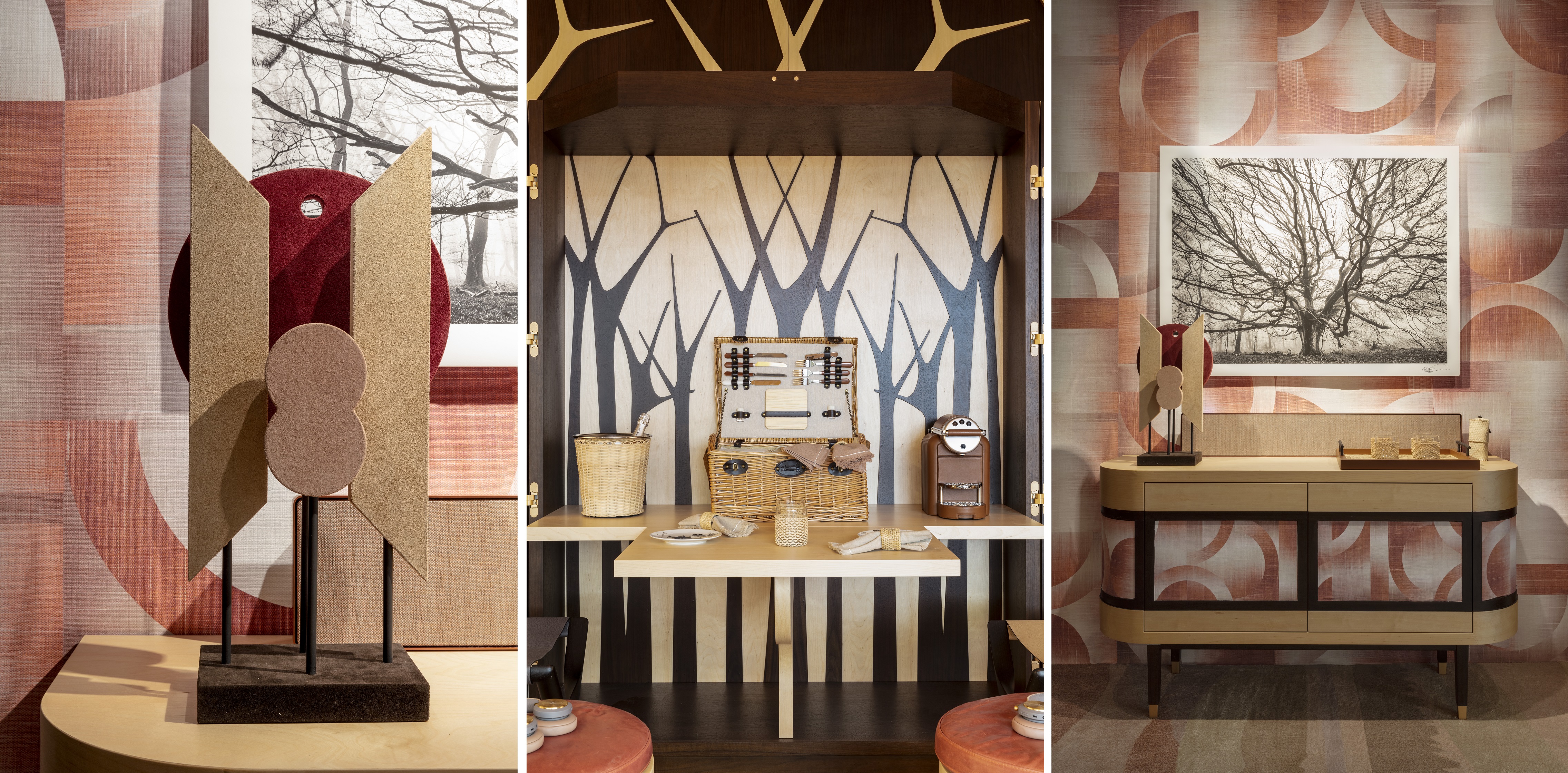 When the Millennials Are Involved
What behavioral change differentiates the millennials from the older generations? Solve the riddle.
The millennials are interested in a more sustainable, eco-friendly, nature-centered world, according to a variety of speakers at the event. It might come as a surprise that this tech-frenzy generation could aspire to such an environment, but that's not all.
The Luminary Room by Maria Tibblin expressed how the millennials were also affecting the design of hotels in the luxury setting.
Her guest room not only achieved the ideal world for the Millennials with handmade furniture from locally sourced materials, but Tibblin also added an element to respond to their desire to be unique through her social stimulator: a bookshelf, open on either end for easy conversation, that housed art and books, notably a one-of-a-kind art piece by a Nobel prize bookbinder.
The wardrobe. Its leather exterior and jewelry-like handles revealed an interior that rethinks the current safety box. Inside hung luxury lingerie, exhibiting the potential to pre-order clothing items. The concept allows guests to pre-order the mini-bar, usually filled with sodas and chips, and to get creative with their choices; the mini-bar is rolled in upon request.
Well-being. A smart voice recognition technology was incorporated into the room so guests could make their pre-orders and set meditative music for better sleep. There was also an imitation window that used cognitive lighting; it can be set to resemble light at any time of the day—a great tool for those suffering from jet lag.
"It's a boutique luxury hotel room that combines elements for social stimulation with tech-enhanced sensorial experiences while remaining human-centered. A bed on one side of the room, sofas on the other."
What's missing from the typical hotel room?
It's often a very large rectangular form, outlined in black. Guess what? The millennials don't watch it anymore, according to Maria Tibblin whose two millennial daughters helped her set up the Spotify account for the smart voice tech.