ICFF came back to life after a long pause caused by the pandemic. The exhibition featured many must-see designs with a firm nod to the future. Here's to making big breaks with the status quo.
November 14-13, 2021—After a seventeen-month hiatus, the International Contemporary Furniture Fair (ICFF) at the Jacob Javits Convention Center in New York City was humming with activity with plenty of examples of how, despite the lockdowns, the design world has continued to evolve and is changing to address the various cultural and environmental challenges of our times.
More than 200 brands from various parts of the world were on display and many foreign-accented design aficionados were in attendance. This year's show was artier and featured more craftspeople than in years past, in part because it marked the inaugural joint exhibition of ICFF and WantedDesign Manhattan, a platform dedicated to promoting creativity through various types of events and partnerships.
Indeed, in this year's show, quite a few brands were animated by a spirit of play, such as the inflatable furniture from the Swiss company Mojow. They use a translucent biodegradable new material called TPU that is recyclable and biodegradable to completely transform classic designs, such as the French Milking stools and Le Corbusier lounge chairs. Because it's translucent, the interiors of this bouncy furniture, which can be found in museums such as MoMa in San Francisco and the Pompidou Center in Paris, can be customized and used to display marbles, Lego and even plants.
Over at the booth occupied by Brooklyn-based Flavor Paper, a hand-screened and digital wall covering design firm, you can walk straight into fantasy land.
"When I started the company in 2003 all of the companies back then were stodgy and traditional," Flavor Paper's proprietor, John Sherman told ArchiExpo e-Magazine. "I wanted to freshen it up a bit and give it some spunk."
Sherman mentioned he has been doing a brisk business in scratch and smell wallpaper. One such example is the cannabis variety which features images of the plant, along with other varieties such as blueberries or strawberries. Another popular item is wallpaper with invisible ink that can reveal various hidden images under a black light. He said that his firm is even capable of designing wall coverings with circuits and when pressed can make noises and change color.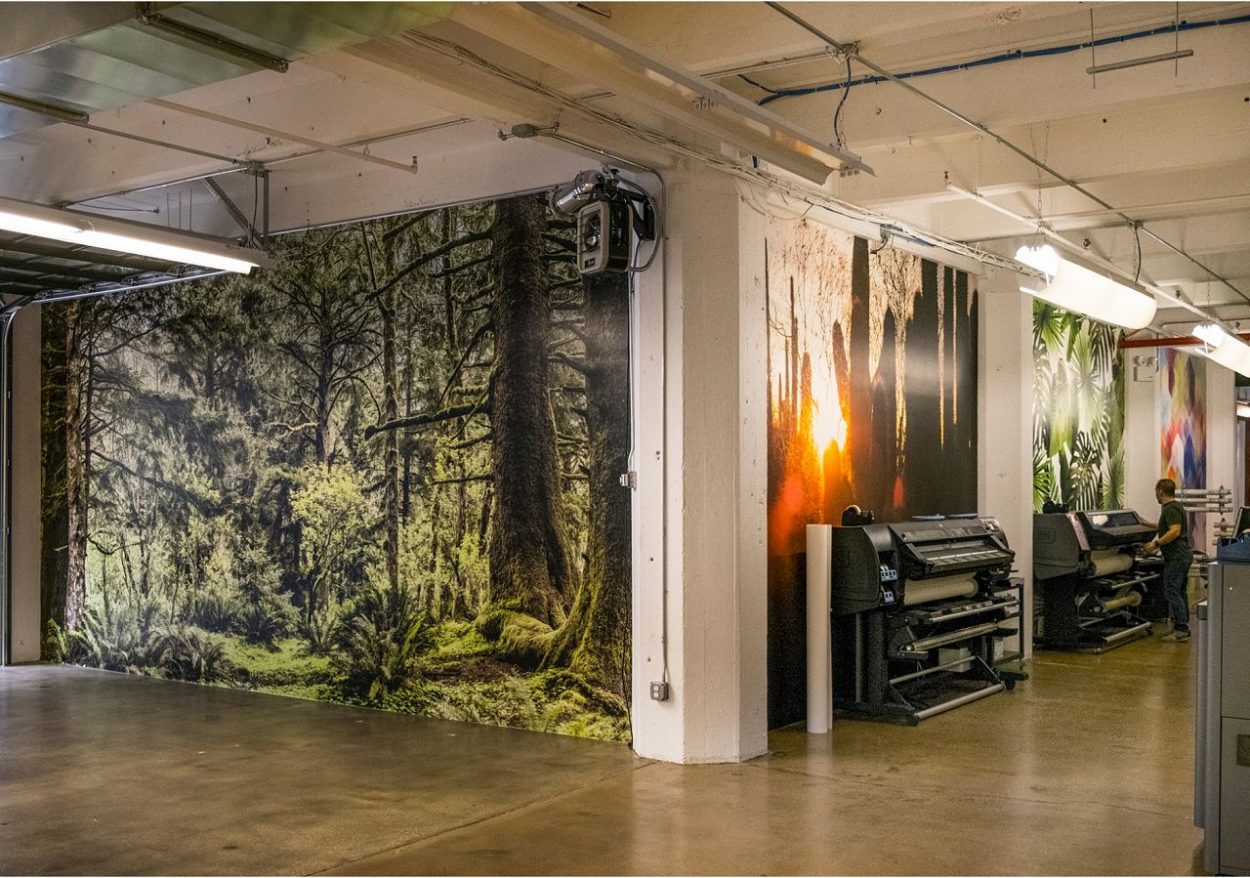 Another boundary-breaking wall cover firm is LondonArt which can apply patterns and images to various surfaces including glass and features collaborations with designers such as the firm ToiletPaper which produced the Luxury Shit Collection which features bold images from pictures taken by Maurizio Cattelan and Pierpaolo Ferrari, such as a hand grasping a revolver and a pile of French Fries. Another LondonArt collaboration, which is a bit less provocative but still quite exuberant, is the collection done with Marcel Wanders whose patterns of celestial shapes and organic forms are inspired by 13 international cities.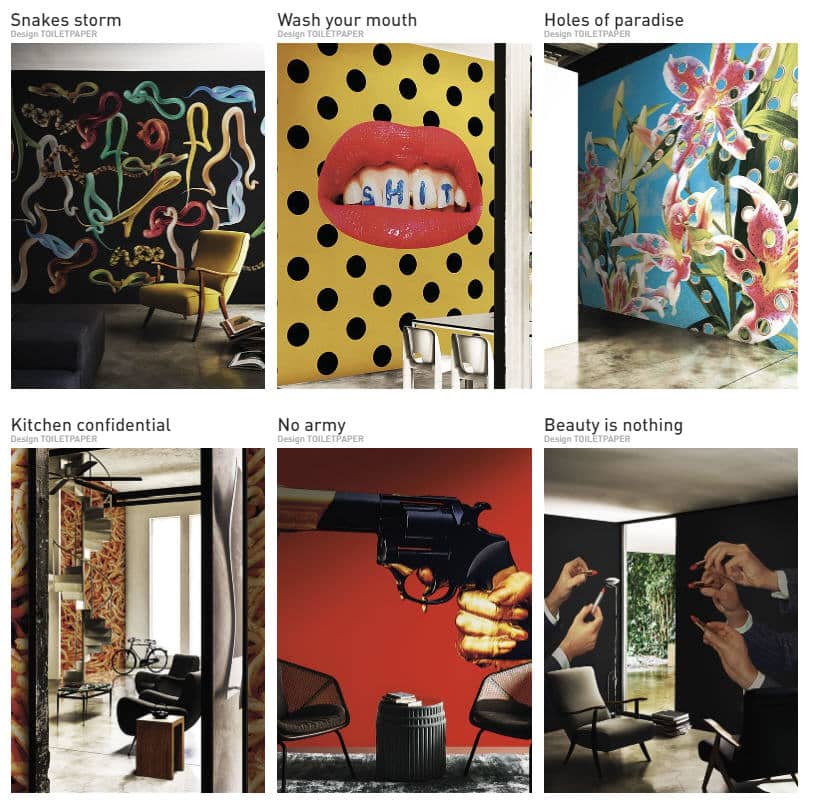 Industrial chic is definitely in vogue in New York City where people are buying historic townhouses and gutting them to make their interiors look like lofts. If designers want to fully embrace the industrial look, without having to fuss with cranes and with steelworkers they might consider Featherbeams.com whose display of massive purple and aqua blue-accented faux steel eye beams bristling with rivets won ICFF's Innovative Booth Design Award. The massive faux steel beams are light and easy to lift.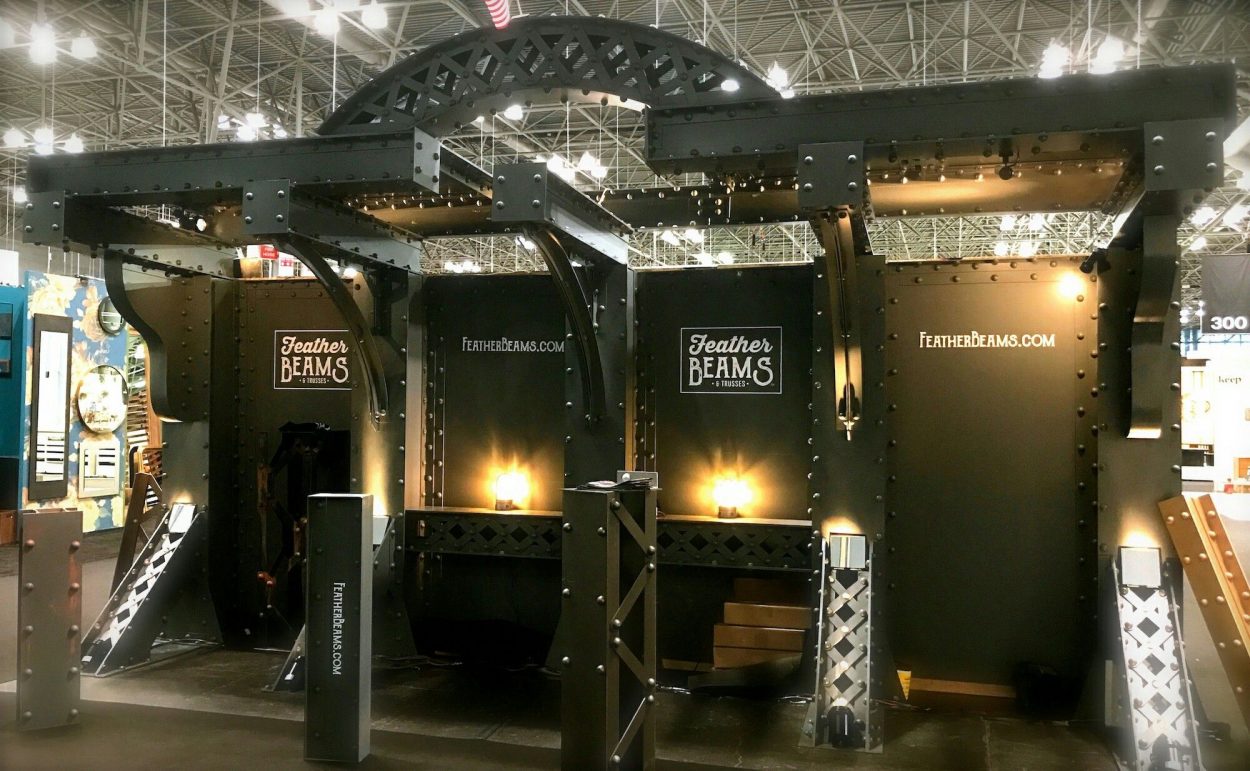 Sustainability continues to be a major concern at this year's show, and one company that epitomizes the concern with environmental bona fides is Brooklyn-based Sentient, which uses reclaimed and recycled wood in their custom designs and even donates 20 trees for each table they sell. The company, which has collaborated with Porsche and whose furniture can be found in trendy hotels, such as the EDITION hotel chain and restaurants Nobu, exists in the space between art and functionality. Their pieces include irregularly hand-hewn coffee tables, upholstered chairs with unusual fabrics that scream with bright colors, and faux fur recliners such as their signature sensuous shaped Wave lounge chair with a faux shearling inspired by the wife of its designer.
Some of the most serene zen-like furniture was from another Brooklyn, New York-based company called Opiary, which focuses on biophilic design and landscape furnishings. Some of their most arresting work was the Hoodoo lamp, a graceful organic tapered piece in gray that looked more like a sculpture than a lamp. Many of Opiary's pieces feature small built-in planters filled with ivy and other plants, such as their Drillium, a perforated steel recliner, that looks cocoon comfortable, and Stratawall, a room divider of concrete blocks in various geometric shapes.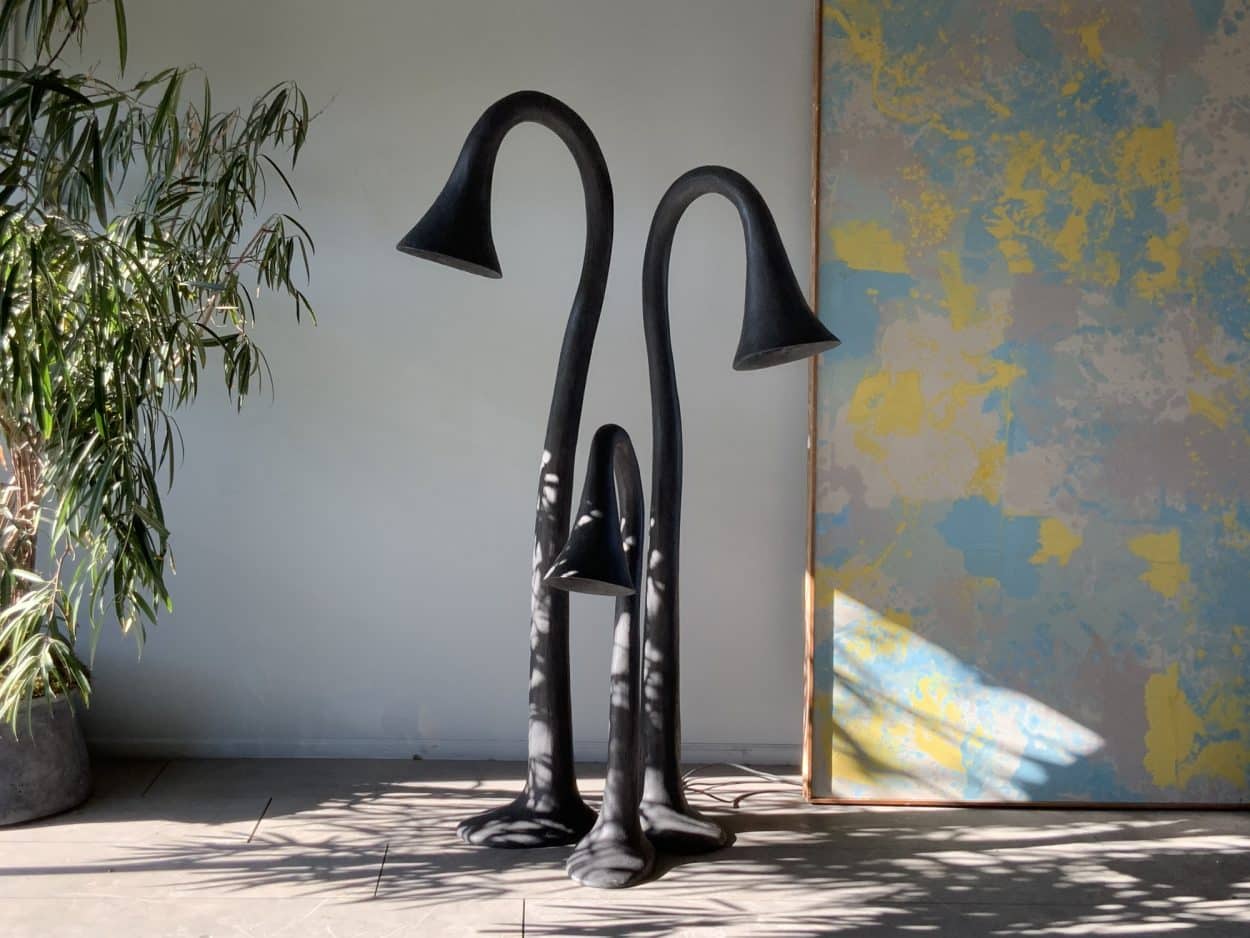 The participation of Wanted Design also provided a stage for many small craft firms and designers. One section of the show was devoted to WantedDesign's Look Book which is a program to connect high-end American designers with interior designers and architects. One firm showcased in Look Book that had a particularly distinctive aesthetic with Shaker-like simplicity was Orbita Furniture, which featured airy chairs, cabinets and tables with metal rod bases and enclosure and surfaces. There was a Yin Yang quality to these pieces: They were spare and looked like the equivalent of stick figures but their construction was sturdy.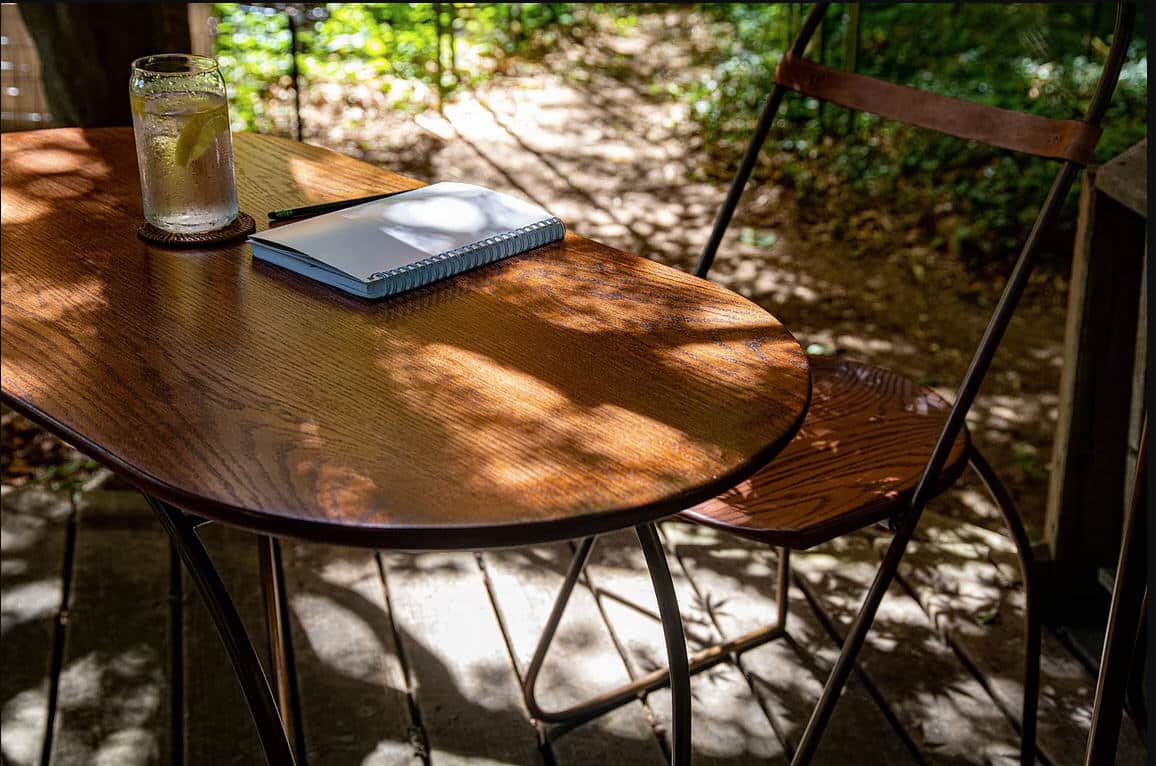 Michael Javidi Design, another firm in the Look Book section, featured particularly elegant and whimsical pieces such as Le Nid Noir, a hanging basket swing for indoors or out made of ribs of wood with shearling seat. Small end tables of polished wood perched on rods extending to geometric woodblocks were chic and modern but had warmth. A real stunner, simply named bench, looks as though it is doing a balancing act with tightly wound concave bands of shimmering wood that curve to endpoints underneath and slanted black metal feet.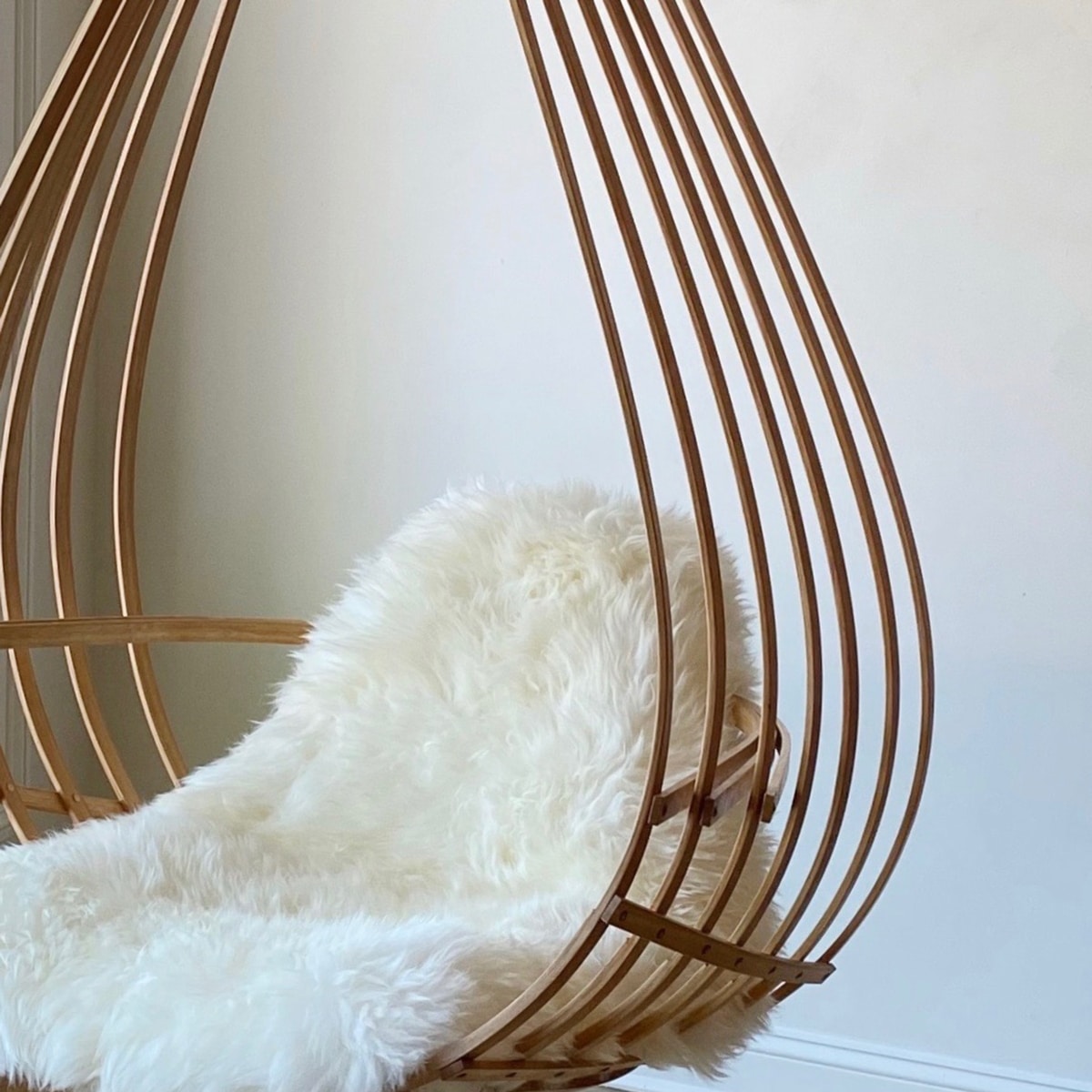 Some of the most innovative pieces were showcased in Wanted Design's LaunchPad, which showcased the work of several dozen up-and-coming designers. One of the most striking award winners in LaunchPad was Primal-Forms, a series that included a bi-morphic sculptural form of polished black wood that looked like a cross between a bench and a seat. The series also includes a lamp with a thick hollowed-out cylindrical wood base that had a bowl-shaped alabaster top that threw off a diffuse light. The designer Achana Menon, who was born in India, says she was seeking to deconstruct dominant Eurocentric forms and explore a more pluralistic approach. And certainly, her work defied categorization and invited the user to speculate and to experiment.
Indeed, so much of the most interesting furniture in this year's show was about making big breaks with the status quo. And they are using technology, craft and whatever resources are at hand to design furniture that is more fun and more eco-friendly and less tradition-bound than furniture was in the past.