June 1, 2021, Danish design company Lucie Kaas released its first of several discussions with renowned designers on the topic of displaced people who have had to flee their homes. We talk with participating designer Christian Troels to learn more.
In preparation for World Refugee Day (June 20), Danish design company Lucie Kaas launched a digital campaign in which participating designers were asked to reflect on the plight of 79.5 M displaced people who have had to flee their homes. Several renowned designers from studios such as Studiopepe, Norm Architects, Space Copenhagen, Sebastian Herkner, Søren Rose and Masquespacio discuss what home means to them.
These discussions took place in May and will be released daily throughout the month of June on Lucie Kaas' social media channels. Here is a link to the Vimeo channel. Designer Christian Troels, who has previously collaborated with Lucie Kaas on products such as the Macaroon lamp, participated in the event. His discussion was broadcast on June 2.
In our interview with Christan Troels, we learn about his contribution to the campaign and collaboration with Lucie Kaas.
Some background information about Lucie Kaas might be helpful in understanding why the company actively generates awareness on behalf of refugees. The company name itself is a tribute to Creative Director and Owner Esben Gravlev Rasmussen's grandmother, who struggled with mental illness throughout her life. However, what really got him and his wife Ellora Rasmussen, Managing Director, on the path of refugee awareness was personal.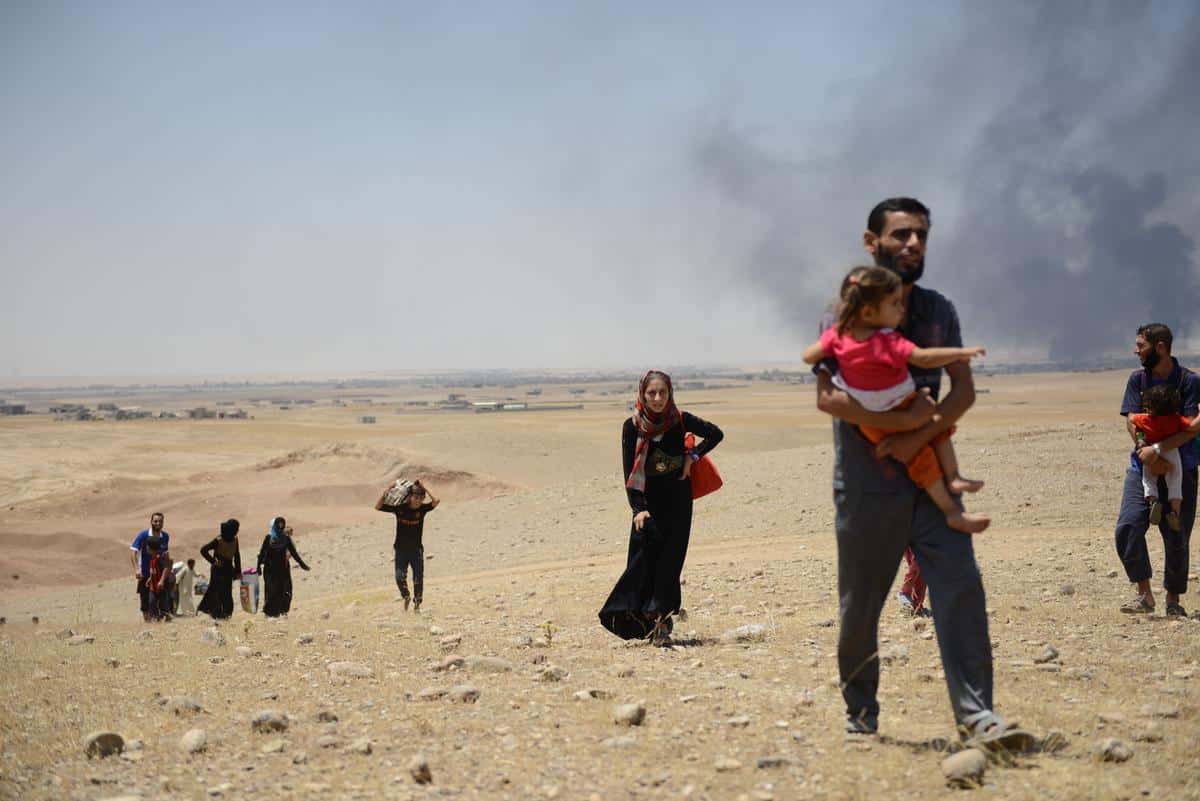 In 1971, Ellora's parents fled from a civil war taking place in Pakistan. Although they never had a refugee status, they were fleeing war in search of safety. Esben's brother's wife was, in fact, a refugee who arrived in Denmark from what is Croatia today. She was first in Germany, then relocated to Denmark where she lived in an asylum house for four years.
Pre-2010, the number of refugees was relatively stable (between 30 to 40 million around the world, as explained by Ellora during a phone interview for fact clarification. The last ten years have been a pivotal high with the number of people displaced around the world. It doubled in the span of ten years.
The 2021 World Refugee Day initiative is not the first time that Lucie Kaas has used design to raise awareness about different issues. For the 2020 3 Days Of Design event, the company raised funds for the Danish Refugee Council by auctioning pieces from the exhibition "When we leave our homes, where do we go?" by fifteen artists from around the world who contributed works painted on a 60 cm Kokeshi doll, a shape central to Lucie Kaas's brand. All auctioned prices were donated to the Danish Refugee Council. The original campaign in 2020 was a success, however, the plight of 79,5M people and counting remains. This is why the company continues to create awareness.
Here is the digital discussion with Christian Troels:
Here is our interview with Christian Troels:
ArchiExpo e-Magazine: How does product design relate to World Refugee Day?
Christian Troels: When I talked to Lucie Kaas about this campaign, we talked a lot about being a refugee and how the concept of home changes throughout your life. In a part of my life I moved around a lot. I had ten different homes in ten years. Whether it was a dorm room or a new apartment, it started to feel like a home when I began accumulating things. Having to abandon your home and all your belongings is a terrible thing because the things you surround yourself with are what give you a homey feeling.

Since then, of course, things have changed. I have a family and children now. When you have children, the amount of stuff you have just grows. But that's when your family is what creates a home. For me, as long as I have them I'm fine. But the stuff you surround yourself with is still a part of your past. It's a testament to the life you've lived.
ArchiExpo e-Magazine: What's an example of an object you had that made you feel at home?
Troels: My good luck golden Waving Cat has been with me in last 10 homes. Its big and shiny and always put a smile on my face. It used to be in our living room, but now my daughter has adopted the cat and brought it to her room. I bought the cat on student trip to China many years ago, where we had to design bicycles in collaboration with chinese students and one of the world's largest bicycle manufacturers. This trip was truly an small adventure and this cat reminds me of this awesome trip and how traveling can open your eyes as a designer.
ArchiExpo e-Magazine: How can the design of an object make people think?
Troels: I always try to promote storytelling in design, whether it's an object you found at a flea market, and there's a fun story about how you got a good bargain, or it's something you inherited from your grandmother; we all have things that we inherited that we probably wouldn't have if they weren't part of a family member's story. When you surround yourself with things that have a story, it has greater value for you because it reminds you of a certain time or a certain feeling.
ArchiExpo e-Magazine: How do you incorporate storytelling into a new product you're designing?
Troels: My approach to design is that the process is more interesting than the function of the actual product. That's how design can tell a story, but it can also make you feel stuff. I think that's going to be one of the important factors in future design because objects now have to be environmentally friendly, so the process and the thought behind the product are going to be really important. When you know the story behind the origin of the product you're buying, it makes you create feelings towards the product, and that's the strongest key in getting you to like the product and hold onto it.
ArchiExpo e-Magazine: What's the story of your collaboration with Lucie Kaas?
Troels: During the period before I started working with them, I was designing toy wooden cars and at that time they were making a lot of little products in wood. I thought maybe we could combine efforts, so I went by to meet them. They weren't really interested in making wooden cars but they had some other ideas. The Macaroon lamp became our first project together and I found there was a nice atmosphere there. I'm not that strategic of a guy. If I meet somebody and the chemistry is there and I think they are doing something good, usually it's going to work. It doesn't really matter if what I have to create is a lamp or a chair or a spaceship.