During Salone del Mobile.Milano this year, we identified three brands with products made of materials that caught our attention.
April 18 – 23, 2023—The 61st edition of the Salone del Mobile.Milano under the guidance of Maria Porro, President of the event, boasts of three major changes: a single exhibition level, with the exhibitors from the upper pavilions moving into the lower ones for an improved visitor experience; a new human-centered Euroluce layout, with a hyper-accessible loop-shaped path; and a cultural component integrated into the lighting biennial, with interdisciplinary and experiential content ranging from architecture to art, with exhibitions, talks and workshops. 
In addition to our coverage of Euroluce, we highlight a few of our favorite discoveries at the Salone. We visited the stand of Tom Dixon Studio to witness the studio's collaboration with Universal Robots: one of its robots continuously reconfigures one of the pieces in the new Choice collection. After touring the installation organized by the start-up and benefit corporation Designtech to discover a number of furnishings and technology for future living, we spent time absorbing the energy from hall to hall. We decided to focus on the latest products from three specific brands with a focus on the materials they used to produce these pieces.
Glas Italia: Pieces by Yabu Pushelberg, Patricia Urquiola, Nendo and Jean Nouvel
Founded in 1972, Glas Italia, manufactures doors, wall partitions and glass furniture, supported by the century-long experience of the family glass factory. In line with the brand's interest in working with renowned designers to produce furniture and objects for the home, office and contract sectors; Glas Italia is presenting a number of incredible new pieces at this year's event. While the designers' names draw enough attention—Patricia Urquiola, Nendo, Jean Nouvel, Yapu Pushelberg, Piero Lissoni—, the new products are magnetic to the eye.
Our three favorite pieces are Ollie by Yabu Pushelberg, CC low tables by Patricia Urquiola and Drift Storage by Nendo. The Ollie low table is made of a 12 mm extra-clear glass plate with a polished shiny edge, has a 180-degree curve and has been chemically tempered. Its L-shaped double-sided mirror sits snugly within the curved glass, acting as a support for books. The CC low tables have a wooden structure that has been completely covered by a mosaic of cast glass tiles in various and random colors. The tiles are shaped and positioned so that the surface reproduces the axonometric projection of a parallelepiped element. The Drift storage furniture has sliding doors made from tempered UV-bonded, acid-etched extra-clear glass. A black oak box serving as the storage unit is partitioned and fixed to the glass so that one part remains inside and the other rests on the top. The effect obtained resembles a solid mass floating in a liquid, partially emerging. The doors slide within natural anodized aluminum profiles, and the glass base is silvered and radiates brightness within the furniture.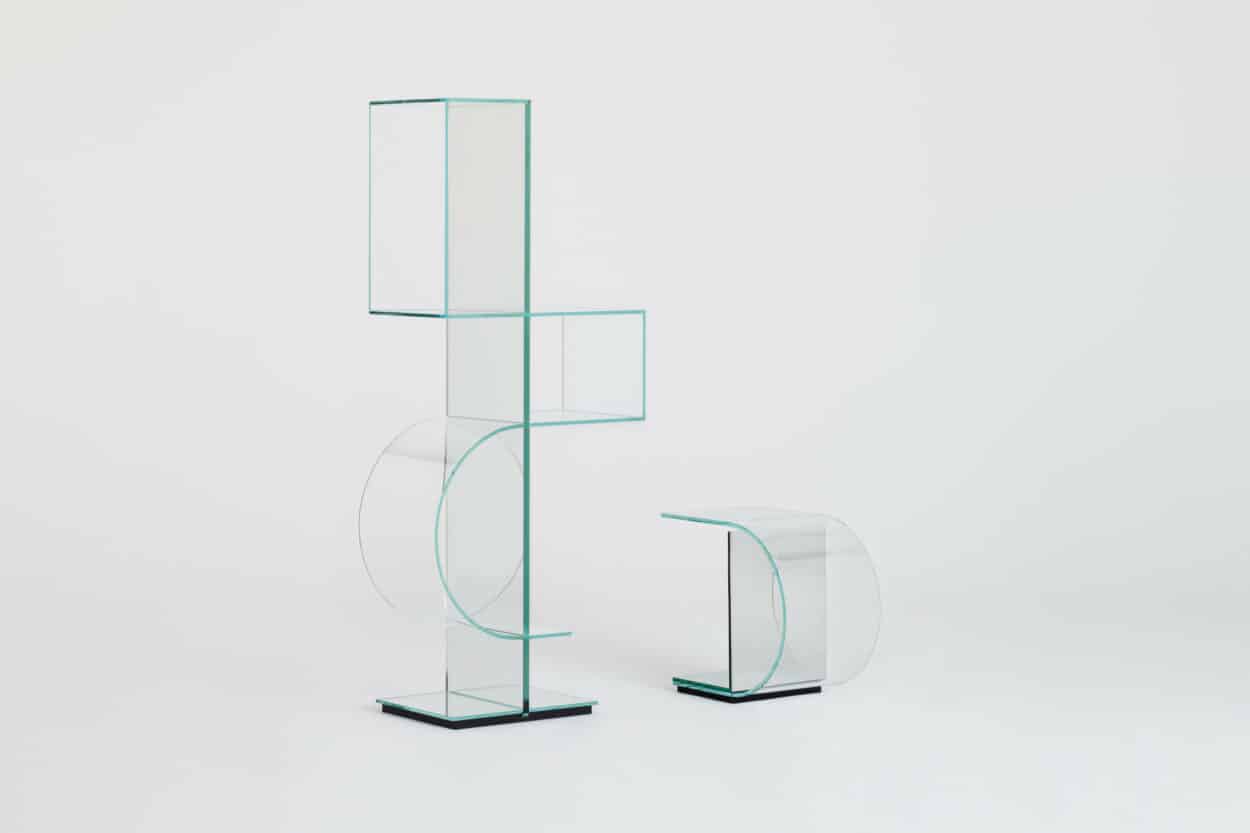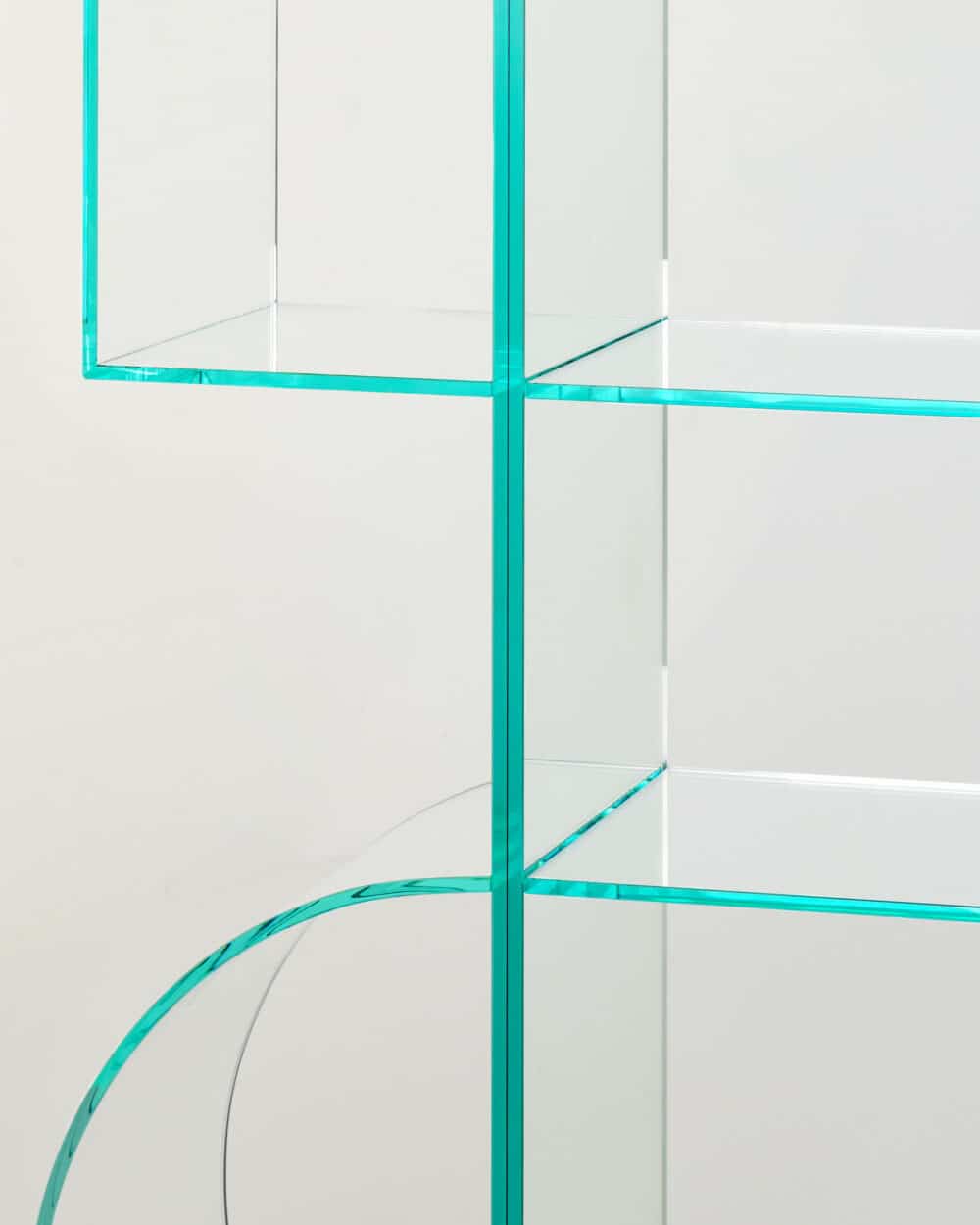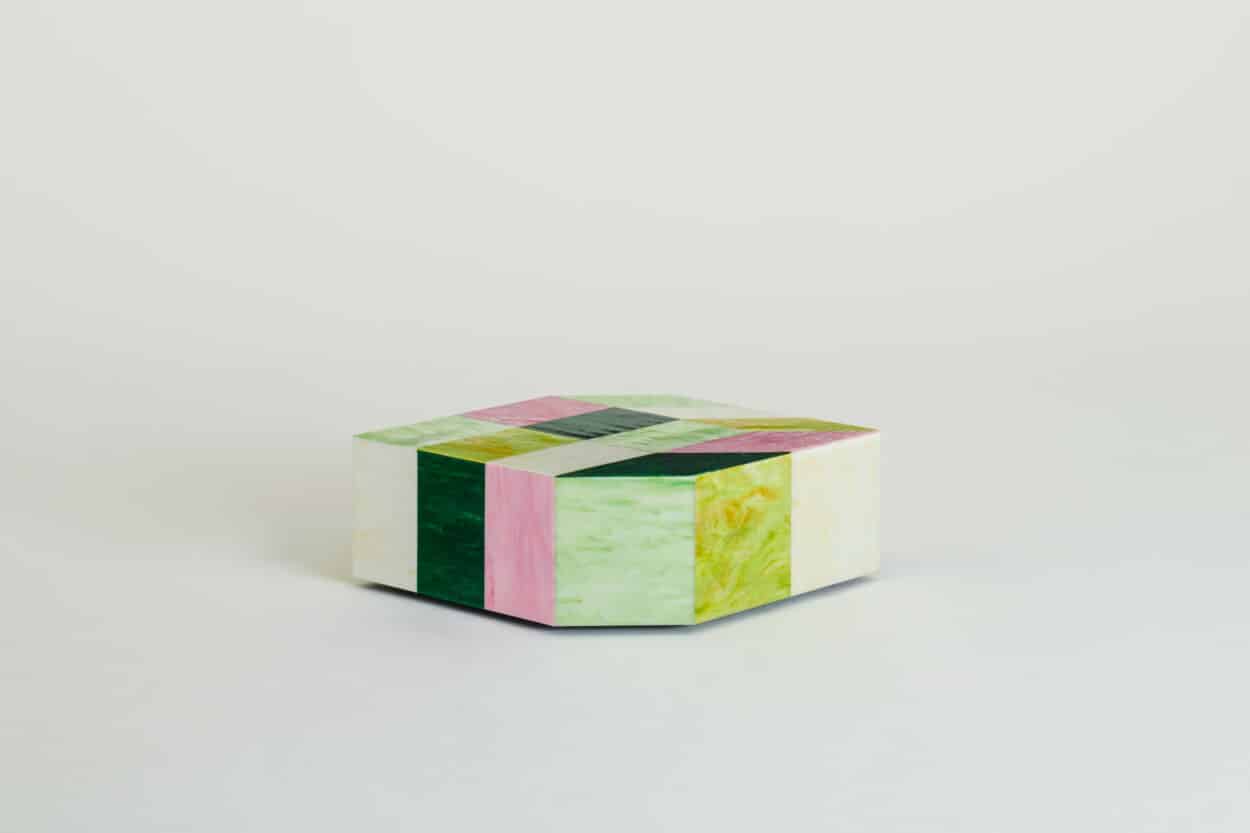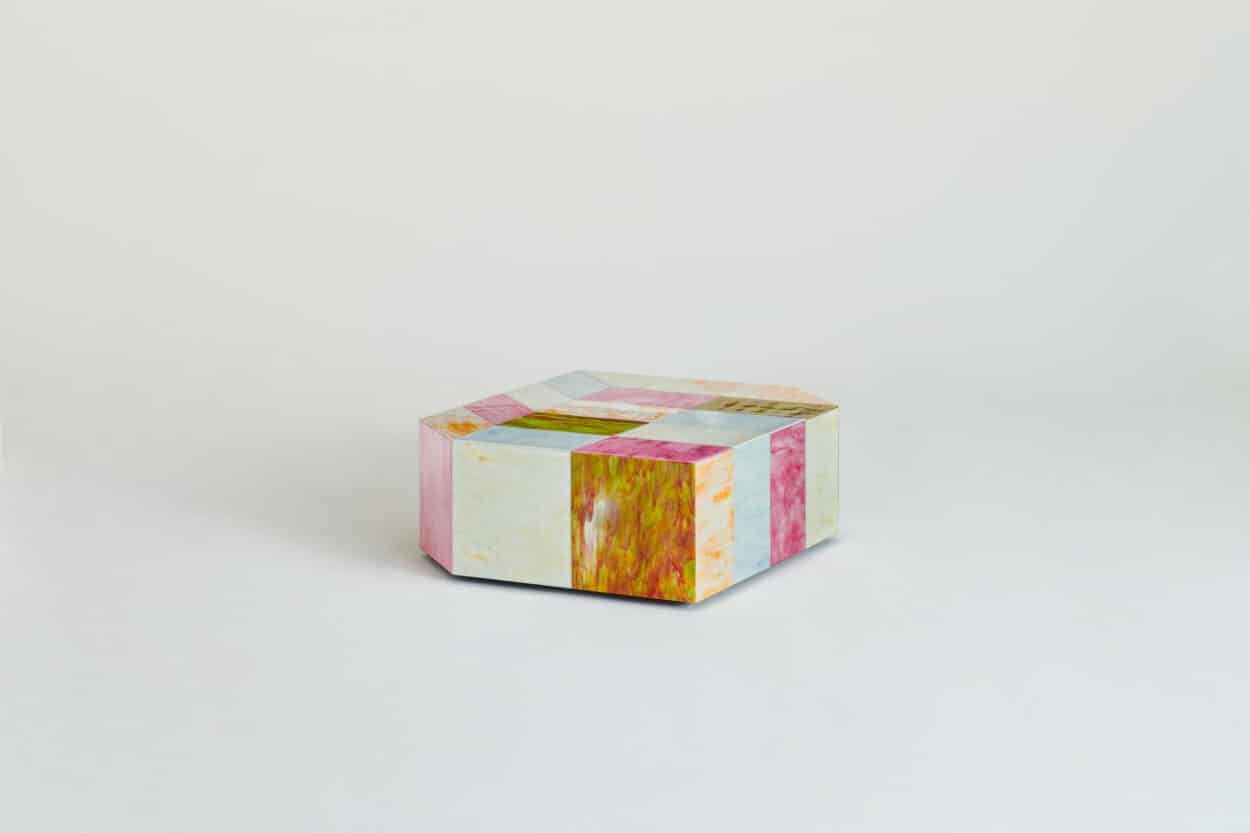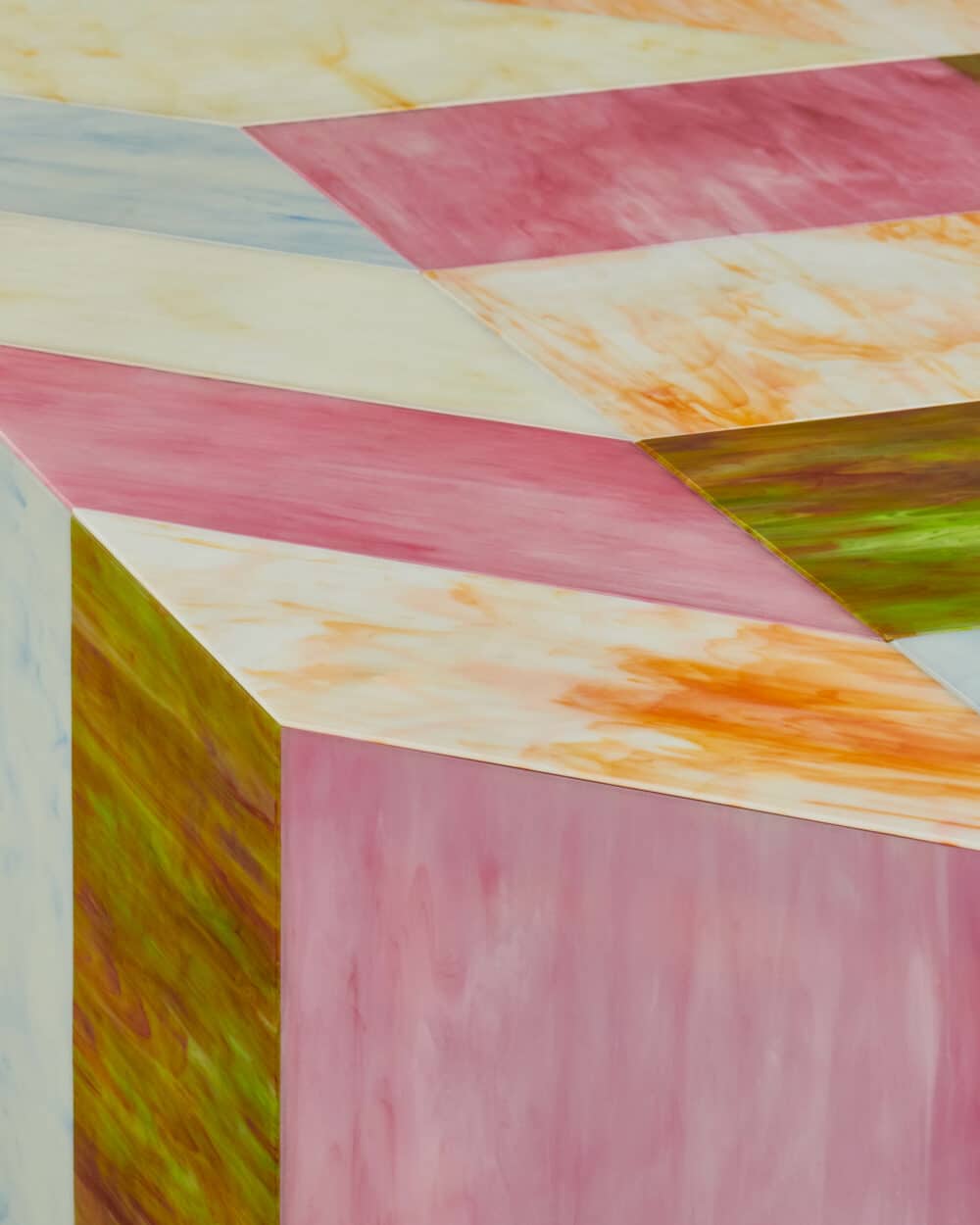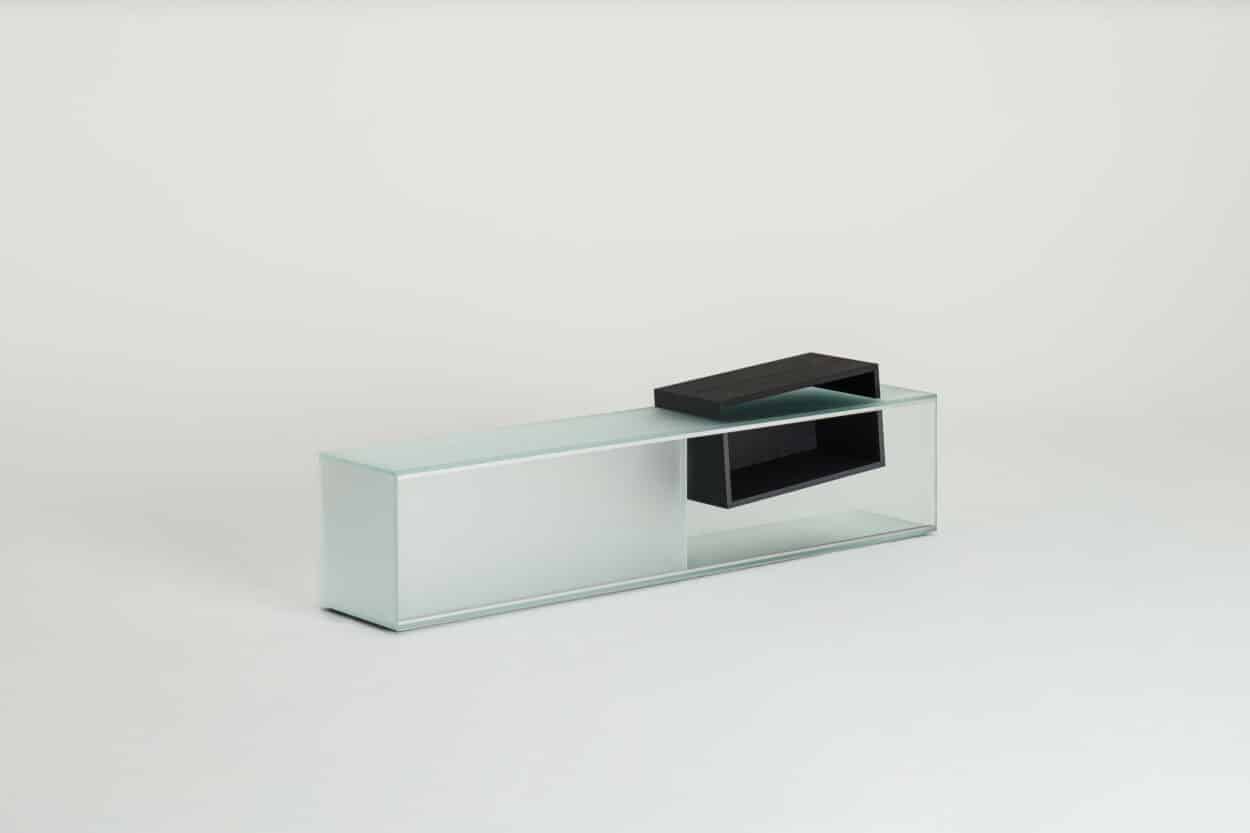 Marjorelle Lamps by Dooq, a Mambo Unlimited Ideas Brand
Mambo Unlimited Ideas' production is based in Portugal where craftsmen manufacture designs handmade of lacquered metals, solid woods, marbles, glass and more. The colorful stand with its multiple brands had new products on display, including the Marjorelle lamps by Dooq. Highly organic, the Majorelle collection evokes flowers of an imaginary garden. Informed by textures found in nature, the collection features a dappled surface made from resin-soaked foam. Each of the six models is meticulously handmade and available in any of the Majorelle signature 4 shades, and one special combination per model.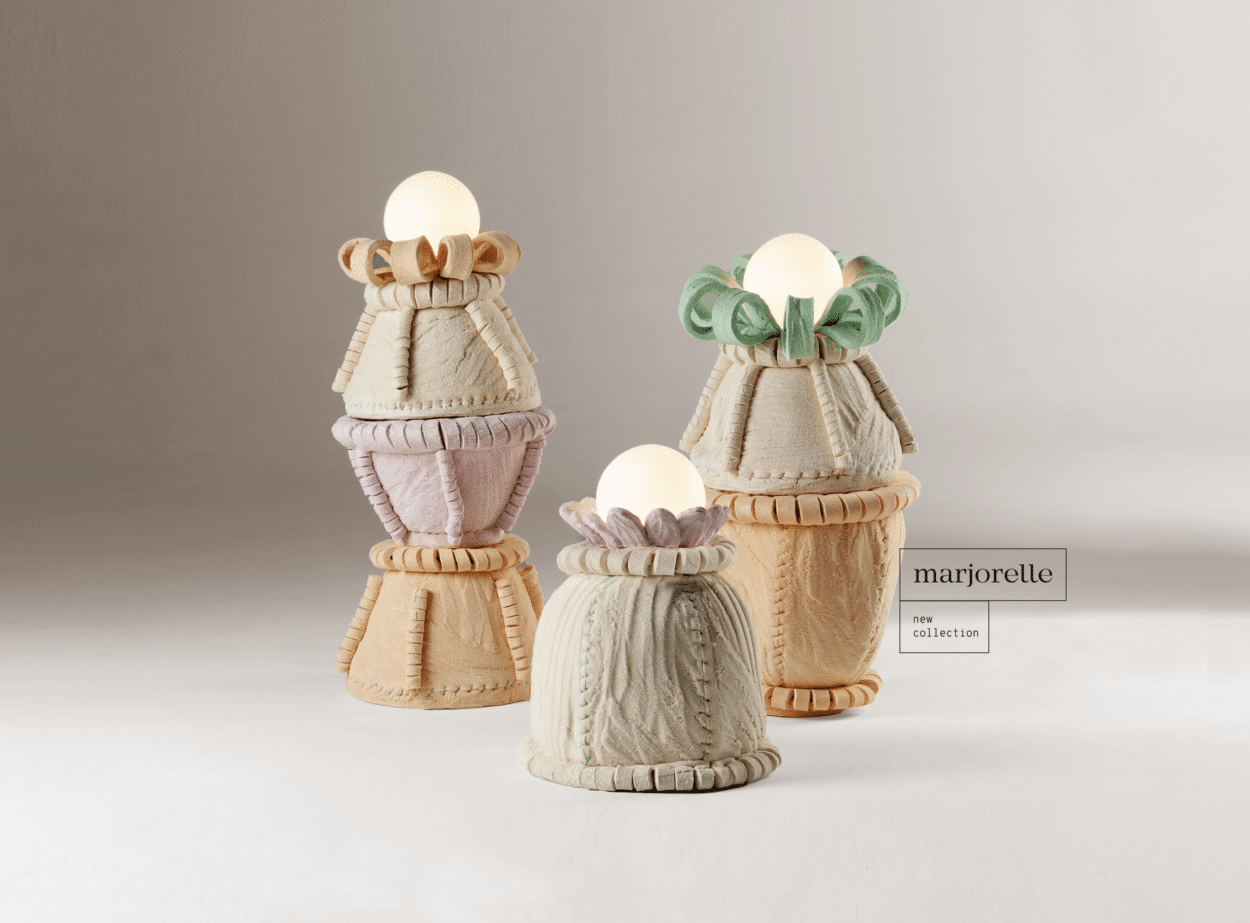 Clocks, Lighting and Furniture by Nomon
Spanish brand Nomon manufactures handmade clocks, lighting and home furniture designed by José Maria Reina who defines his clocks as decorative objects for interiors. The company also collaborates with other designers for its home furniture products. During this year's Salone, Nomon presented its new pieces alongside its bestselling items. The quality of craftsmanship and rich wood material used drew us into the stand. As the company describes its works as small jewels for the home, the designer has obtained a sense of luxury and exclusivity through the use of noble materials and attention to detail.
Designed by Goula Figuera Design Studio, Unut is Nomon's new mirror collection named after an Egyptian Goddess that comes in round and oval shapes (see featured image of this article). It suits any space such as the entryway, bathroom or dressing room. It's made by hand in curved solid walnut wood, these mirrors are unique artisan pieces.
Nomon incorporates Onfa to the collection of lighting. Nomon has made it in several versions—table, floor and pendant—with a design that offers elegance and simplicity. It combines a metal body in brass or graphite finish with focus and base in walnut or black ash wood, a material that highlights the naturality and warmth of the light.
Other new items include the Wooden Dots lighting pendant which acts as an art piece at the same time, the Line collection of lights that combine natural hand-worked wood with metallic details, the clothes rack Arco and more.