The latest home speakers in the market this year are refreshingly modern, innovative and uniquely shaped. Here are some of the top picks.
Over the years, speaker design has evolved and adapted with the times. Materials like wood – which has been used in making the protective shell covers of speakers since the early 20s – is trending, as seen with Naim Audio's new wooden speakers called Mu-so Wood Edition. Uniquely shaped speakers are also creating a buzz, like the book-shaped Beosound Emerge speakers from LAYERS, designed in collaboration with Bang & Olufsen and the cool Bum Bum Toro speakers from Vondom. Whether you are an audiophile, design fan or a speaker collector, these cool boomboxes will keep you listening – and staring at them – all day and all night long.
Mu-so Wood Edition Speakers from Naim Audio
Popular materials for speakers in the market now include metal, plastic and aramid fiber and it was not a long time ago that speakers were made with wood. British company Naim Audio started making amplifiers and speakers made with wood in 1969 and fast forward to 2021, the firm just released their new speaker, called Mu-so Wood Edition, covered in durable and solid Ayous wood. The speaker's surface is skillfully treated and lacquered to achieve the appearance of a light oak finish, reflecting a timeless design that goes well with classic or contemporary interiors. A unique tint finish is added to the anodized aluminum heatsinks for an elevated style.
Other than its sleek and classic design, the Mu-so Wood Edition is sought after for its high-tech features that provide maximum listening pleasure like music-streaming, UPnP support for ultra-high resolution (up to 32bit/384kHz), an HDMI ARC input, and optimized speaker drivers with 450 Watts of music power.
Photo Credits: Mu-so Wood Edition. Courtesy of Naim Audio.
Book-shaped Beosound Emerge Speakers from LAYERS x Bang & Olufsen
Product design studio LAYERS has partnered with Danish electronics brand Bang & Olufsen and released last April 2021 the Beosound Emerge, a slim speaker designed to seamlessly fit in with other objects like books and other domestic objects when placed on a table or a bookshelf. Considered as one of this year's must-have products for the home, the sculptural speaker is covered in a jacket of natural wood or black polymer, with crafted aluminum on its spines and features premium knitted textiles. It was developed for over 2 years and is the 2nd collaboration between the two firms, following the Beosound Balance.
The tapered silhouette complements the slim design of the speaker and it serves an important function as well in reducing reverberation. The opening on the rear of the speakers which forms both the air inlet and cable management system ensures it gets visual admiration from every angle while listening to music that streams through it.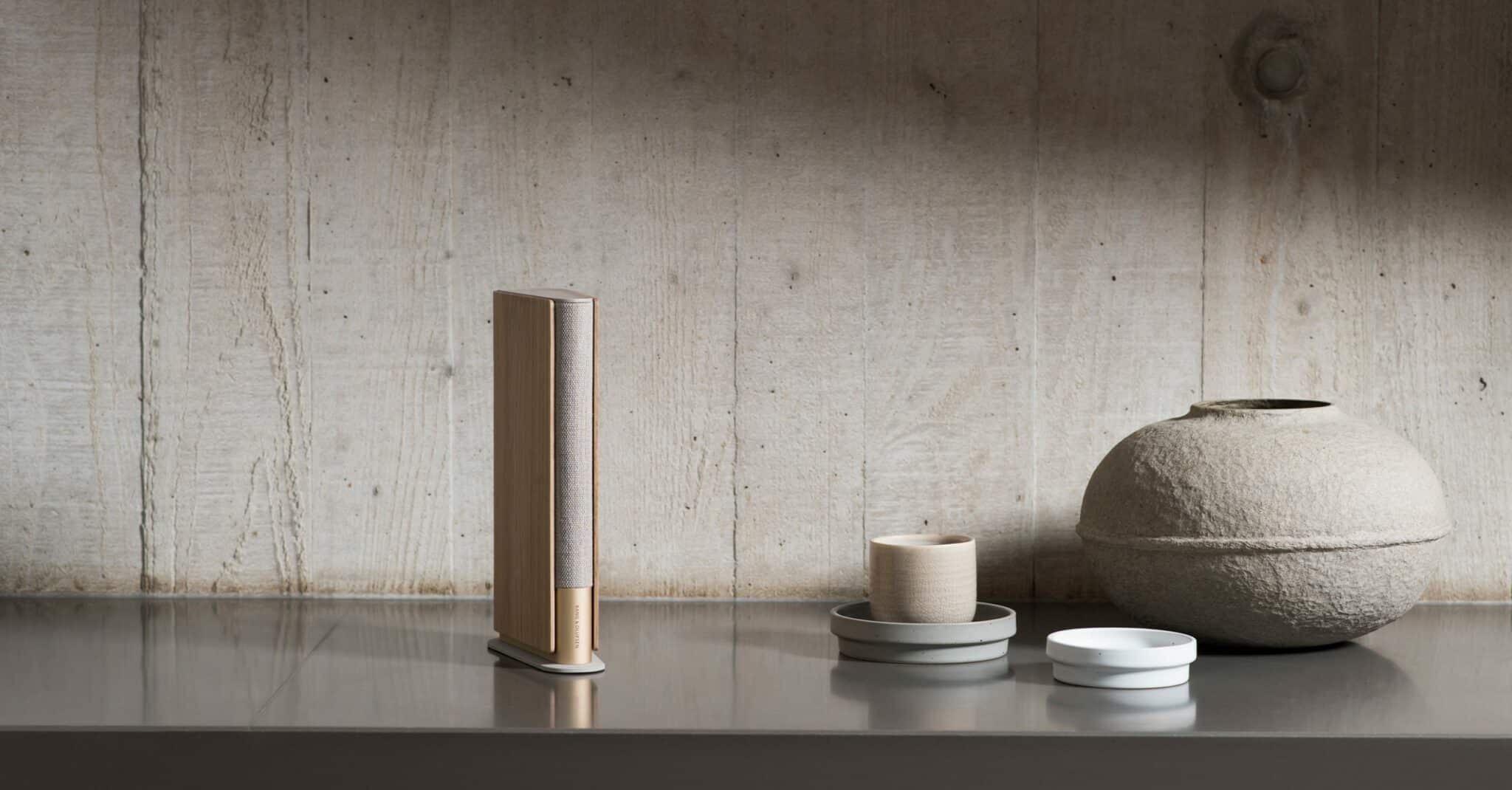 Bum Bum Toro Speakers from Vondom
Imagine yourself holding up a conch shell against your ear to hear the sound of the waves. This familiar and enjoyable moment is replicated by design firm Vondom when they created their speakers called Bum Bum Toro, inspired by the echoes of the ocean. Designed by Catalan designer Eugeni Quitlet, the Bum Bum Toro is argonautic in form, resembling a conch shell that streams music through its Clarion CM1625 speakers. It fits perfectly in any modern home, alongside Vondom's futuristic-inspired furniture collection which is also called Bum Bum. It is made of polyethylene resin and is 100 % recyclable, making it one of the eco-speakers in the market that are increasingly getting popular. It is suitable not only for indoor use but for outdoor music enjoyment as well as it features wireless audio by Bluetooth and is powered by batteries that last for 6 hours uncharged.