Highly influenced by the country's rich history and cultural heritage, French furniture design addresses modern issues such as equality and sustainability. Here are five names in the industry to know.
When considering French furniture, most people recall the opulence of the rococo era, characterized by extravagant pieces from the reign of absolute monarchs. Although this epoch has long passed, the enduring influence of socio-political contexts on the decorative arts has remained a constant in France's history.
The origins of the Art Deco style exemplify this. In 1910 a group of French artists established the Société des Artistes Décorateurs to develop new approaches to design and cultivate high standards of craftsmanship. That was the time of the big international exhibitions, a time when technological advances in communication and transport were bringing the world closer together. In this context, the French government decided to host the Exposition des Arts Décoratifs et Industriels Modernes. World War I delayed their plans, but the event took place in Paris in 1925 and proved to be a huge success. Not only did it attract around 16 million visitors but its name ended up "baptizing" the modern style it presented: Art Deco.
The connection with art is an important feature of French design with important names like Paul Cézanne, Claude Monet, Paul Gauguin, and many more. No wonder Pierre Gonalons, one of our chosen designers, cites the significance of French cultural heritage as a major influence in his work.
Equality stands as another fundamental French value that permeates contemporary product design. Take, for instance, the torches and cauldrons designed for the Paris 2024 Summer Olympic Games by Mathieu Lehanneur. He advocated for identical shapes, materials, and a warm champagne color for both the Olympic and Paralympic torches, a groundbreaking decision inspired by the principle of equality. This ethos also manifests in the design's symmetry, with the torch expanding from a narrow beginning to a thickened core before tapering to a narrow shape once more.
Here are five French names who have contributed greatly to the design scene.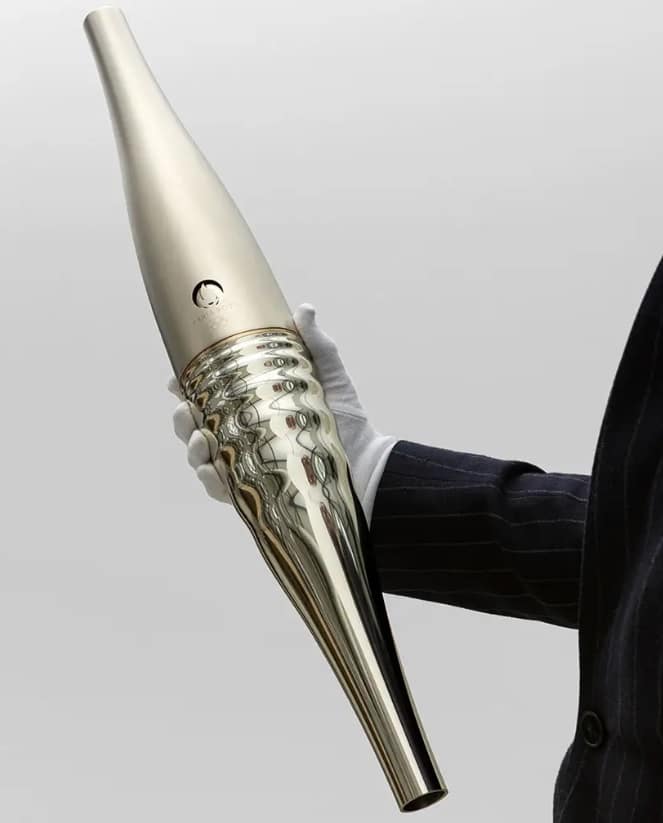 Philippe Starck: Designing a Legacy
Philippe Starck is undeniably one of the most renowned and omnipresent names in the world of design today, not just in France but globally. He is the son of an aeronautical engineer and designer and received his education at the École Nissim de Camondo in Paris. After a period of designing interiors for Paris nightclubs during the 70s, he gained worldwide recognition in 1983, when François Mitterrand, the then president of France, chose Philippe to decorate the Élysée Palace.
While his portfolio boasts an impressive array of over 10,000 creations, spanning architecture, product design, interior design, and industrial design, Starck's work is characterized by a fundamental principle: a preference for fluid, organic forms. This aspect of his work is particularly evident in his recent collection for Andreu World, featuring items like the Aldela Rex, Solo, and Olena chairs, as well as the Occasional table and Boucle stool. Launched in 2022, these pieces are constructed from plywood and boast an assembly without the use of glue or screws, aligning with Philippe's own words about achieving "the pinnacle of ecological design in a piece of furniture."
Another noteworthy accomplishment is Maison Dior's invitation for Philippe to reinterpret one of its most iconic symbols: the Medallion chair. Launched at Salone del Mobile Milano last year, the Miss Dior by Philippe Starck collection accrued more items in 2023.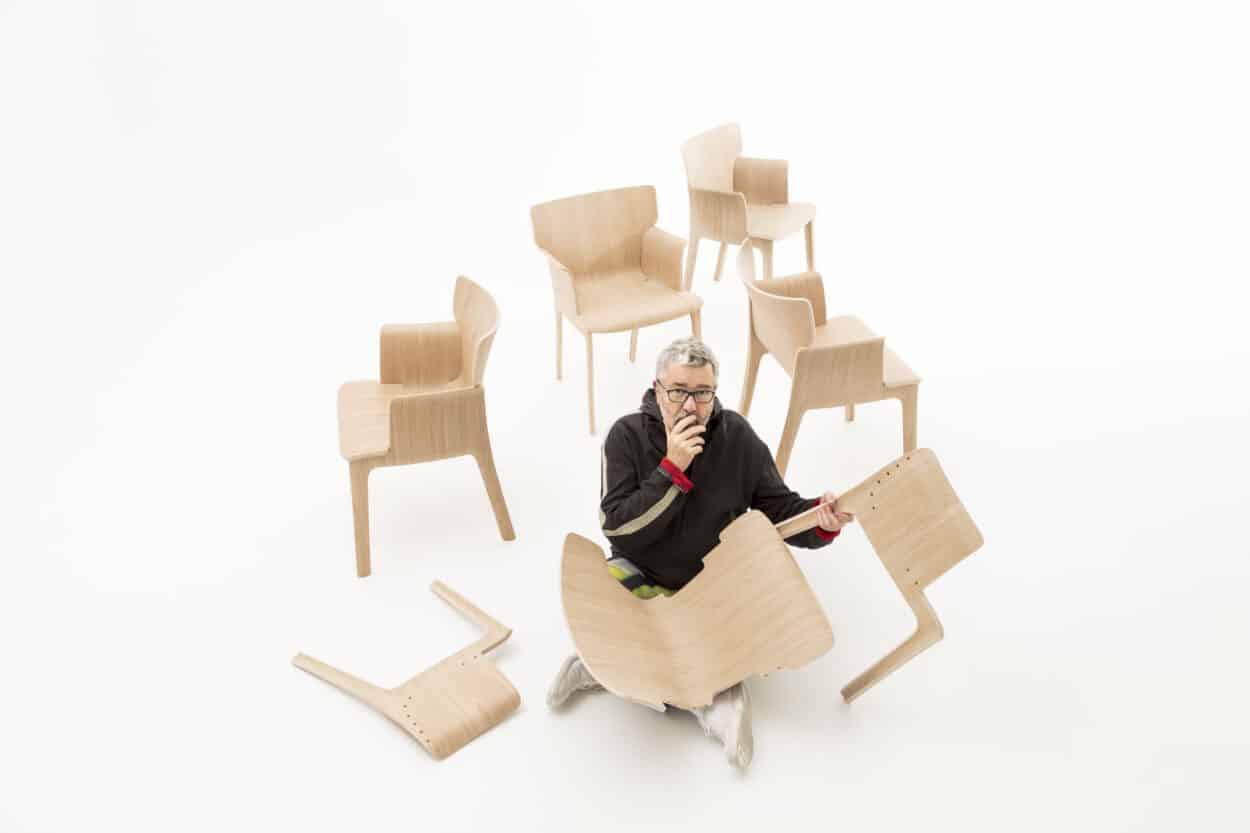 The novelties were first revealed in an immersive experience conceived by Philippe at Palazzo Citterio in Milano, by hanging the chairs against black floor mirrors. The collection also includes stools, and all items are made in Italy.
Mathieu Lehanneur: Extraordinary Design Innovator
Recognized by both Wallpaper* and Surface magazines as one of the "100 World's Top Designers and Influencers," Mathieu Lehanneur is renowned for his ventures across various creative domains, including architecture, product design, art, and fashion. His work graces the collections of esteemed institutions such as the Museum of Modern Art (MoMA) in New York, the San Francisco Museum of Modern Art (SFMOMA), the Centre Pompidou, and the Museum of Decorative Arts in Paris.
Incorporating his distinctive design philosophy, Mathieu Lehanneur left an indelible mark on the Selene New York, a 63-story luxury residential tower completed in 2022. Designed by Foster + Partners and William T Georgis, this remarkable project features a captivating full-floor showcase apartment on its 58th floor. Within this space, Lehanneur seamlessly integrates bespoke creations like the Inverted Gravity dinner and coffee tables, alongside his iconic pieces like the Familyscape sofa. Furthermore, this exhibition introduces fresh interpretations of his classic designs, such as the sumptuous cashmere-rendered Elephant armchair and ottoman versions of both the Hug armchair and chair.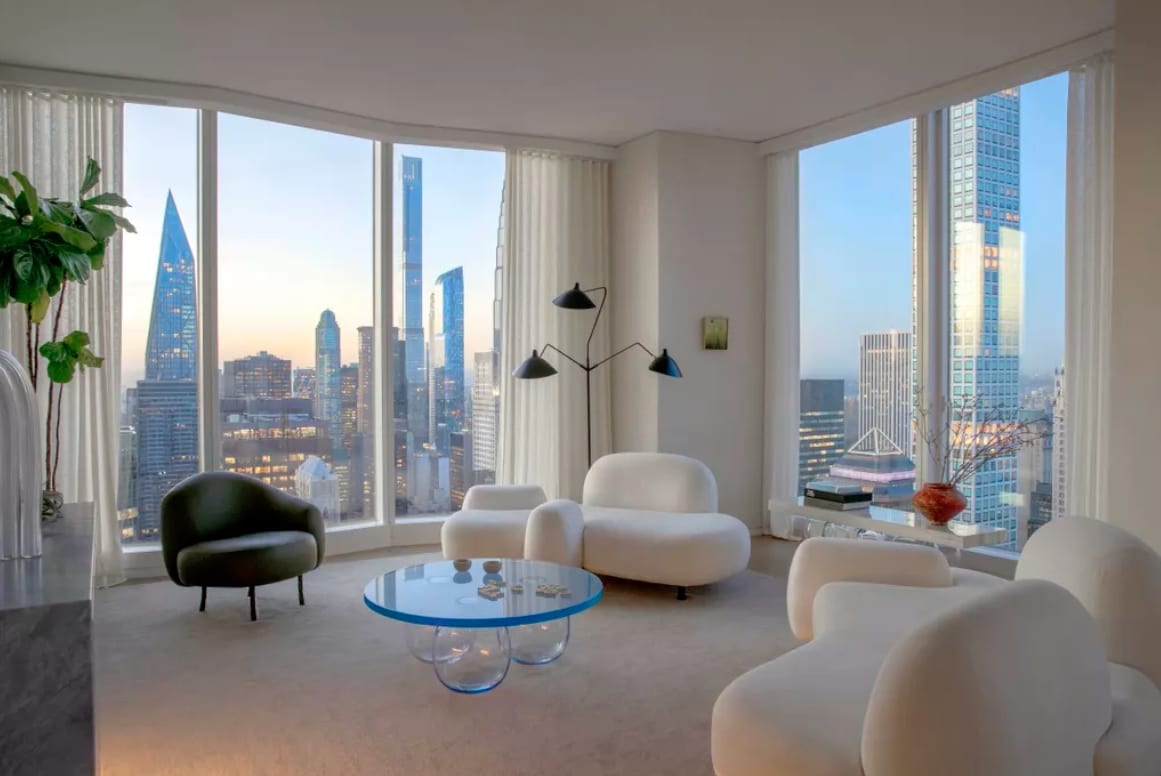 Pierre Gonalons: Minimalist Design Maestro
Pierre Gonalons, an architect and interior designer based in Paris, is celebrated for his fusion of minimalist design with influences from pop culture and decorative arts. He founded his creative studio at just 23 years old, collaborating with prestigious brands and developing his own collections. Notably, he co-created the innovative Diamant concept car in partnership with Renault. Gonalons' work can be explored at the Galerie Pierre Gonalons in Paris, and he is set to inaugurate a new private gallery in September 2023, coinciding with the opening of his first American gallery in collaboration with Ronit Anderson.
One of his recent accomplishments is the King Sun Murano floor lamps collection, crafted in collaboration with the Italian brand Stories in 2022. These lamps feature mouth-blown Murano glass globes in four captivating color combinations, supported by brushed brass bases and structures. Additionally, Gonalons introduced the limited edition Loggia chair in 2022, showcasing an imposing antique marble structure fortified with a bio-sourced fiber binder. While the example displayed features Métaphores fabric, customization options for fabrics and marbles are available upon request, reflecting Gonalons' dedication to tailored design.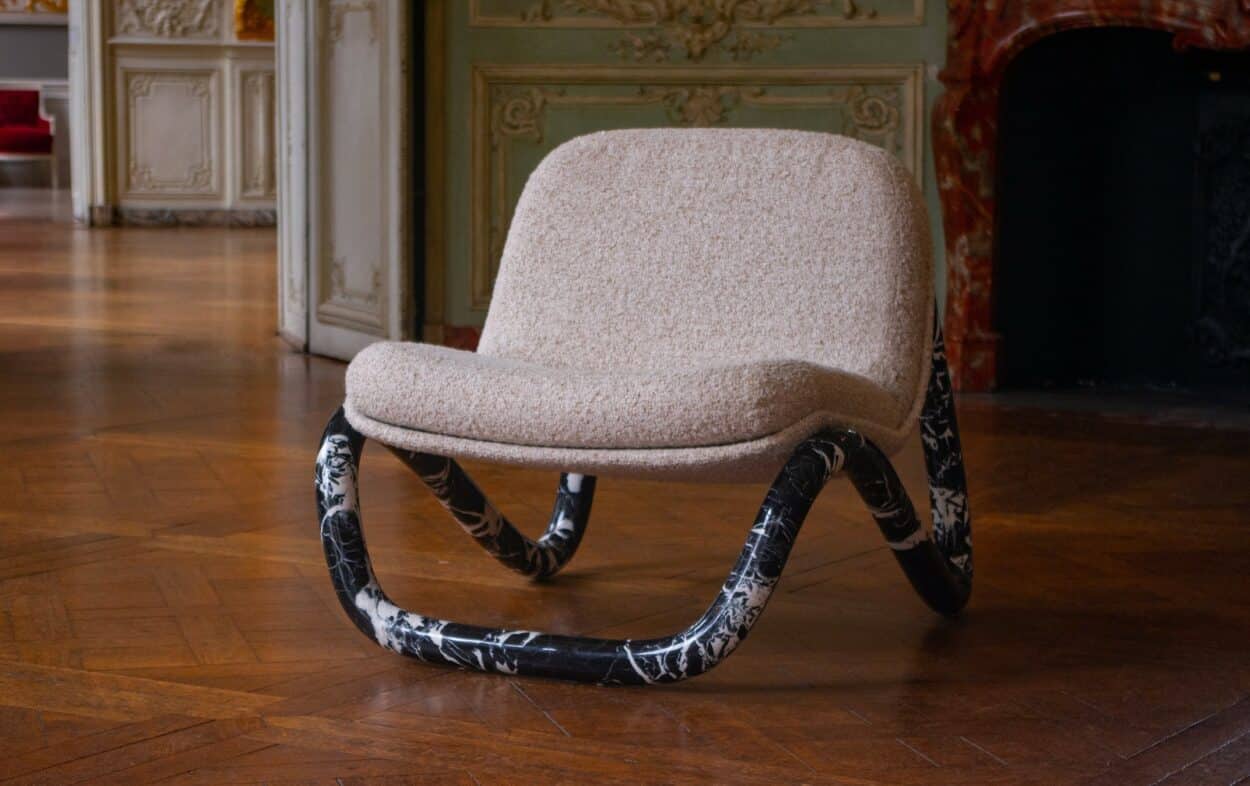 Margaux Keller: Crafting Emotion in Design
Marseille-native designer Margaux Keller boasts a prestigious clientele that includes renowned names such as Yves Saint Laurent Beauty, Dior Perfumes, and Made.com. Her design ethos is often described as poetic and sensitive, departing from the traditional binary concept of function and aesthetics to embrace a third dimension – emotion. According to Margaux, this emotional connection is pivotal in the creation of objects and spaces. Moreover, she places a strong emphasis on preserving traditions and championing sustainability, believing that it is not only our duty but also an enriching, high-quality, and enduring option to uphold such production chains.
In 2022, Margaux introduced her captivating Mimosas Séries 08 collection. This collection, as she describes it, is a celebration of the essence of the south of France – a region synonymous with joy, warmth, unpredictability, and vibrant colors. The collection includes a stunning flower-shaped wall lamp, the Scapa mirror (inspired by a painting by Félix Vallotton), the Roucas bookend, a reimagined pink Lioz marble version of her iconic Fani table, a fresh iteration of the Galinette armchair featuring a strikingly graphic and sensory fabric, and the Rioux, Gaou, and Bendor shelves. These latter items are part of the Pomègues collection, each meticulously crafted by hand in Anjou, near Lyon, using sustainable solid ash wood sourced from French forests, and they are available in a diverse palette of seven colors.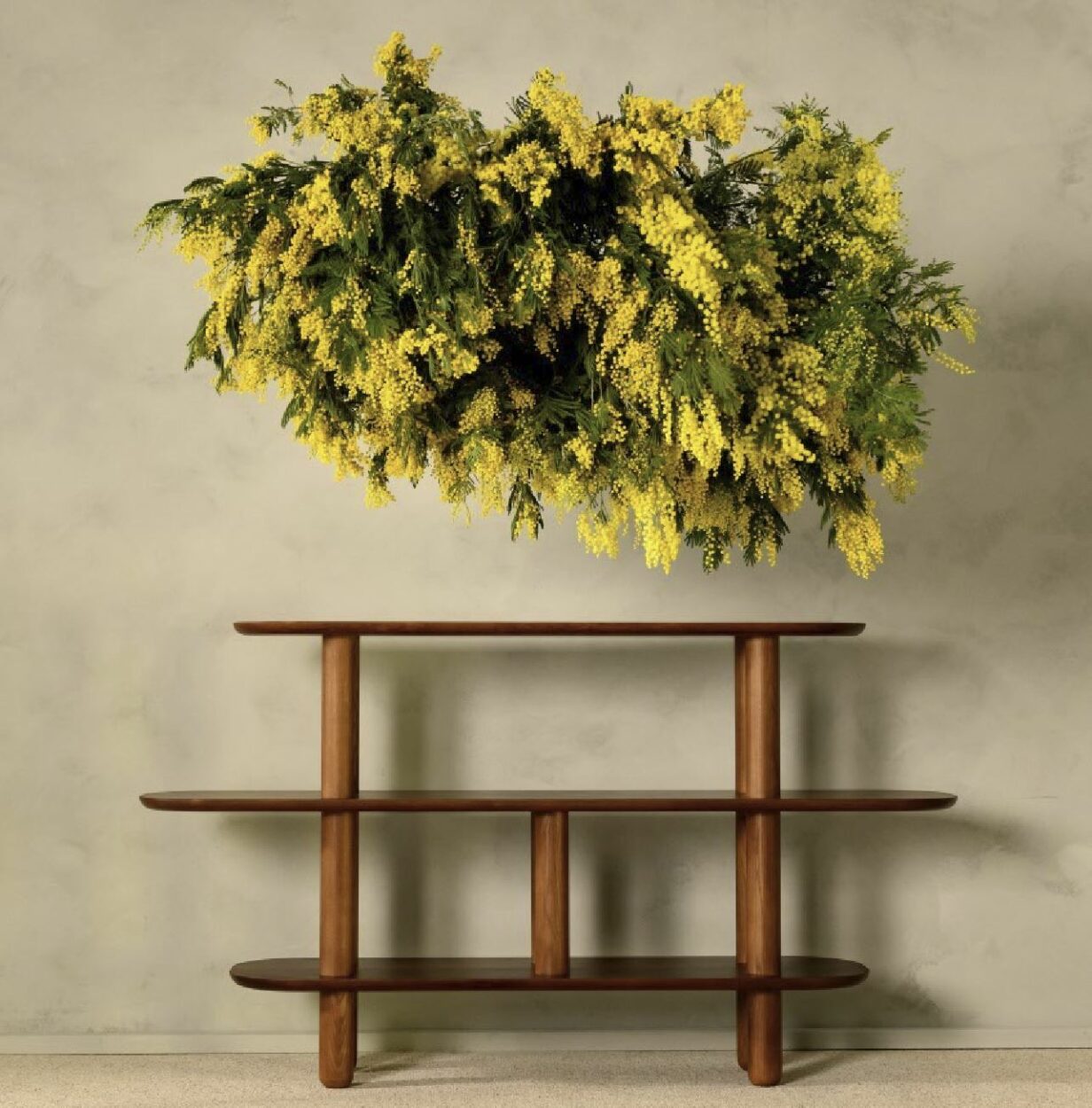 Jeanne Andrieu: Rising Talent in Craftsmanship
Jeanne Andrieu is on the ascent as she secures the craft category of the prestigious Rising Talent Award 2023, presented by Maison&Objet. This year, the competition shines a spotlight on French designers, with Philippe Starck leading the jury. Hailing from the rural landscapes of Normandy, Andrieu's profound connection with nature ignited her creative journey, starting with clay art in her formative years. She transitioned to ceramics and completed her studies at the École supérieure d'arts & médias (ESAM) in Caen in 2019. Continuing her quest for artistic excellence, she earned her Higher National Diploma in Plastic Expression from the École nationale supérieure des Arts Décoratifs (EnsAD) in Limoges in June 2022. Furthering her expertise, she pursued advanced ceramic training at the Maison de la Céramique in Dieulefit.
Andrieu's creative wellspring draws from a rich tapestry of inspirations, including her observations of the natural world—fauna and flora. Yet, her imagination also finds nourishment in the whimsical worlds of authors like Lewis Carroll, the mystical creatures of Hayao Miyazaki's films, and the grand landscapes of Tolkien's novels. As she aptly expressed to ArchiExpo e-Magazine, her work is a fusion of these influences, intricately intertwined with the sculptural qualities unique to plants and corals.