The Volum globes designed by Snøhetta for Italian lighting specialist Lodes have been available for purchase since February.
In June 2020, for its 70th anniversary, Venetian company Studio Italia Design rebranded to become Lodes under which a new era of contemporary design celebrates the company's manufacturing know-how and Made in Italy philosophy. For its first collaboration with Snøhetta, Italian lighting specialist Lodes launched a new lighting collection entitled Volum, an exclusive series of glass lamps available in four sizes, which emphasizes the Italian tradition of globe-shaped glass lamps.
In particular, Volum highlights the glassblowing process that morphs glass into naturally imperfect shapes. The elegant white blown glass lamps were designed by the Oslo-based designers at Snøhetta whose international reach has grown exponentially since they launched in 1989 following a victory in a major competition to design the Bibliotheca Alexandra in Egypt. In this recent collaboration, Snøhetta's international recognition and Lodes' focus on Italian techniques and manufacturing form combined efforts which resulted in an exquisite lighting product.
Designing and producing lighting solutions for interiors and exteriors since 1950, founder Angelo Tosetto's passion for glass and continuous technological research put the company on the map as one of Europe's leading decorative lighting brands with a three-generation evolution. Having been selected as one of the most dynamic Italian companies according to the survey "Campioni della crescita 2020" (2020 Growth Champions), as well as in 2021, published in La Repubblica's "Affari & Finanza"; it's no wonder that the Volum globes caught our attention.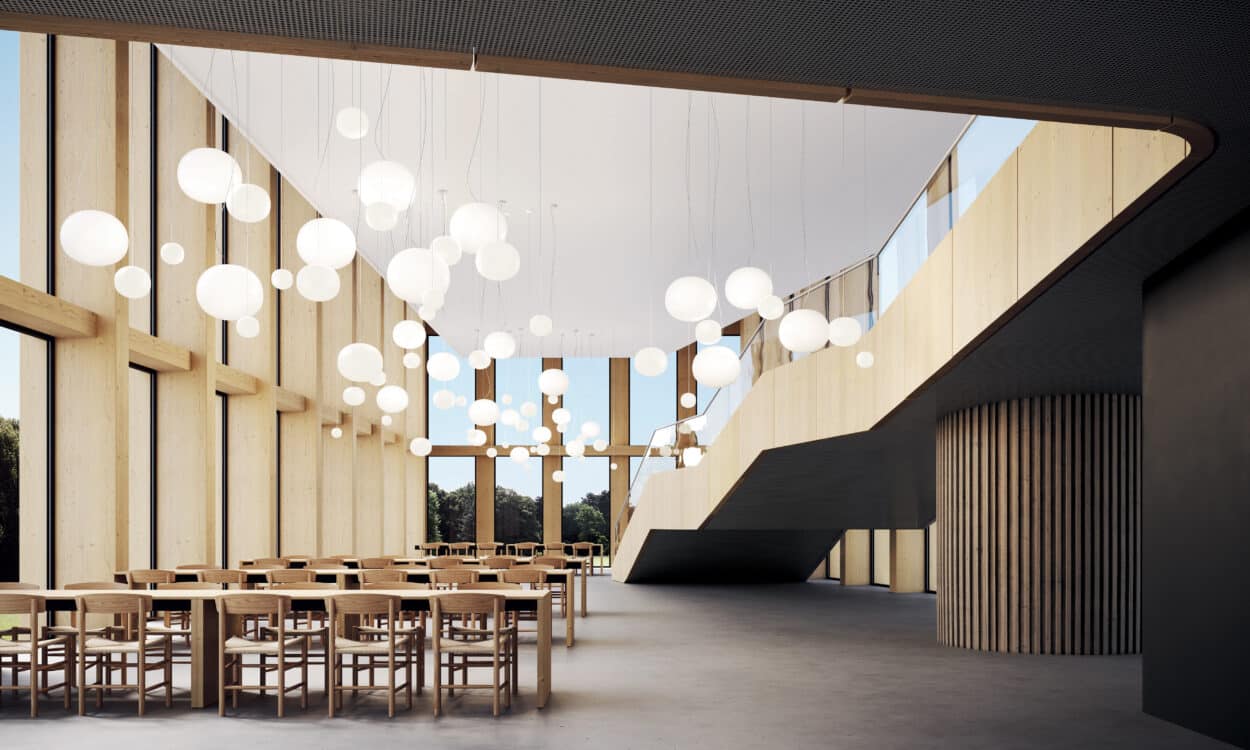 The diffuser and frame of each globe appear as a single form from which the cable is the only hanging element. To achieve this level of cleanliness, the upper part of the glass has been skilfully cut – at 45 degrees – so that it can be closed with a translucent methacrylate lid that seals the lamp. While the lid conceals a metal part attached to the diffuser and the frame that houses the light source, the only exposed element on the outside is a small opening that allows the cable in and helps balance the globe.
The Volum globes come in four sizes — 14cm, 22cm, 29cm and 42cm (diameter) — and are completed with a glossy white finish that offers a decorative touch thanks to reflections on the surface. With a single transparent hanging power cable, the three smaller sizes can be hung individually, as well as in a cluster on a canopy to make unique compositions. With its re-interpretation of a lighting archetype, Volum represents another step in Lodes' ongoing exploration of the relationship between lighting, space and the ways in which the individual interacts with these elements.
"The Volum series solves this in its technical solution while celebrating the craft of glassmaking," Marius Myking, Director of Product Design at Snøhetta, said in a press release.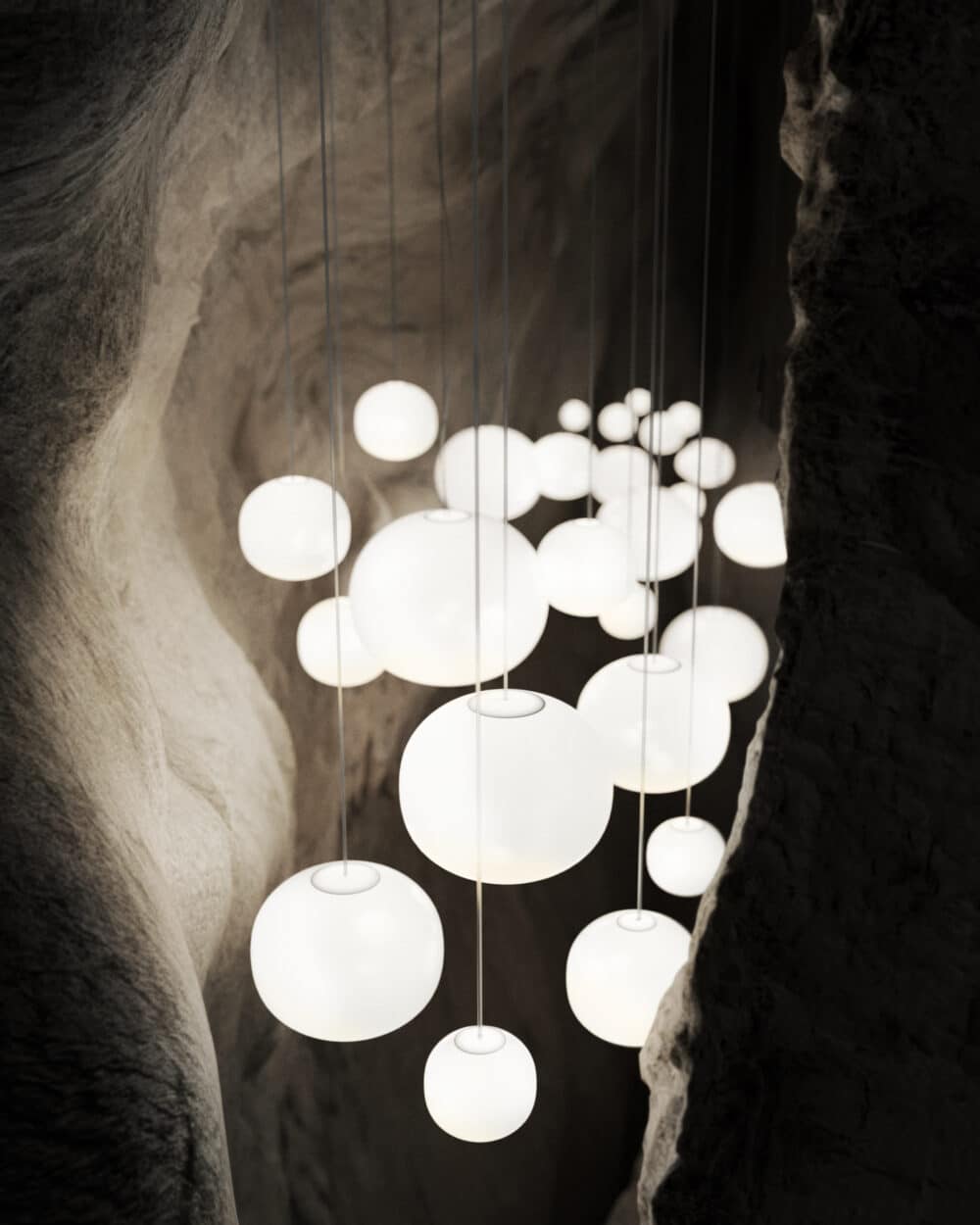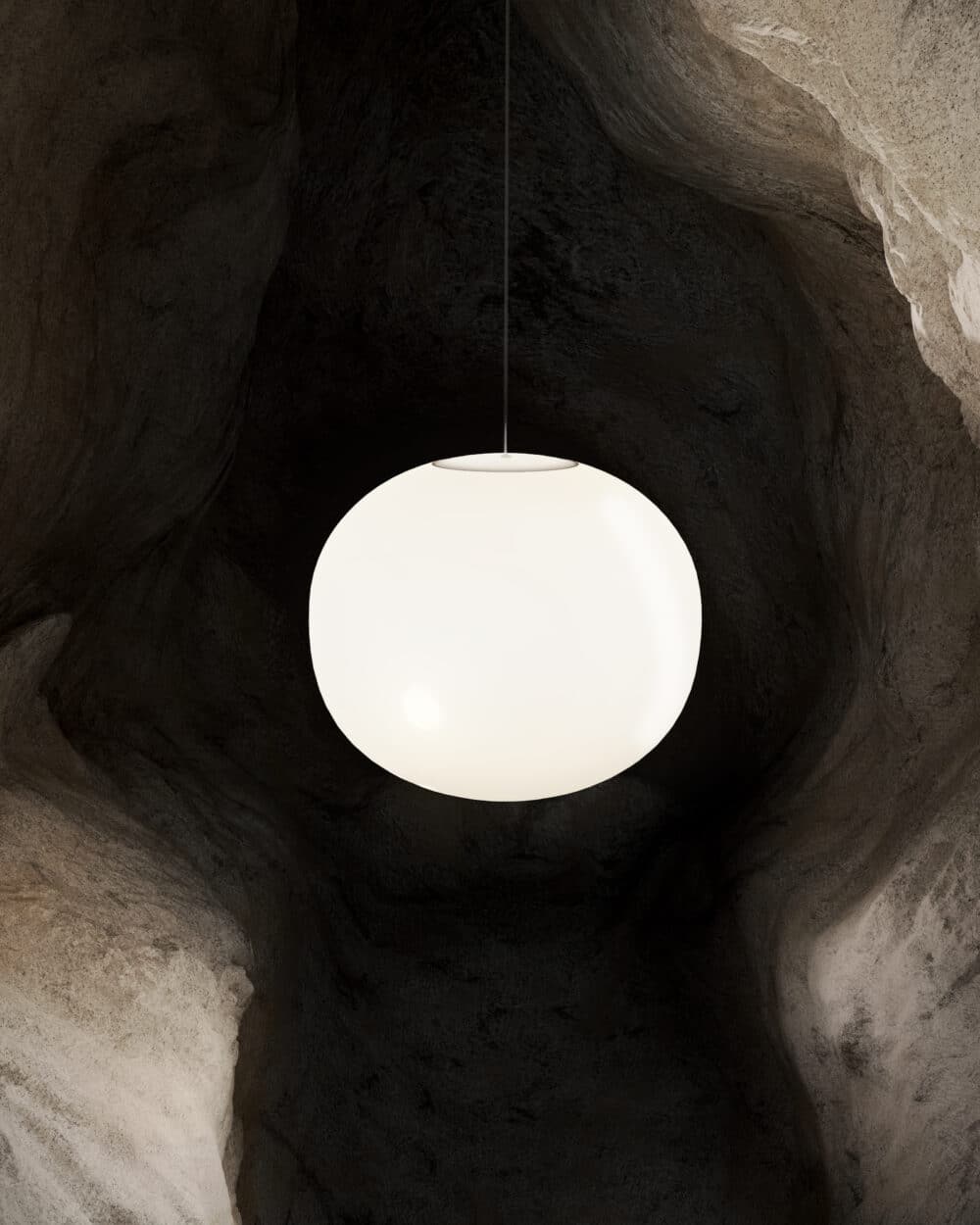 Founded in Norway, Snøhetta has since become an international architecture and design studio with offices spanning from Oslo, Paris, and Innsbruck, to New York, Hong Kong, Adelaide and San Francisco. While the firm is most known for its architecture projects, the team has a lengthy portfolio of product design pieces. A seating project they completed last year, Summit, acts as a modular cushioned indoor mountain range. Also completed in 2021, the beautiful Intersection Worktable is built from materials sourced from the depths of Lake Pieman in Tasmania; it was made for the Medich Family Office in Bondi, Australia.
READ: The Incredible Architectural Journey of Snøhetta
In the same year, they worked with Norwegian startup NoMy to create regenerative building materials using mycelium. Together, the team developed an innovative solution to improve the acoustics of the interiors at the EY Doberman Sally Lab in Stockholm, Sweden. Using forest fungus and waste products from agriculture, paper production and other sources, NoMy grew a material with soundproofing qualities, which is naturally fire-resistant and 100% compostable in nature. 
In their ongoing project Common Sands – Forite, the team is collaborating with Studio Plastique and Fornace Brioni to find solutions for the rapidly growing E-waste from processing glass.
Sand is a resource essential to the continued functioning of our technology-driven society, used to make our electronic devices work, our homes light and warm, our communication faster and our energy consumption more sustainable. It is integral to the production of silicon microchips, fiber optic cables, insulation and solar cells — not to mention it is the primary ingredient in glass, which is used in consumer electronic products such as fridges, microwaves and computers.
Despite great efforts to extract, transport, refine and process sand into complex electronic components, according to Snøhetta, little is done to recycle these components when electronic goods reach the end of their lives. They simply land in the dump. Glass has material properties excellent for recycling, but EU directives on effectively processing glass from electronic waste (E-waste) do not currently exist.