Salone del Mobile organized its special supersalone event which began on September 5 and will end on September 10. Here are the noteworthy brands that participated in kick-starting the physical design scene in Milan after a long pause.
September 2021 will be remembered as the time the Salone del Mobile opened its doors again after a year and half of suspension. While the event took place in only four pavilions of the center Fiera Milano Rho, when normally it consumes the center in its entirety, the exhibiting brands played the game set by curator Stefano Boeri and displayed their products in a gallery-like fashion.
Here are the brands that attracted our attention.
Bosnian Furniture Company Zanat
Today, mirrors are not only objects-symbols of vanity and beauty but are designed (also) to be inserted free-standing between sofas and armchairs, to divide or unite, to face or to include through a stylistic investigation of volumes and shapes that are never banal.
This is the case of The Sky mirrors designed by Monica Förster for Zanat, which are both hand-carved art sculptures in solid wood and functional objects. They can be positioned as individual monoliths or in groups of two or more units. Sky Mirror floor mirrors come in two shapes (round or semi-ovals), each available in two sizes. The base is available in walnut or maple, both in different colors and finishes.
READ our guide on how to choose the right mirror.
Zanat also presented a series of exclusive side tables that become small stools (or vice versa) called Unity. The product is available in two wooden variants, in black satin maple and in natural walnut. The Play & Burn candle holders can complement those products. The play begins after opening the box and discovering the hand-carved wooden pieces, which need to be put together to create a candle holder to one's own liking.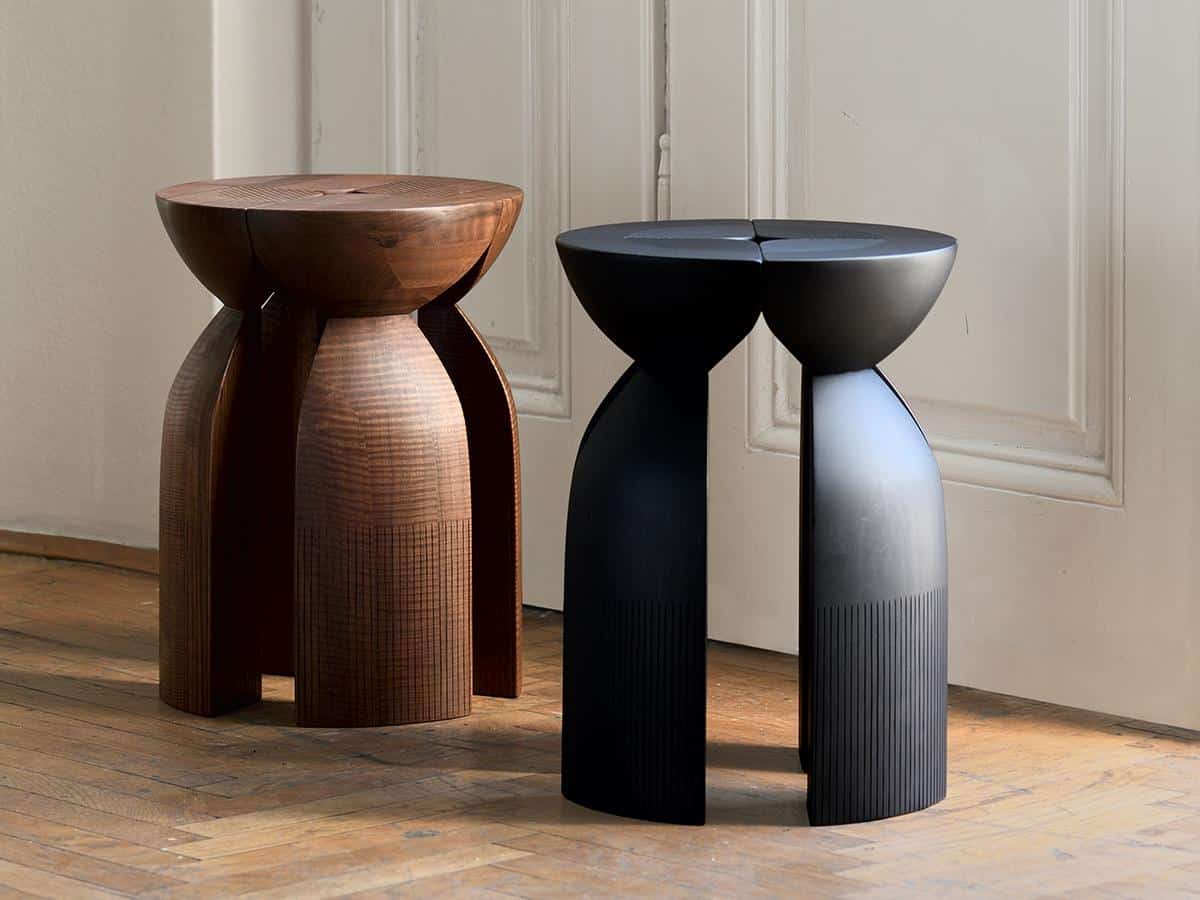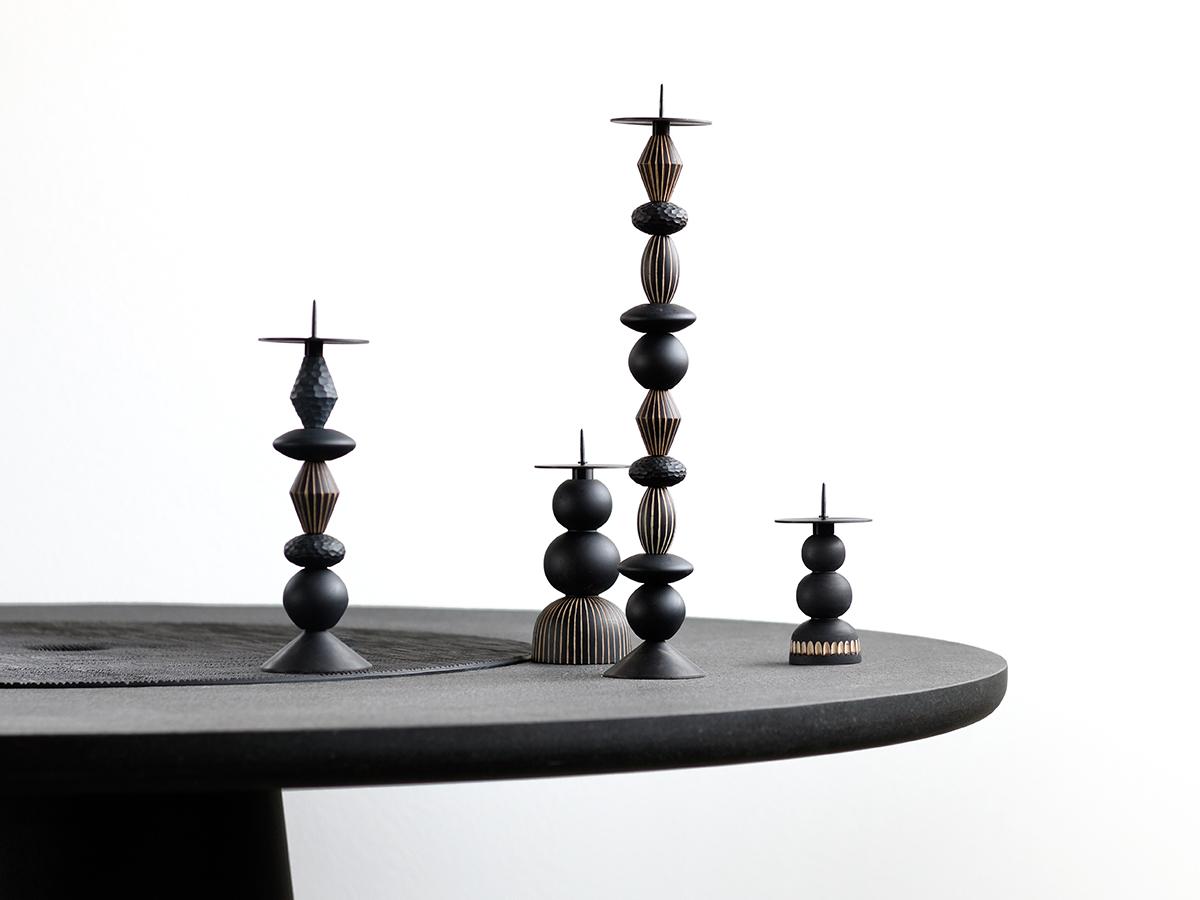 The Bathroom: Italian Brand Carimali Adds to the Calflex Catalog
At the supersalone Carimali presented its new products: three collections inspired by classical architecture, pure geometry and functional design. Among them, we found Qtime three-hole washbasin: the elementary geometry of the cylinder engraved by a sign of time: the grooves of a Doric column sculpt the material by generating a new classic. Expertly balanced lines and basic shapes find application in the body and in the spout for a minimal design. Ocube-concealed thermostatic shower mixer stands out for its pure and regular shapes.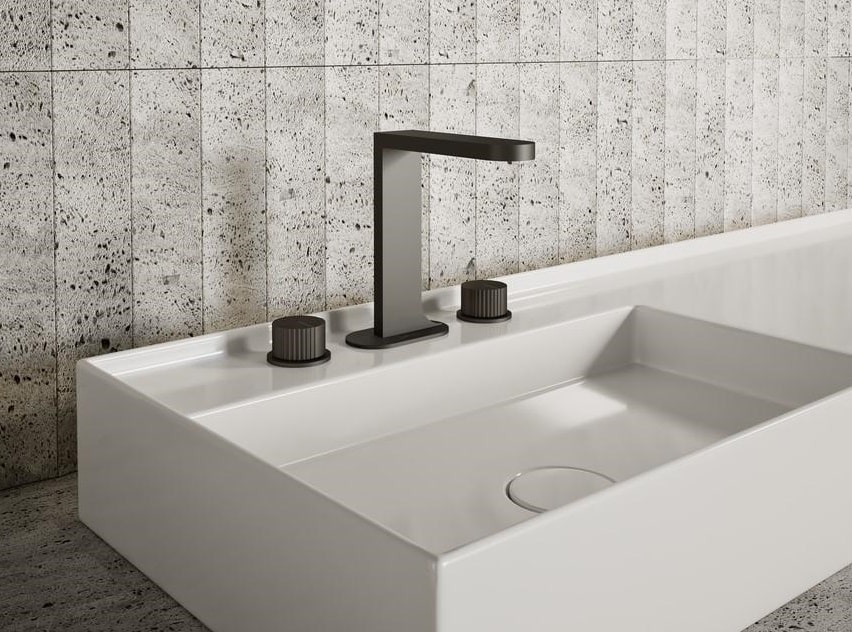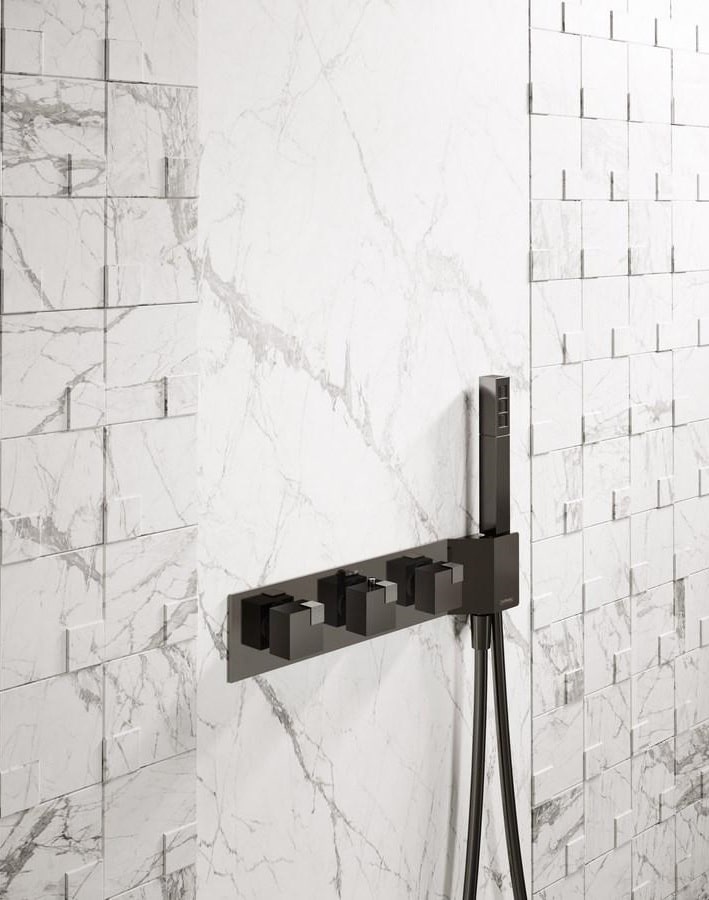 Furniture and Lighting: Italian Company Paolo Castelli
On the occasion of the supersalone, Paolo Castelli created several new products. Comet lamps is a floor lamp with a base in oiled Canaletto walnut or in metal with an acid-etched zinc finish, embellished with a matt satin brass insert. Ring-shaped lampshade in natural ivory fabric.
Lens coffee table is a low table with an ivory-colored polished Vicenza stone base formed by three vertical slabs attached to a central disc. The top is made of mouth-blown Murano glass, with an internal wavy effect that enhances the object. Convex under the top that allows the glass top to be set inside the base housing.
U chair is a refined chair with an alluring shape outlined by an accentuated depth and a slightly tilted front. The structure elegantly embraces the body and comes in matt bronzed brass finish or matt black varnished finish, with dark brown or black-colored leather upholstery featuring visible stitching (also available black or dark brown leather). The seat fits simply into the backrest and slots into the armrests, making it look almost as though it is suspended, floating. Available in leather with matching armrests.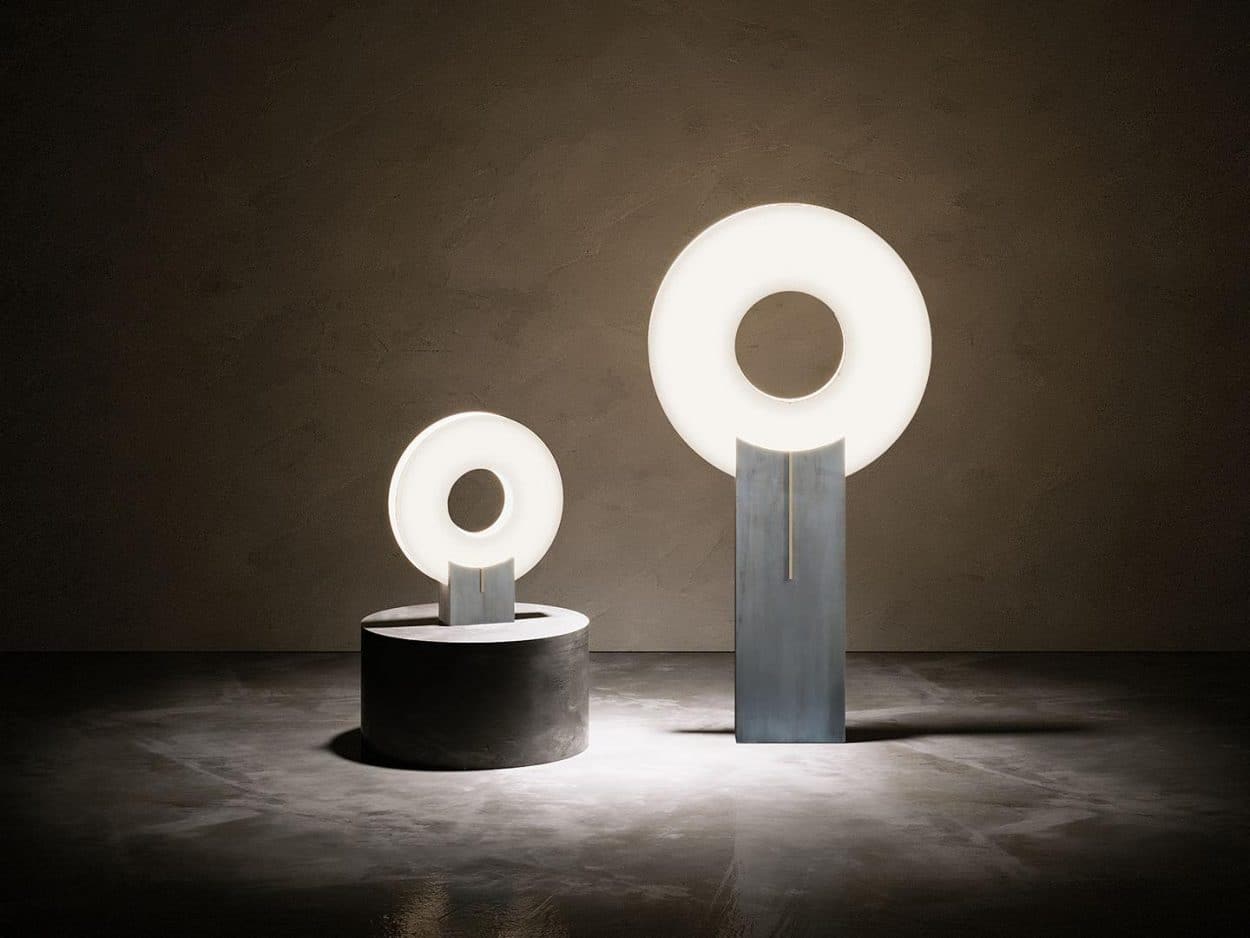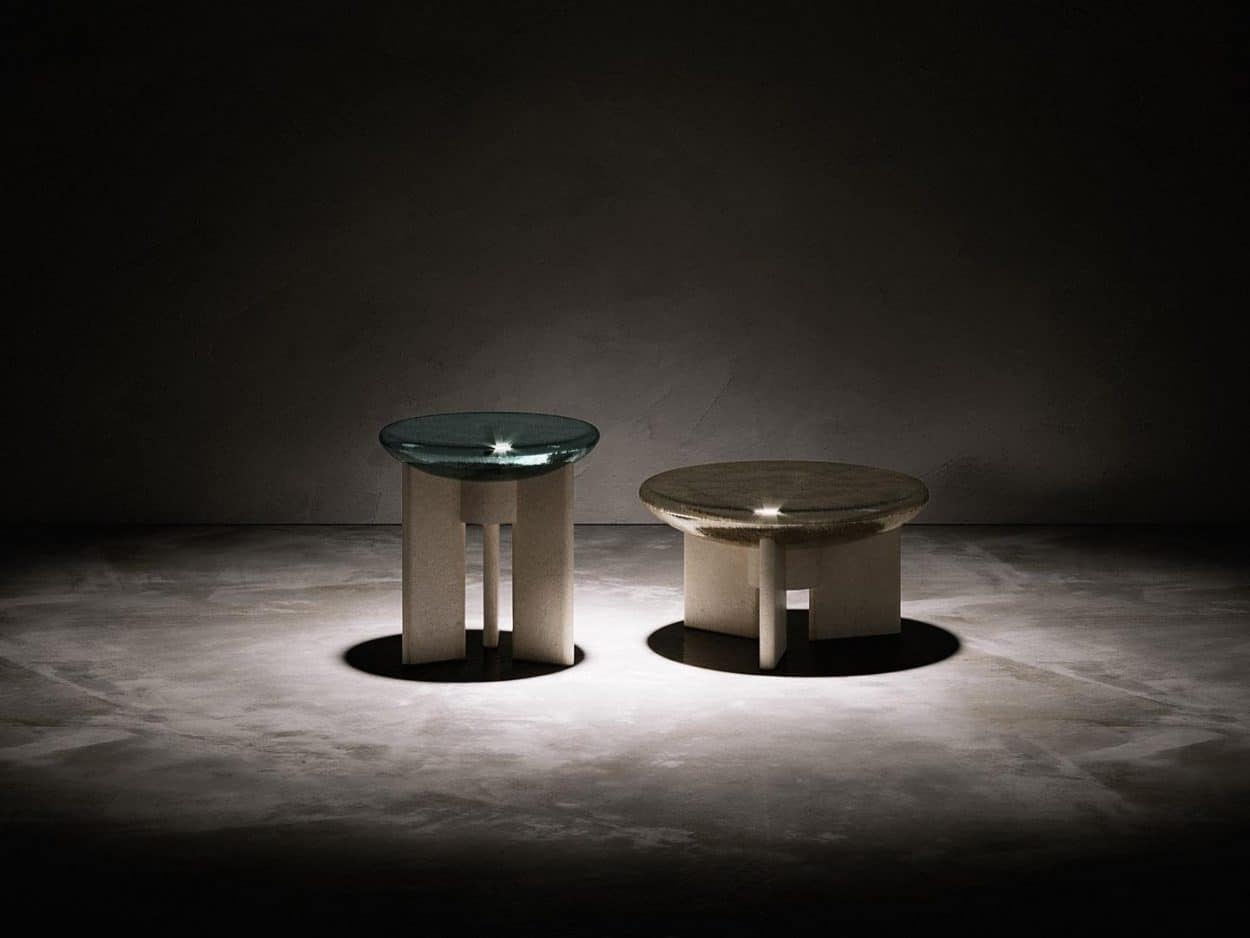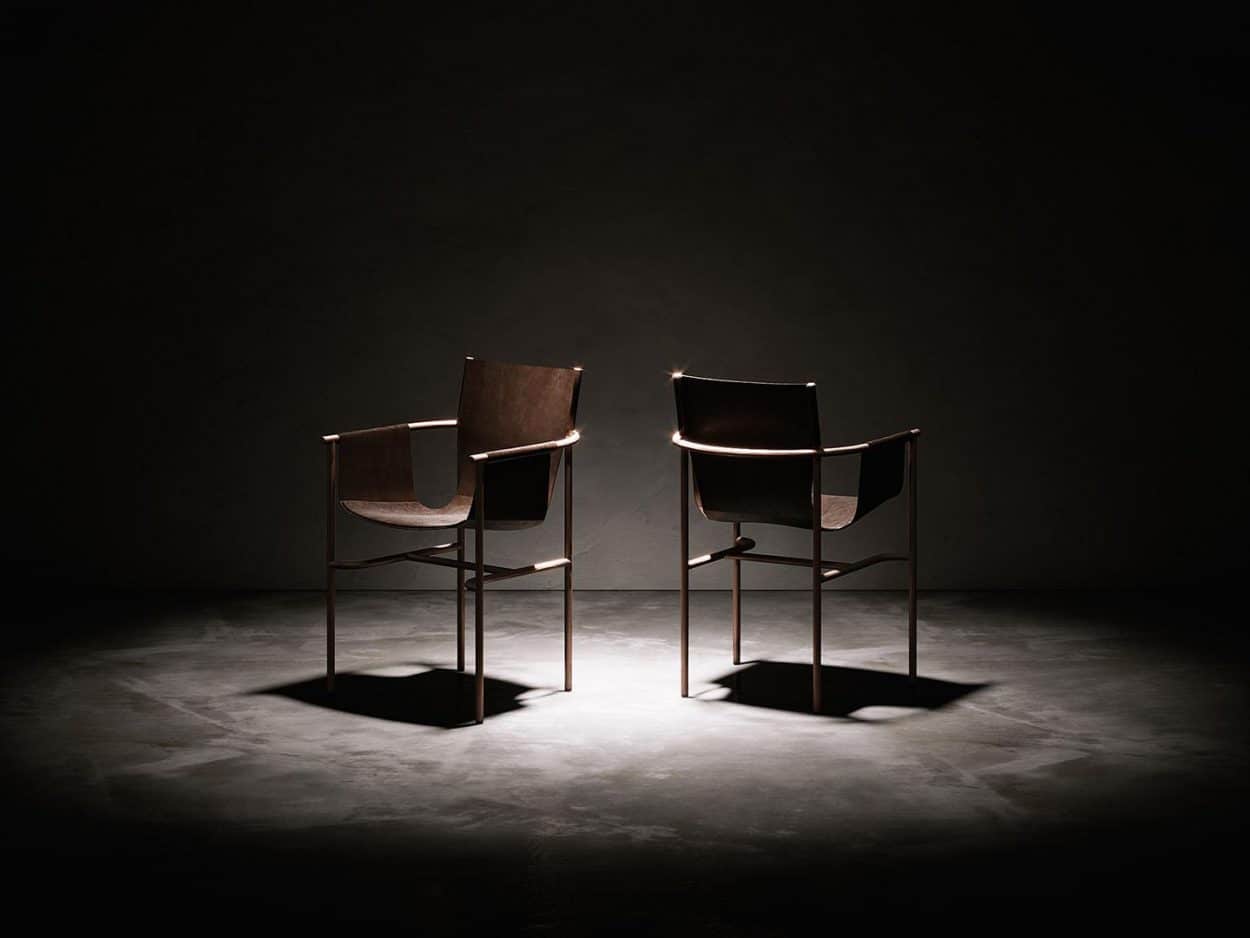 Spanish Outdoor Furniture Brand Calma
At the supersalone, the stool with holes that looks like a handmade button caught our attention despite the fact it was not recently released. Bolet by Calma is made of clay and cork using traditional techniques and glazed with natural colors. Making it useful as both a stool and occasional side-table. Fired at high heat, it is able to withstand extreme changes in temperature making it ideal for both indoor and outdoor use. Dip-glazed in traditional La Bisbal colors, the hardness of its material is softened with a generous natural cork base and three holes on top provide a convenient way of moving it with ease.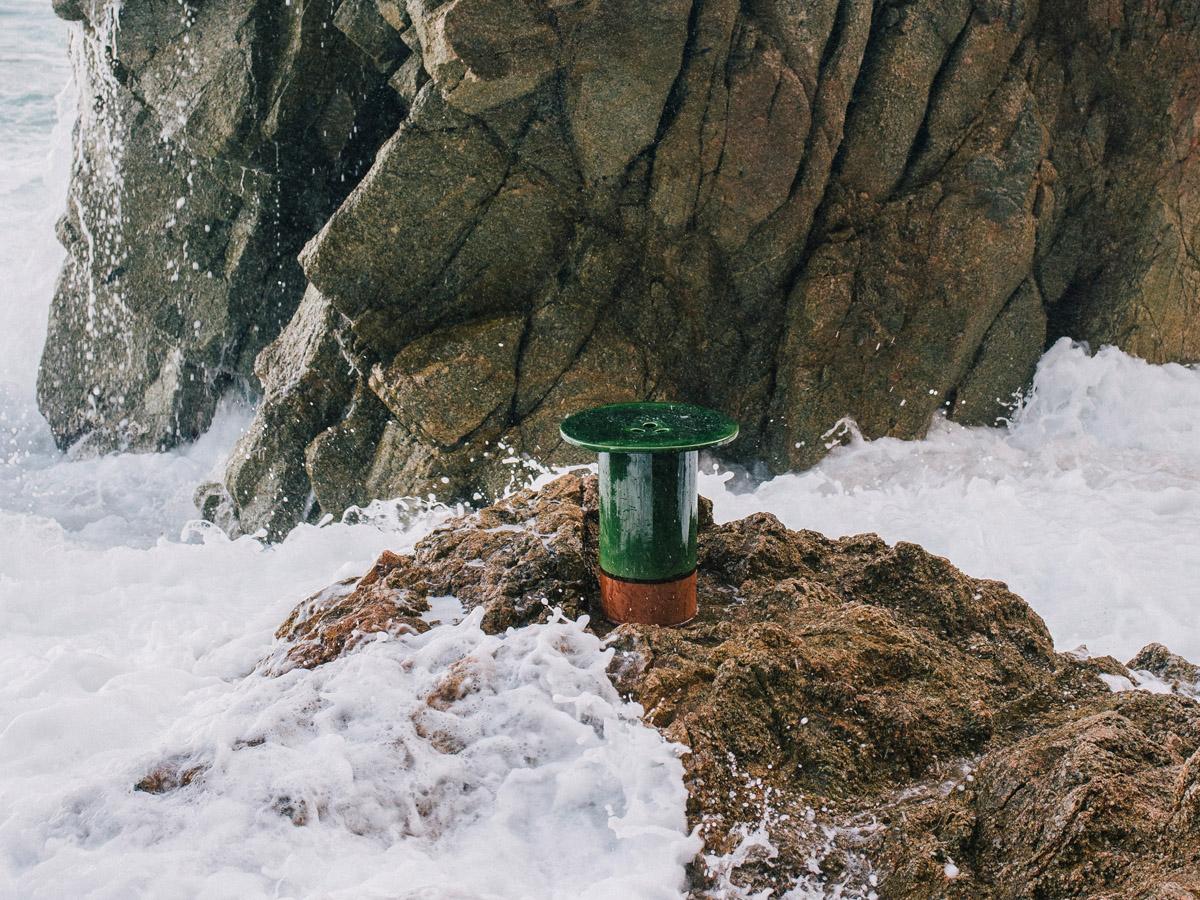 Paris-based Japanese Furniture and Home Design Brand K3
World-renowned Japanese designer Kenzo Takada launched the brand K3 as a new high-end lifestyle brand, dedicated to «art-de-vivre». The K3.png collection was unveiled on January 17th, 2020 in Paris at Maison & Objet.
The meaning of the name K3 (the number is written in Japanese with three horizontal lines) has its roots in the Japanese kanji, which means the number «three», as well as balance and harmony. To visually identify the brand, a kintsugi is shown on all creations, as a tribute to the Japanese art of repairing broken porcelain or ceramics by means of lacquer joints sprinkled with gold.
K3 is distinguished by refinement and elegance. The collection is organized around three themes: "Shogun", masculine, sober and solemn, dominated by black and white, "Sakura", which embodies harmony and tranquillity and includes some golden notes integrated with a delicate pastel palette and "Maiko", with vibrant red and pink colors that pay homage to the kimono and make-up of young geishas.
The ebony coffee table has a wood fiber structure and the finish is hand-lacquered and satin-finished wood with a gold Kintsugi decoration. Geometric and graphic themes on black monochromes mixed with gold and silver can be found in Paco bench. The Kasumi cushion combines ivories and creams. Its geometric lines and organic shapes unite with floral motifs.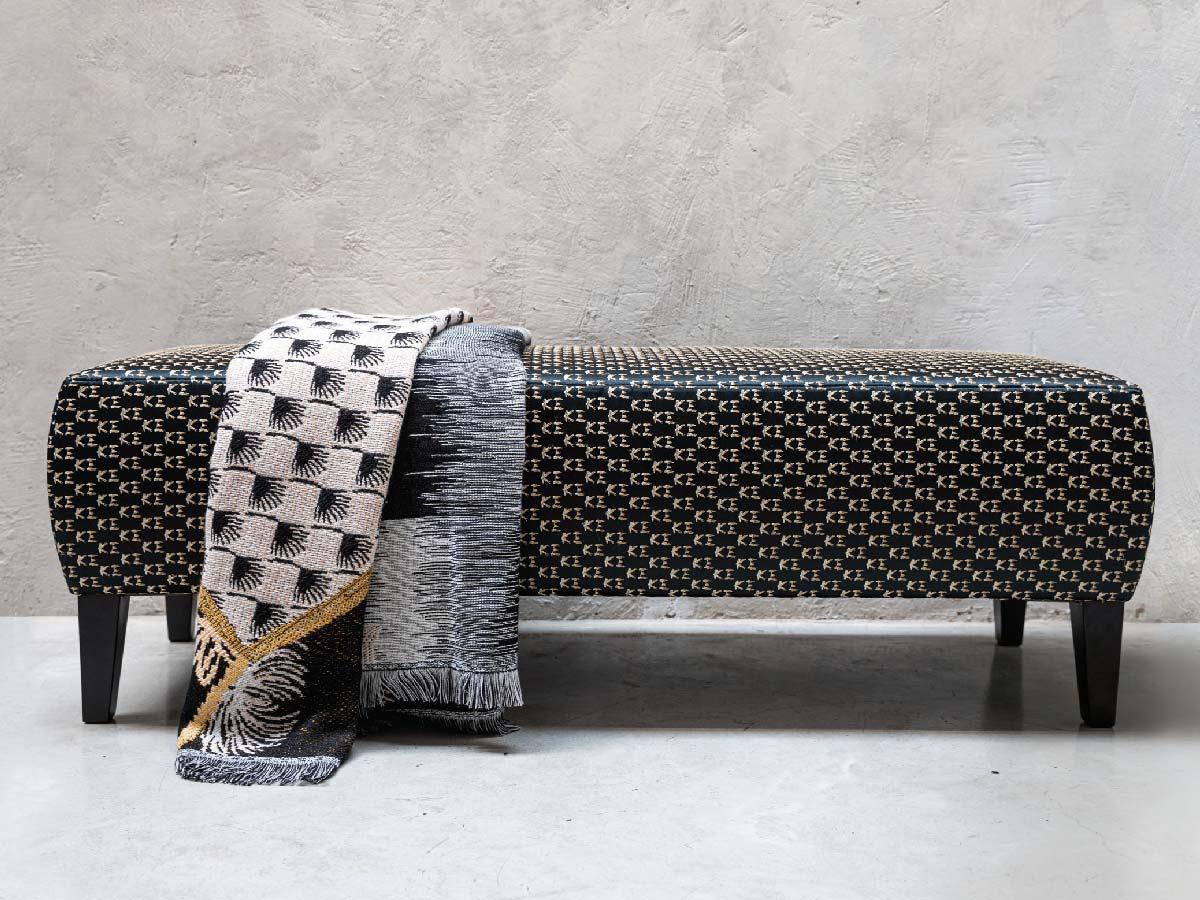 Italian Metal-working Company De Castelli
Walking around the stands of the Supersalone, one cannot remain indifferent to the "Metal Vibes" installation by De Castelli: an emotional wall that recreates a sinuous and organic movement, obtained by means of a multitude of disks in different finishes and oxidations on copper to compose a three-dimensional pattern.
De Castelli presented its new products as well. A small storage table with a rhomboidal base called Alpha. The DeErosion copper leather creates a diagonal striped pattern that enhances the geometry and emphasizes the graphic effect.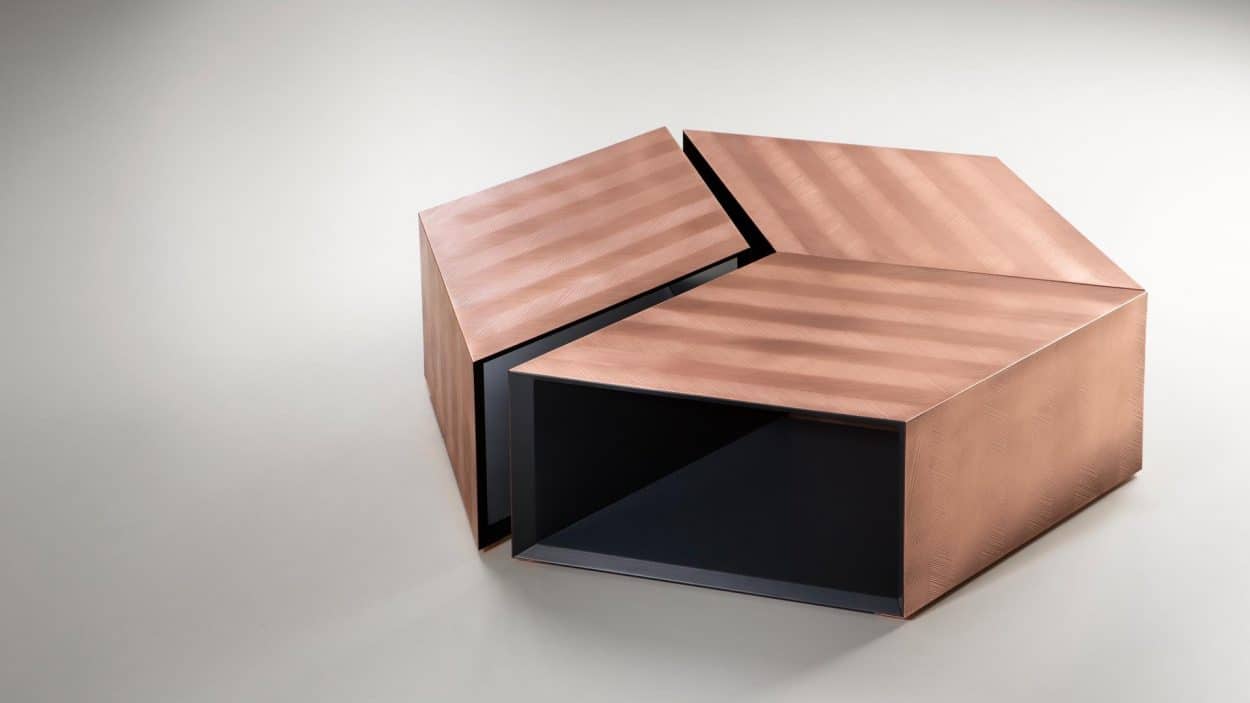 Baia is a large table inspired by the landscapes of the Venetian lagoon sea with its many shades of light blue and green. The base, formed by two cylindrical copper elements, supports the large top with the sinuous line. The result is a sculptural table, an iconic object that becomes the protagonist of the environment.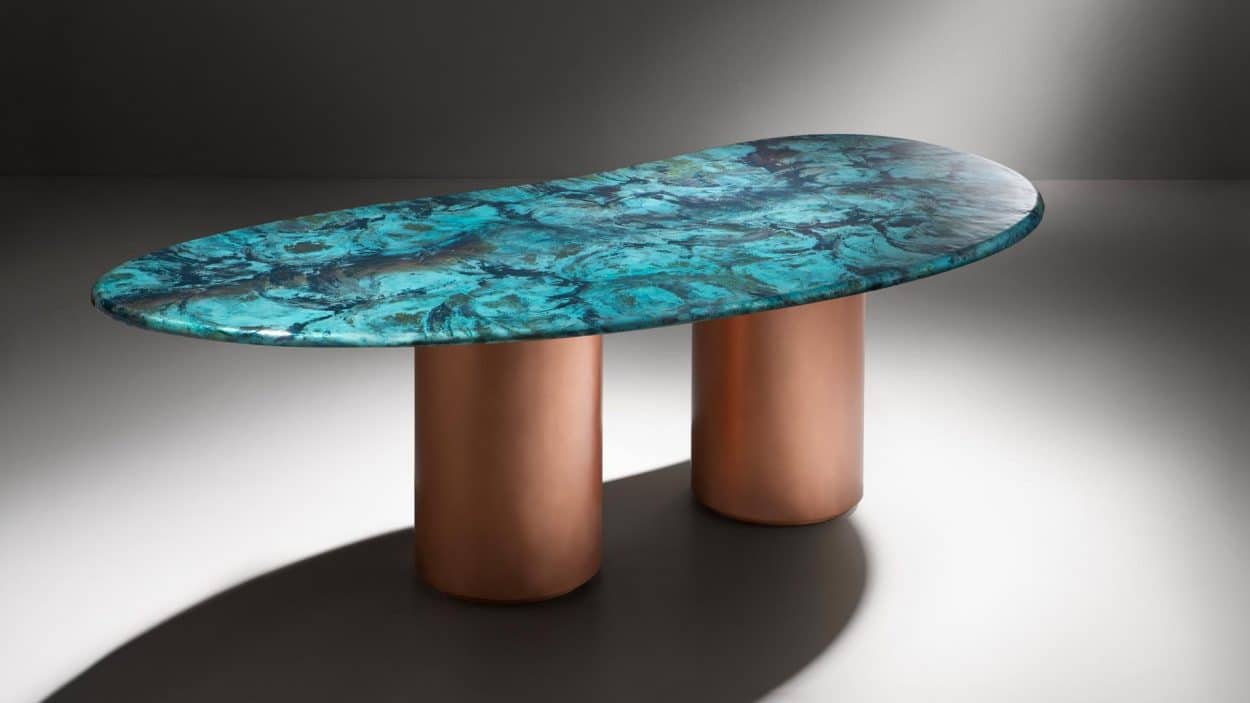 Caravan is a modular sofa that expresses a harmonious synthesis between the rigor of metal and the softness of the upholstery. The profile of the padding is outlined by the precious "horse stitch" stitching, while the base is defined by a metal geometry. It is available in a two, three or four-seat sofa and in the armchair version.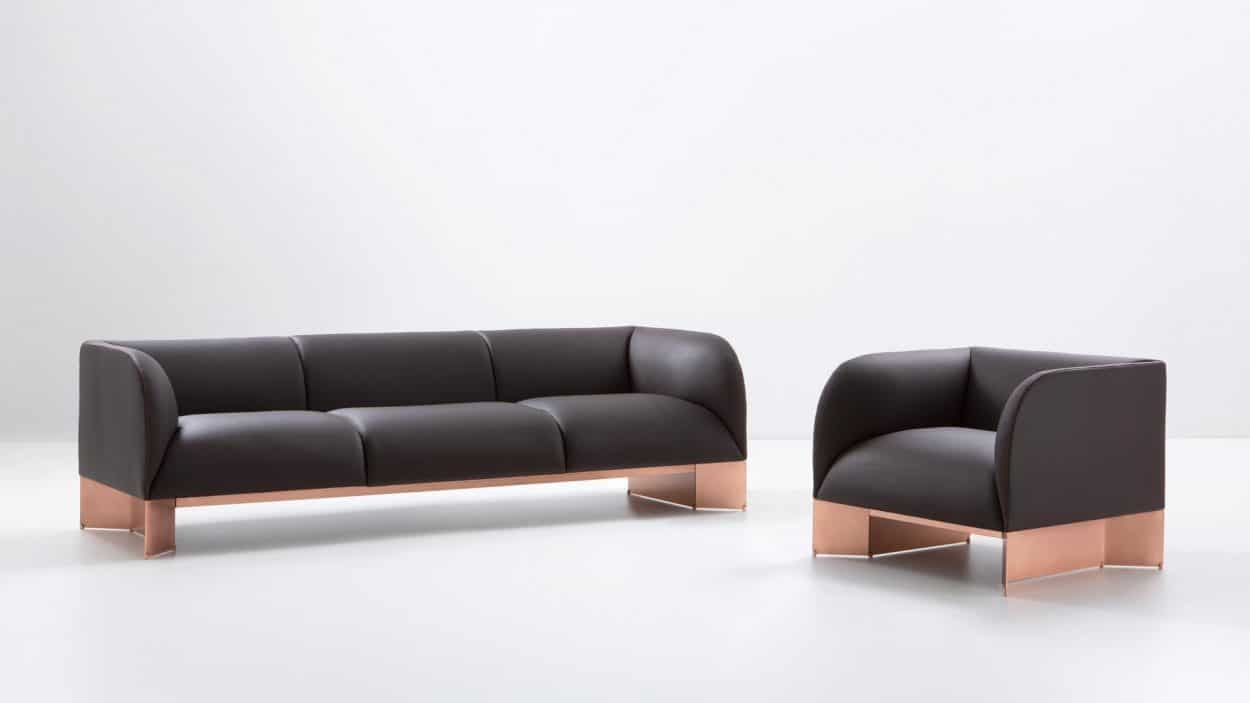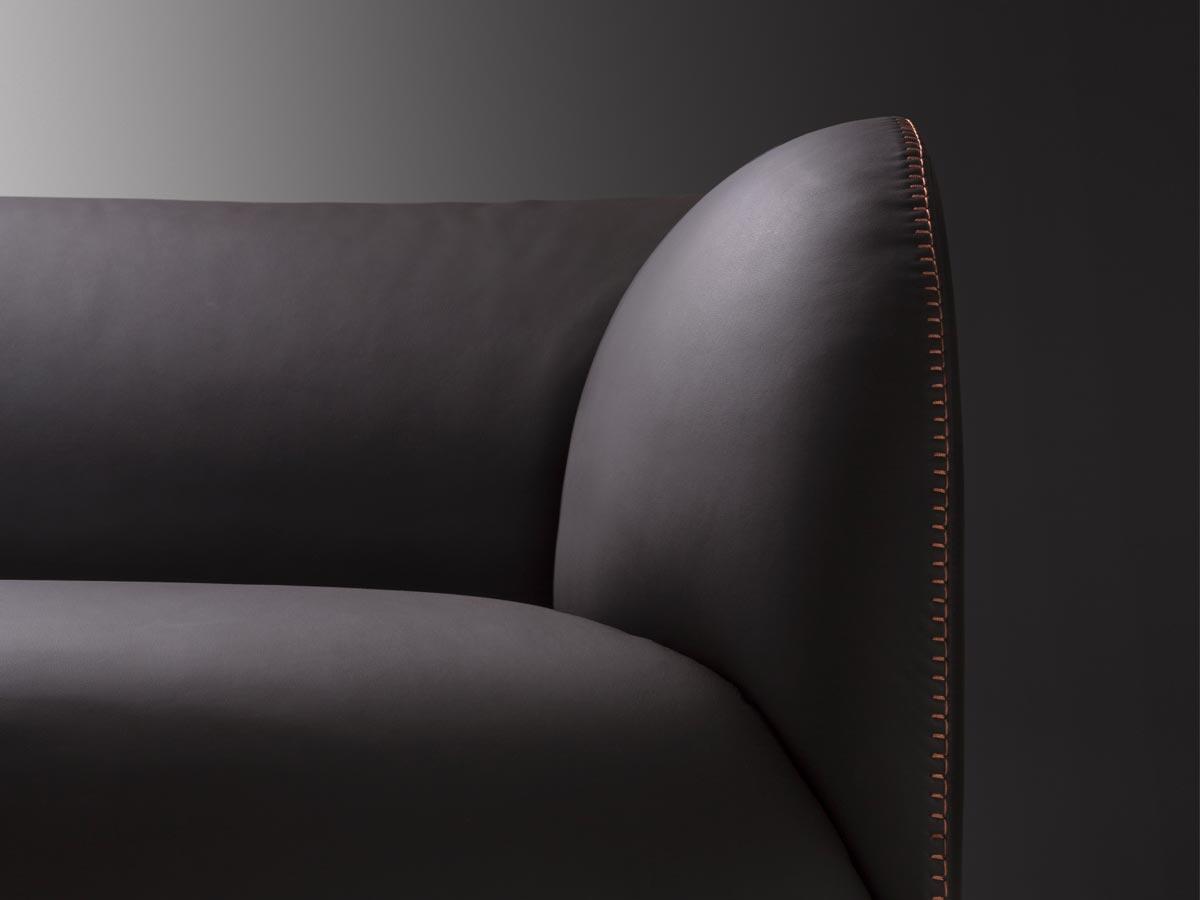 Elizabeth is a cabinet with a metal sheet along its surface, transforming each reflection into light. In an interplay of airiness and tension, elasticity and rigor, the metal vibrate with the rhythm of its pleats. Available in steel, brass or copper, Elizabeth gives shape to a new way of imagining unambiguously feminine metal furniture.